When Suzanne and James contacted us to see if we'd be interested in shooting their Tuscany wedding in July we had to think about it for about 0.0002 of a second and then made up our minds and said YES of course!!! So in July we packed up our gear and our troubles and travelled to the city of Lucca in Italy. We arrived a few days early to take in a little of the local scenery and a lot of the local food and later met up with the guys to check out the Villa where they would be getting married. To say that Villa Catureglio is a jaw dropping sight is a bit of an understatement it was simply incredible even in the deathly 41 degree temperatures that Tuscany was experiencing at the time.
Suzanne and James are just amazing people, so friendly and warm we felt right at home from the first moment we arrived. I really can't imagine how much planning went into a tuscany wedding like this so instead of trying to speculate and estimate I decided again to ask Suzanne for a bit of insight into the prep and her experience of the day. Before I hand you over I just want to thank Suzanne and James for being brilliant to work with and just generally being down to earth and down right legends…
"James and I first met ten years ago when James left his native Wales for an opportunity to play rugby in Ireland. We had our first date within a matter of weeks with neither of us knowing at that time that his idea of maybe spending one year in Ireland would actually turn into nine years.
Fast forward to October 2013 and after hiking along a secluded waterfall trail in California, James asked me to marry him.  We were staying in a remote log cabin near Yosemite that evening and celebrated with a casual yet beautiful dinner overlooking Bass Lake.
Once we returned home a couple of weeks later we began the planning. I wasn't really a huge fan of wedding planning but ticked off the main items as soon as I could. Without looking for a photographer, I came across a photo by Moat Hill and made up my mind immediately. I didn't contact anyone else and knew we would make the best decision choosing Paul & Elaine.
Just three months before the wedding we found ourselves leaving Ireland for a move to the Cayman Islands which distracted us from worrying about the little things. In keeping with my tendency to leave things to the last minute, I picked out my wedding shoes a week before the wedding day and we got the groomsman ties the day before proving that these things always fall into place!!
As much as we both adore our home countries of Ireland and Wales, we didn't really consider any locations in either and had our minds made up quite quickly that we wanted a destination wedding in Italy. Neither James or I have any family connections to Italy but had spent a few holidays there and always came home thinking about when we would next return.
We both wanted a traditional Italian venue and with a small wedding in mind (60 guests) we were hoping it would have accommodation for all of our guests too. I decided to set about researching venues and eventually came across Villa Catureglio. From the moment we saw it, we were blown away and knew it was everything that we wanted.
Villa Catureglio is a beautiful Tuscan estate, dating back to the 13th century, set in a secluded position above the Garfagnana valley. Traditional Italian gardens with lemon trees, vines and olives enclose the villa, it's chapel, the surrounding cottages and it's swimming pools. It is incredibly peaceful with just the sound of birds singing and with the surrounding views of the green Tuscan hills.
We hired the estate for 4 days and scheduled our wedding for the Saturday. To welcome our guests to Catureglio, we threw a pizza party on the Thursday evening.  Caterers from a local pizzeria made fresh pizzas using the estate's traditional wood fired pizza oven and paired with local wines and beers, they didn't last long! We didn't make arrangements for Friday with most guests enjoying the estate or making their way into the nearby walled city of Lucca.
On Saturday morning (the wedding day) my bridesmaids made a delicious breakfast followed by a few hours lounging by the pool while James and his groomsmen headed to a local bar for some Italian coffee (and perhaps something a bit stronger too). There was a really chilled out feel around the estate as our guests knew they didn't have to travel anywhere and instead just needed to be present for the ceremony on the front lawn at 5pm. The bridal party began the pampering at the villa at 1pm with fantastic help from Alina's hairdressers and the beautician Elena.
At 5pm sharp and with the sound of the musicians reciting 'Gabriel's Oboe' by Ennio Morricone, my bridesmaids took the lead down the front steps of the villa and I followed close behind arm in arm with my dad which was one of my favourite moments from the day. The ceremony was mostly held in Italian and included readings by some of our guests and classical music performed by the musicians. One of my bridesmaids, Maeve, is a highly talented musician and although we already had wonderful musicians to perform at the ceremony, I asked if she would perform too. In response, Maeve wrote the most beautiful song for James and I and her performance of it during the ceremony was truly wonderful, a lasting memory.
Once the ceremony finished, the marvelous Italian Wedding Band provided some light jazz music on the front lawn while guests enjoyed drinks and canapes. The presentation and variety of food from our caterers Il Fattore Party was outstanding, creative and sublime in taste.
At around 7pm all guests were seated for dinner on the back lawn of Catureglio.  We arranged for the speeches to take place at different stages between courses. When it came to the final speech, before passing the mic James joked that Maghnus would be delivering the speech from the top window of the villa. Low and behold, Maghnus rose to the impromptu challenge with non-stop laughter erupting as the speech commenced while an 'invisible' Maghnus made his way up the stairs of the villa.
Once the dinner and speeches had ended and the stars had lit up the night sky, everyone moved to the courtyard where the band commenced the celebrations with the first dance. Without having a particular favourite song of ours, James decided a couple of weeks out that he was going to take care of the first dance and would surprise me. With our guests circled around the fairy lit courtyard outside the barn,  Roberta Flak's 'The First Time Ever I saw your Face' began to play. It was a really beautiful and unexpected moment that I will always treasure together with the second part of the surprise which was our band erupting into 'That's Amore'. At this point everybody filled the dance floor while making their finest attempts at an Italian accent.
Into the early hours after the Italian Wedding band and DJ had finished playing and the dance floor had emptied for the first time, the Tuscan sunrise came over the hills to the sound of our guests singing and swaying arm in arm.
When we look back at those few days in Italy, we will always appreciate the time and effort from each one of our family and friends in travelling there to share the celebrations with us. They made it the most wonderful time beyond what we ever could have hoped for and created a wealth of memories which we will forever hold dear. "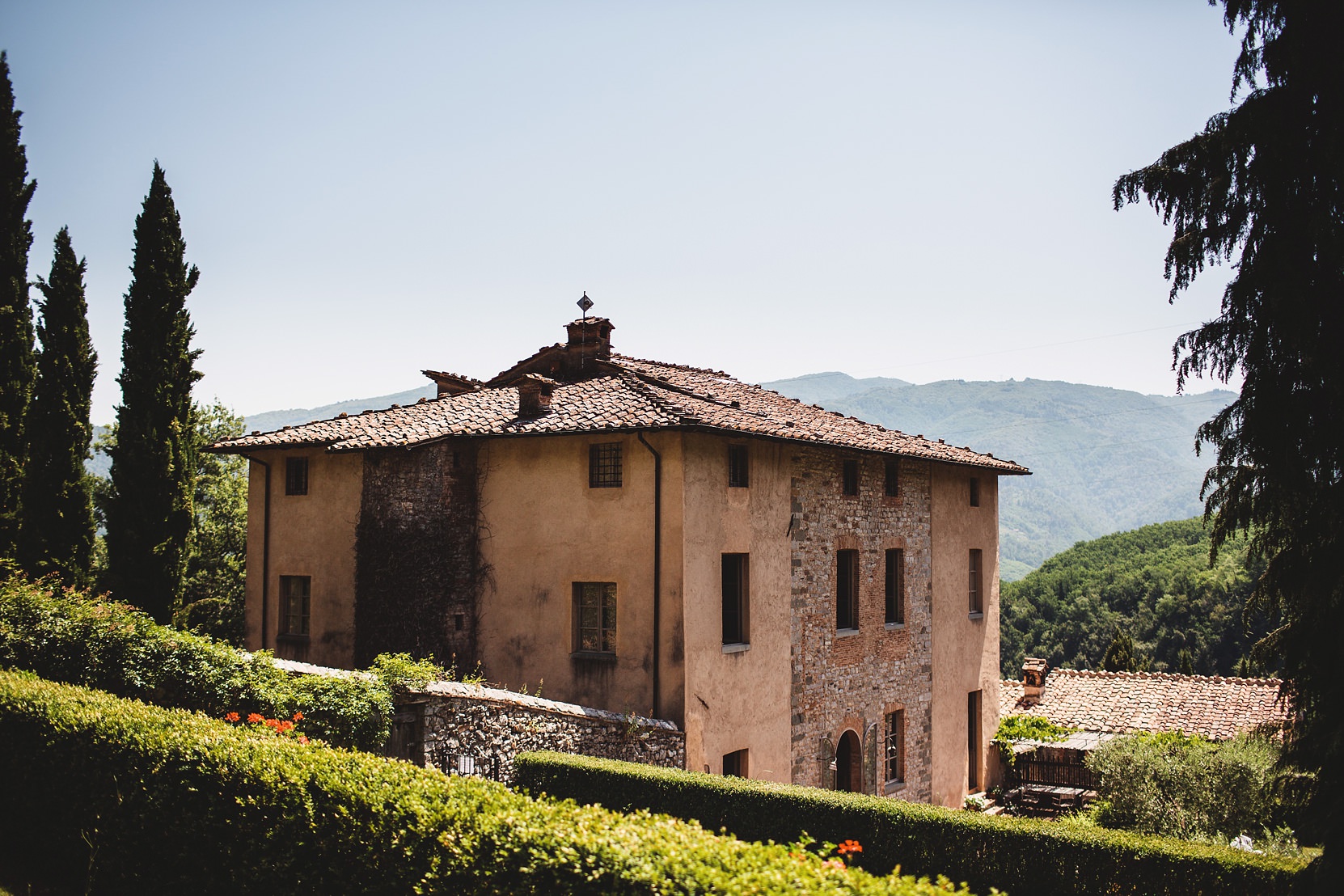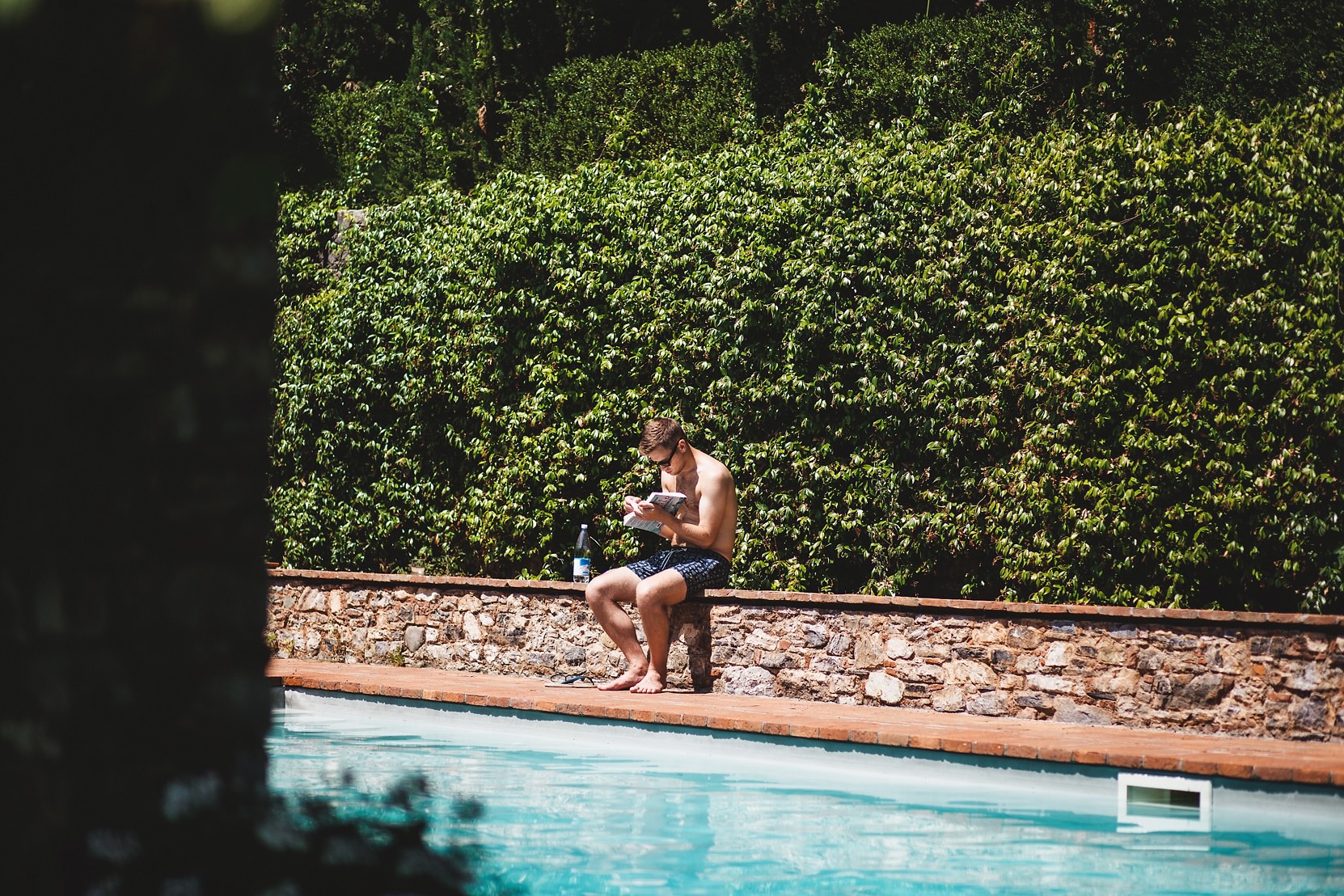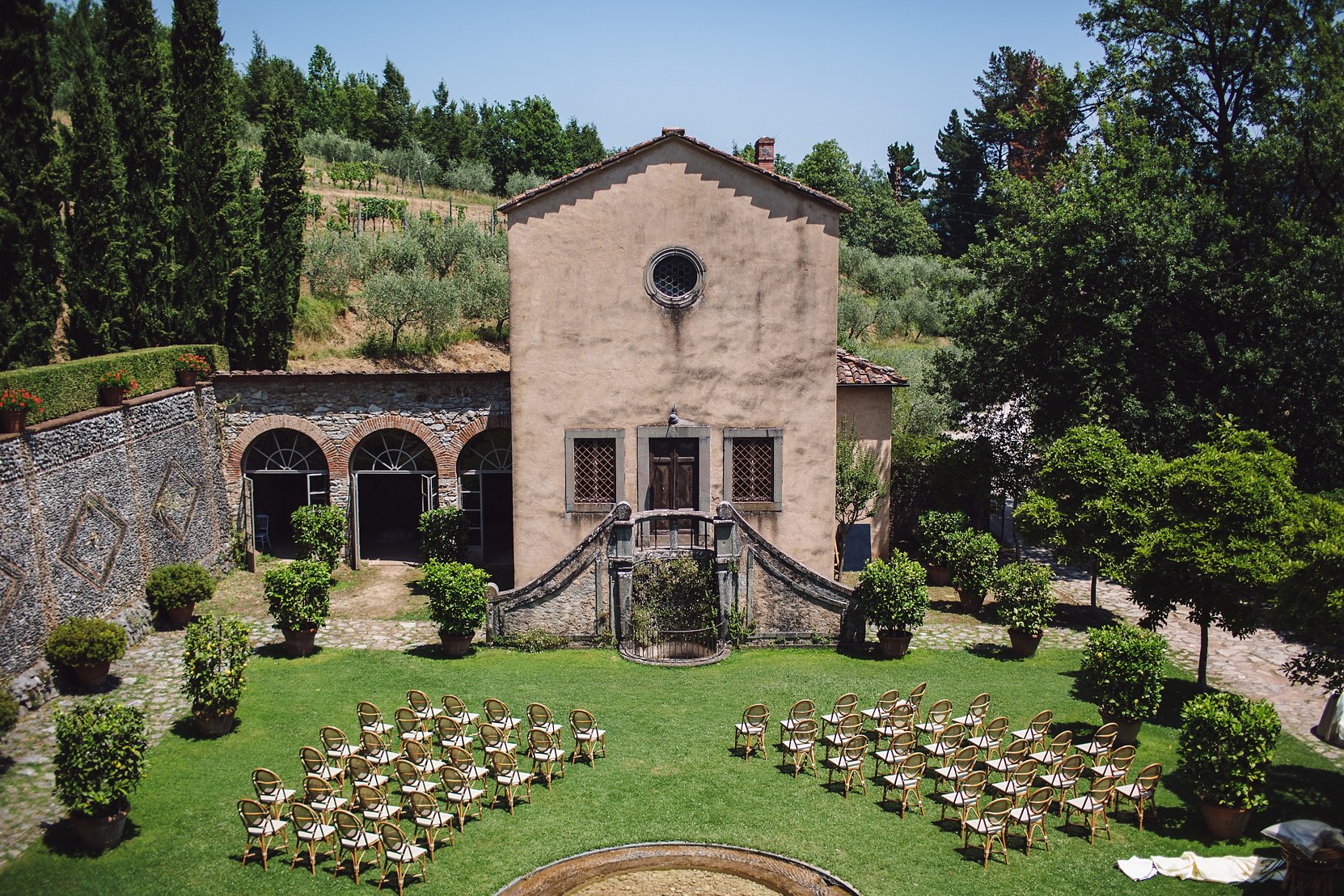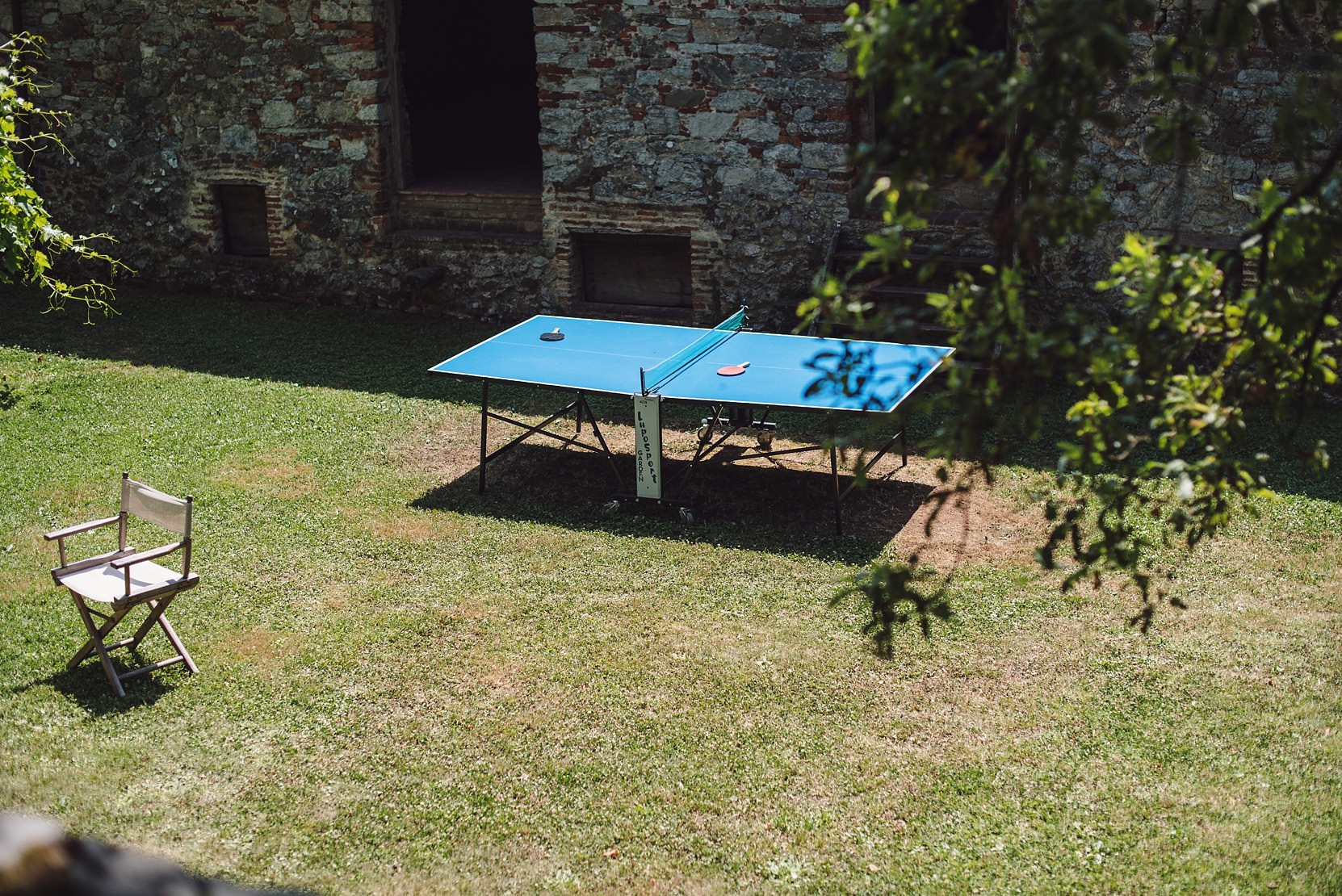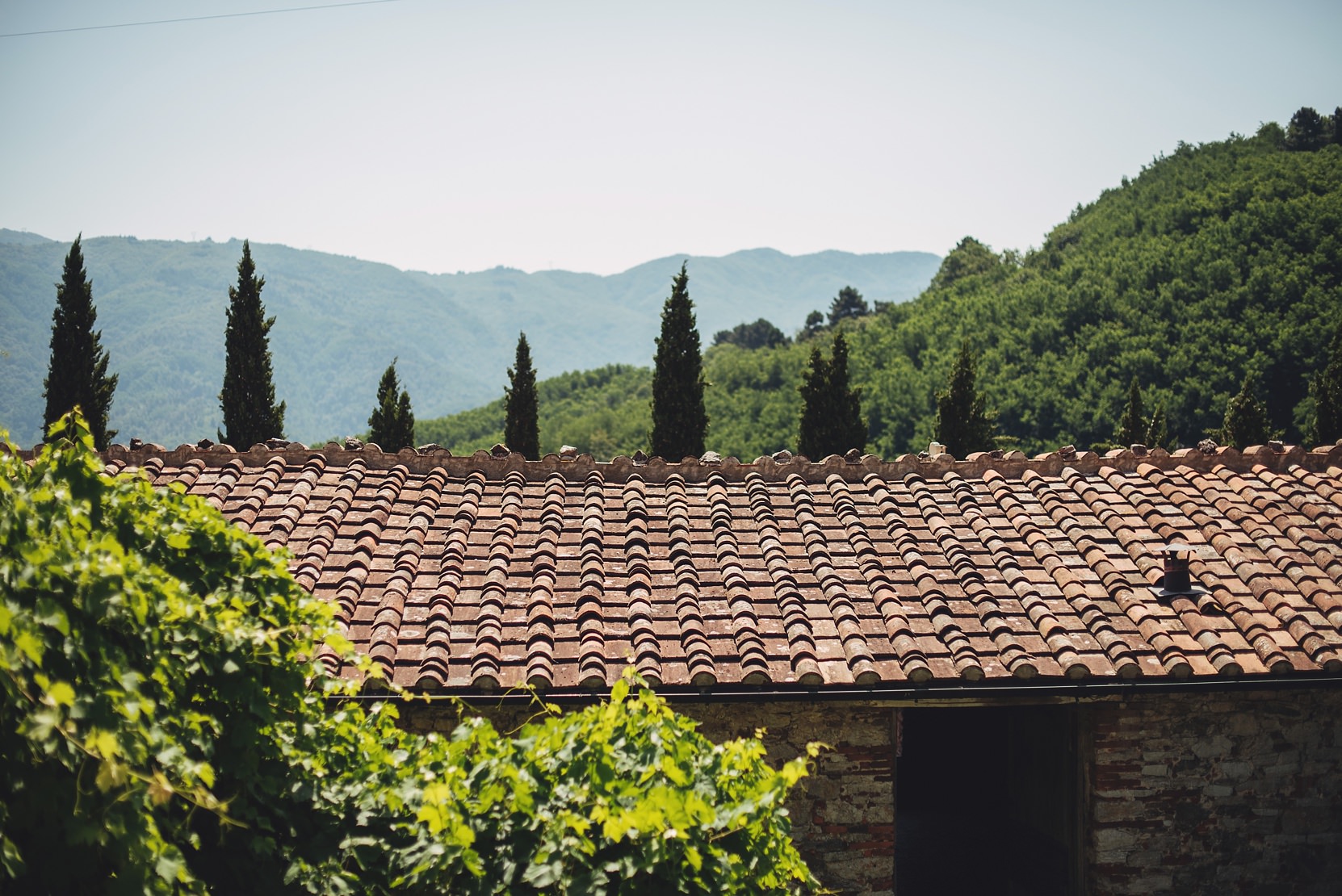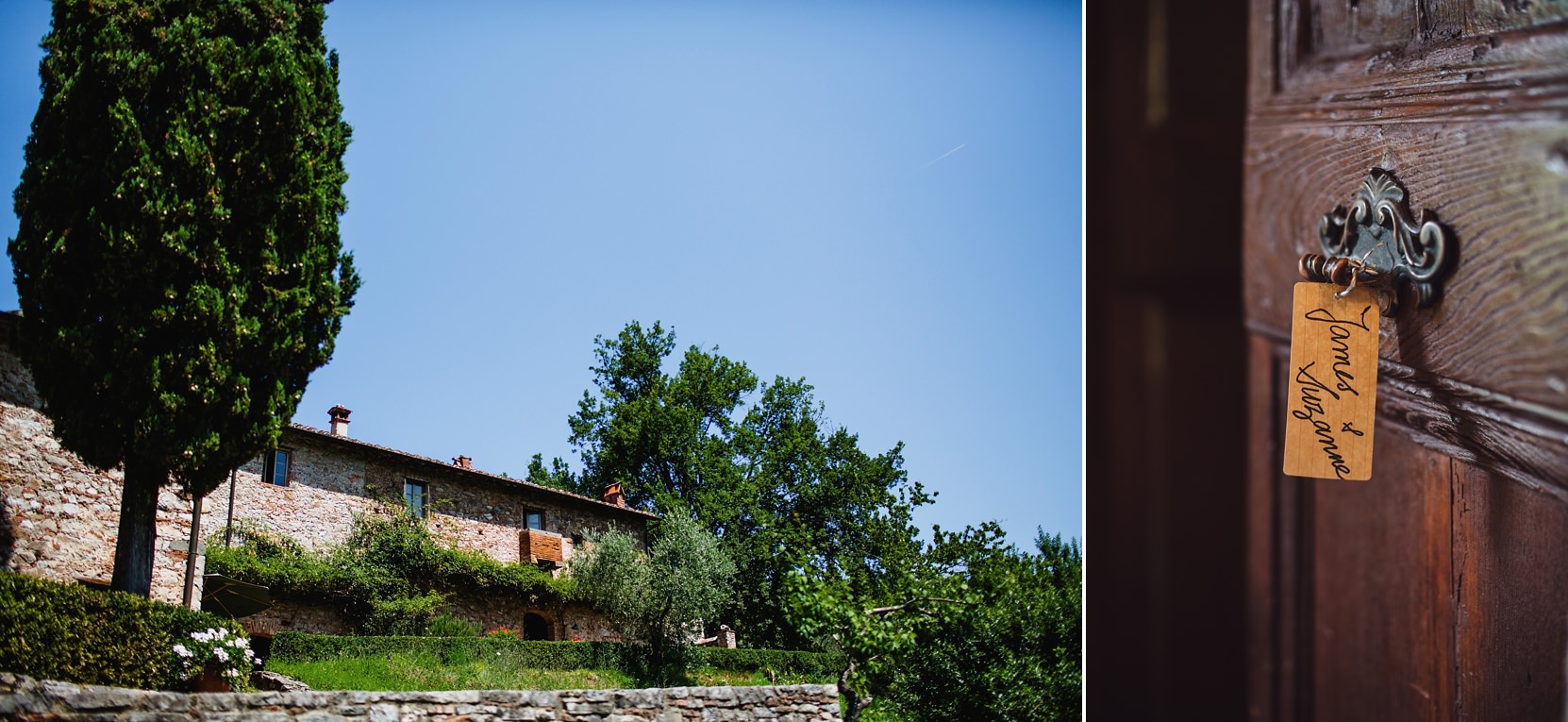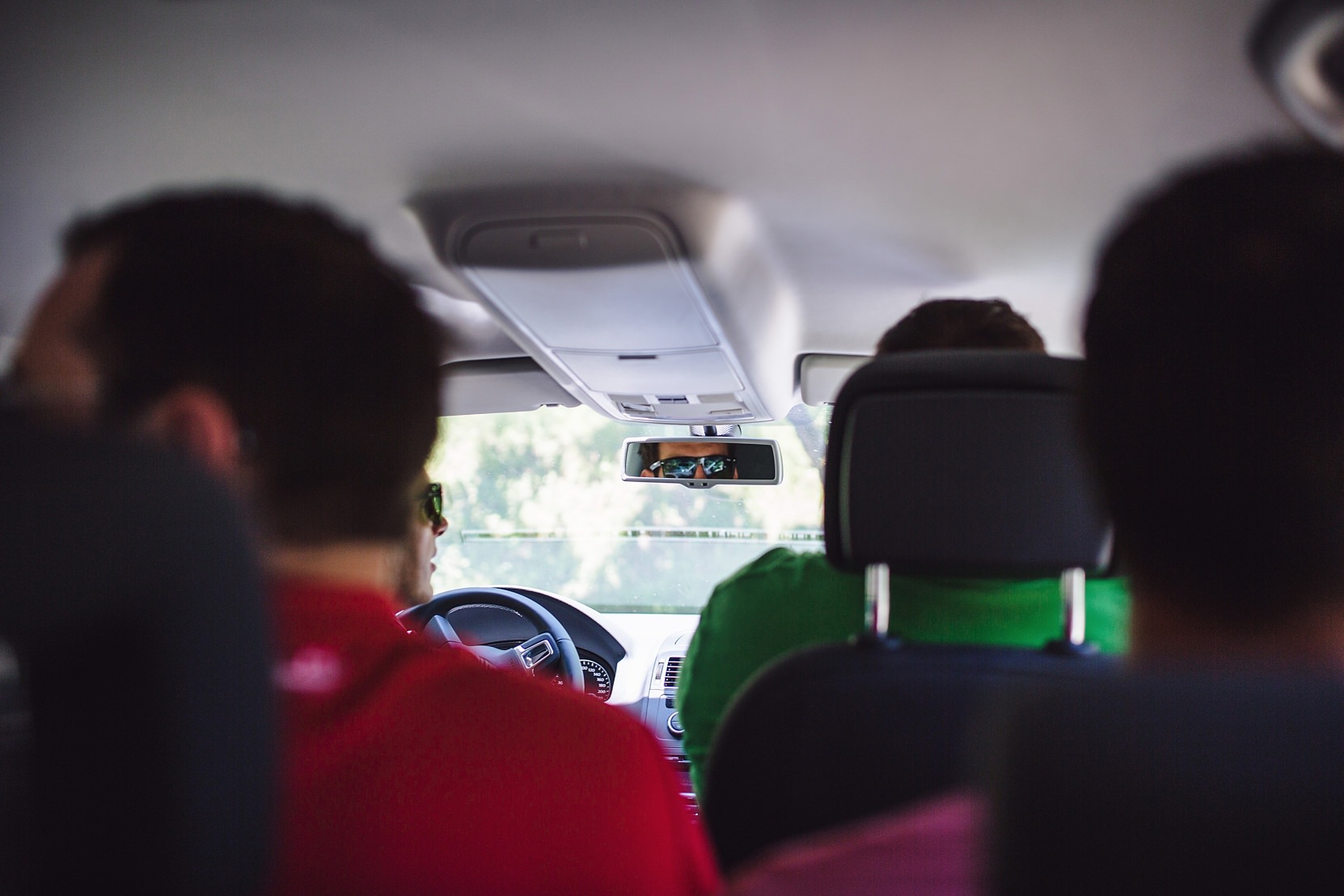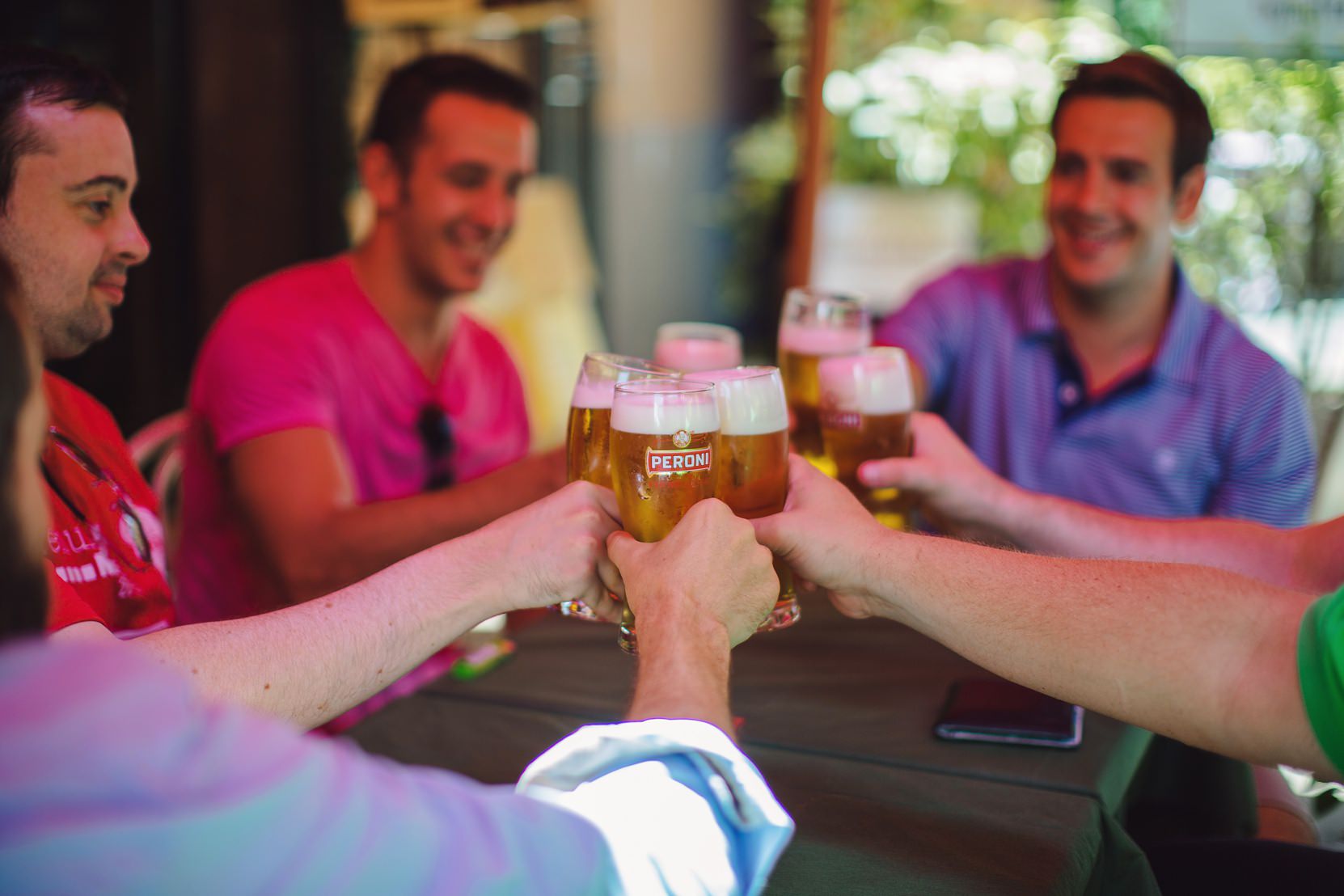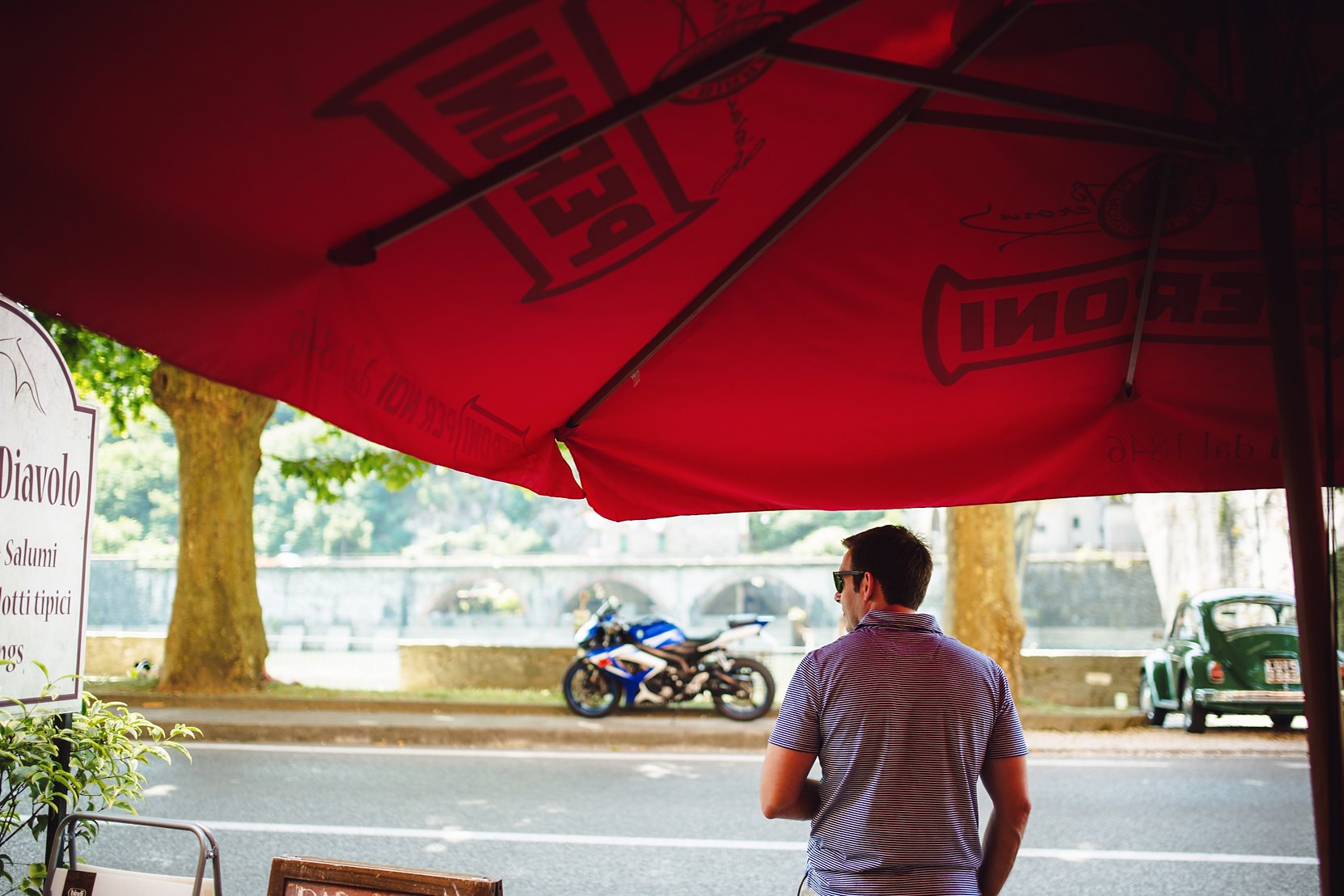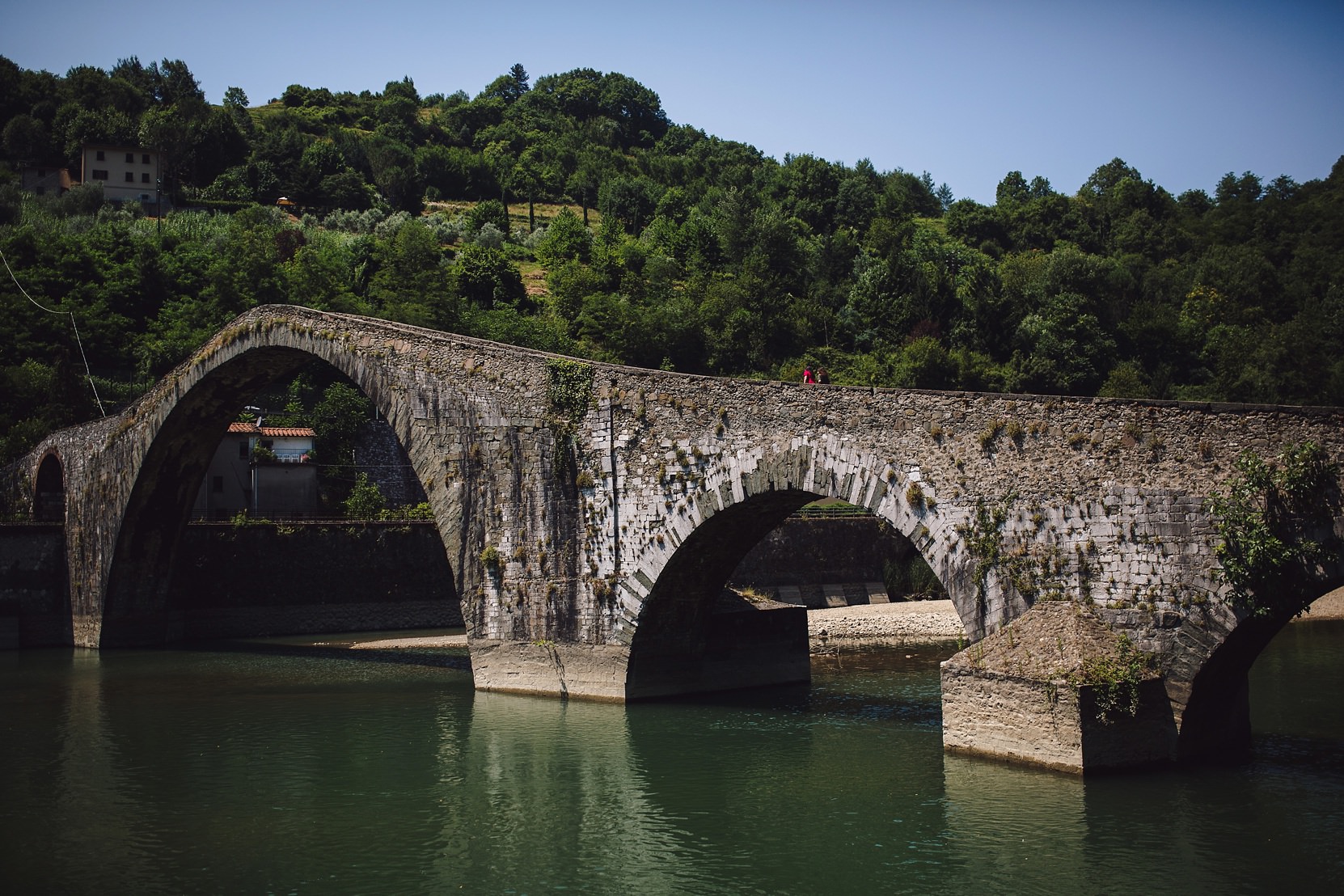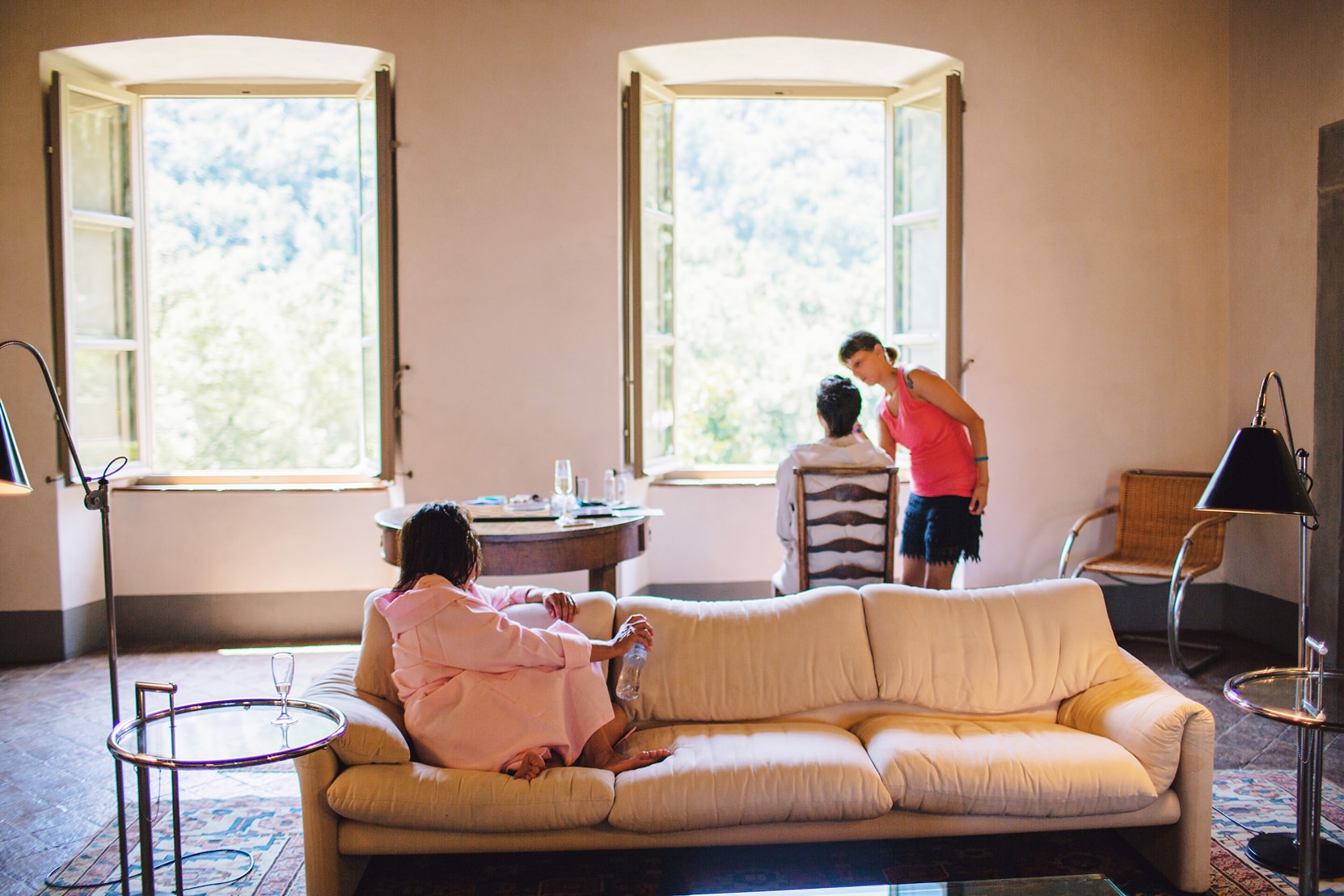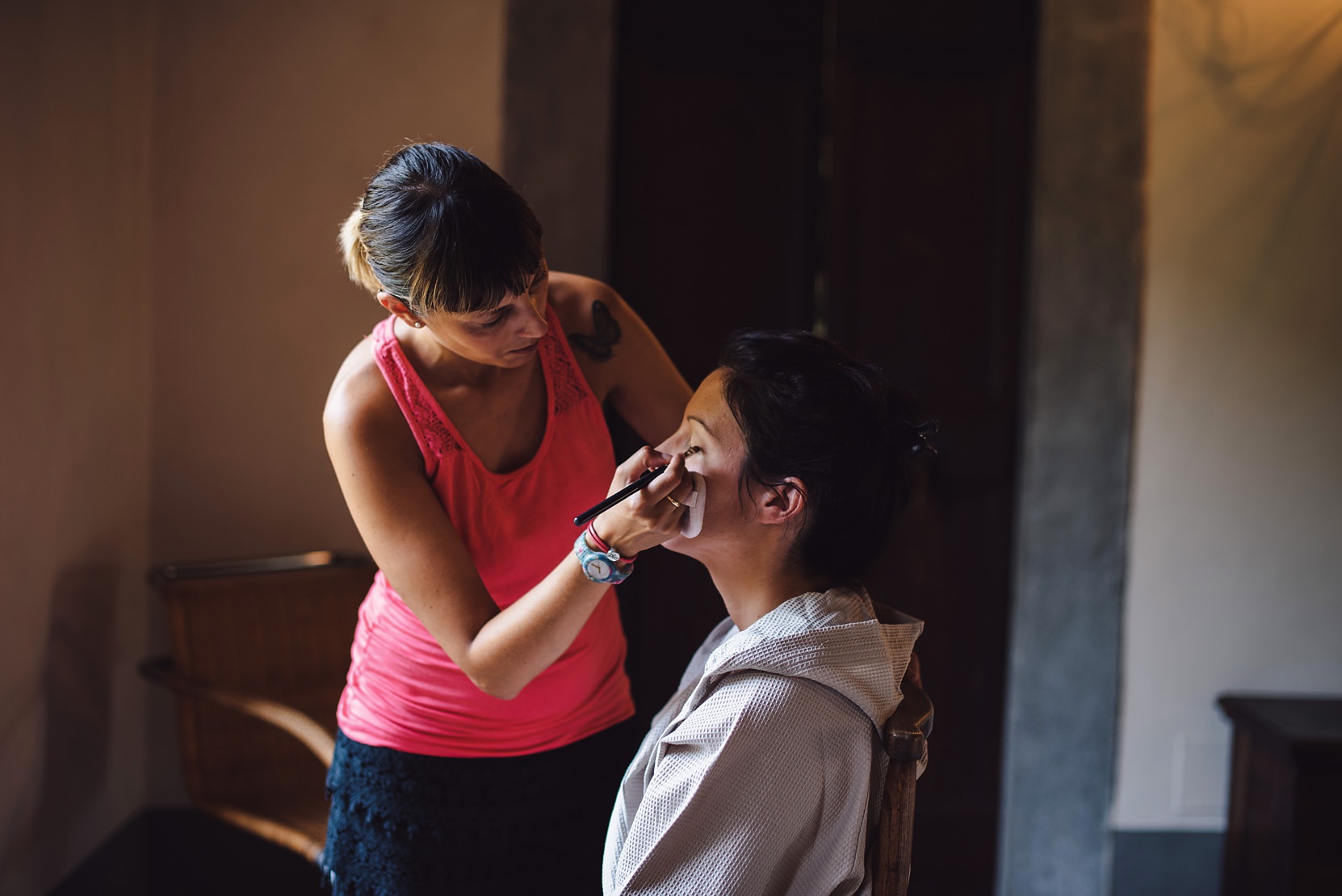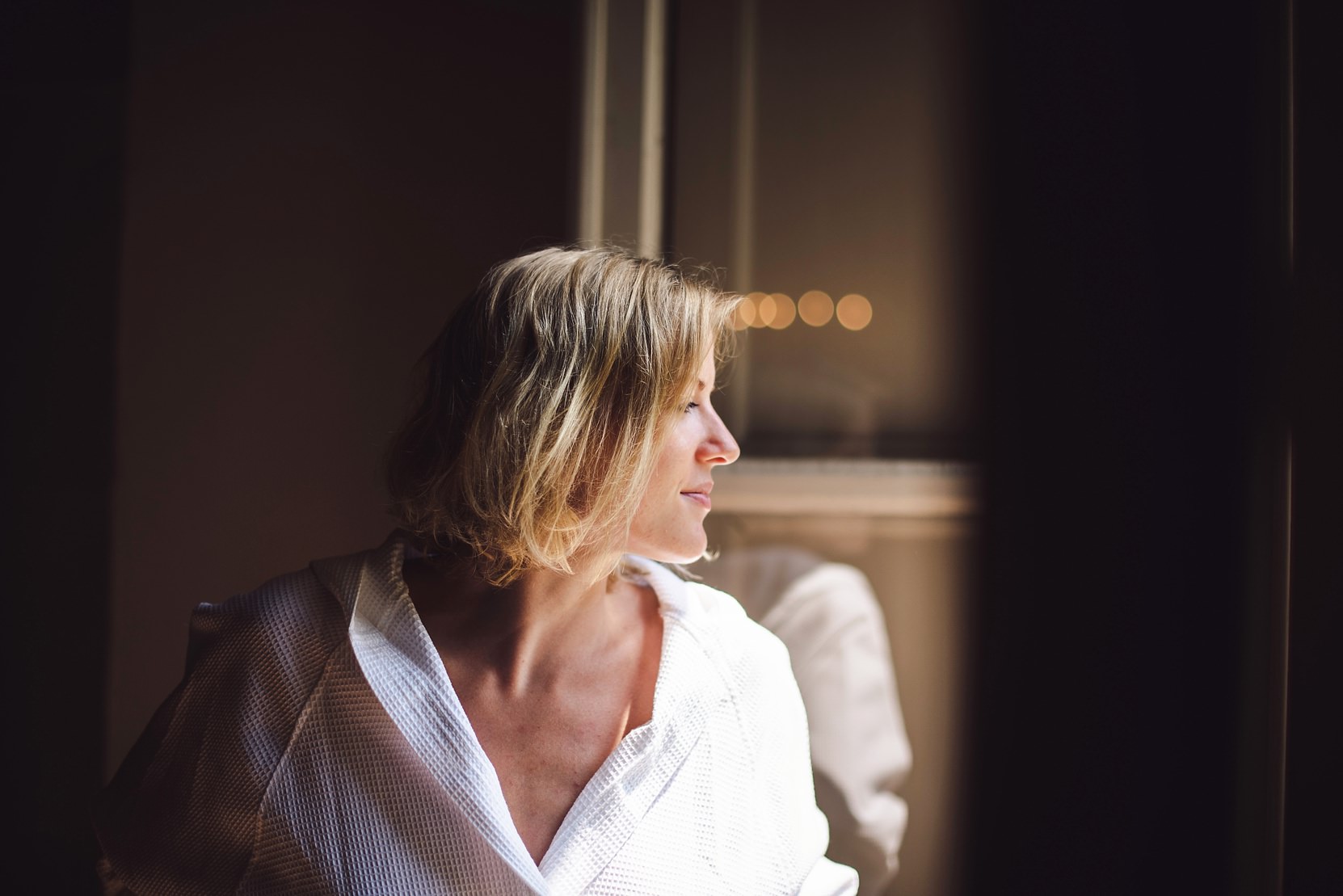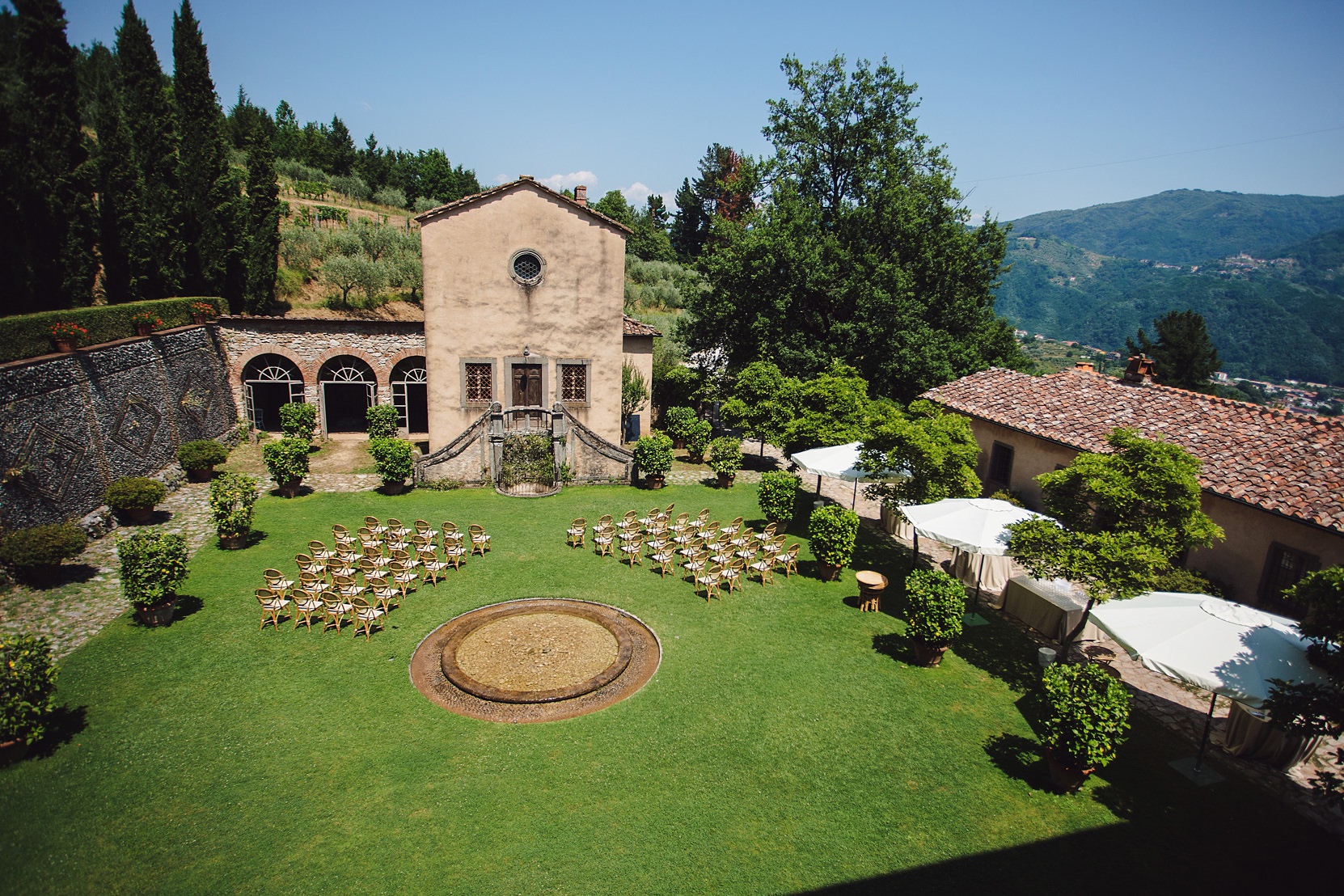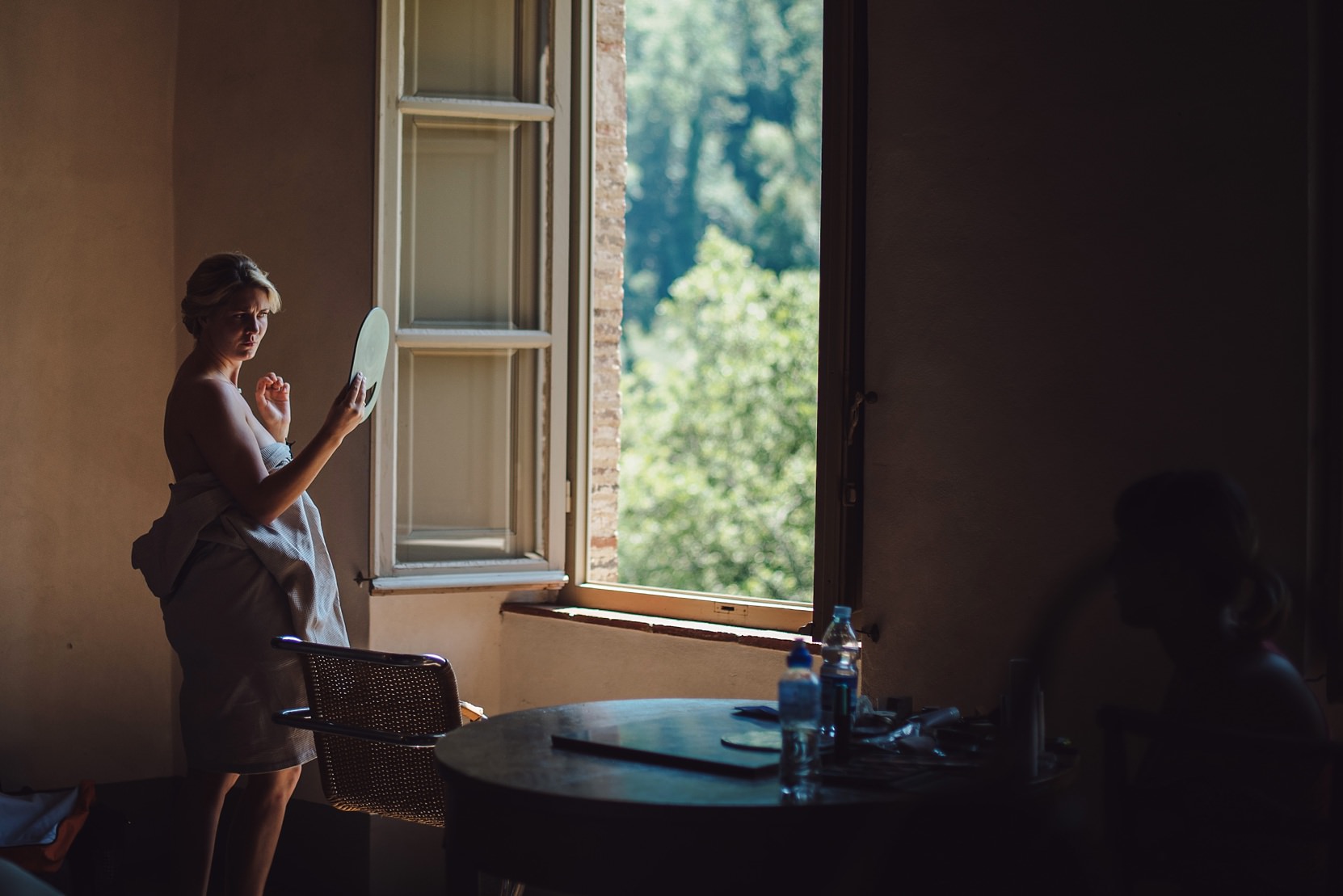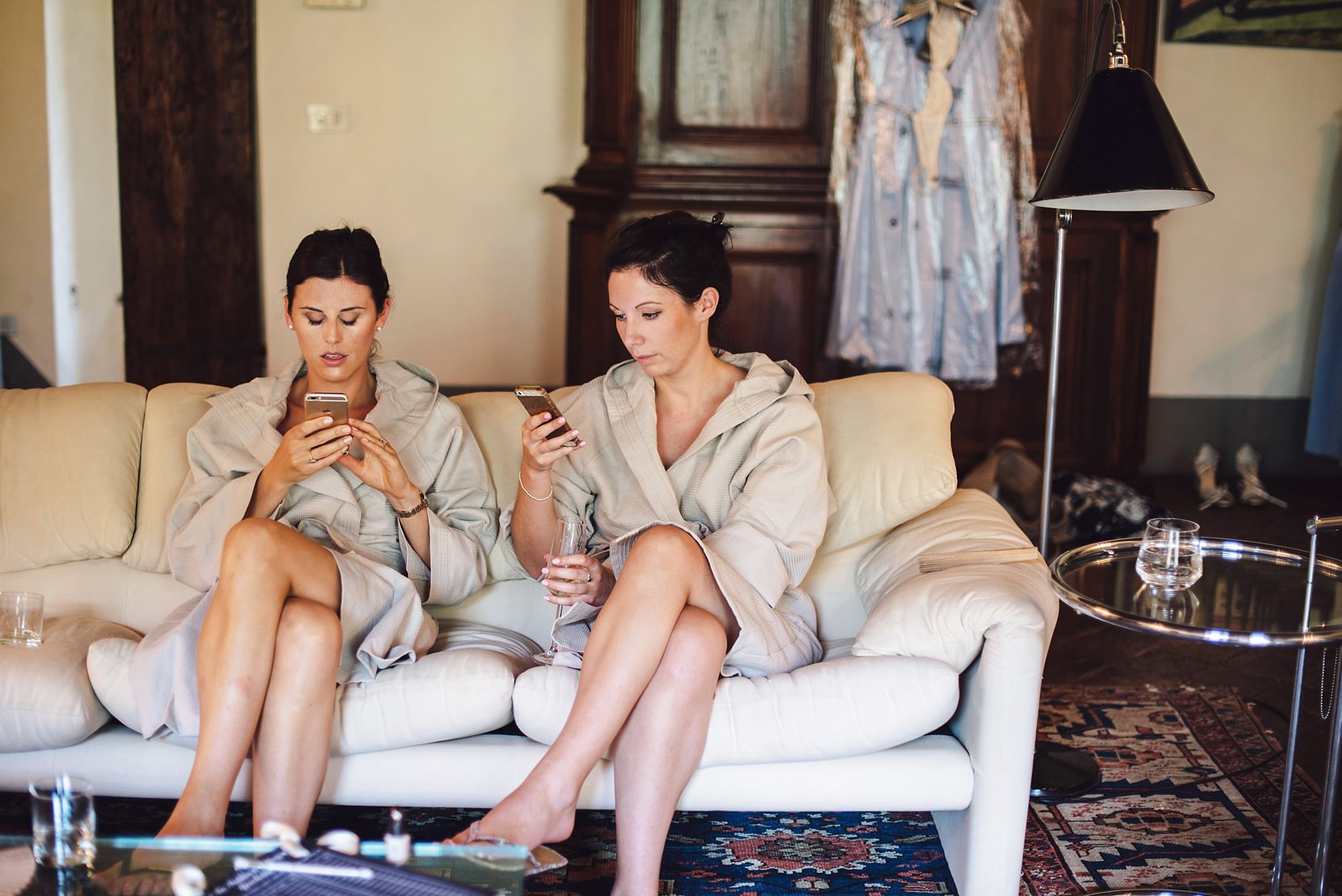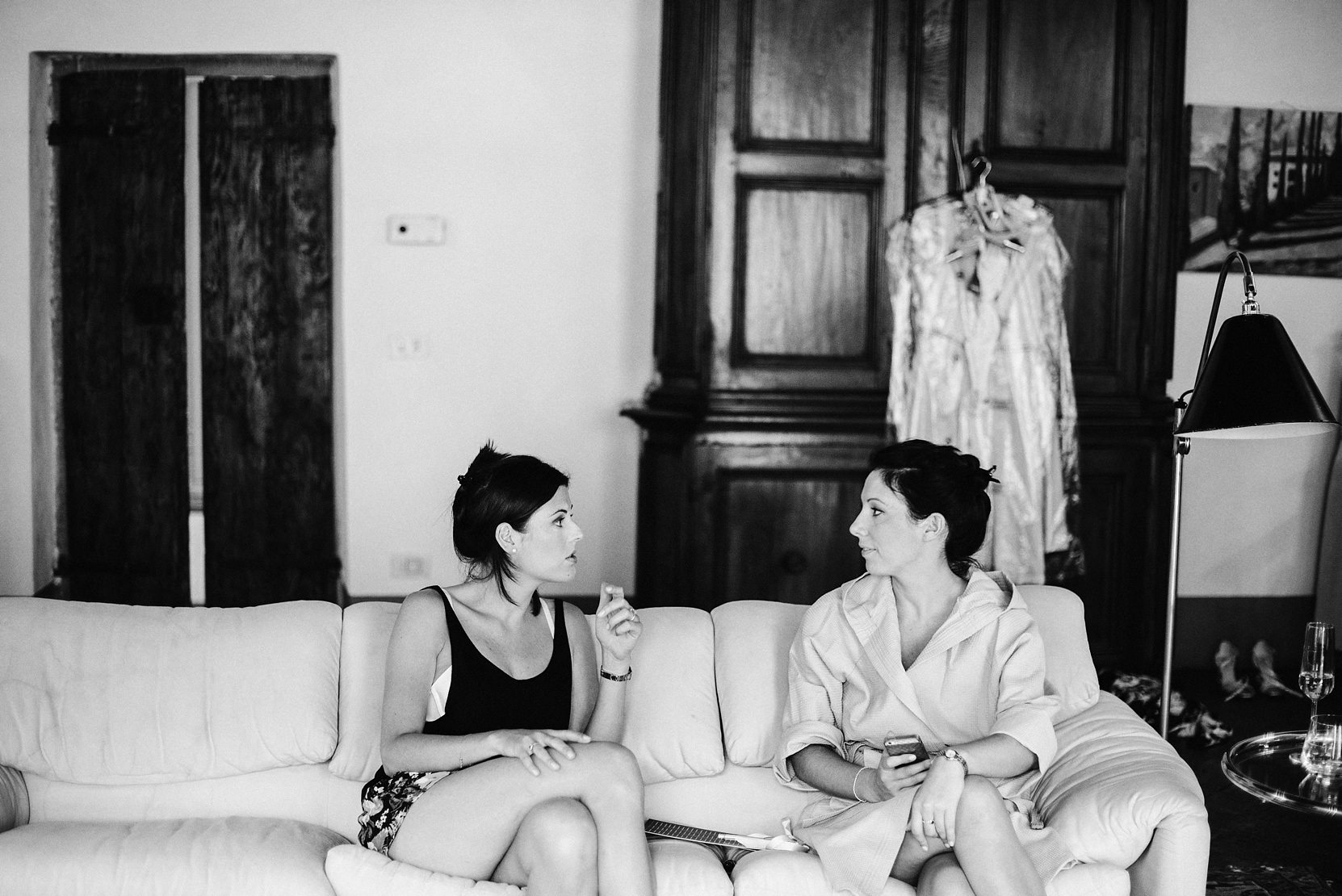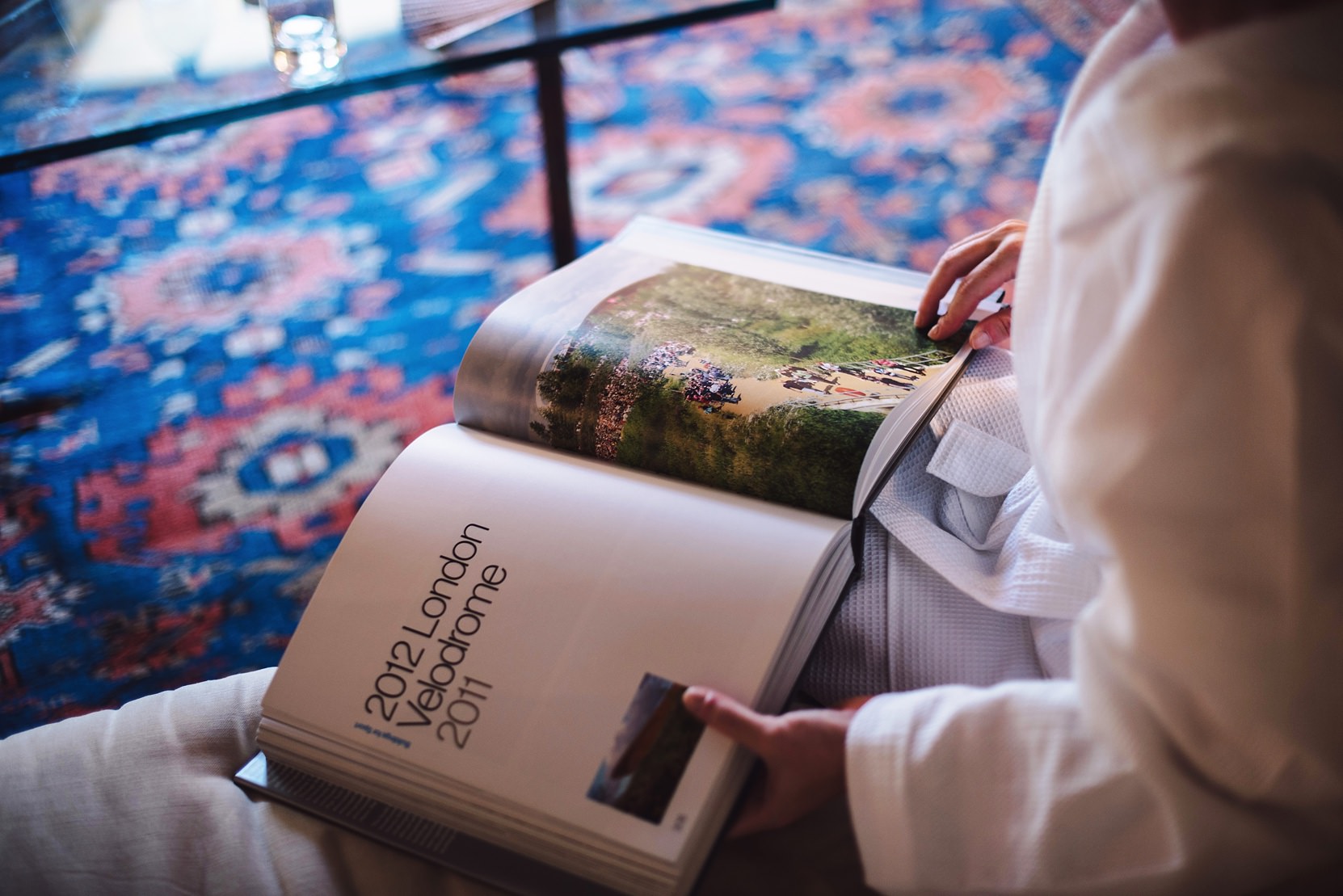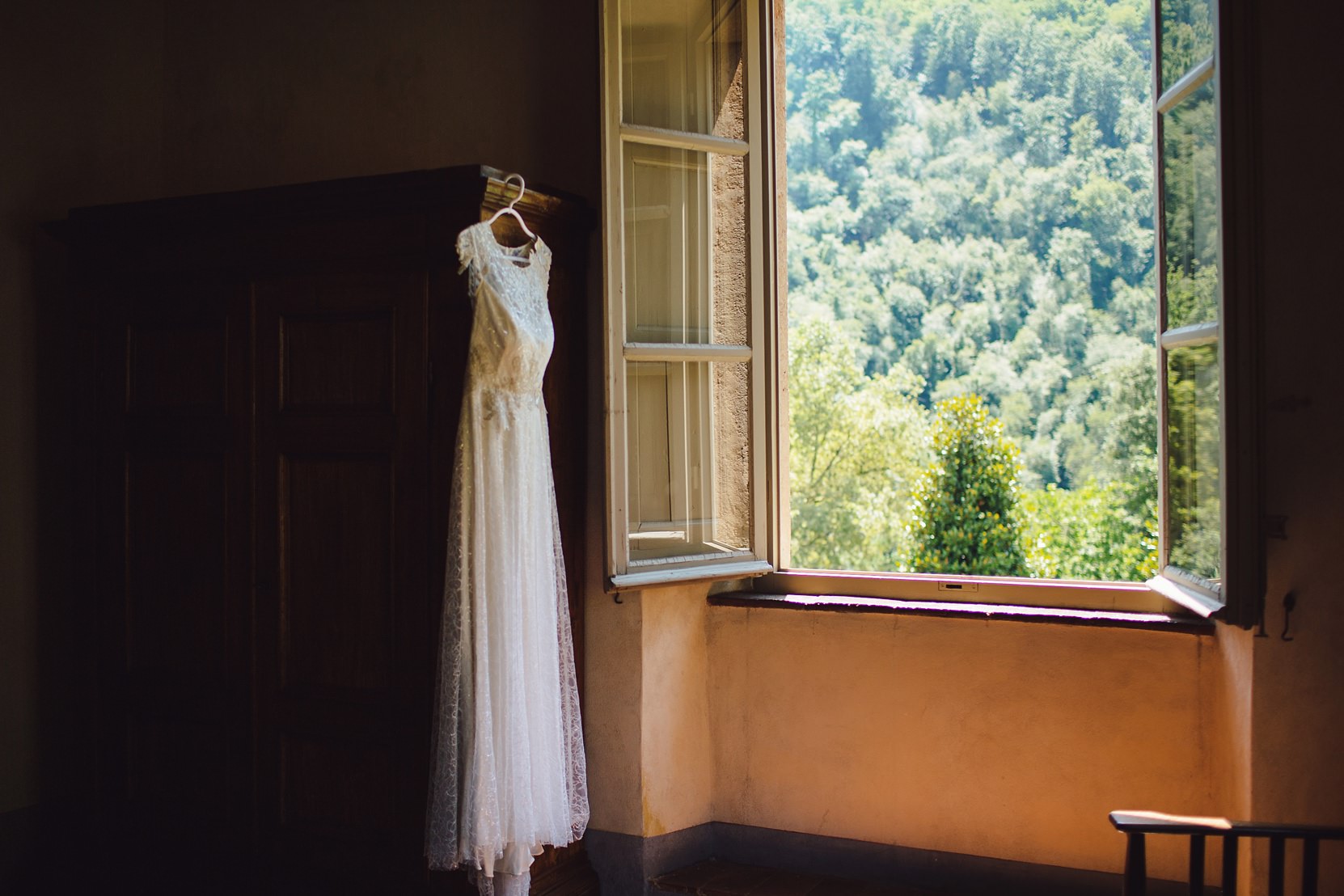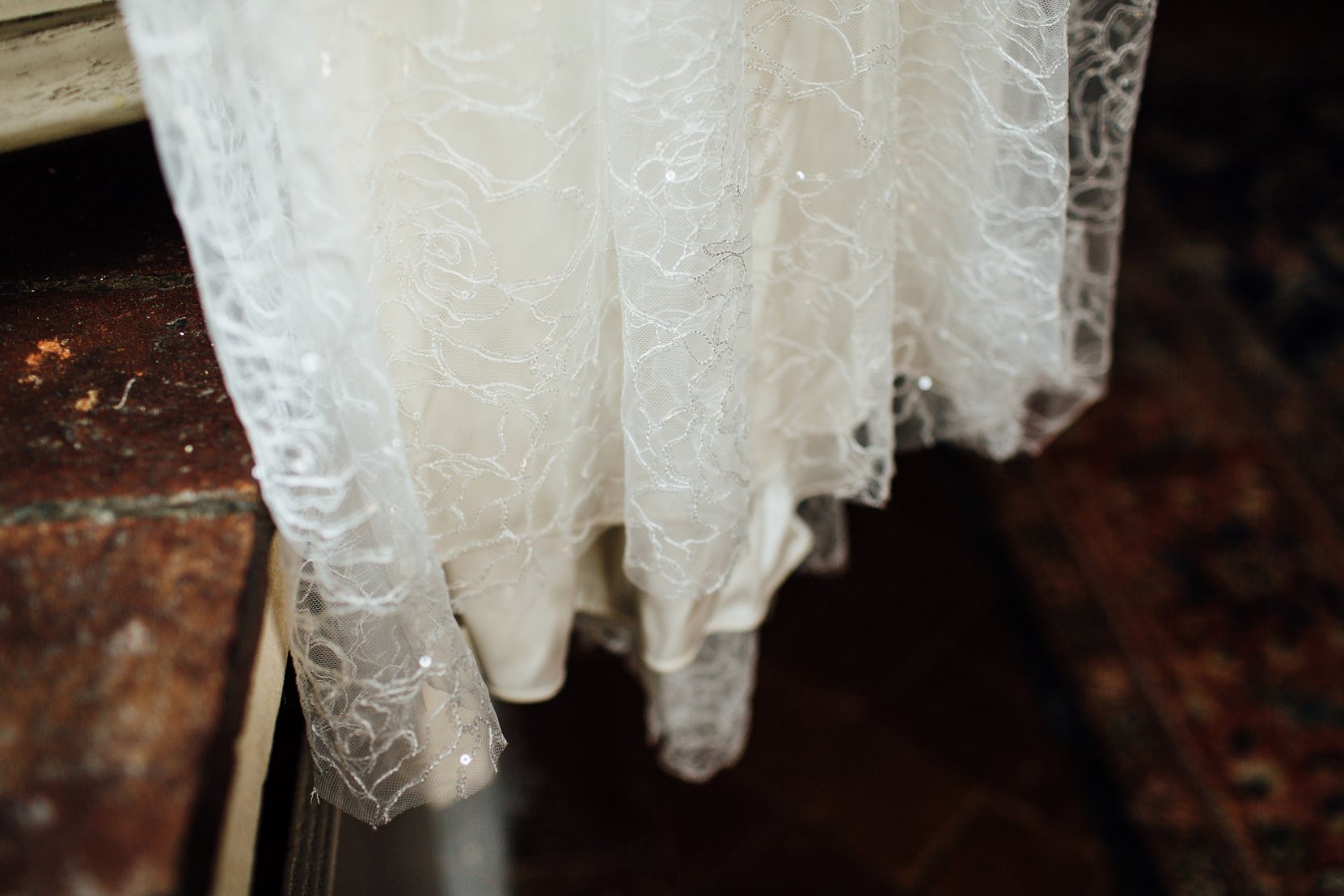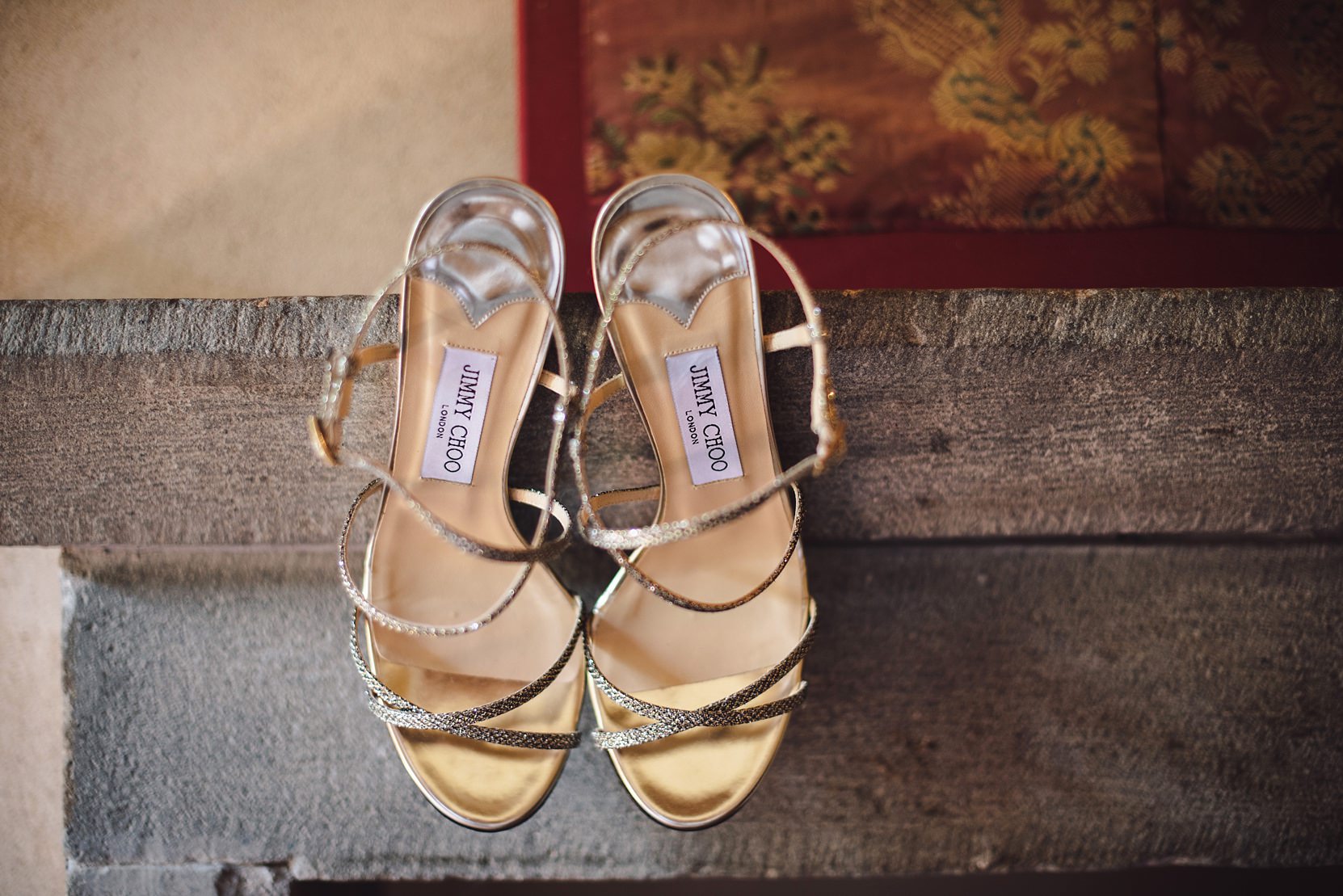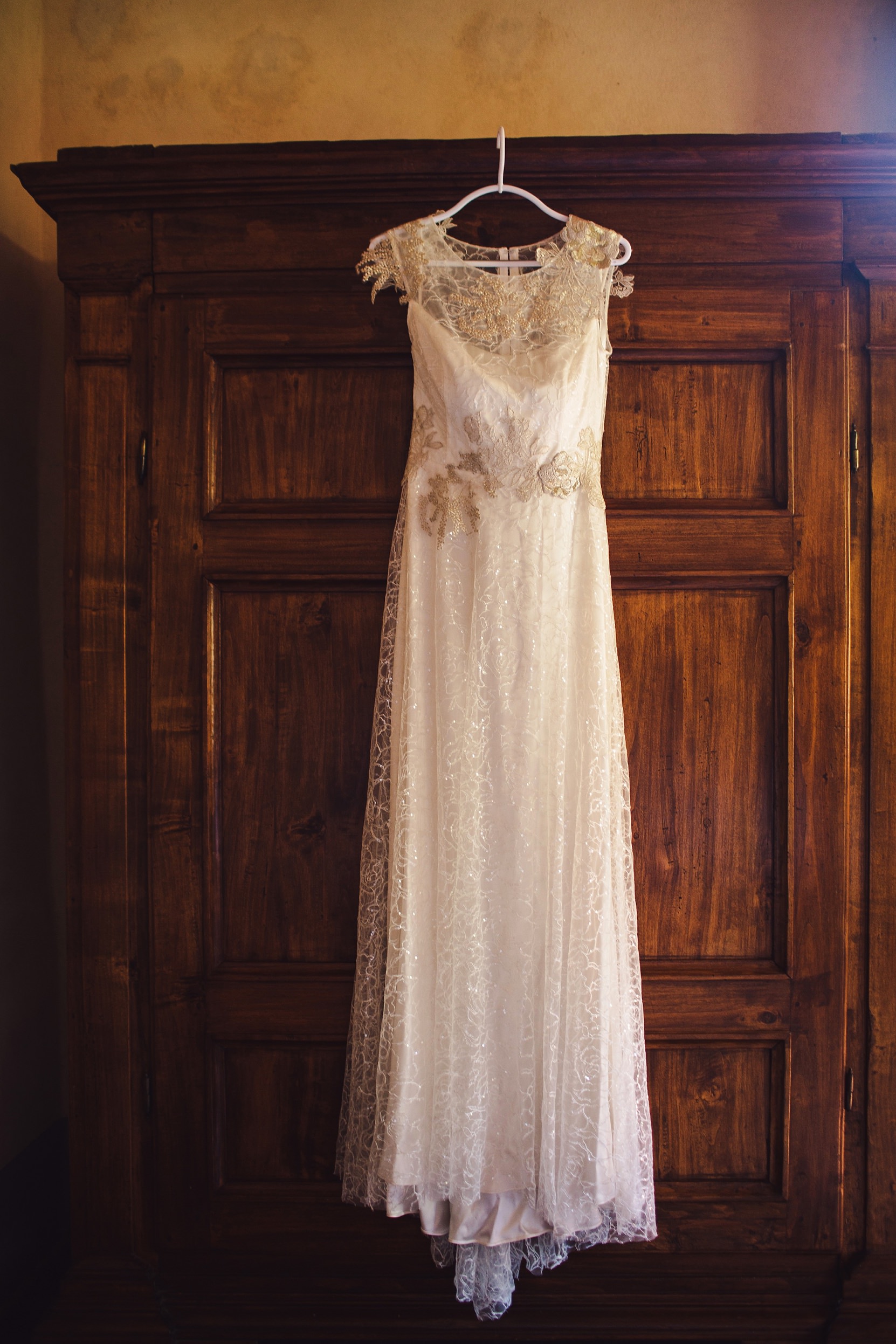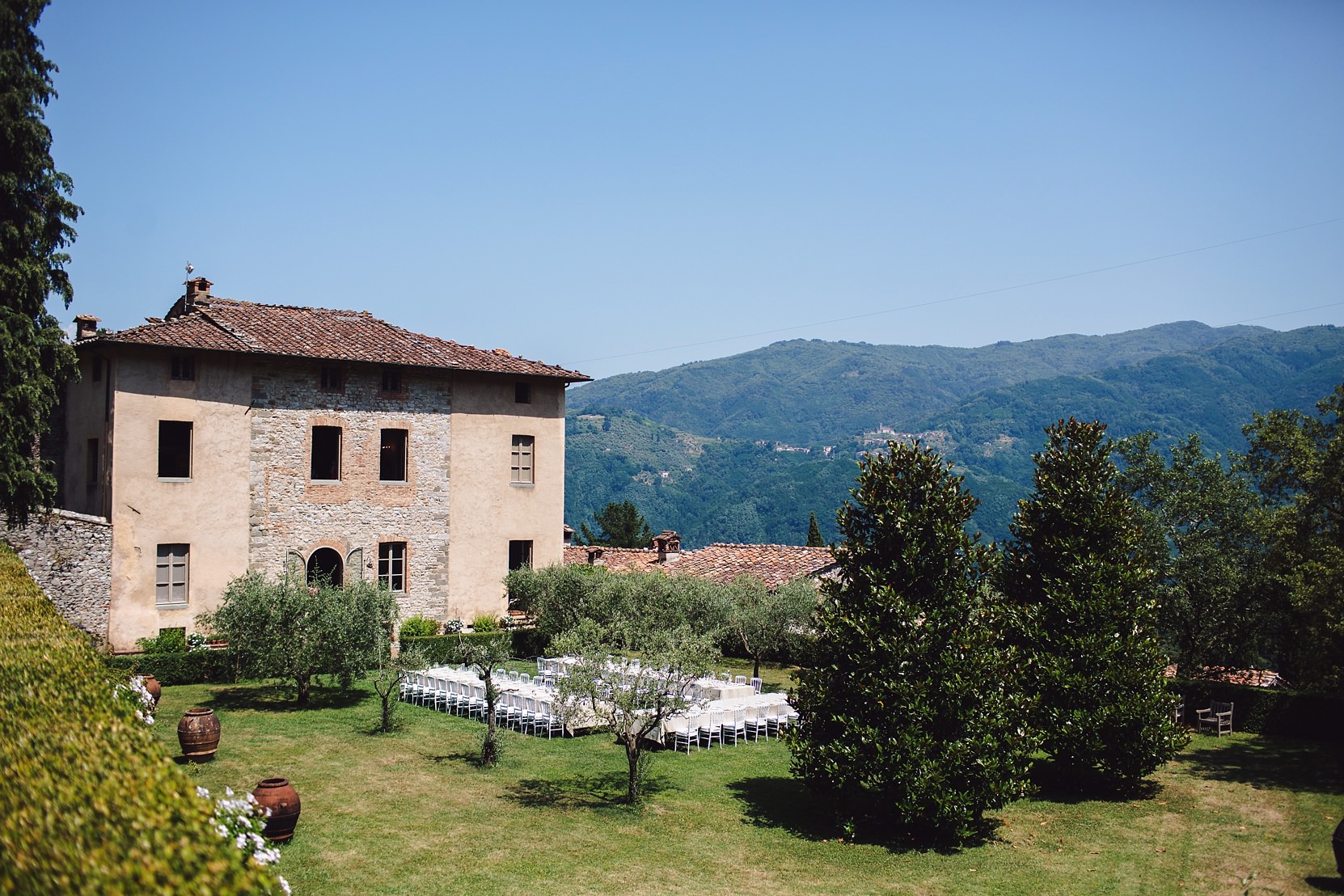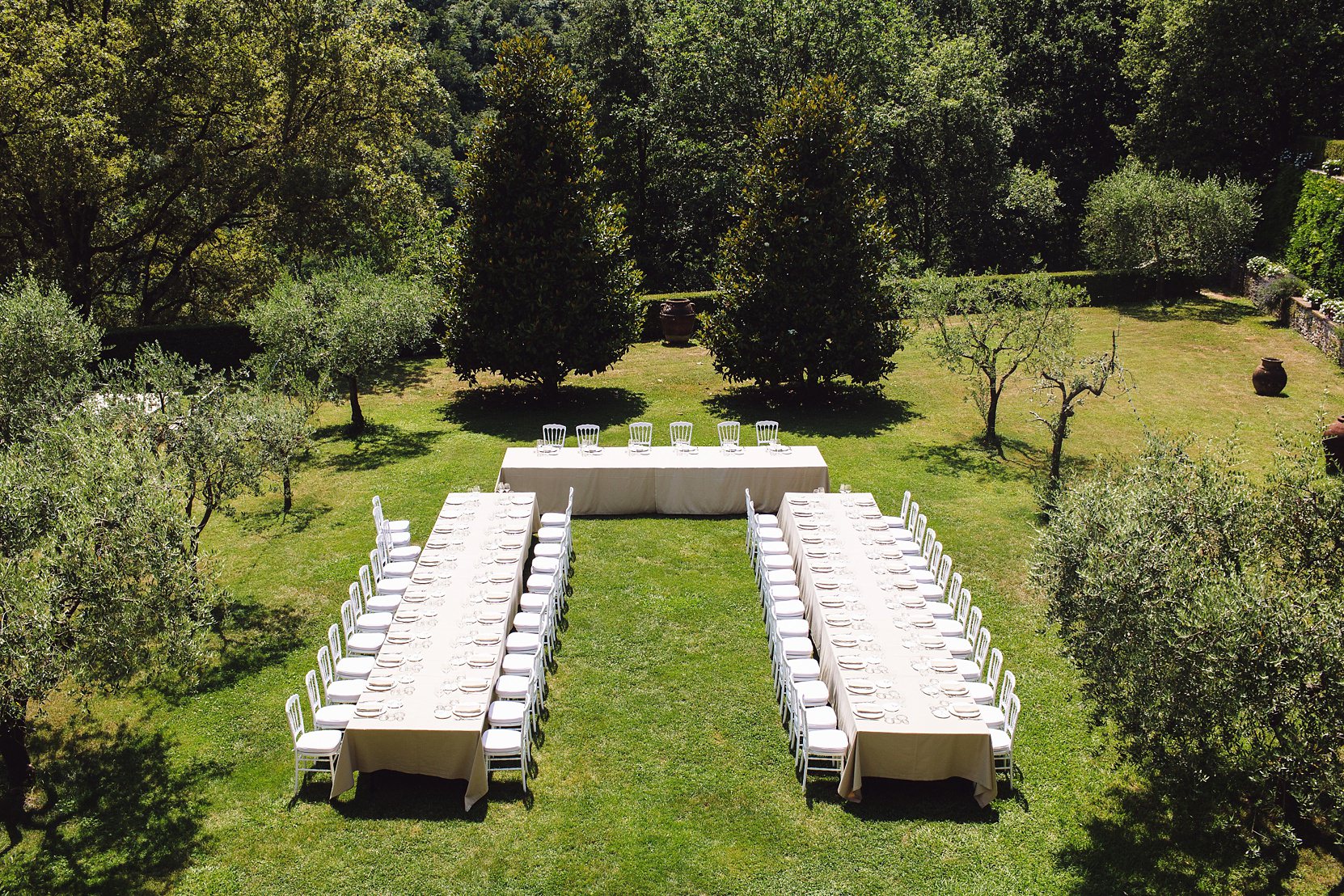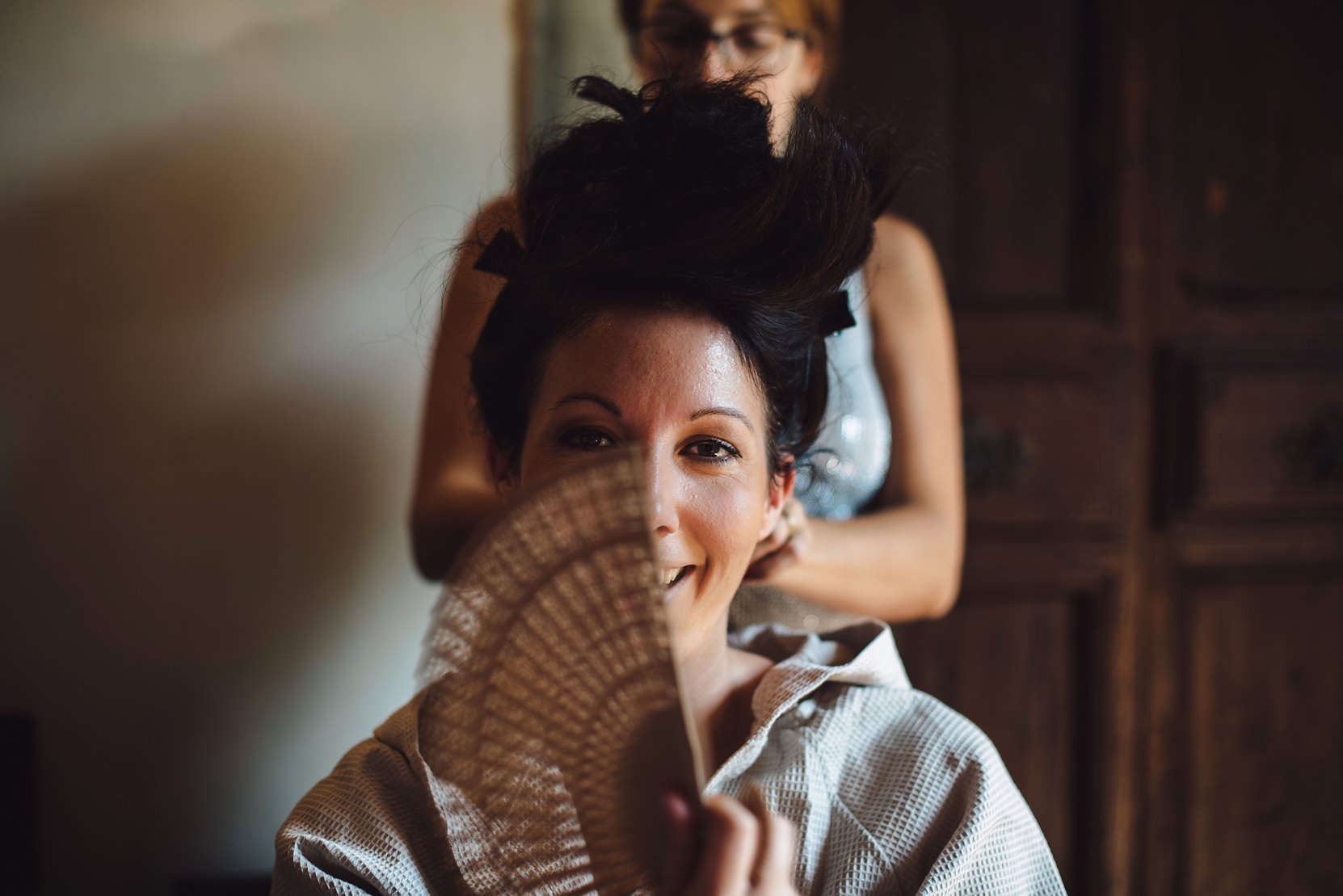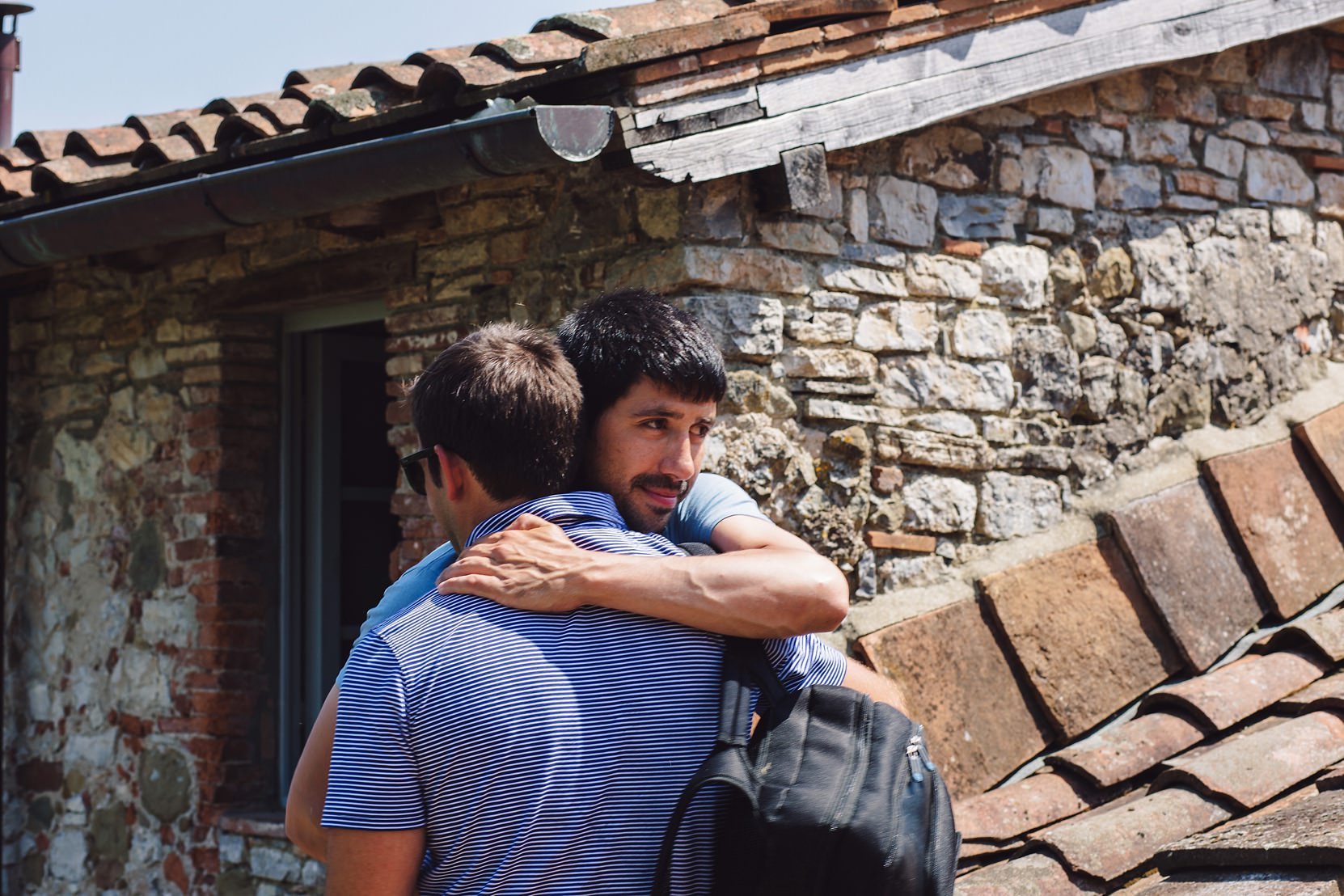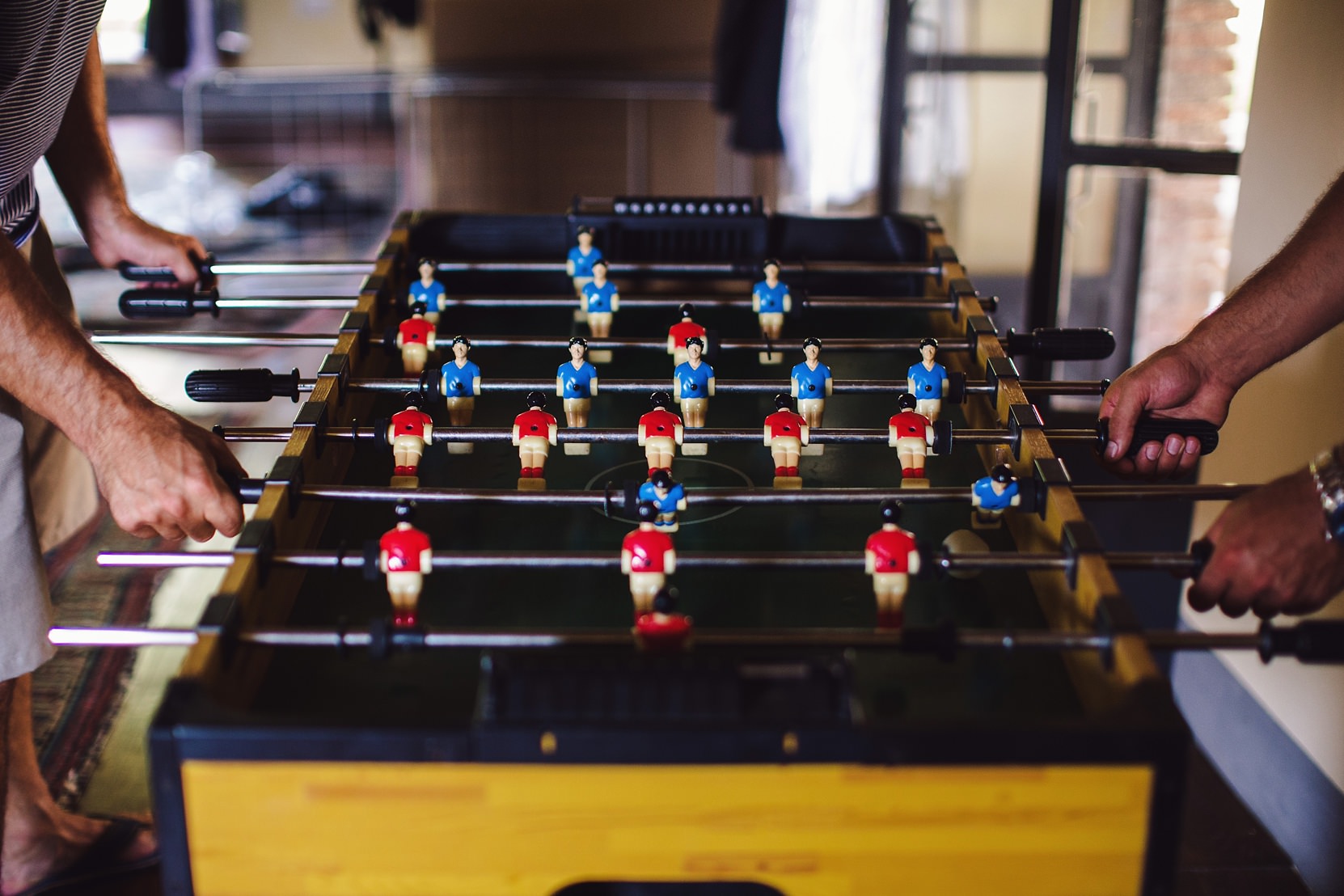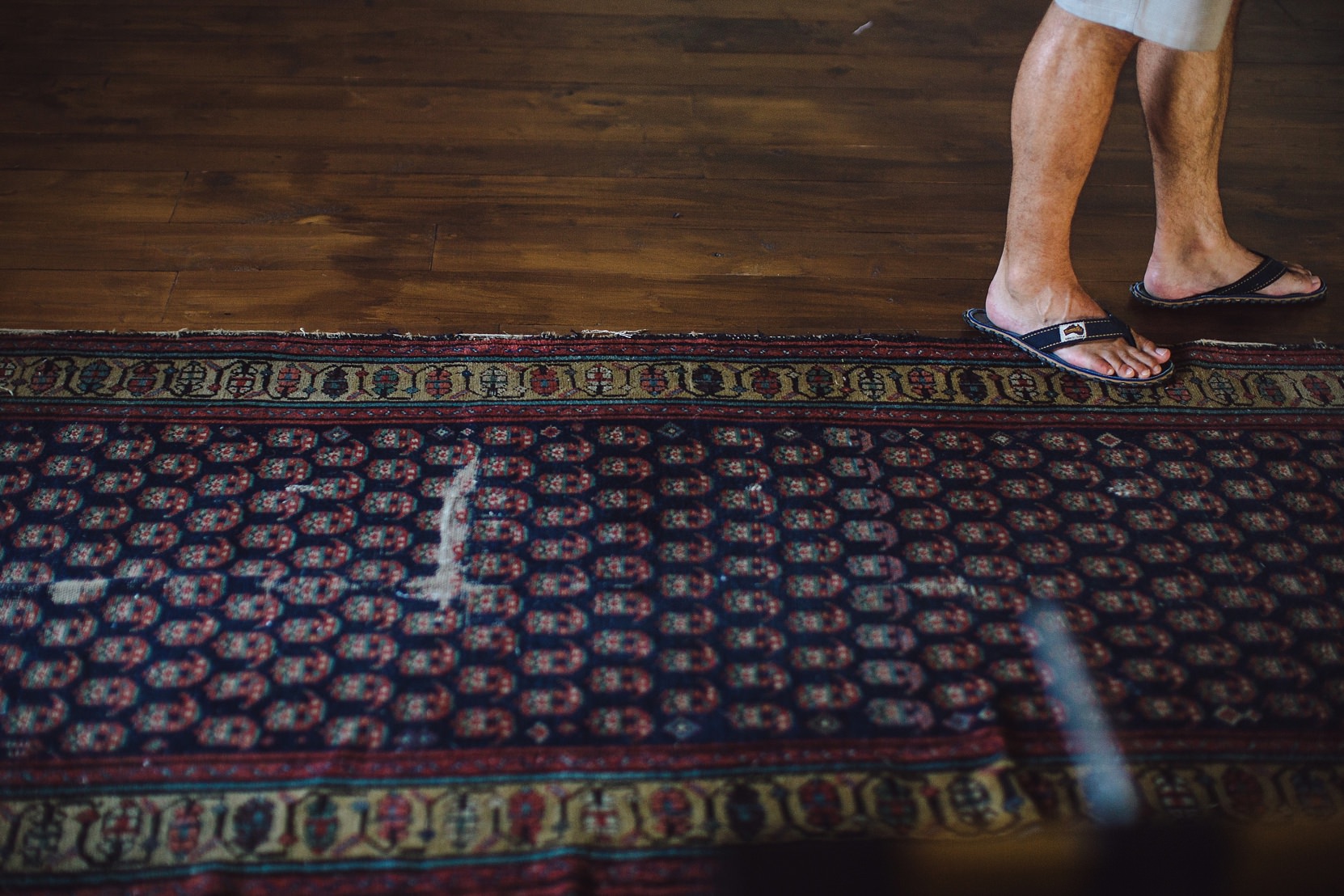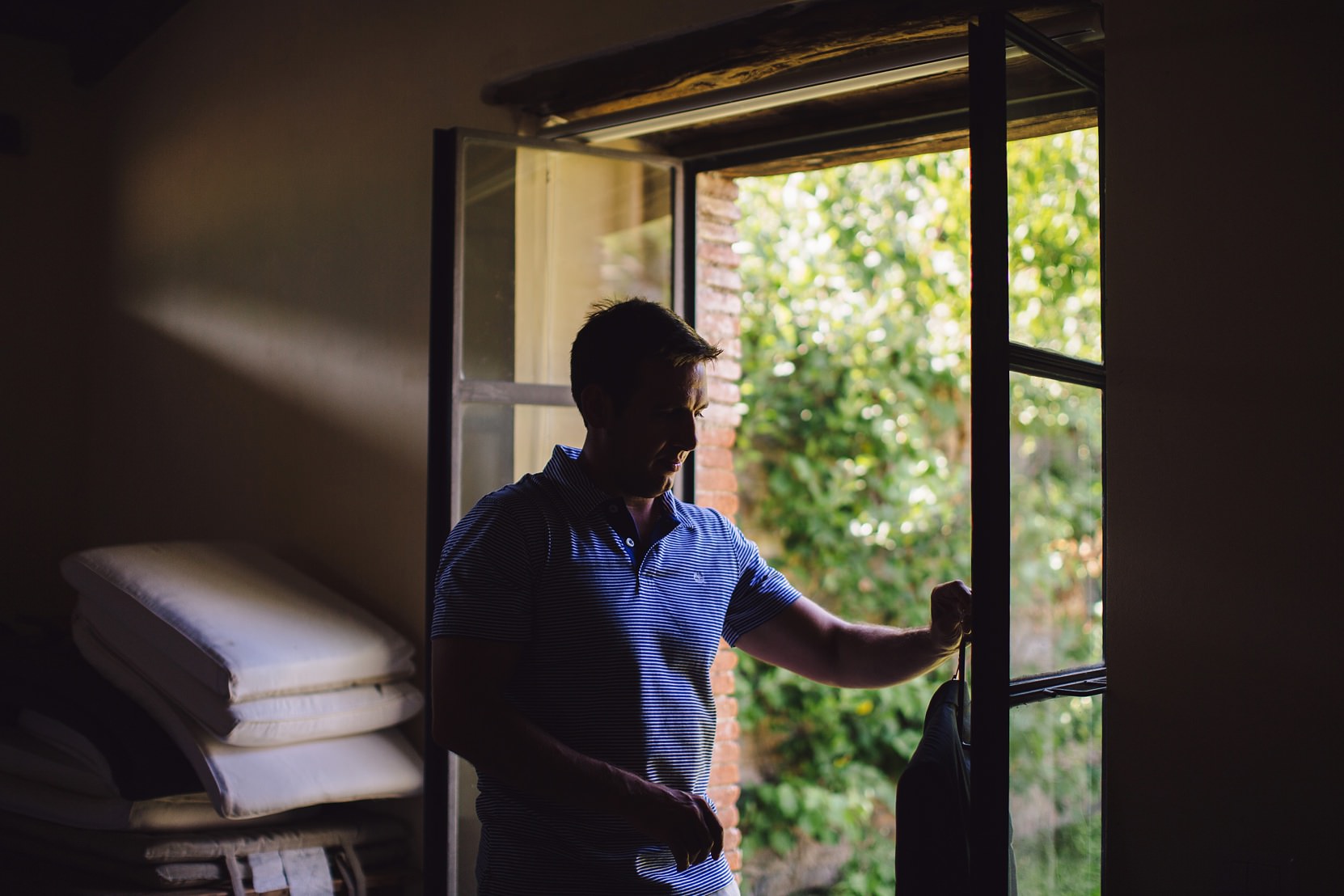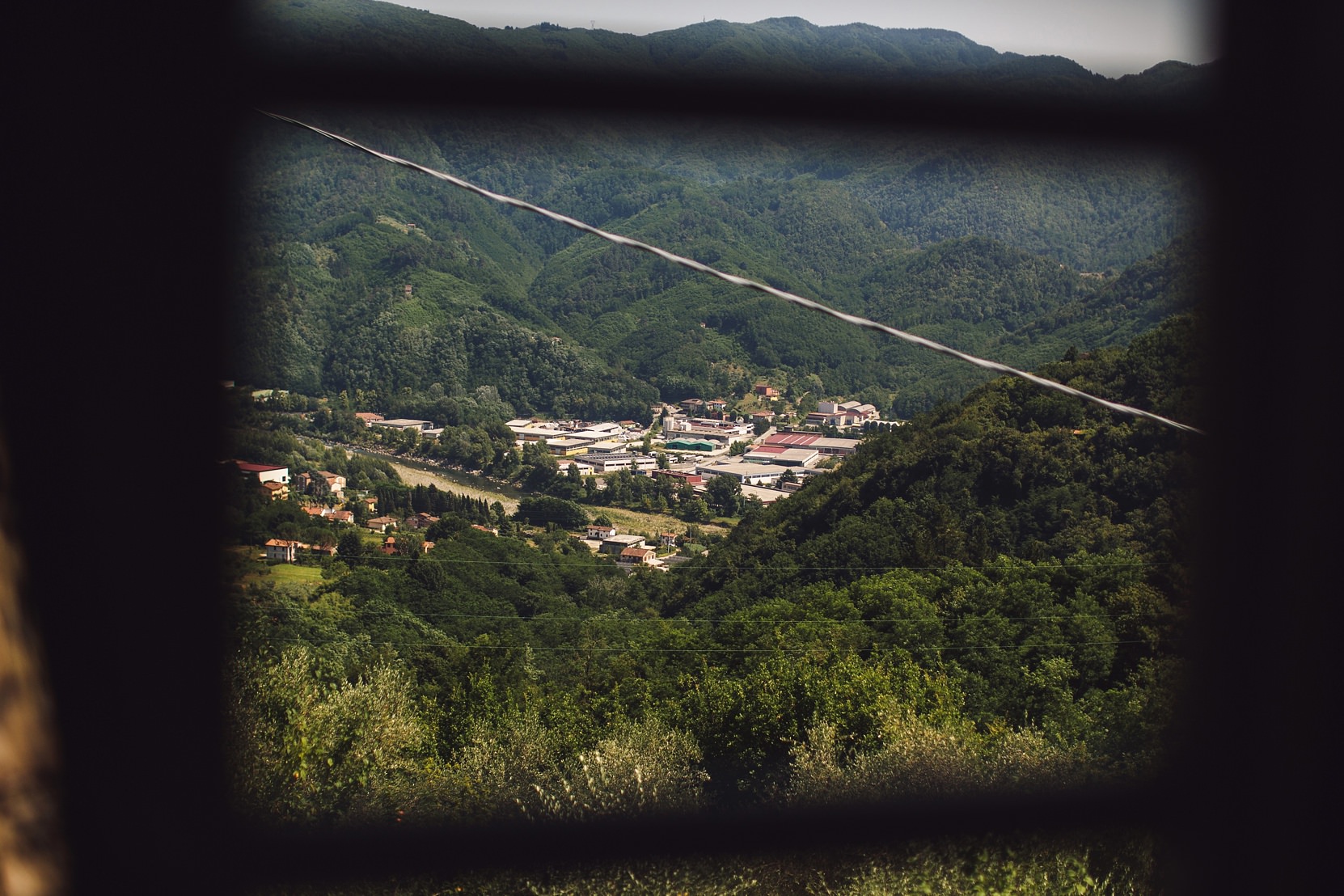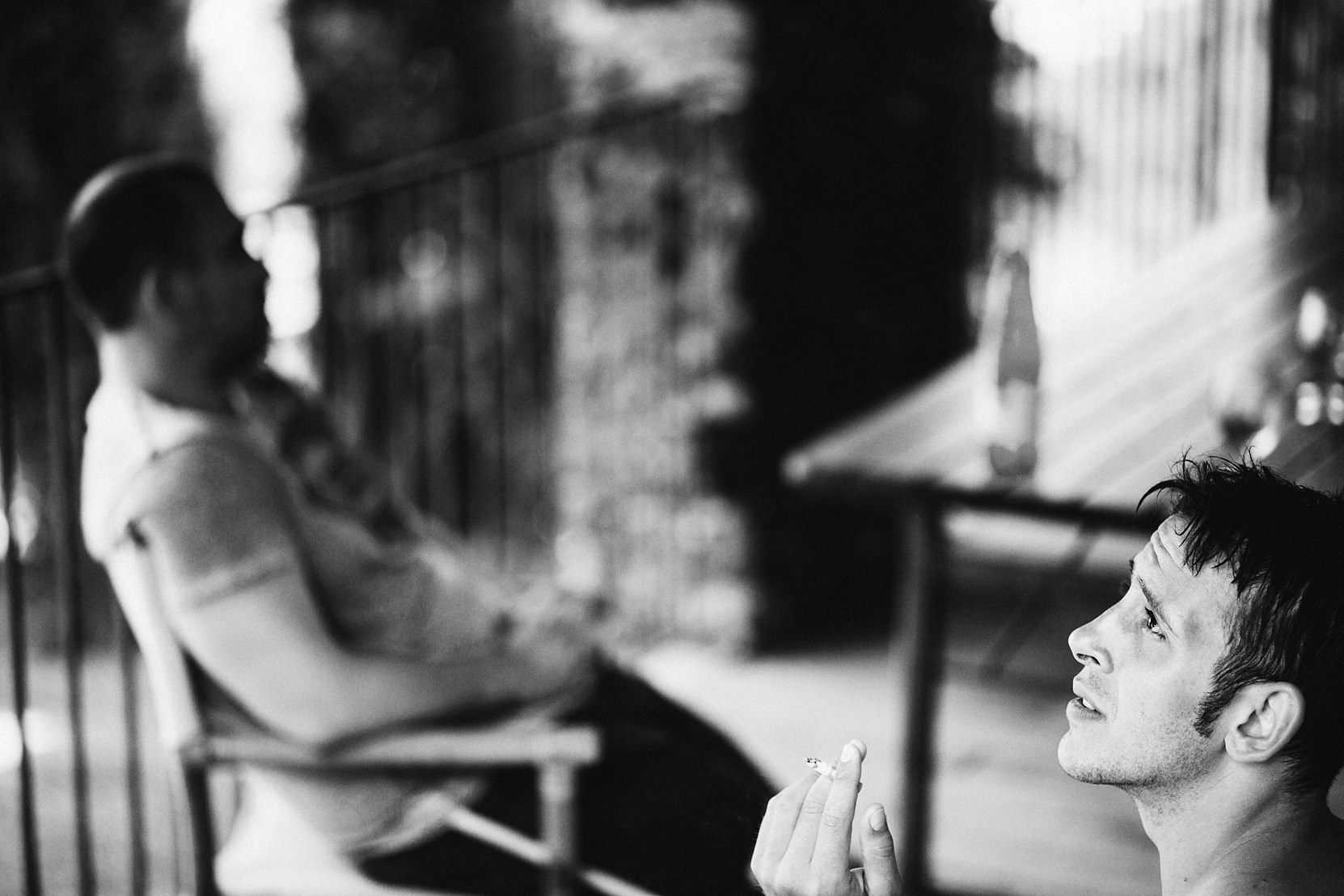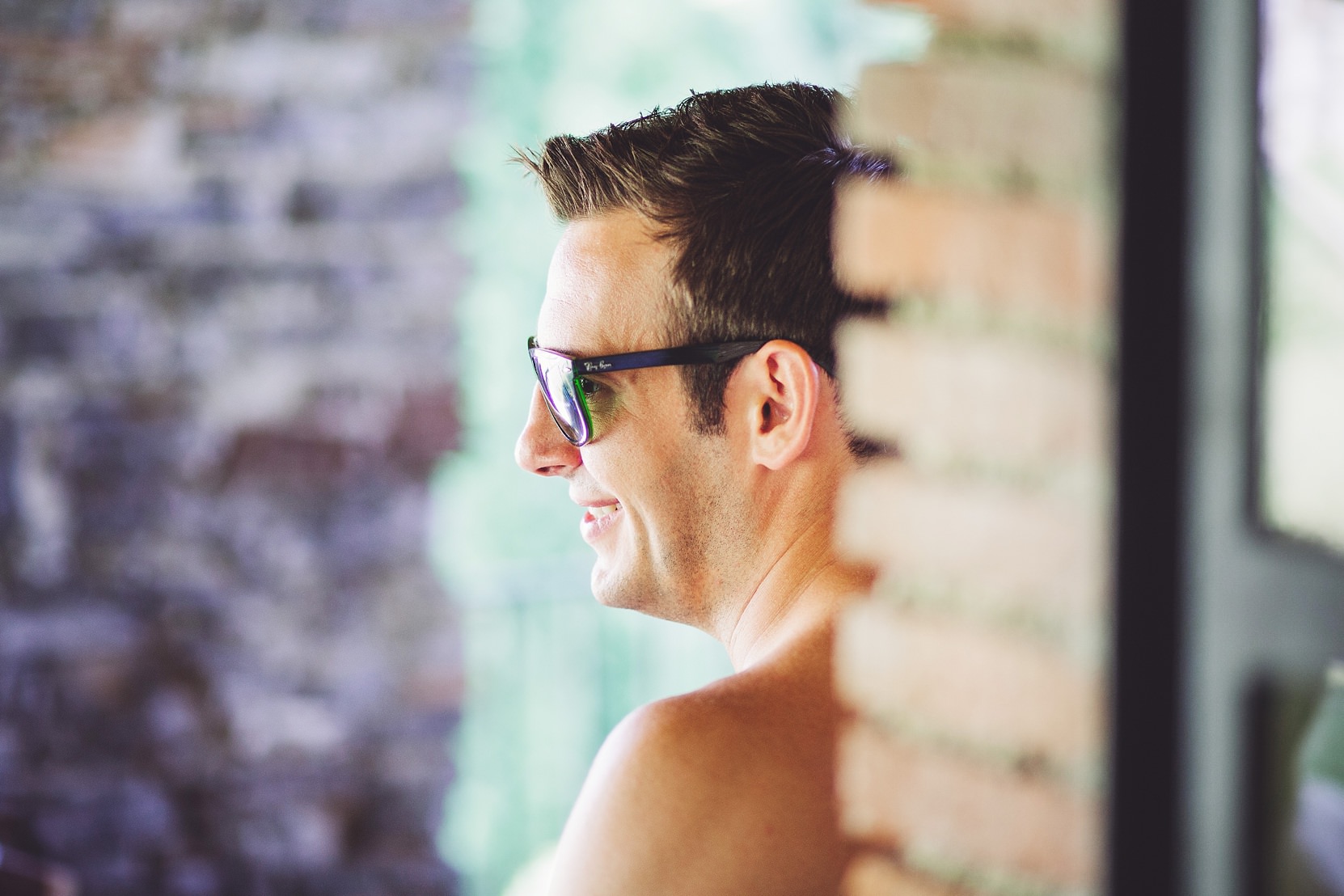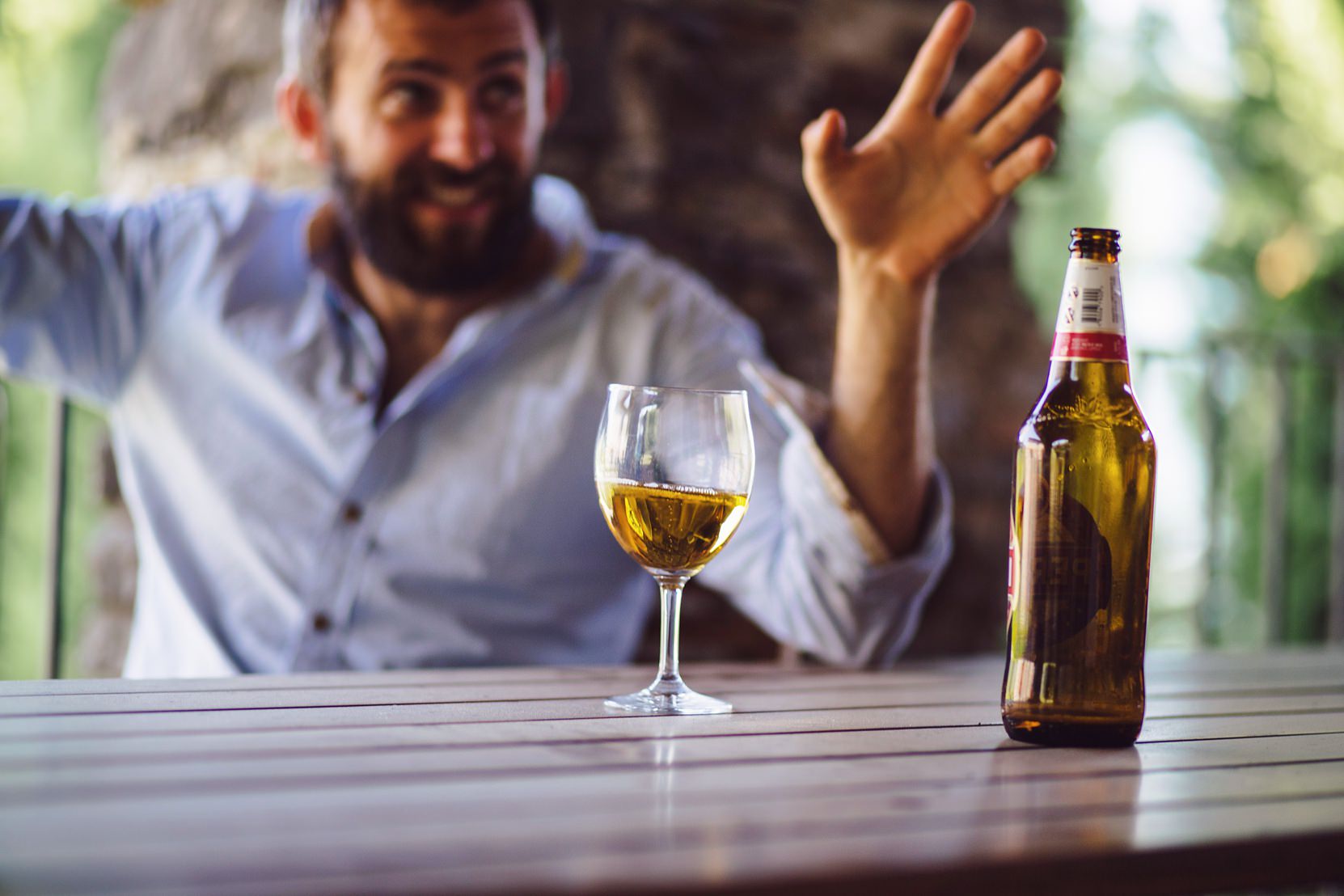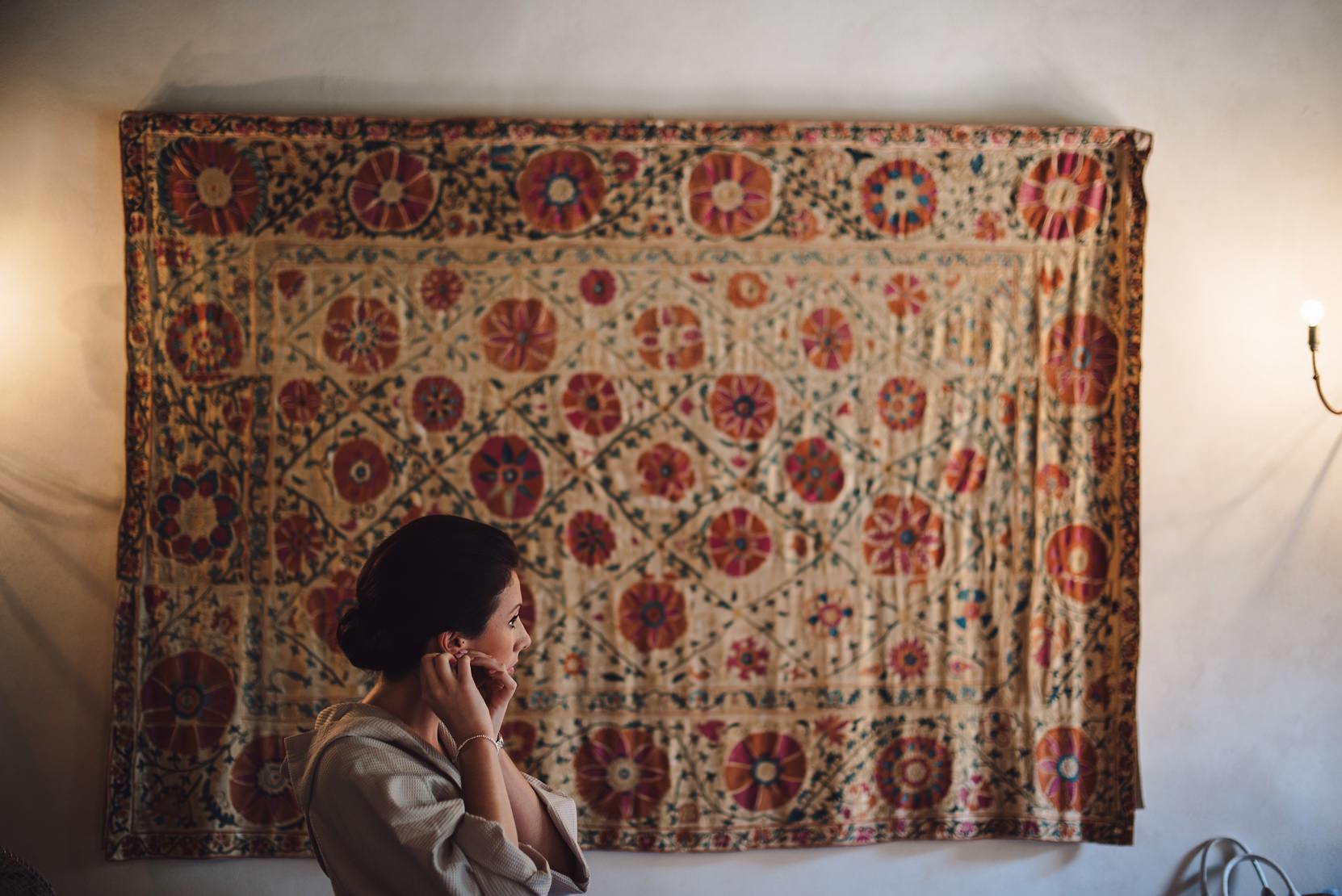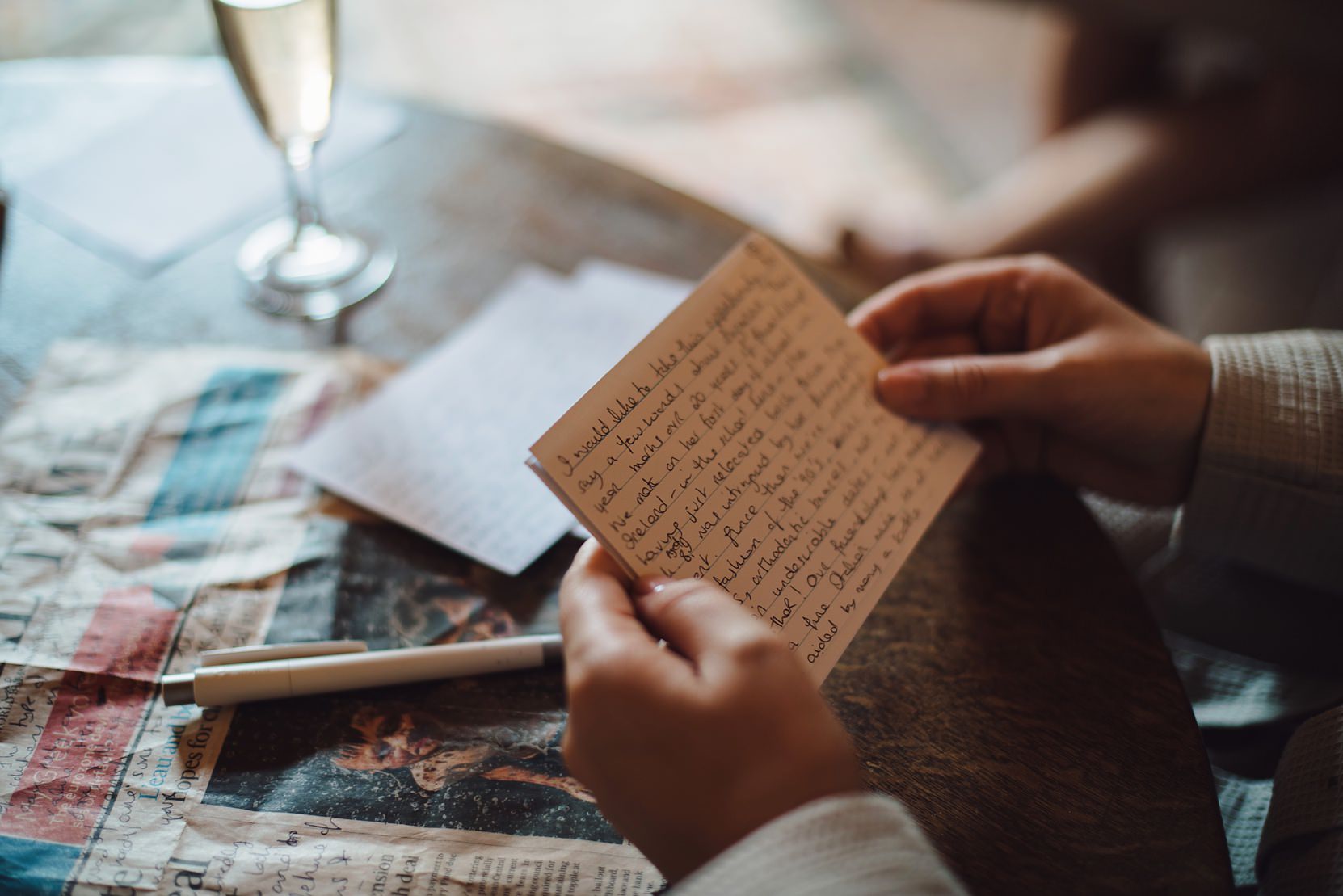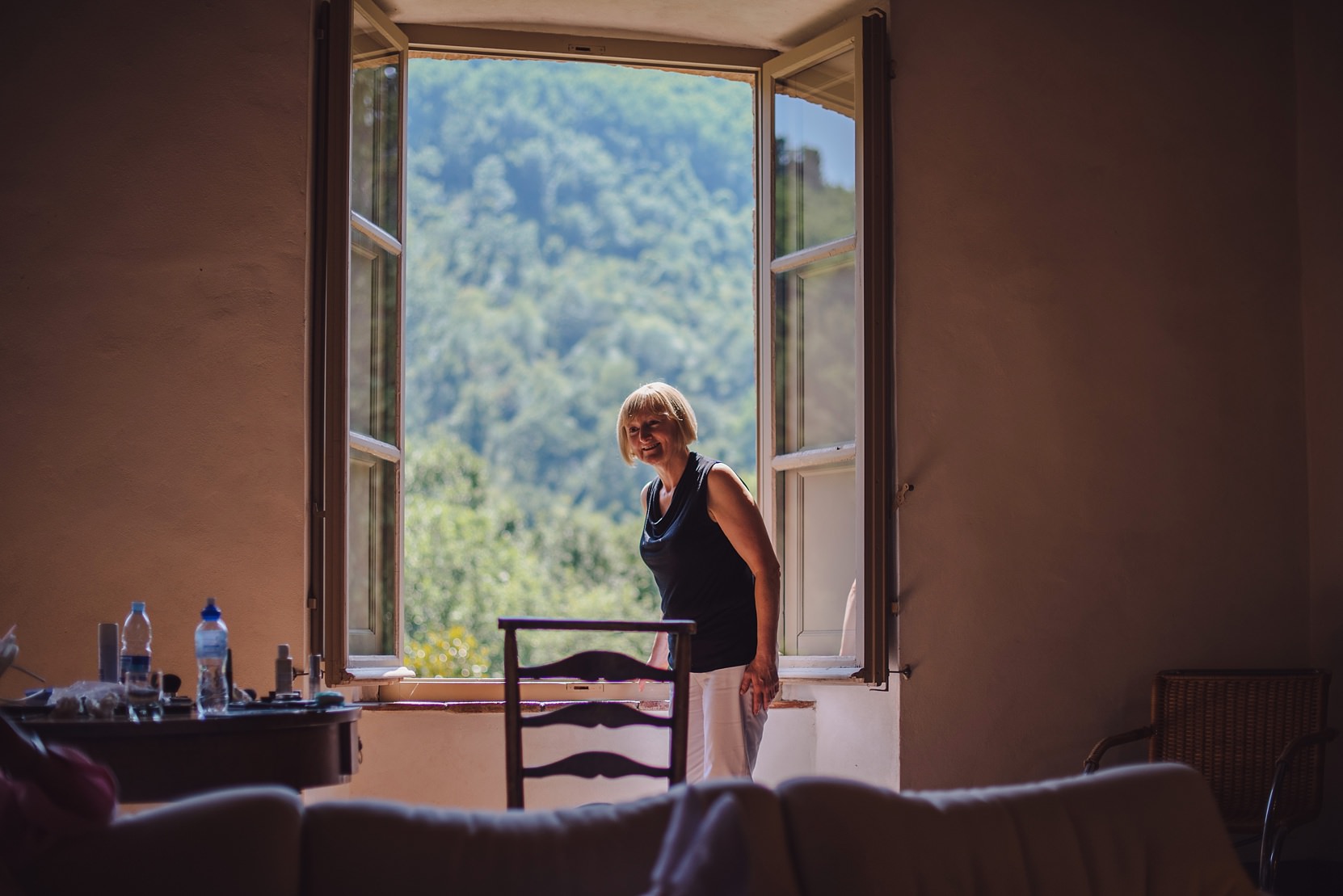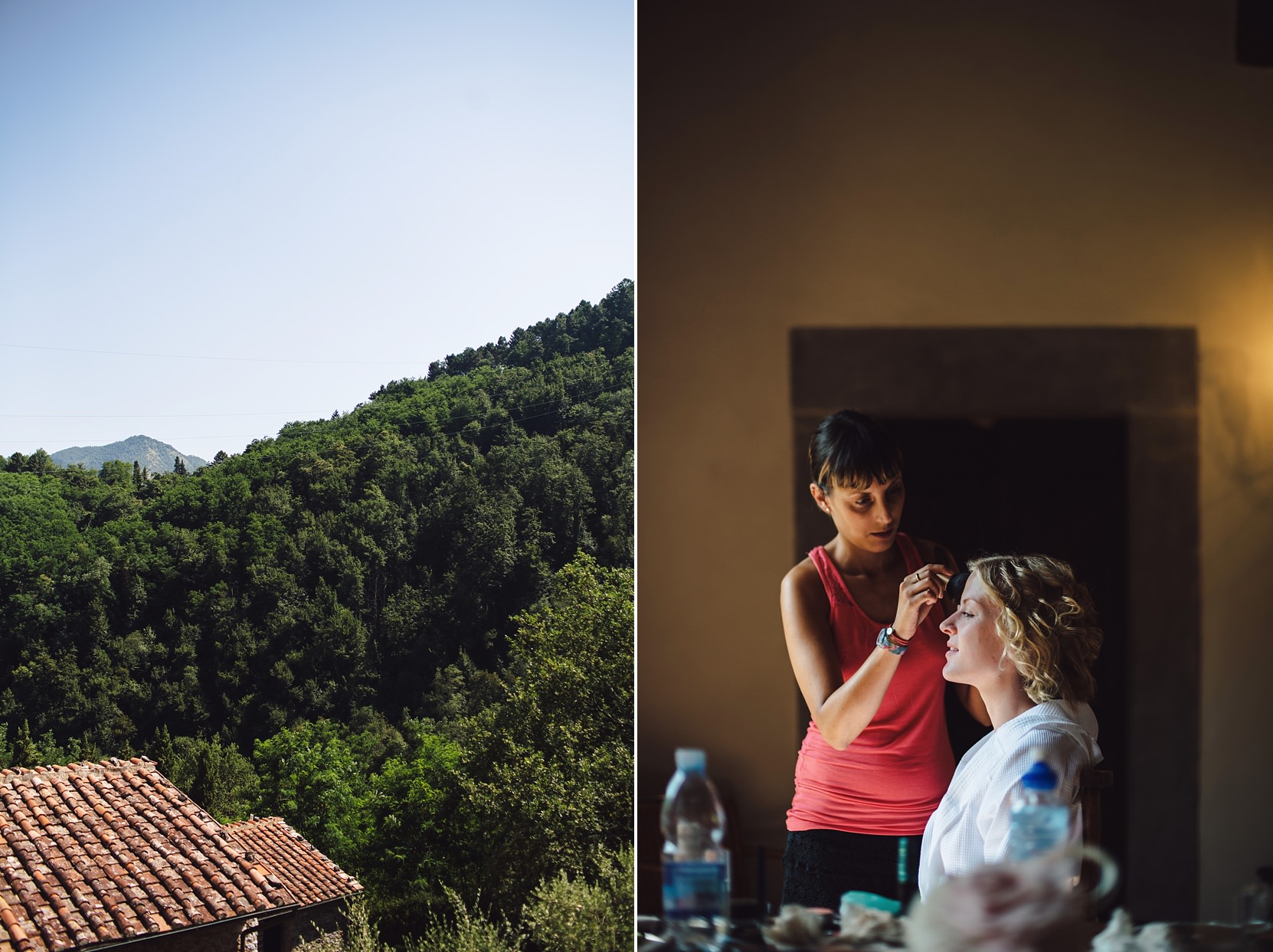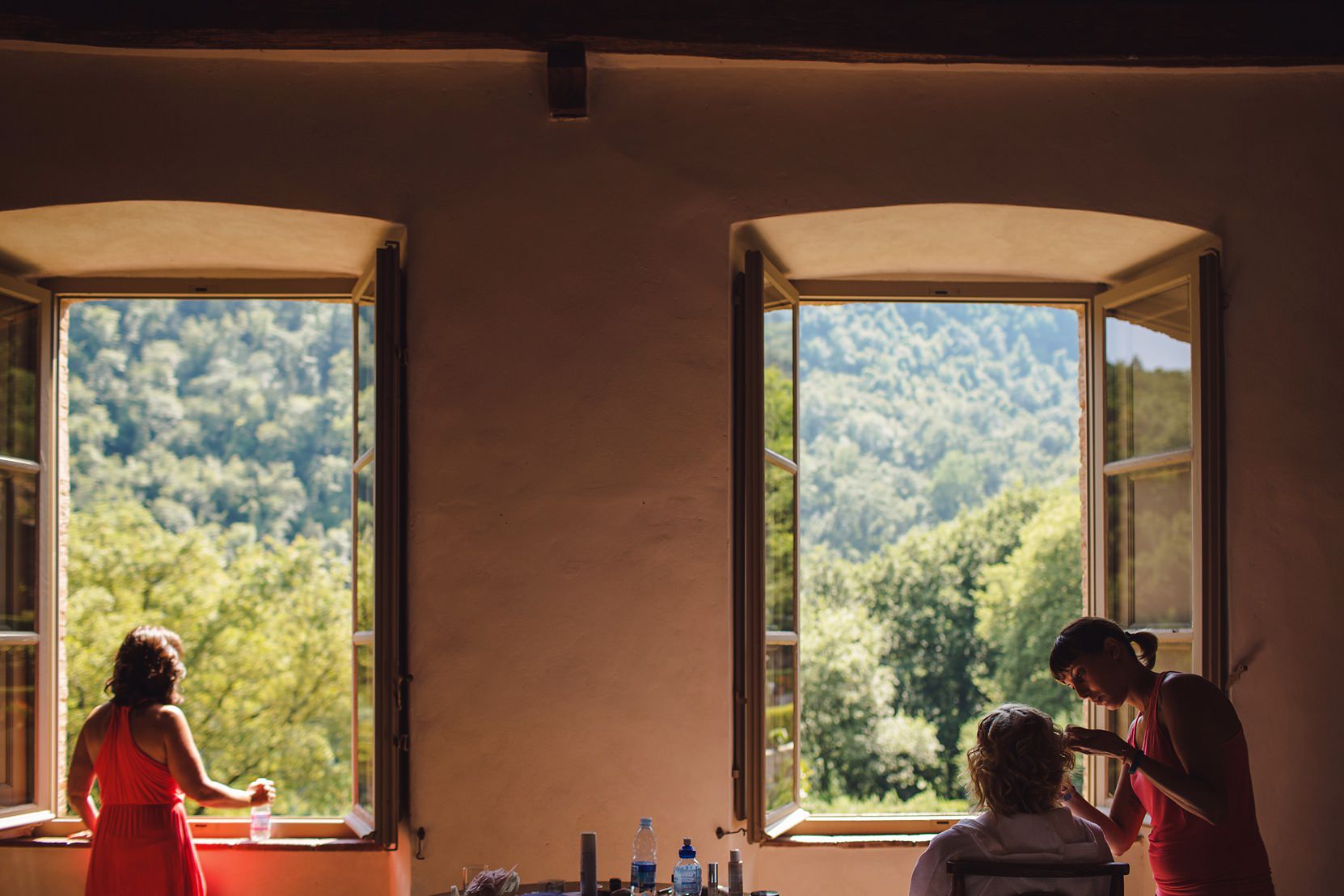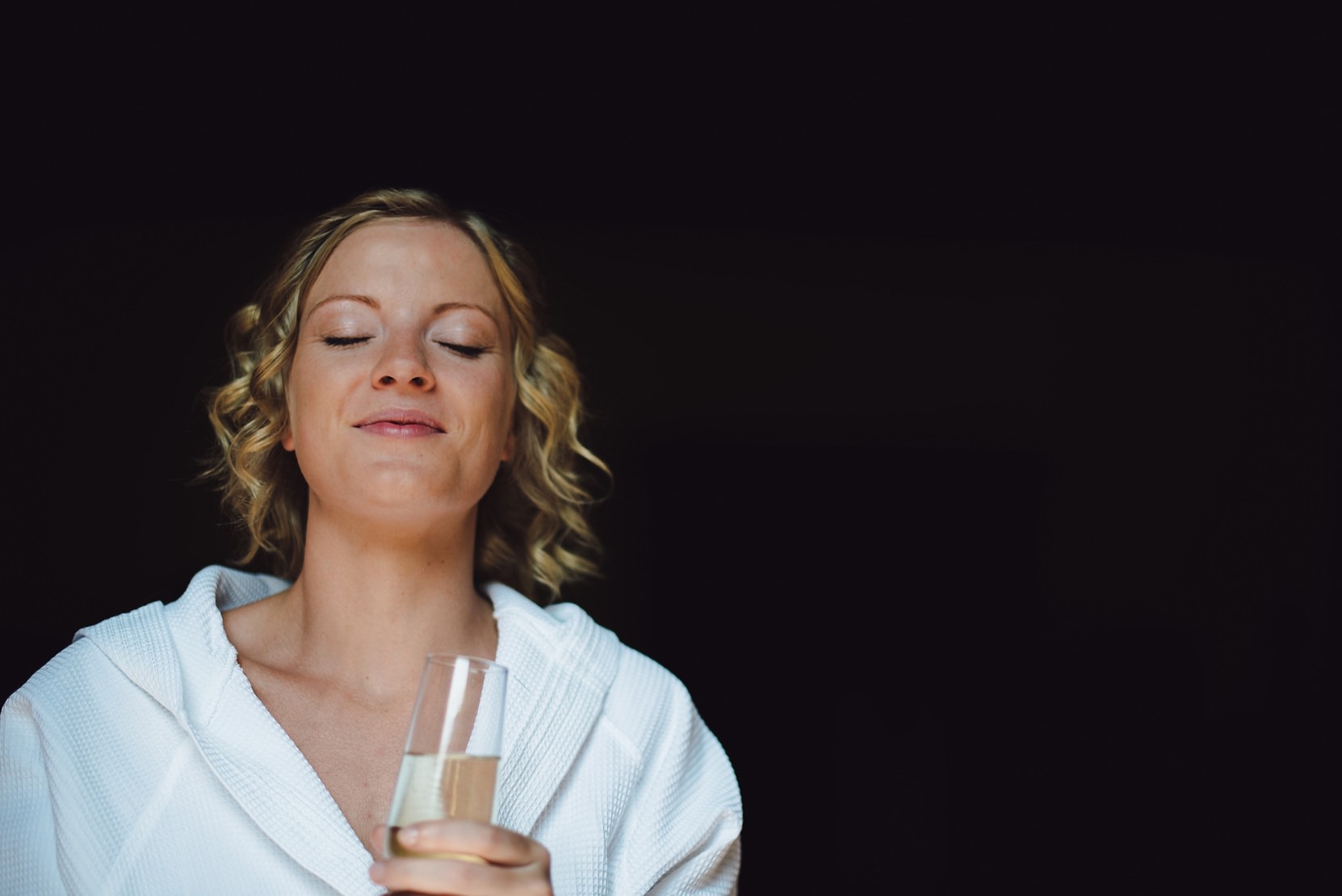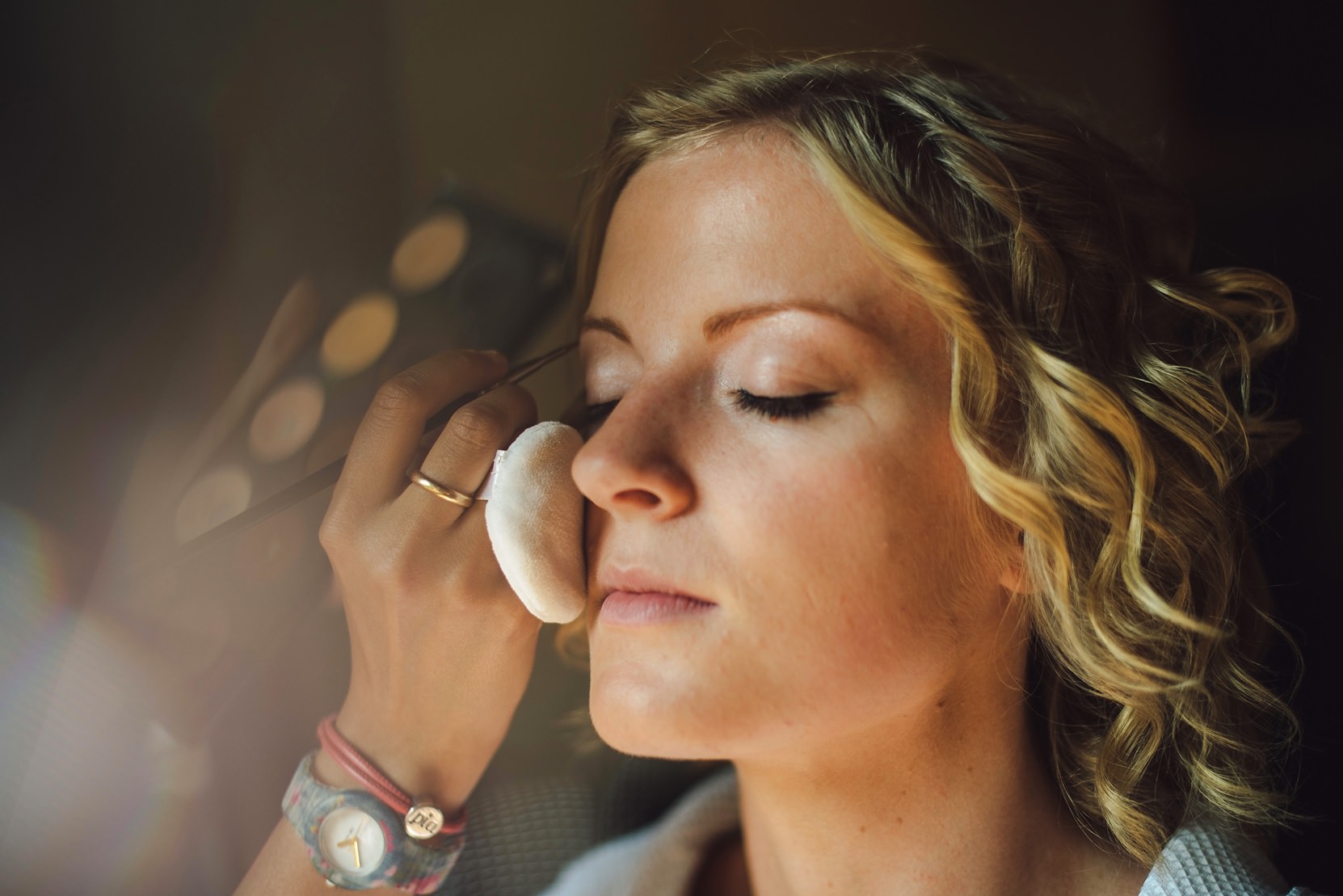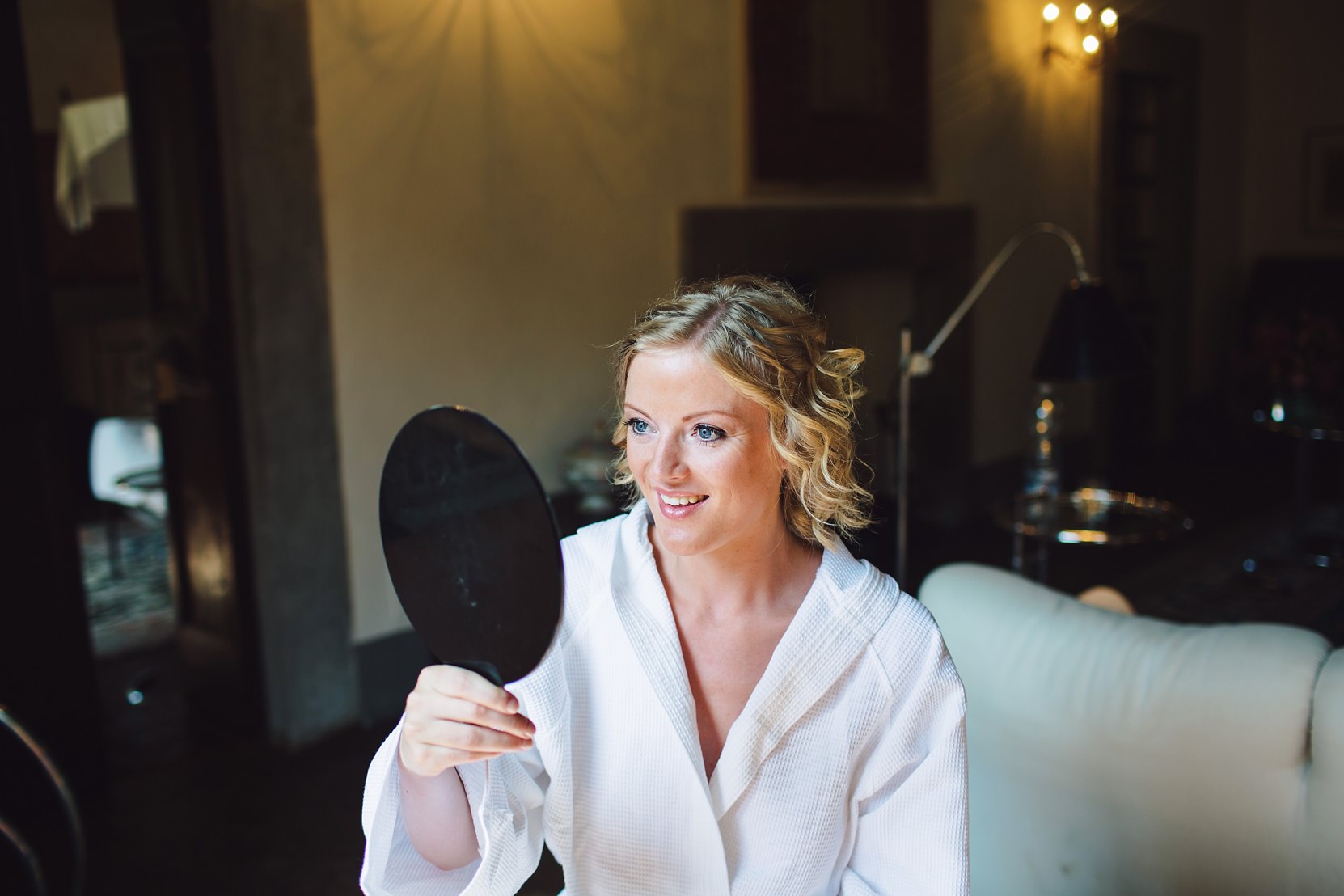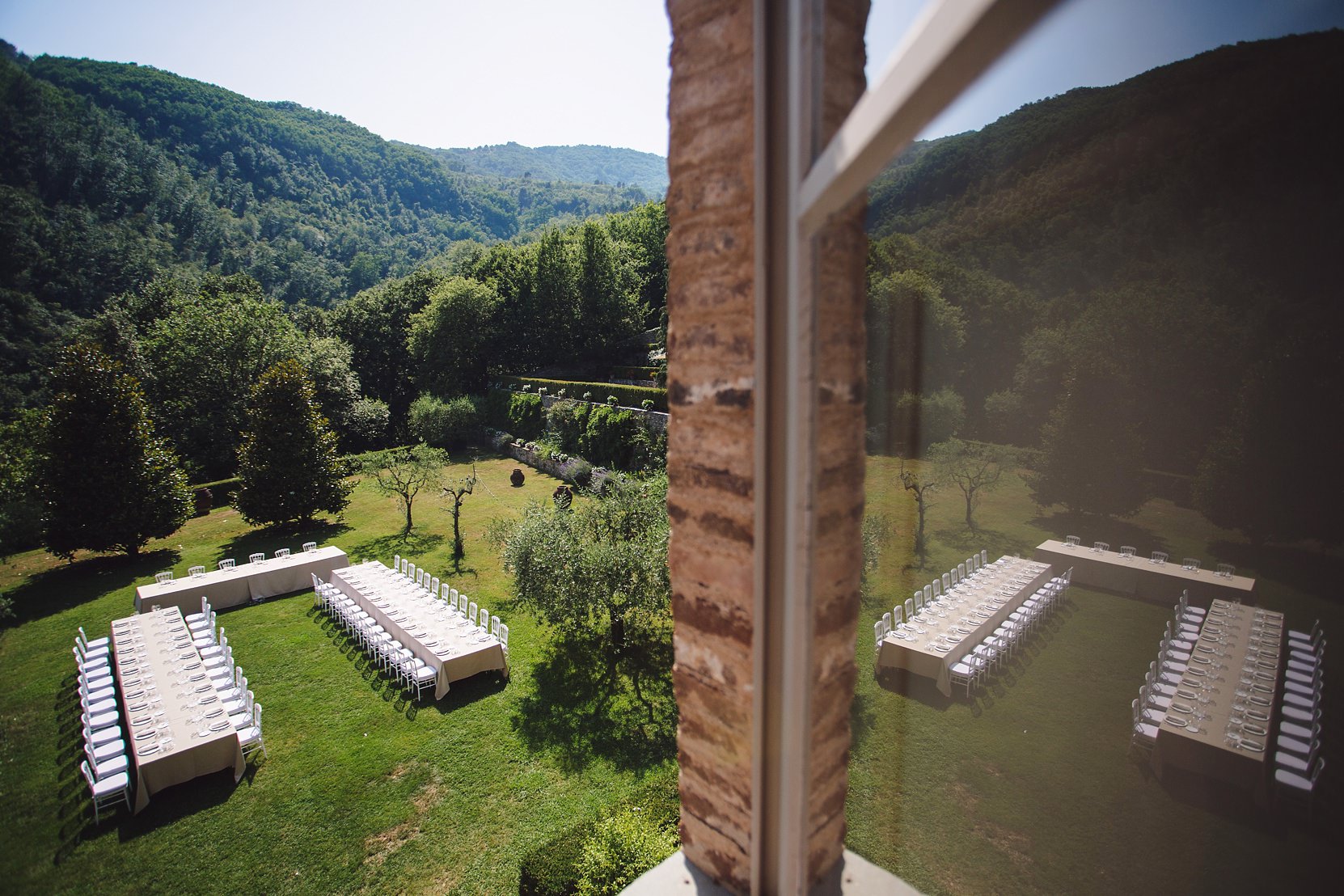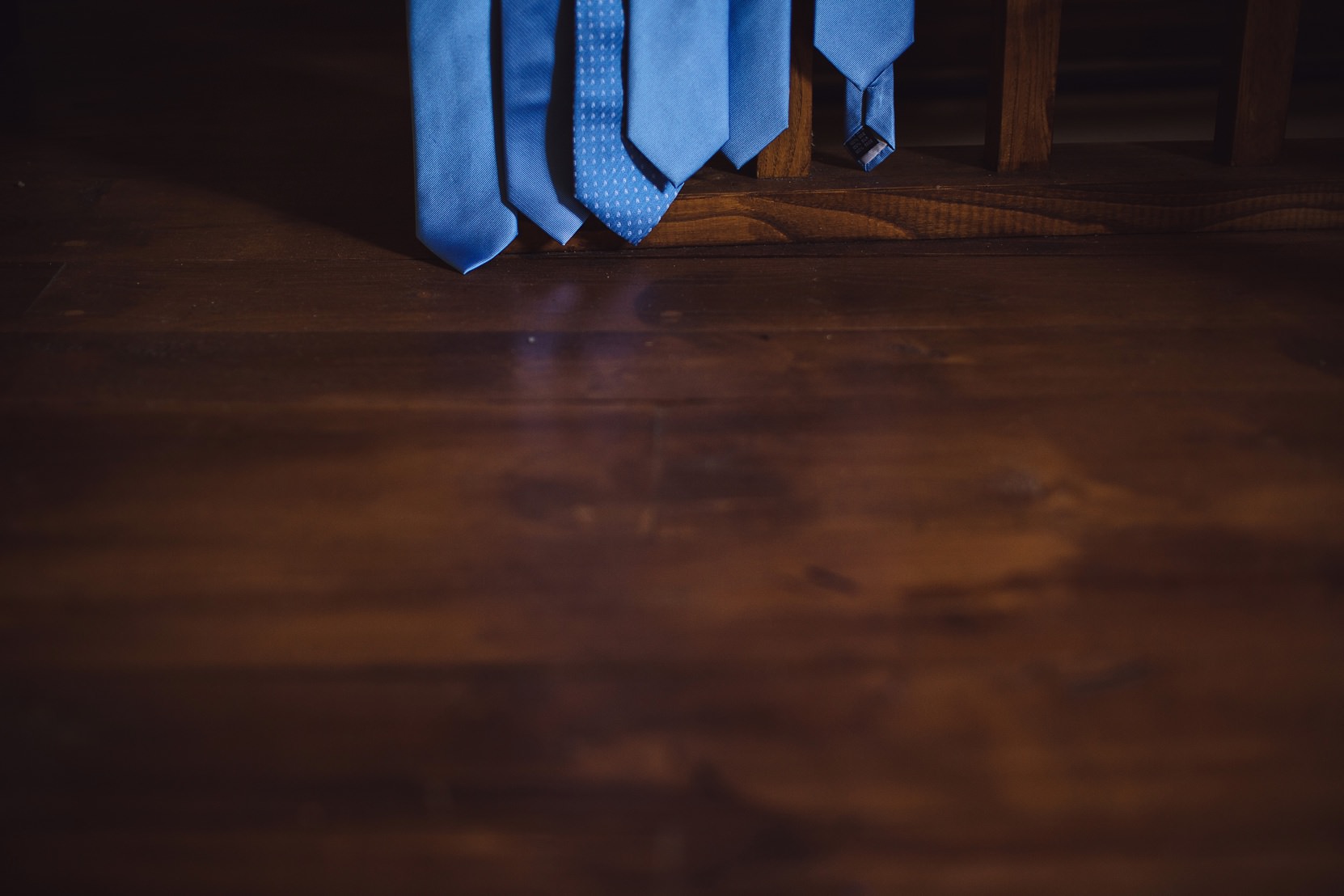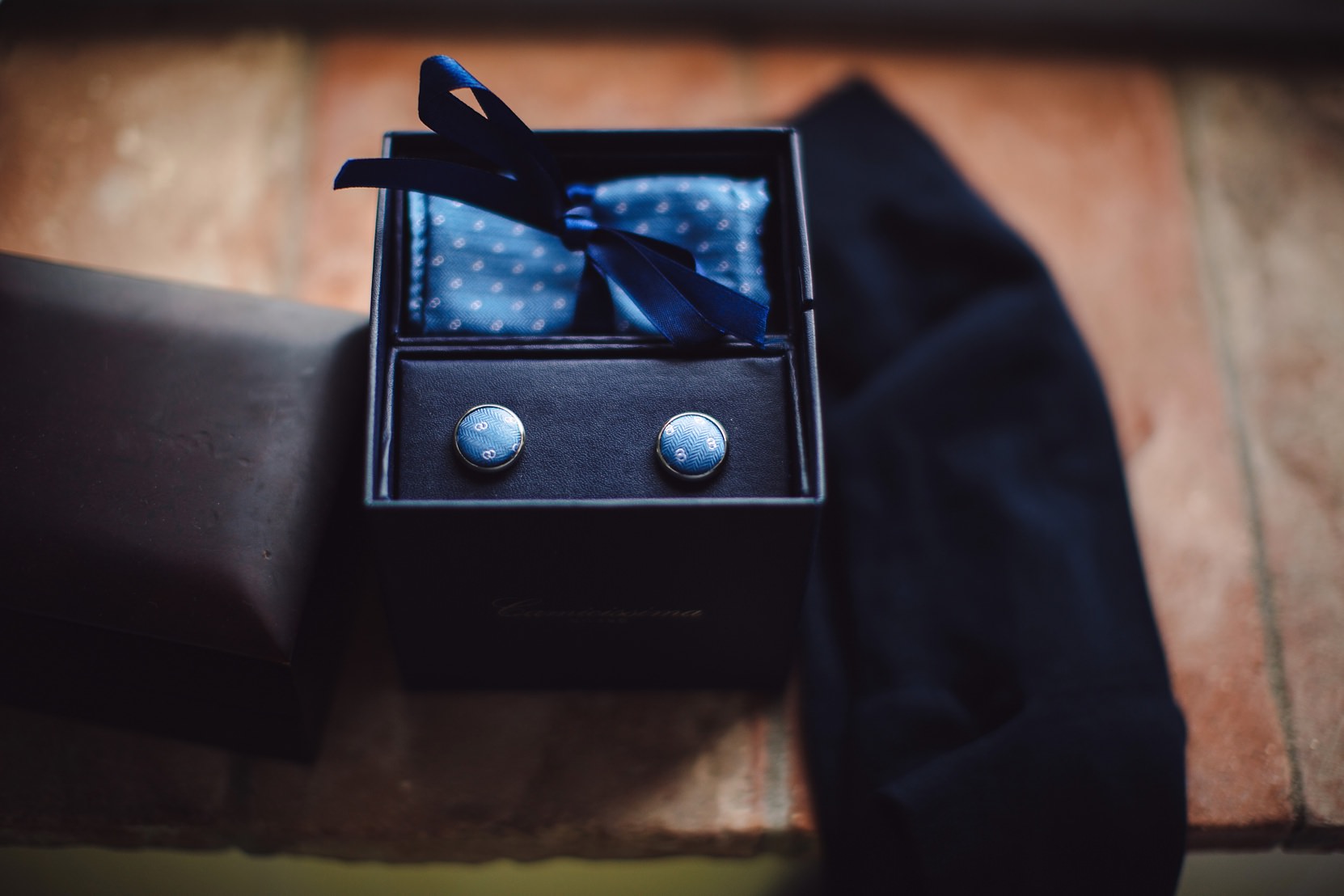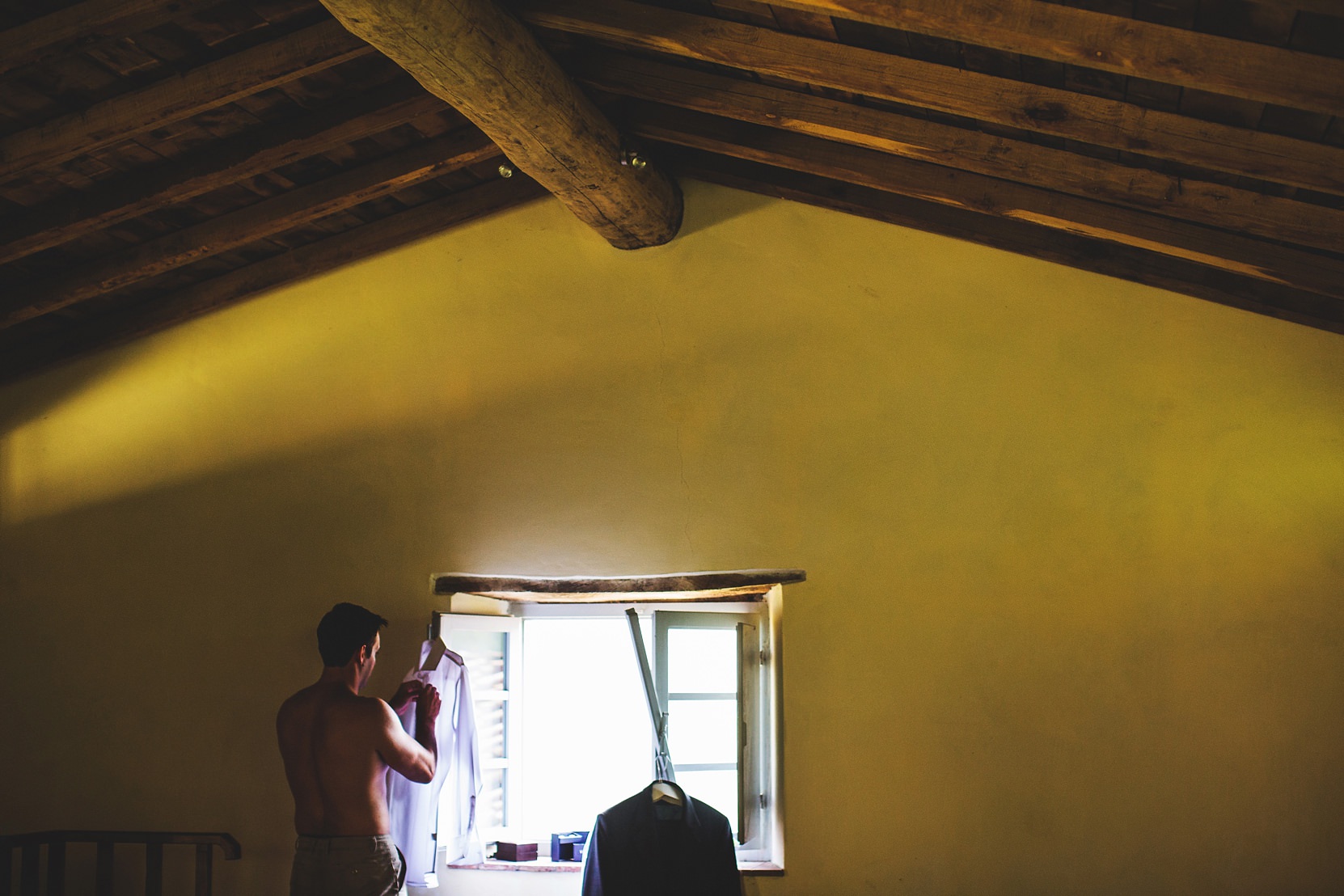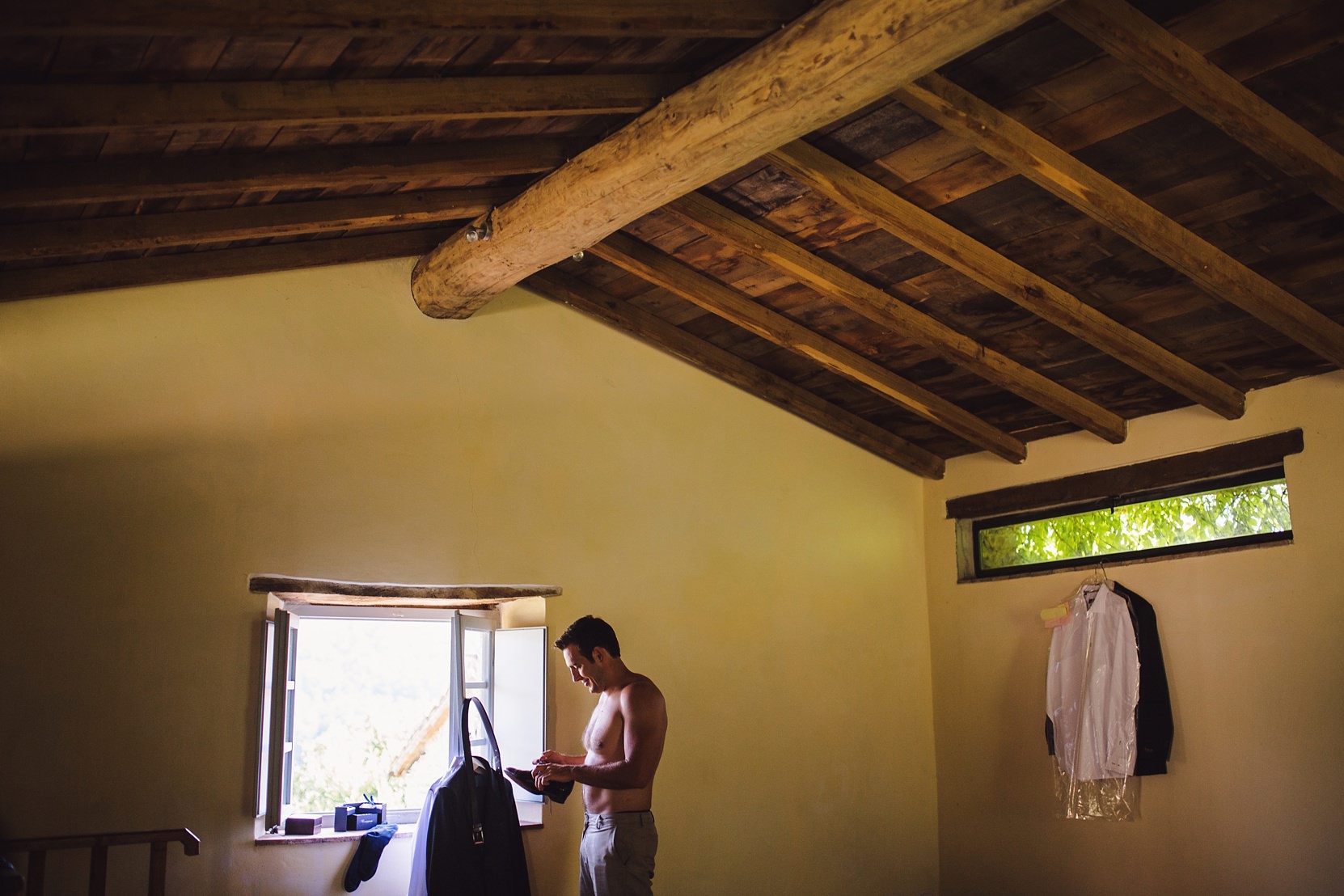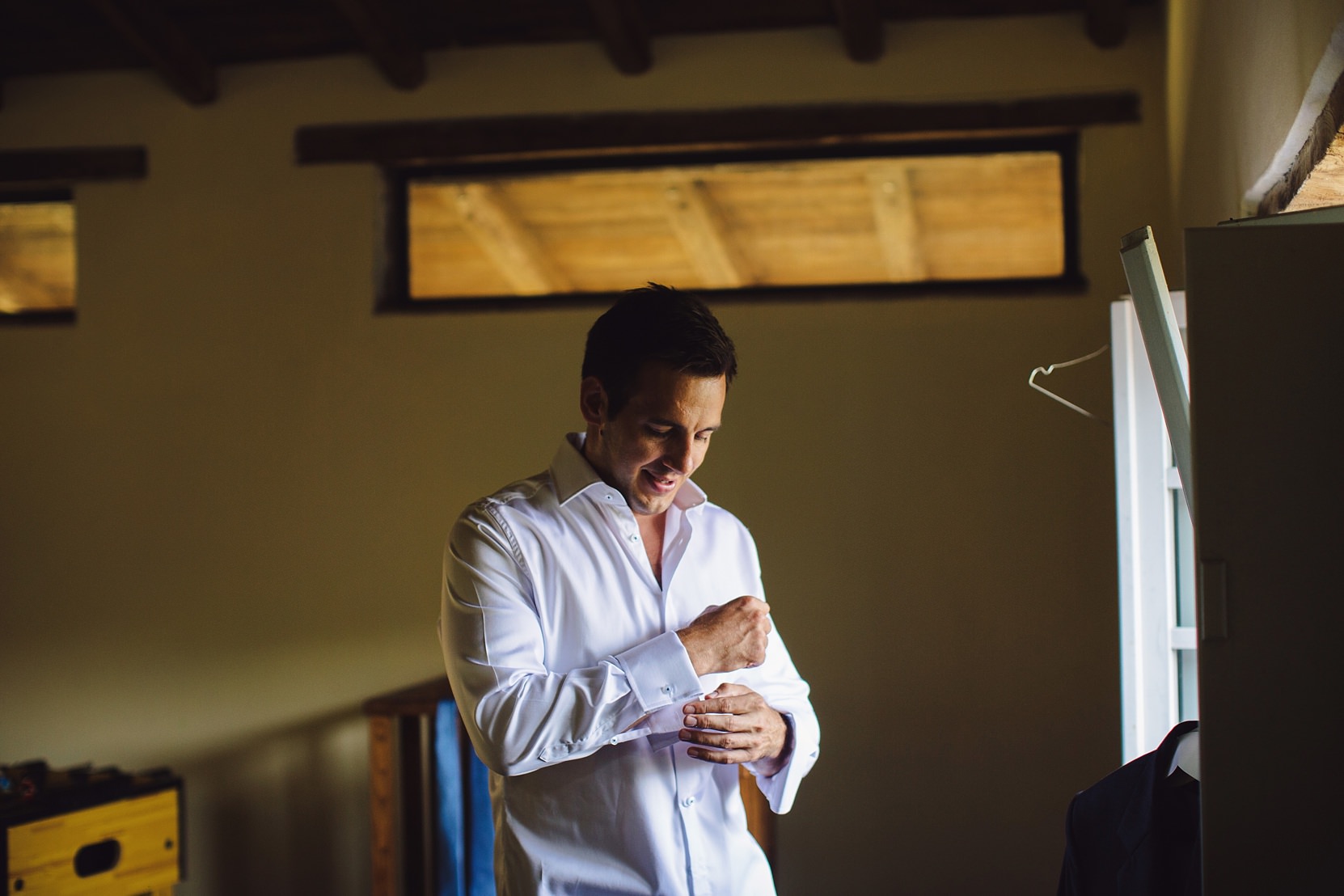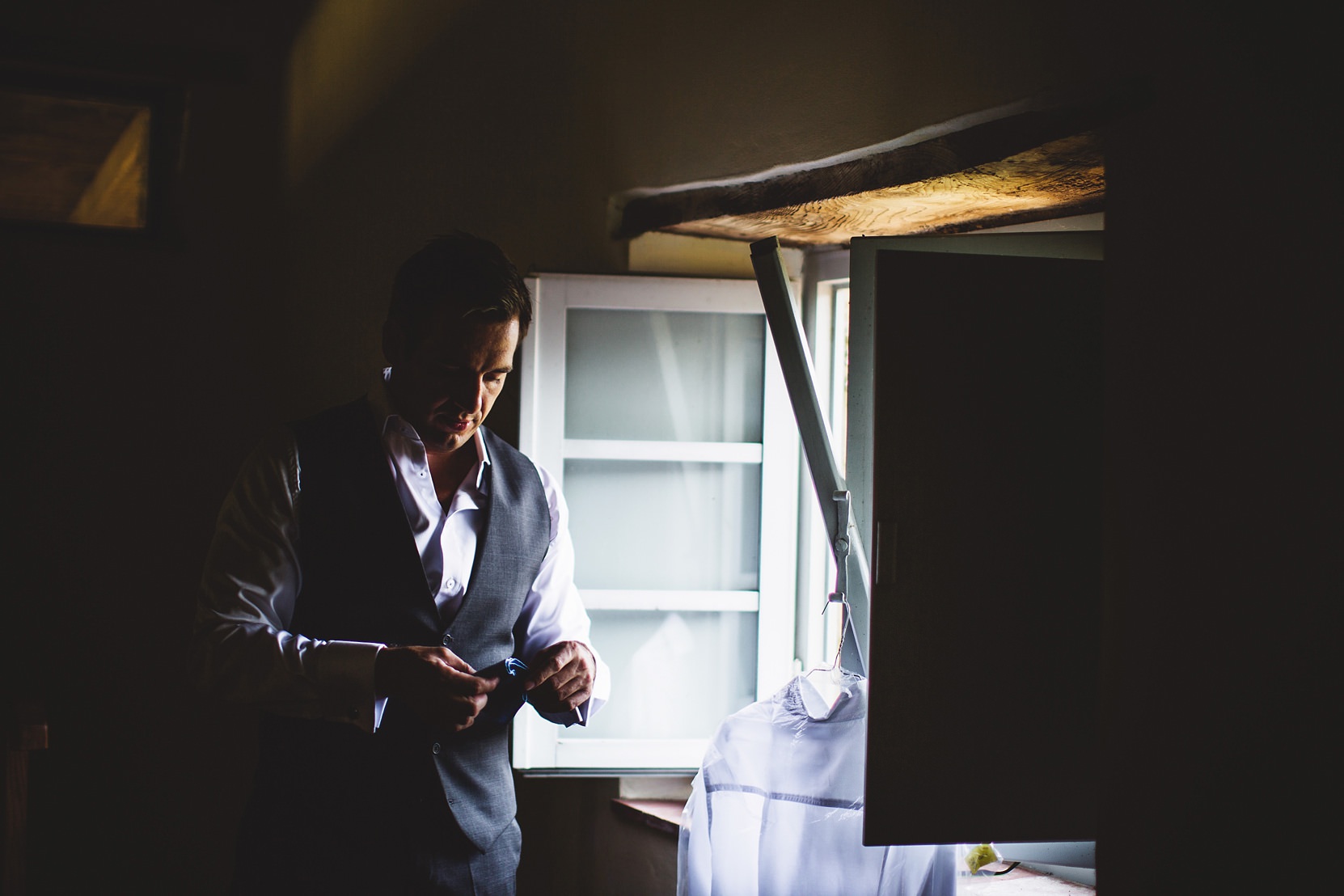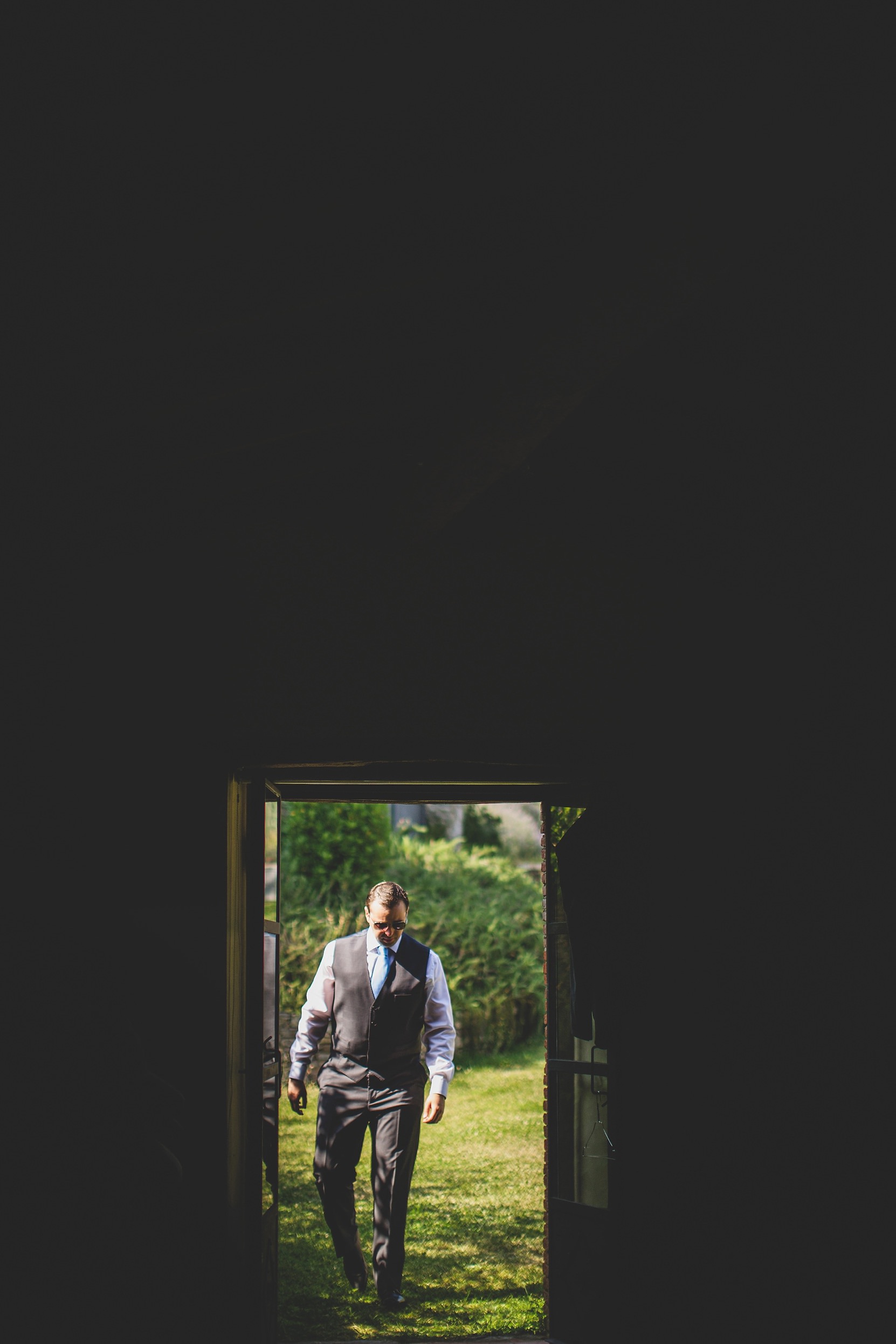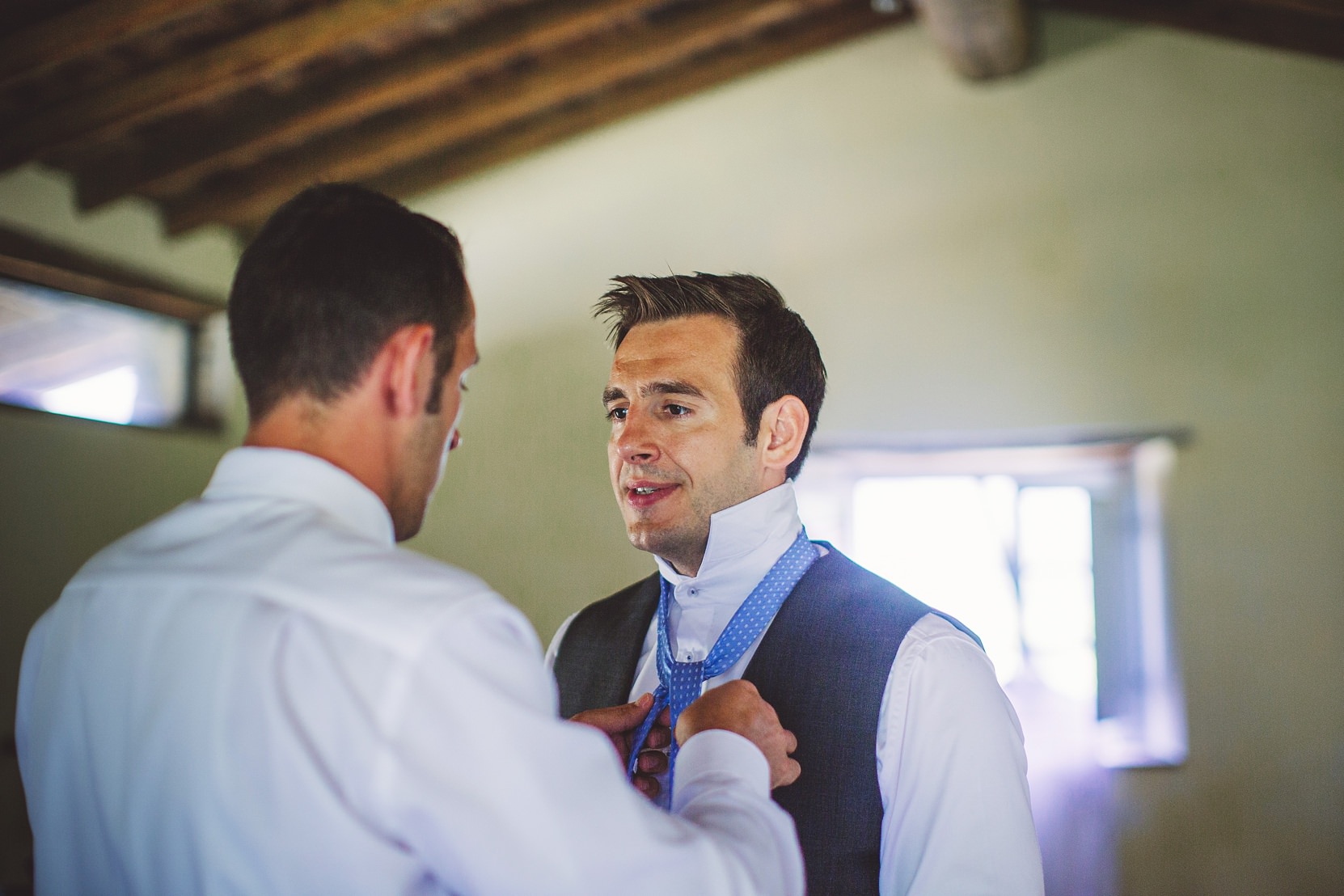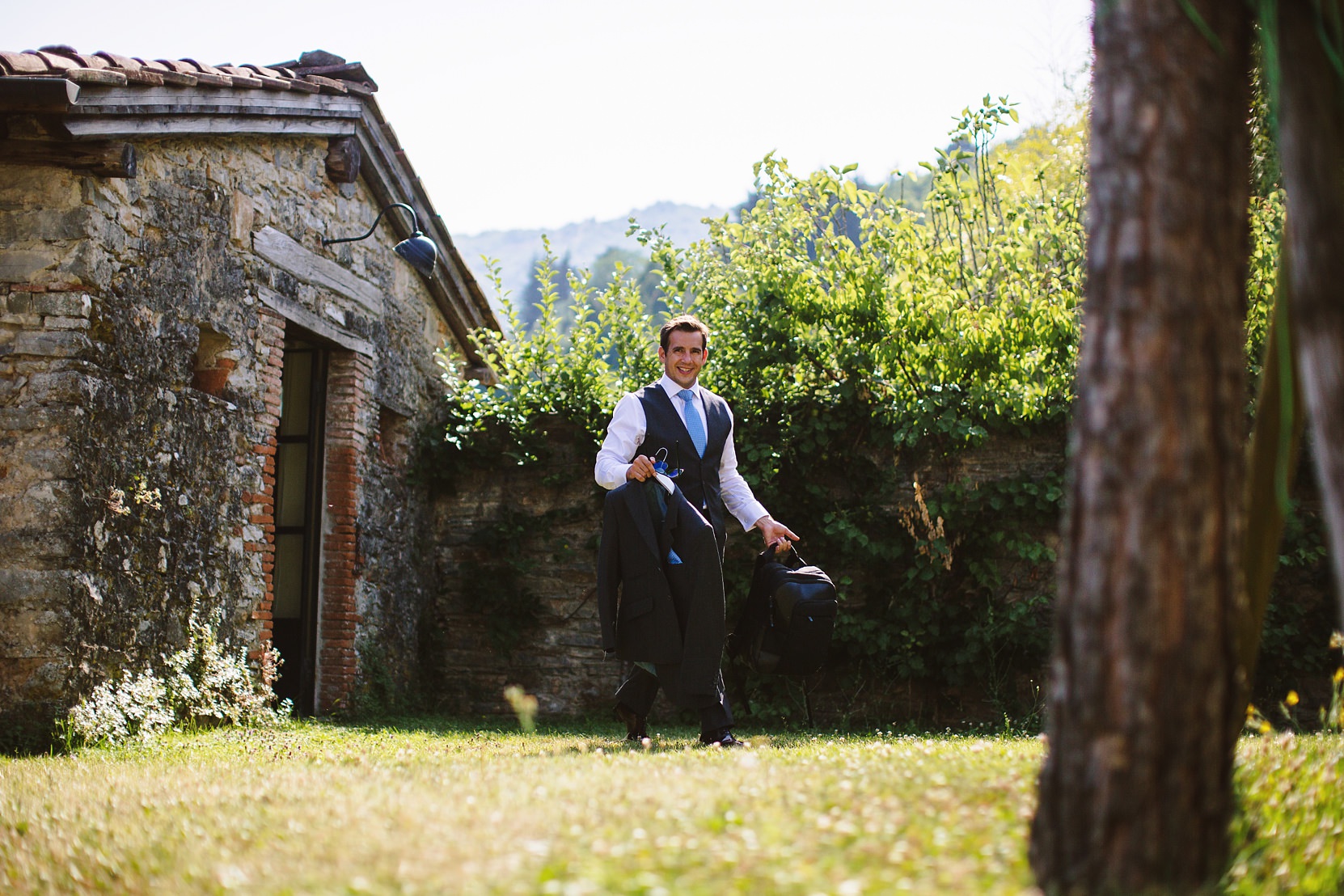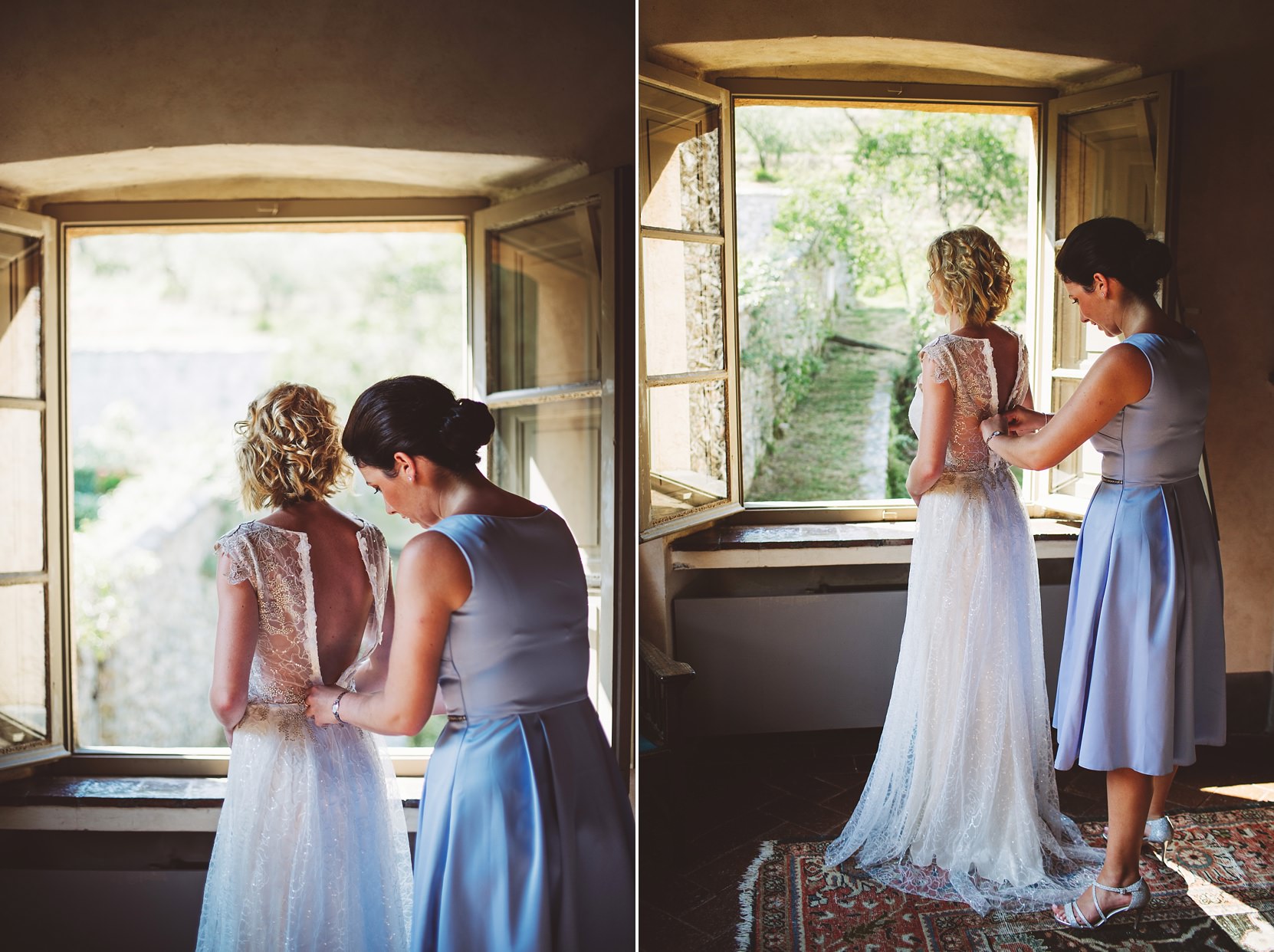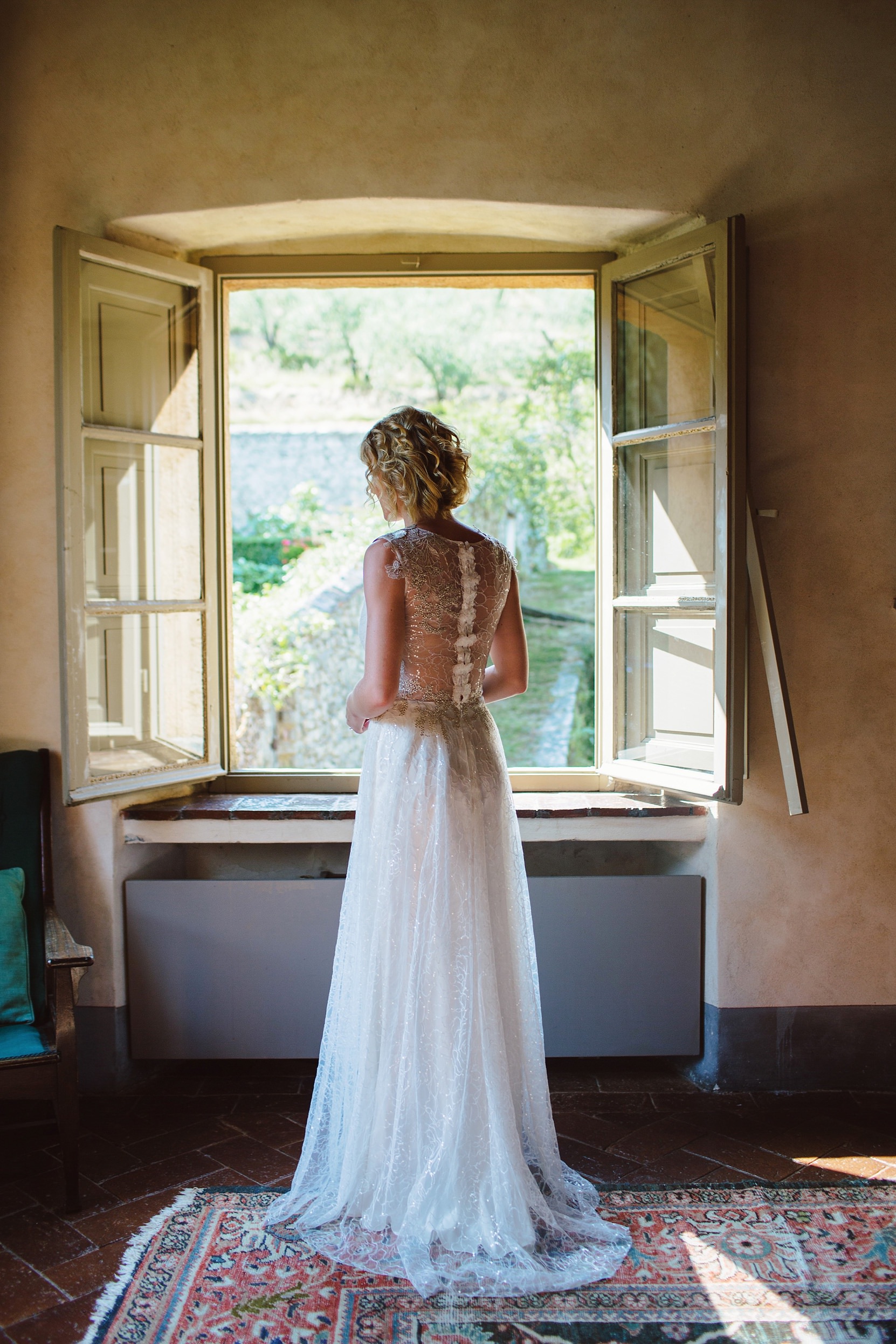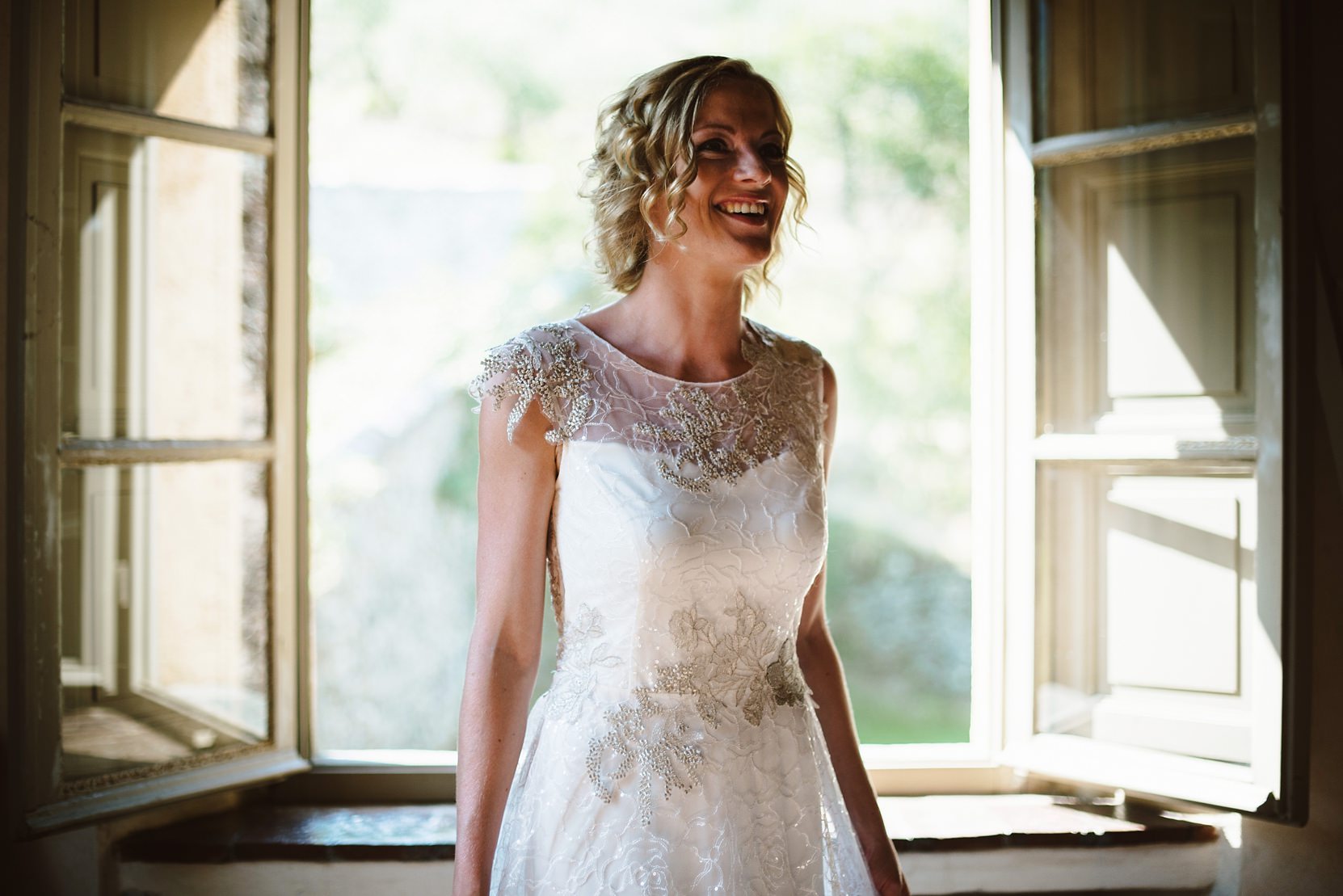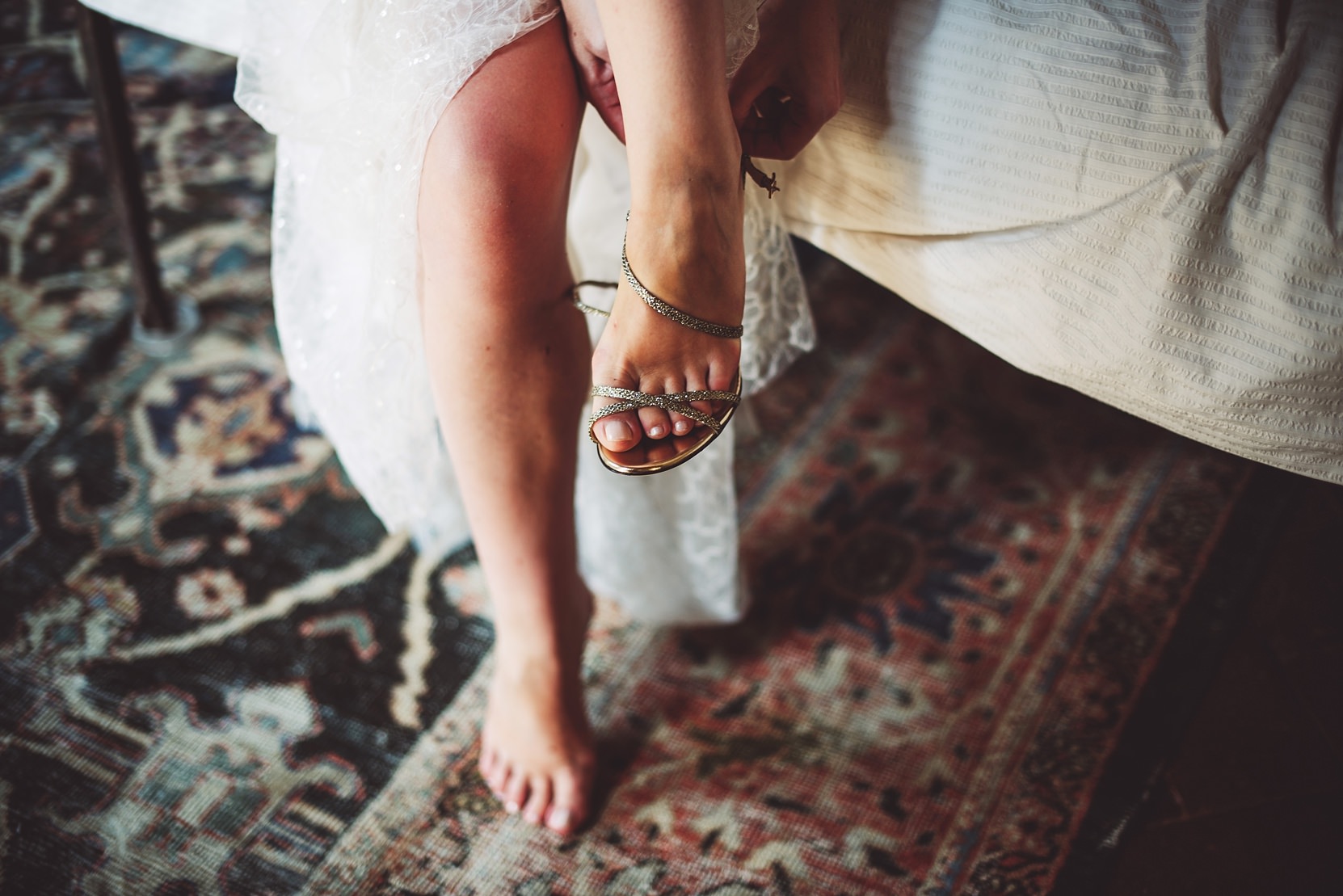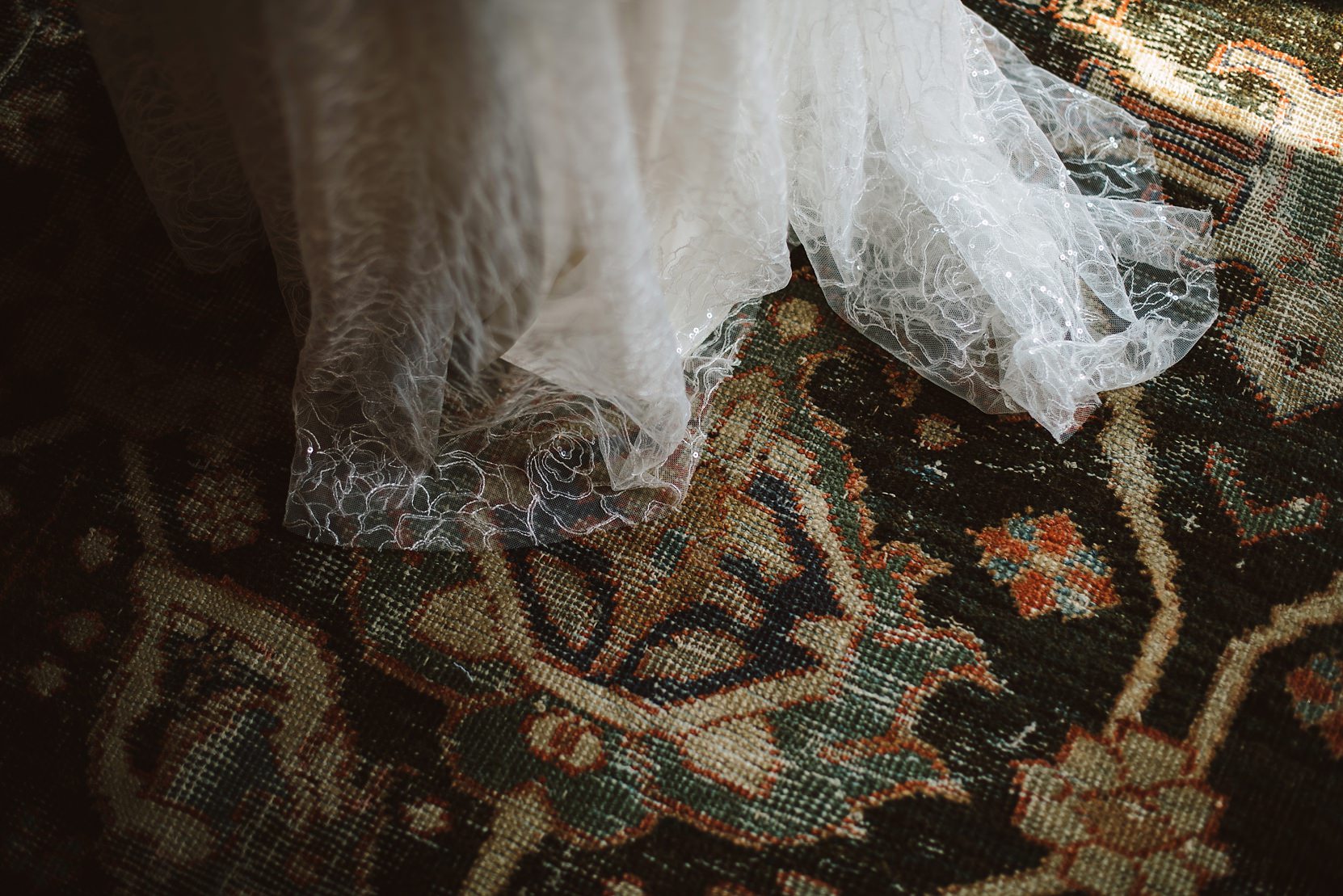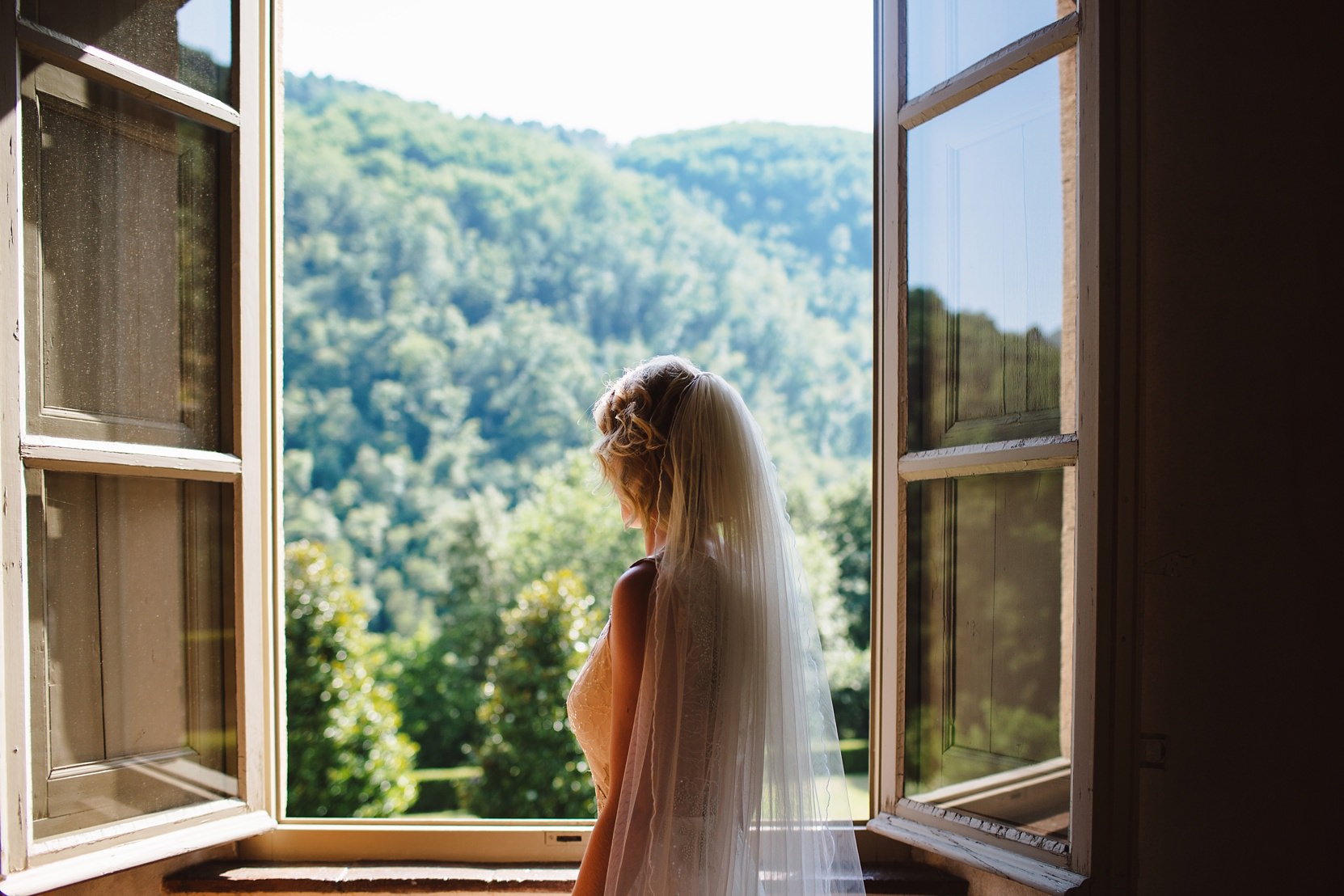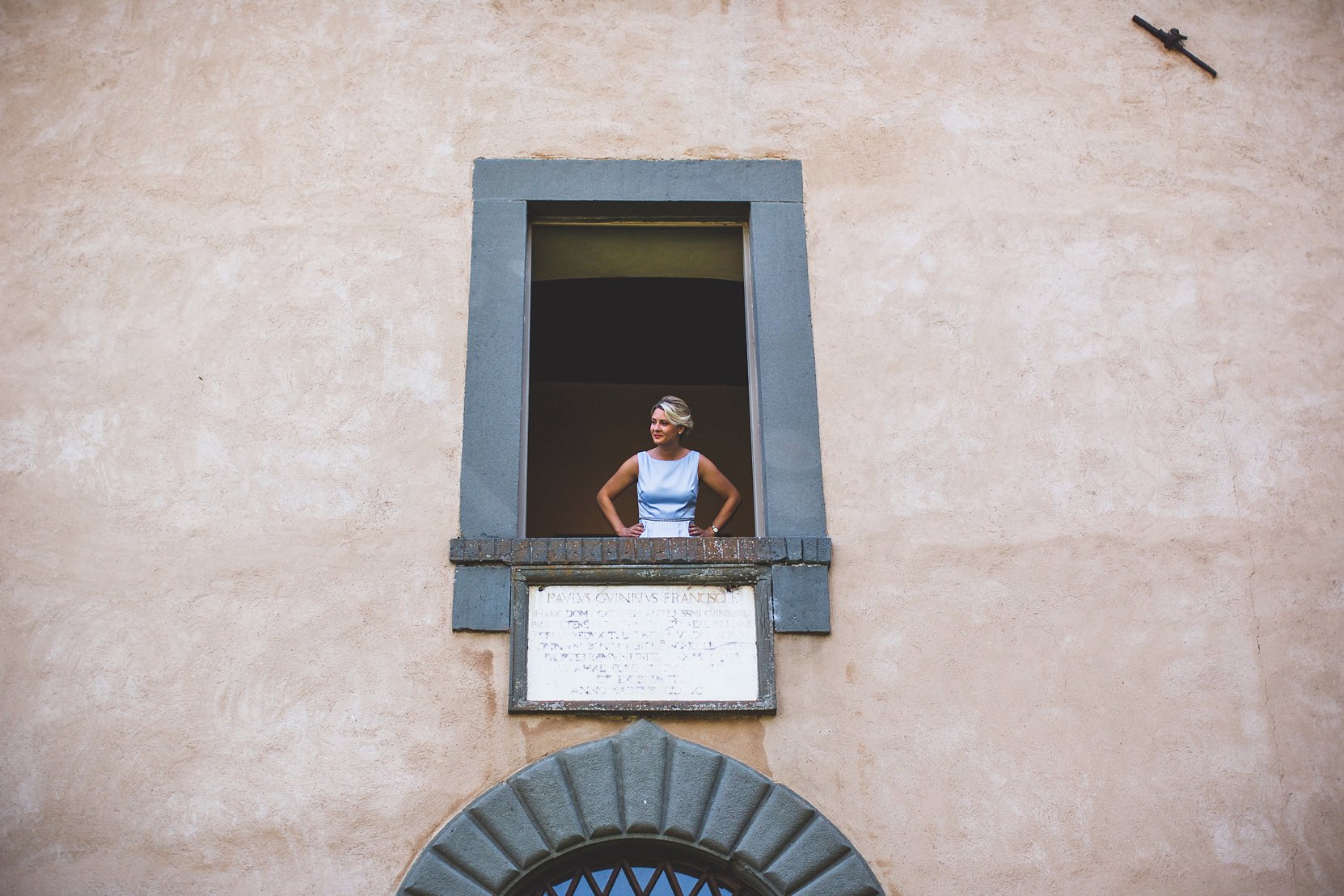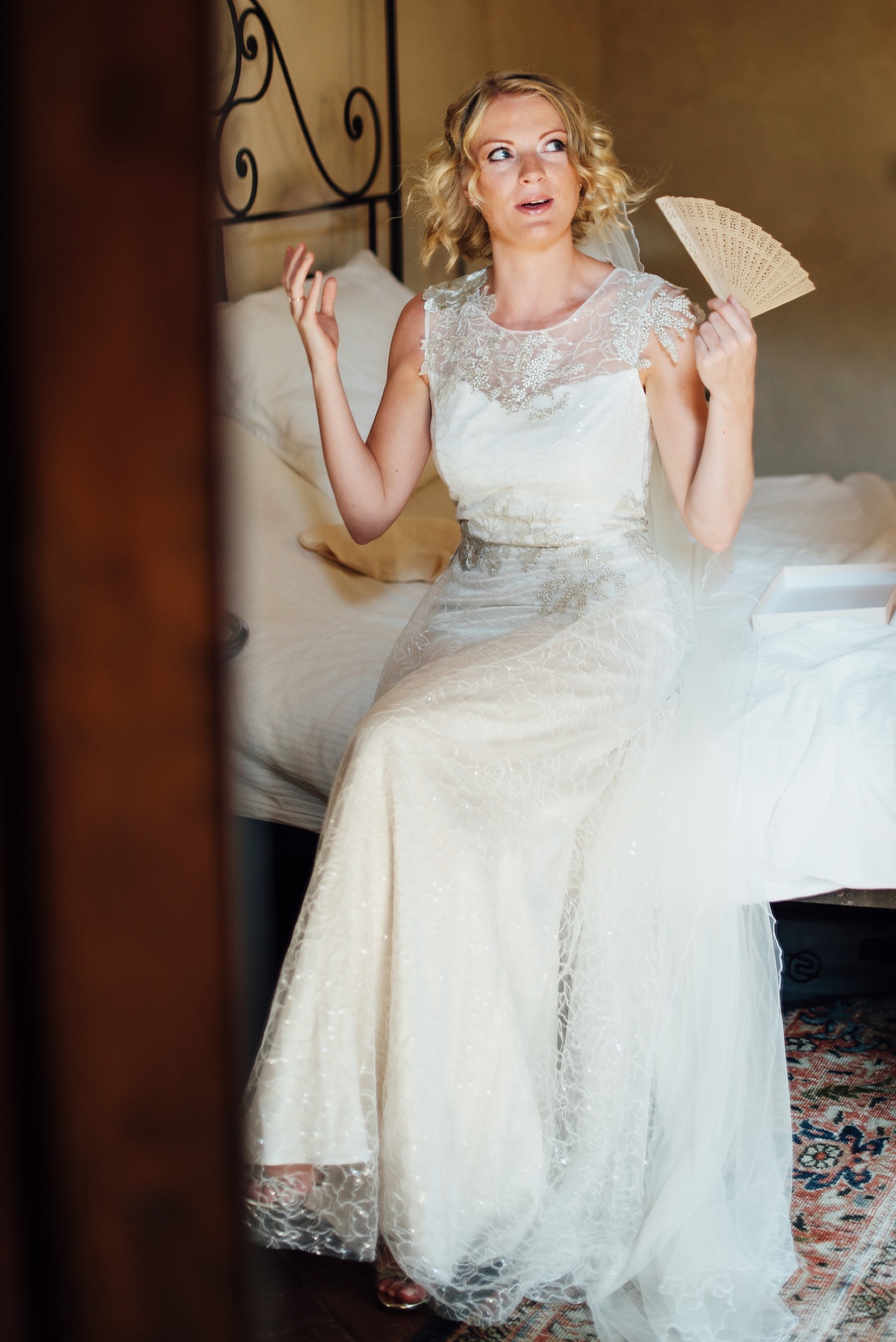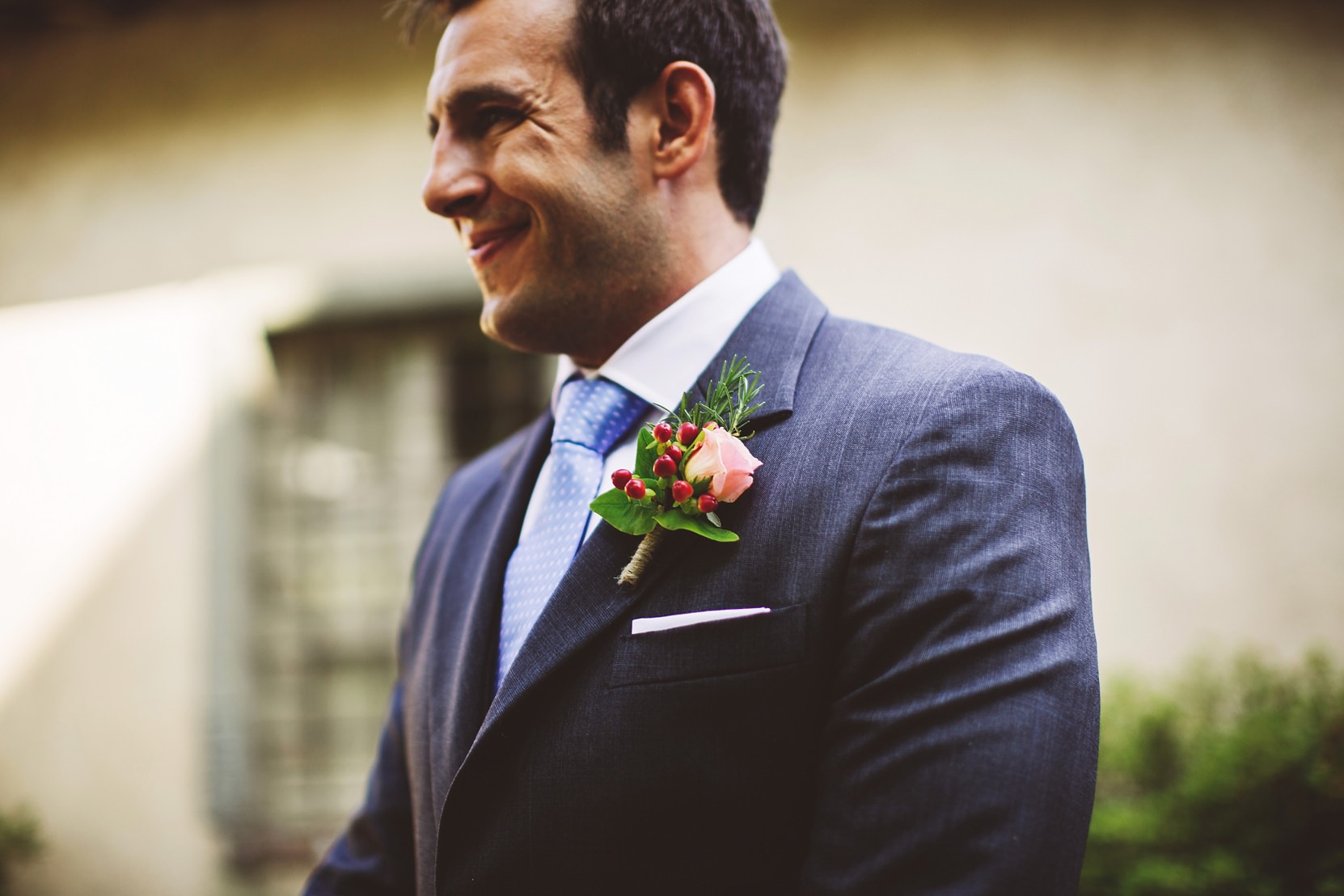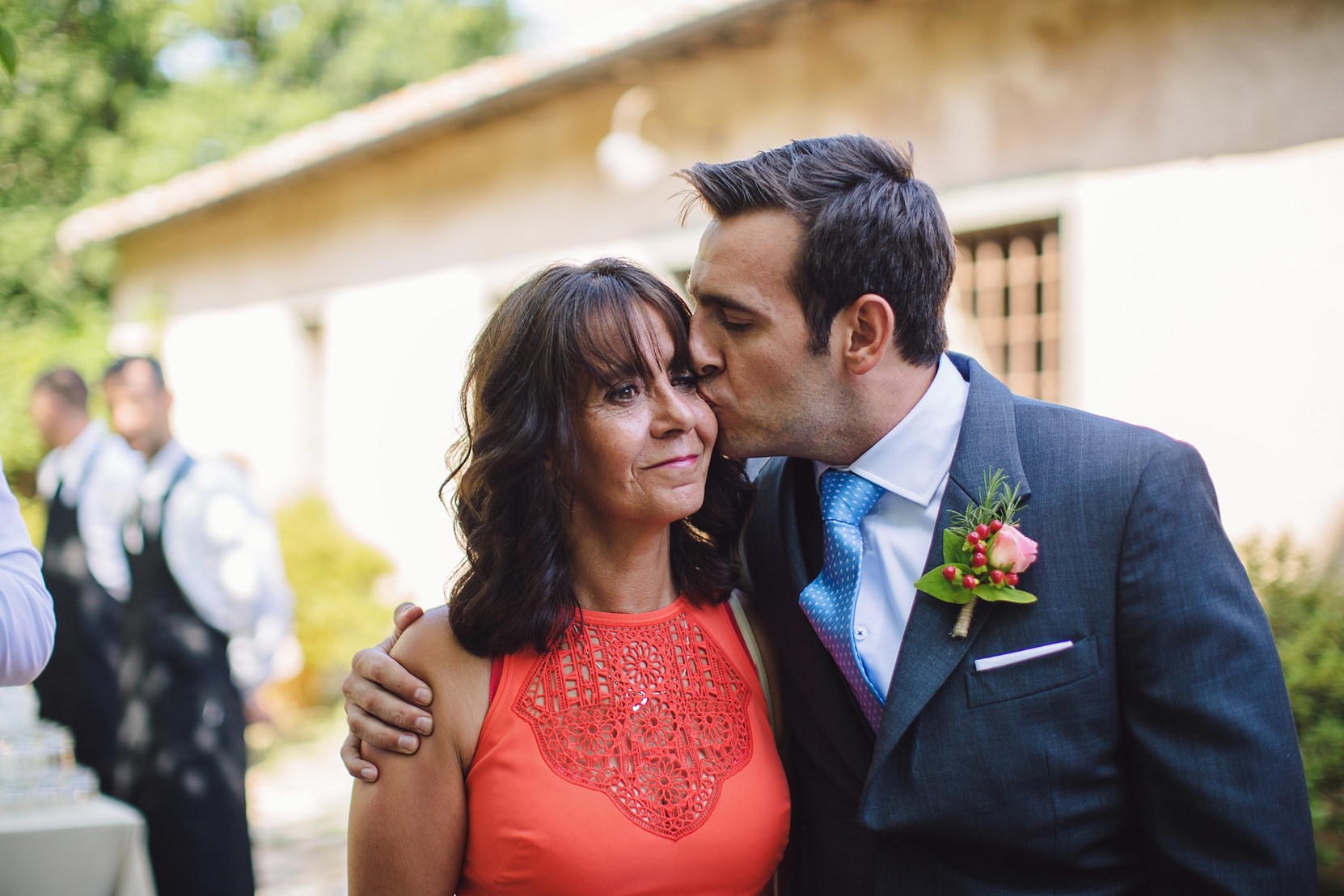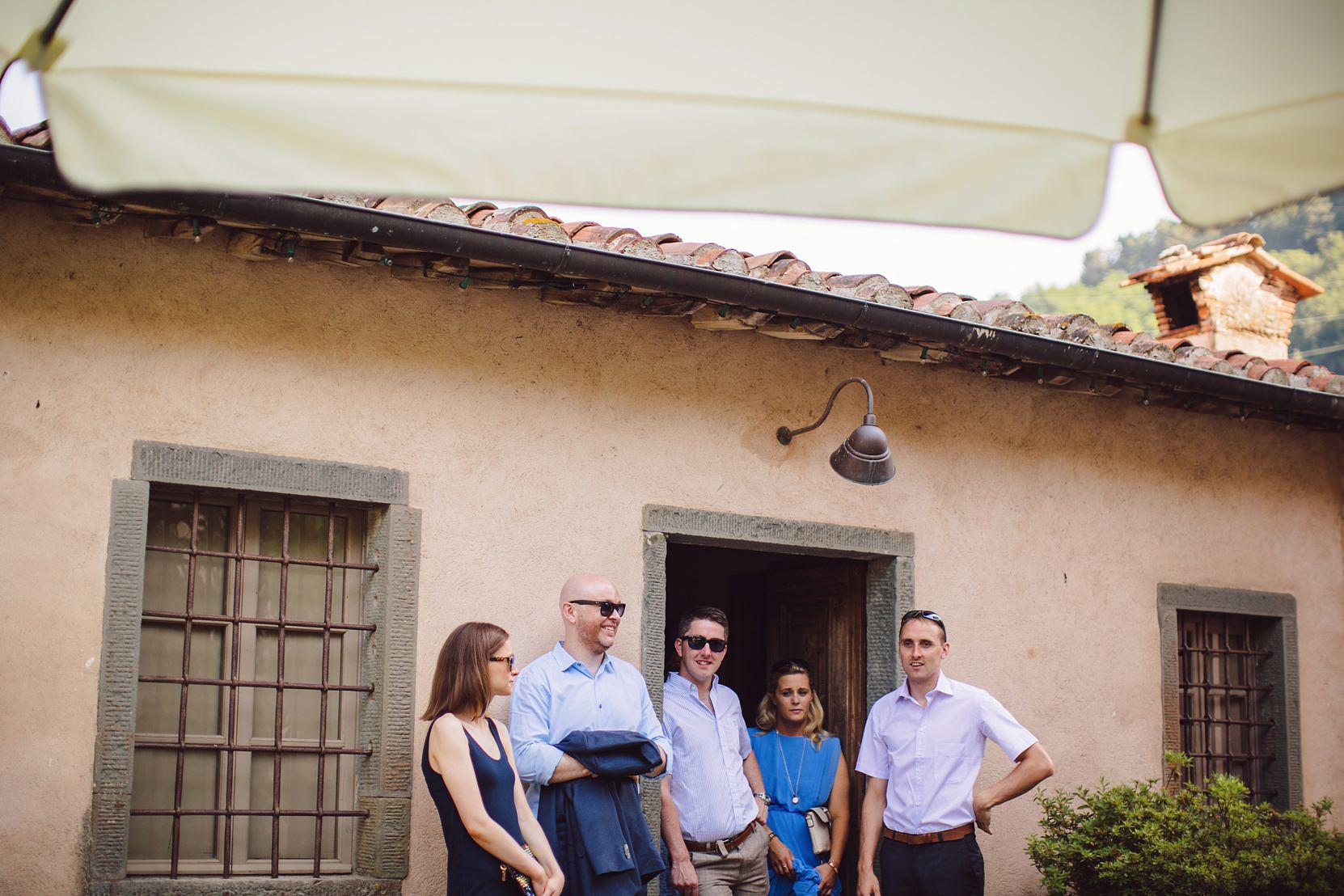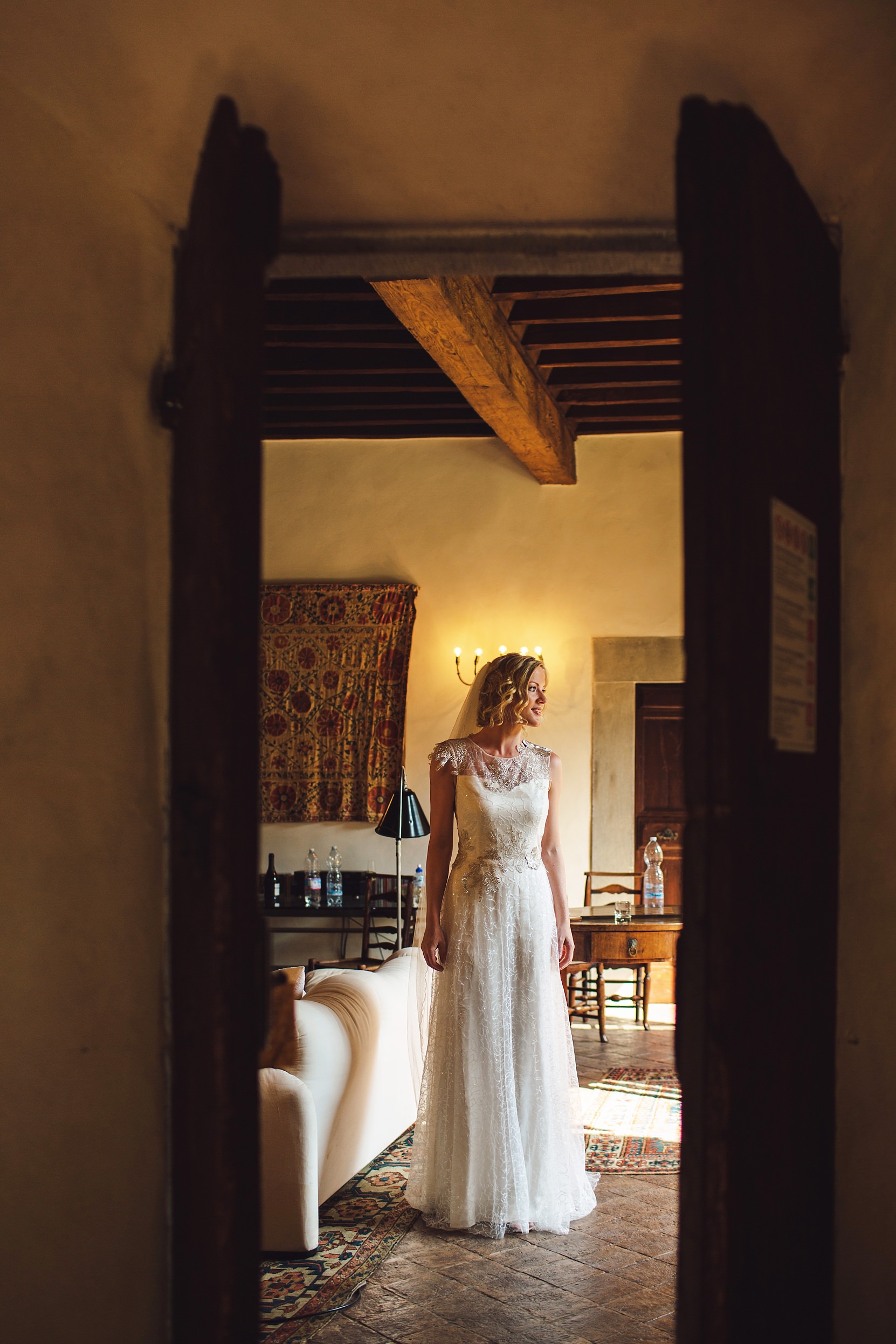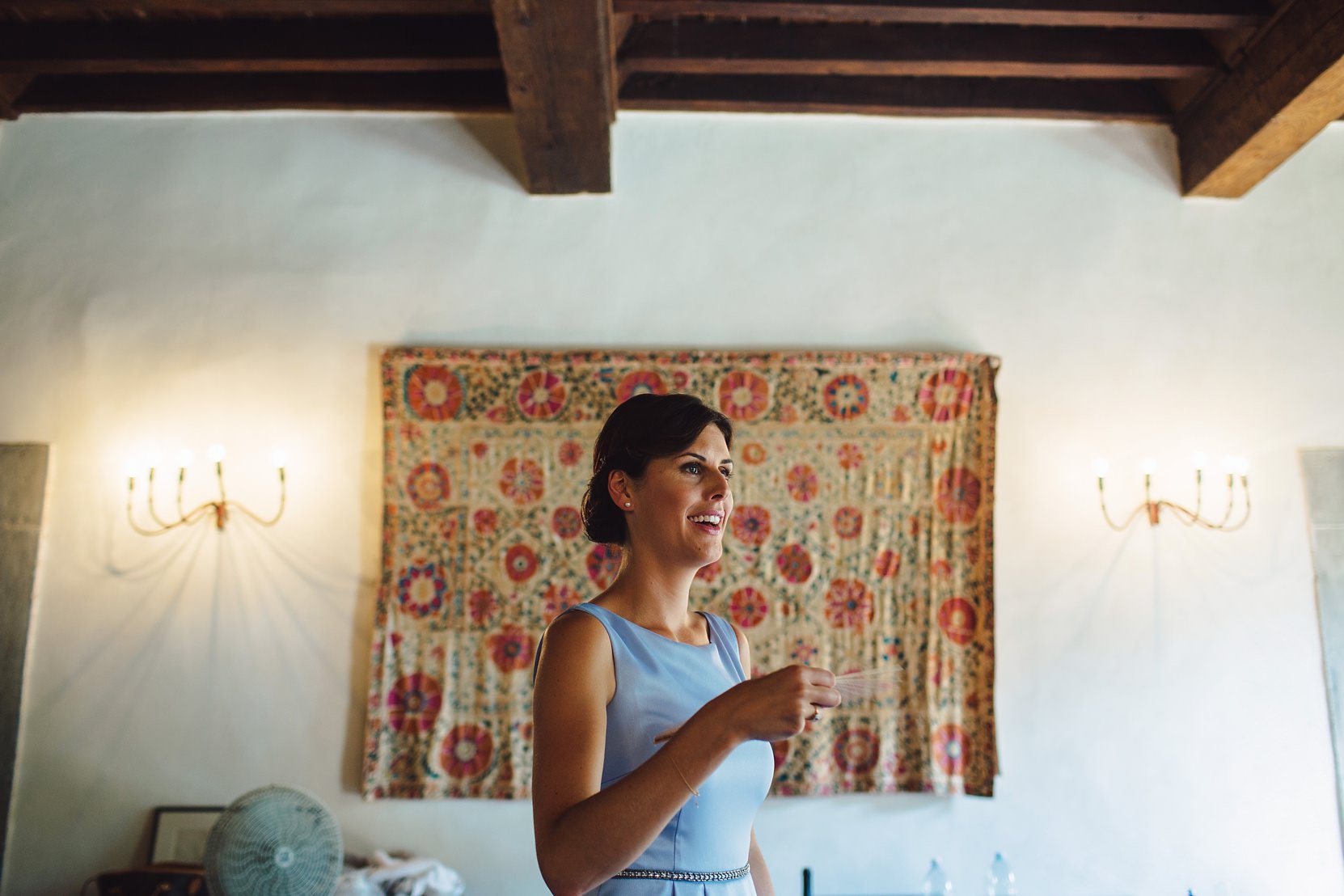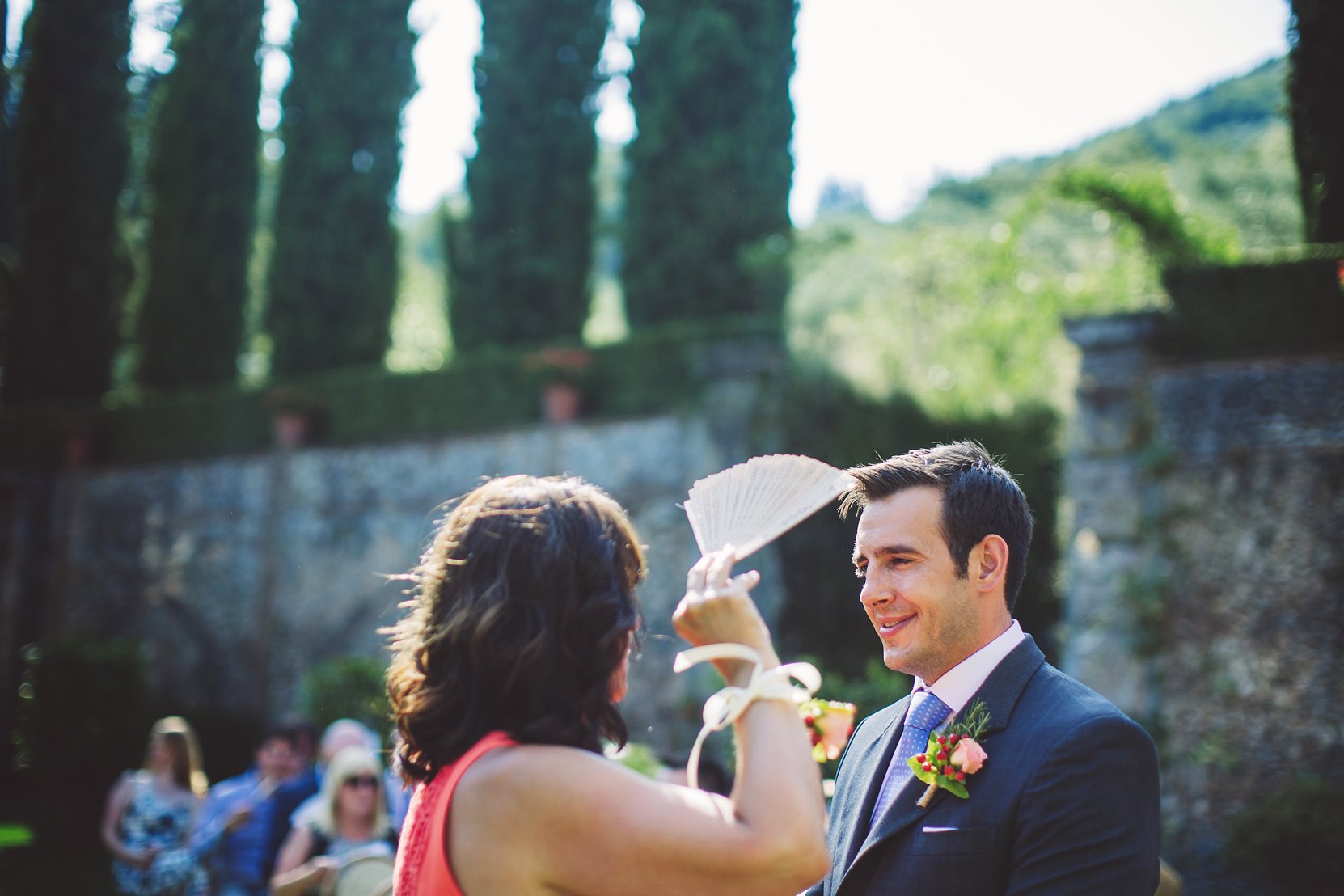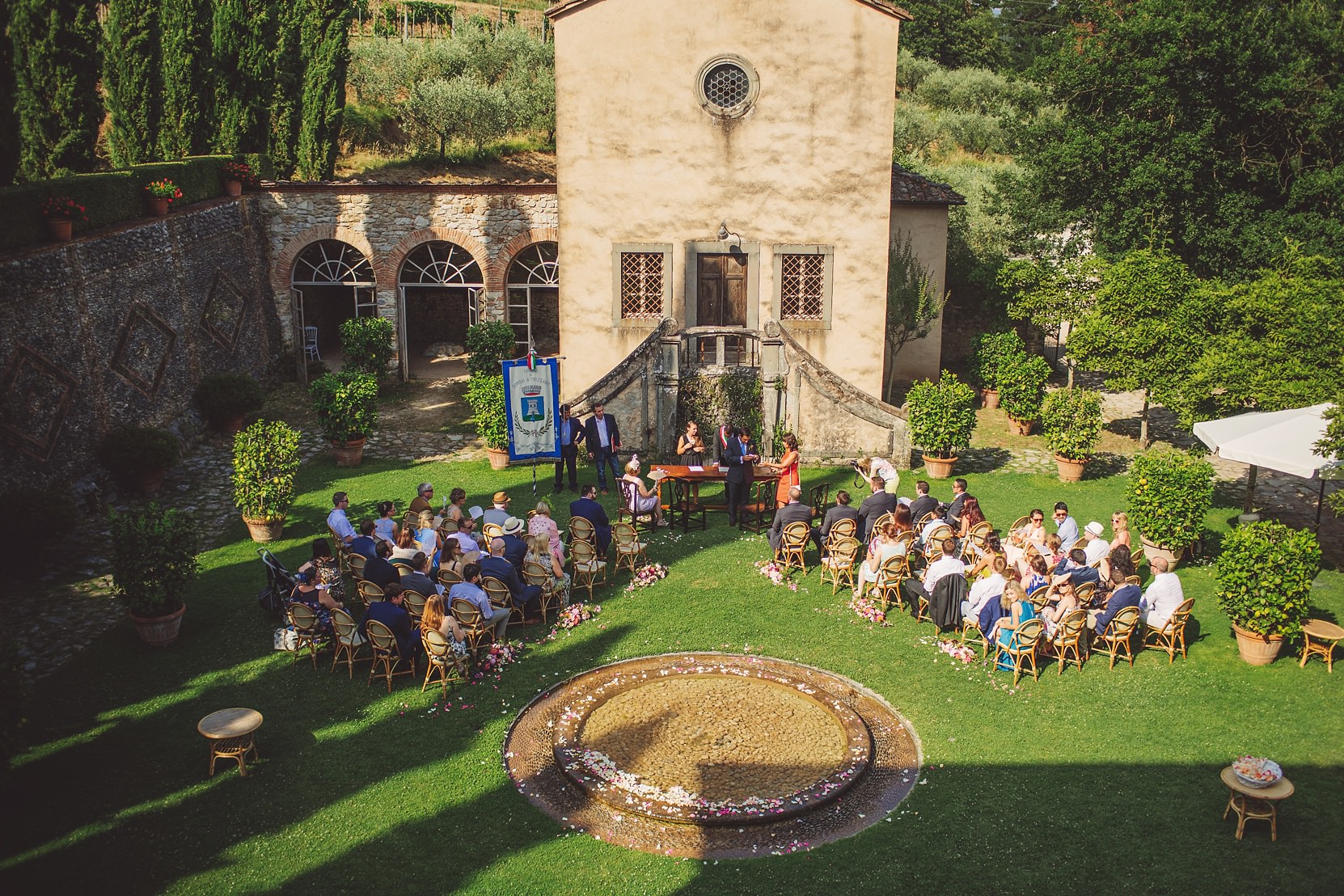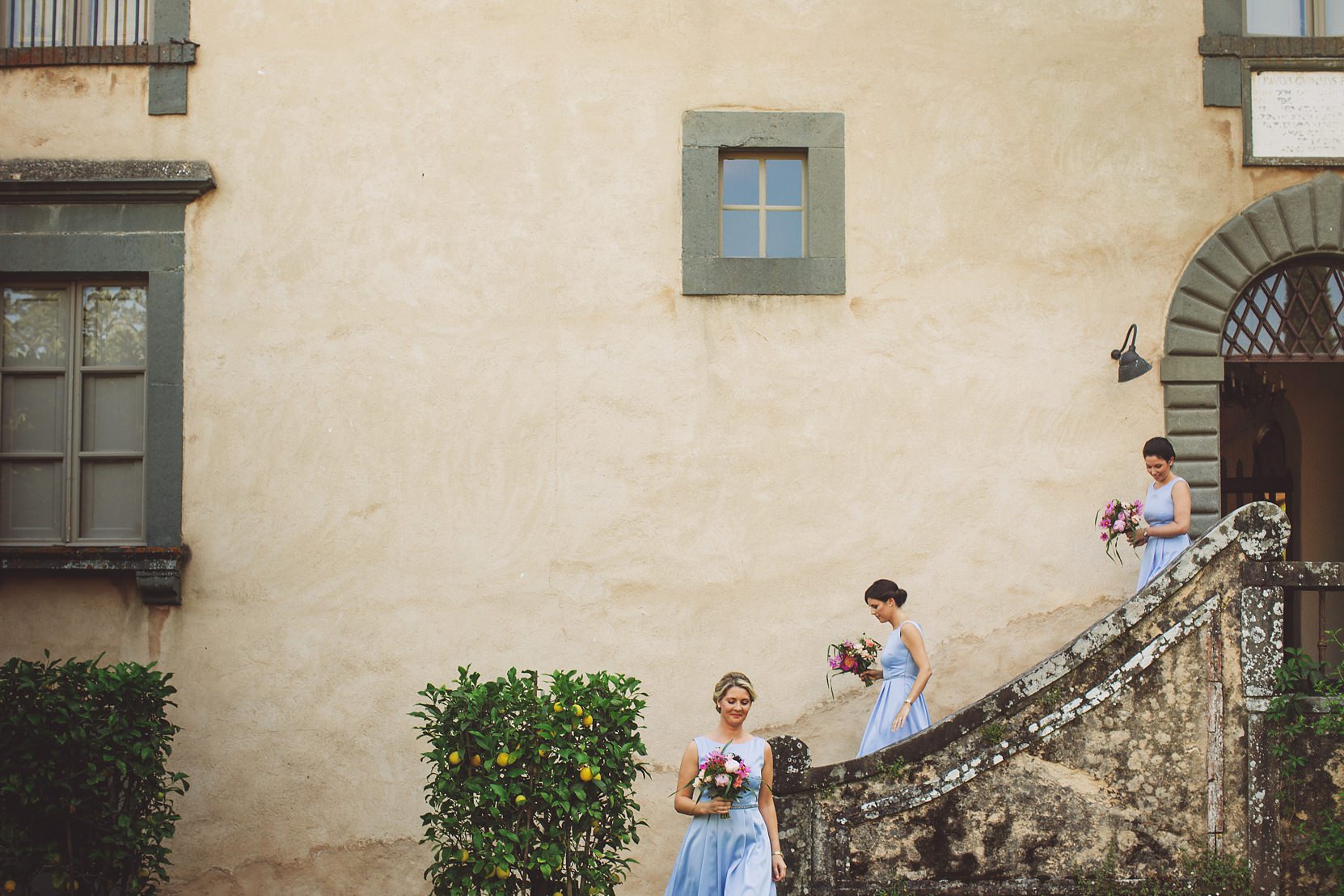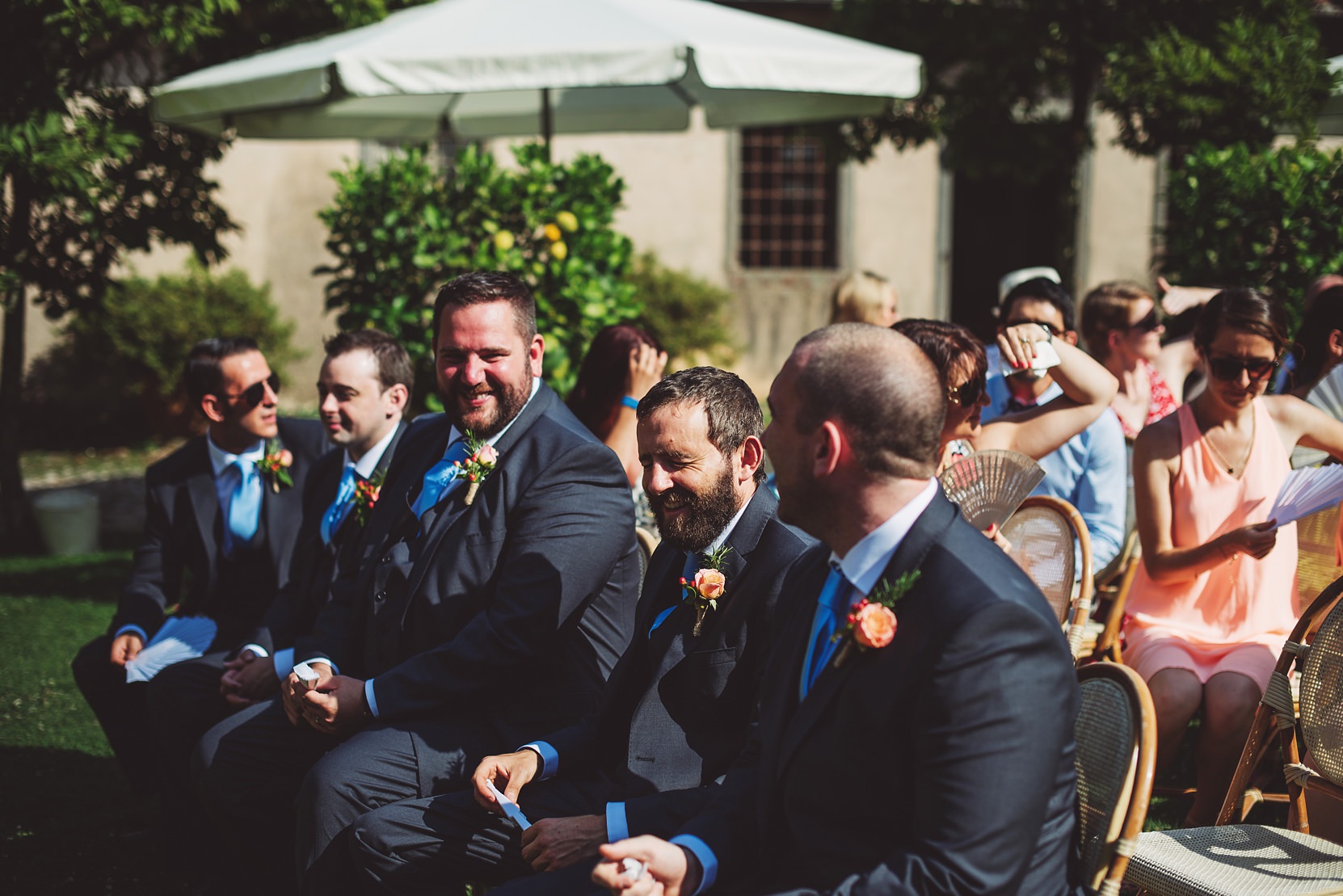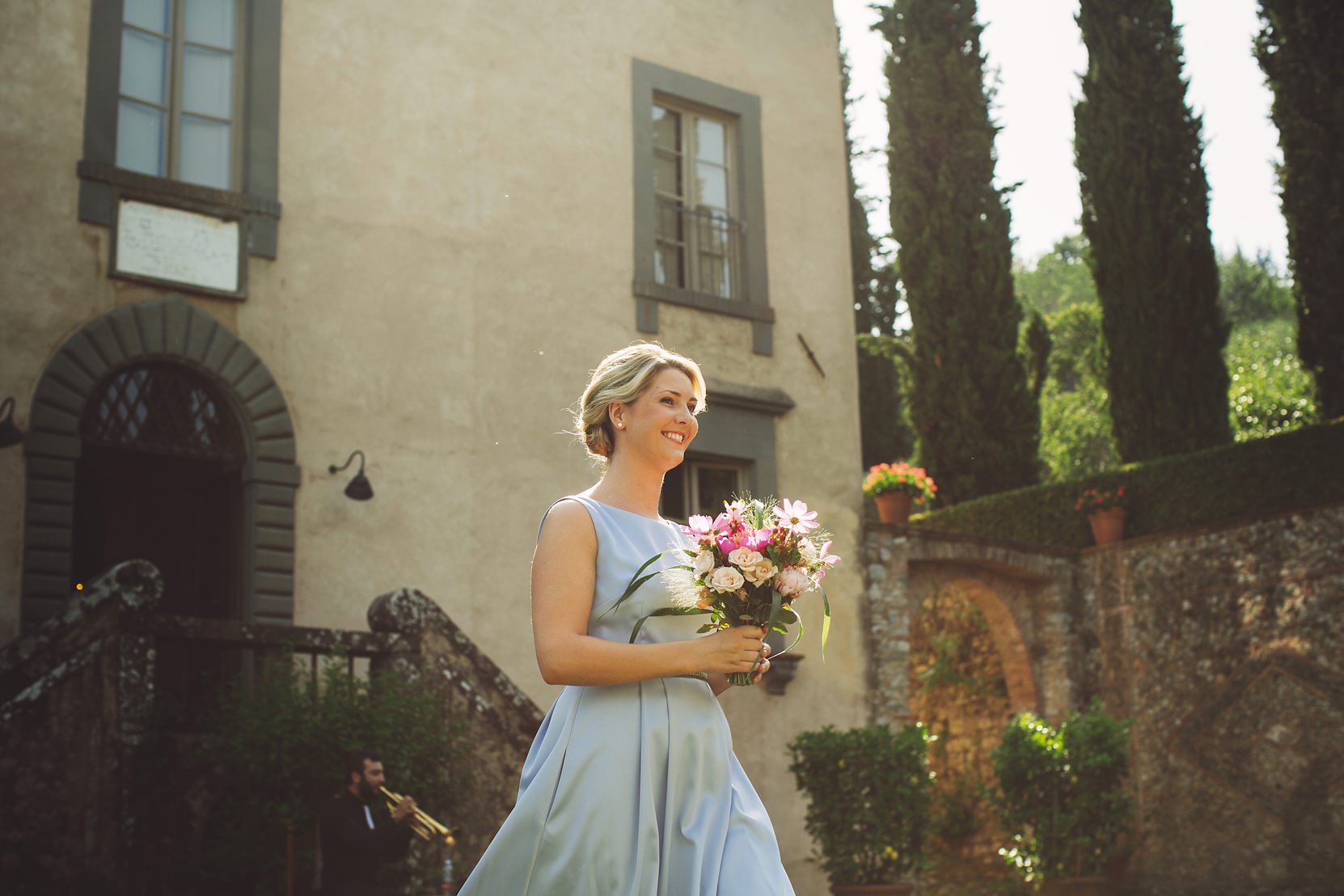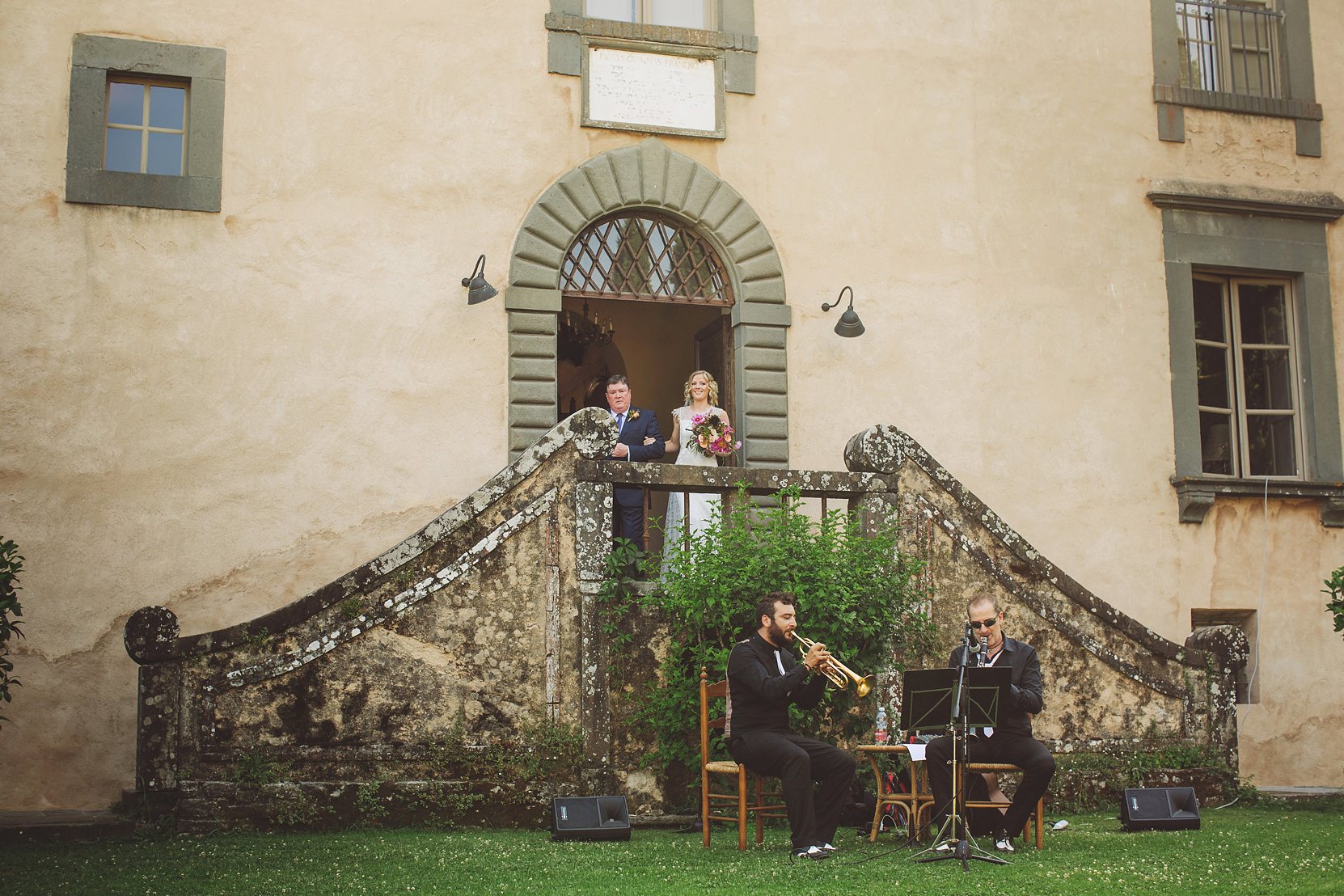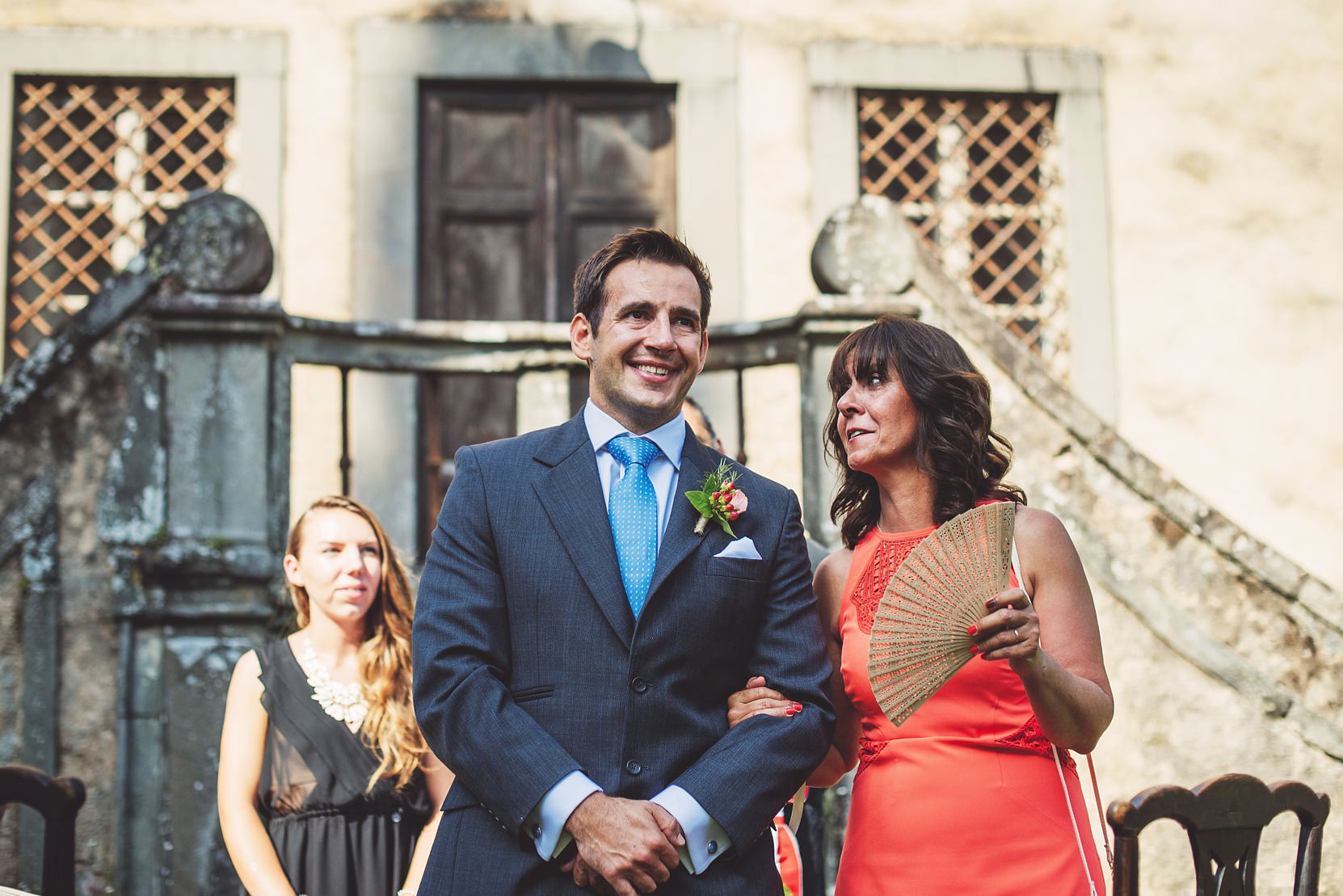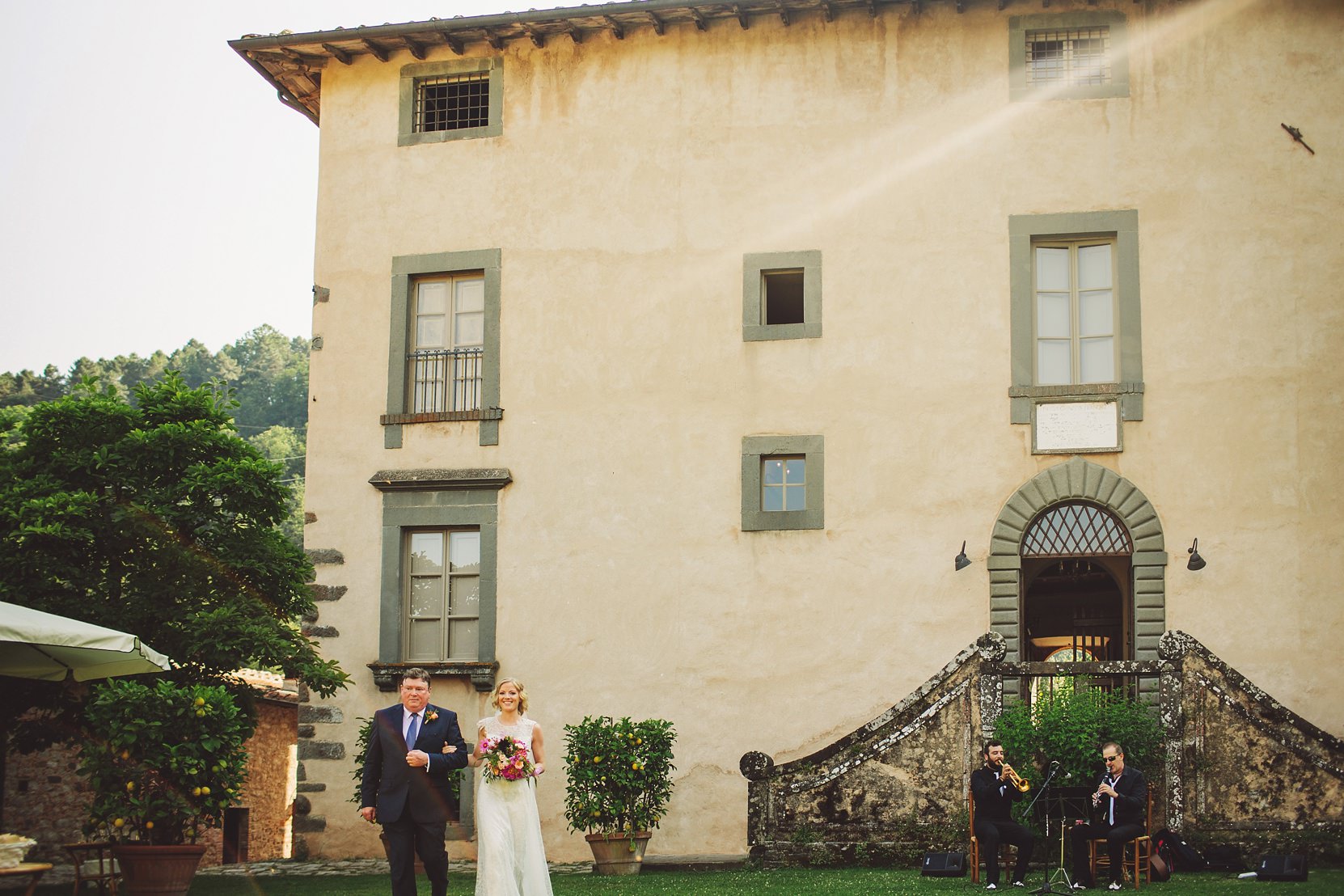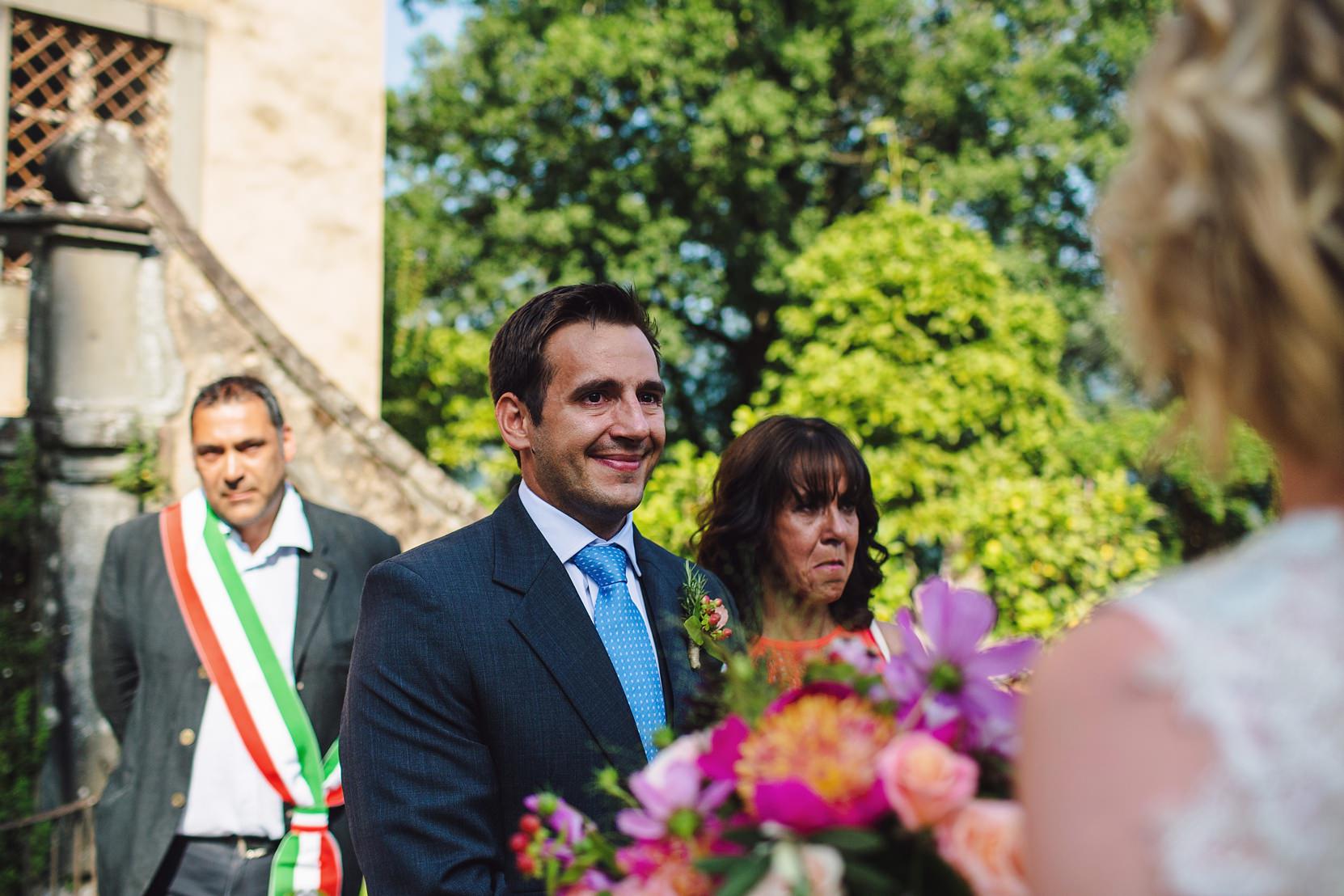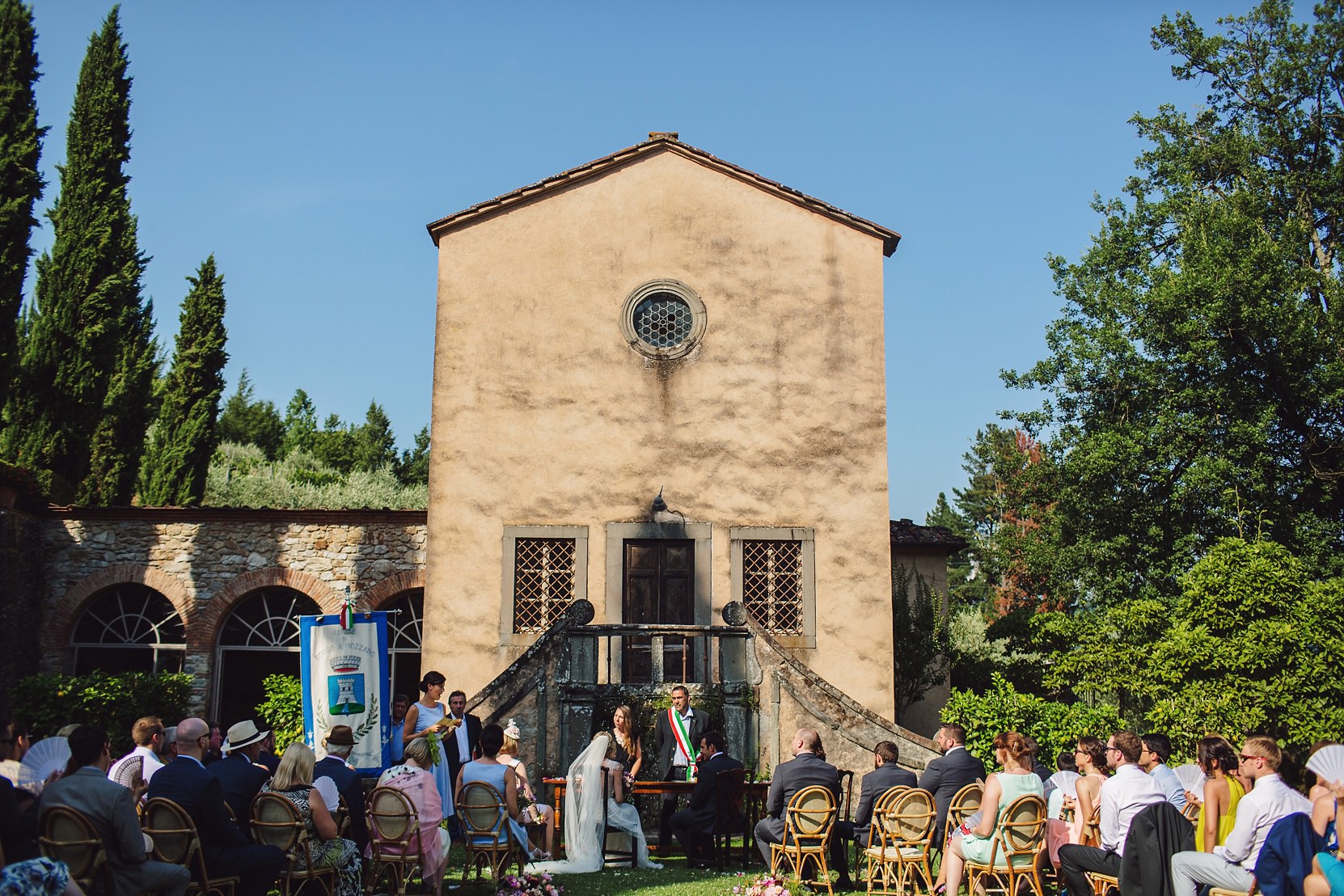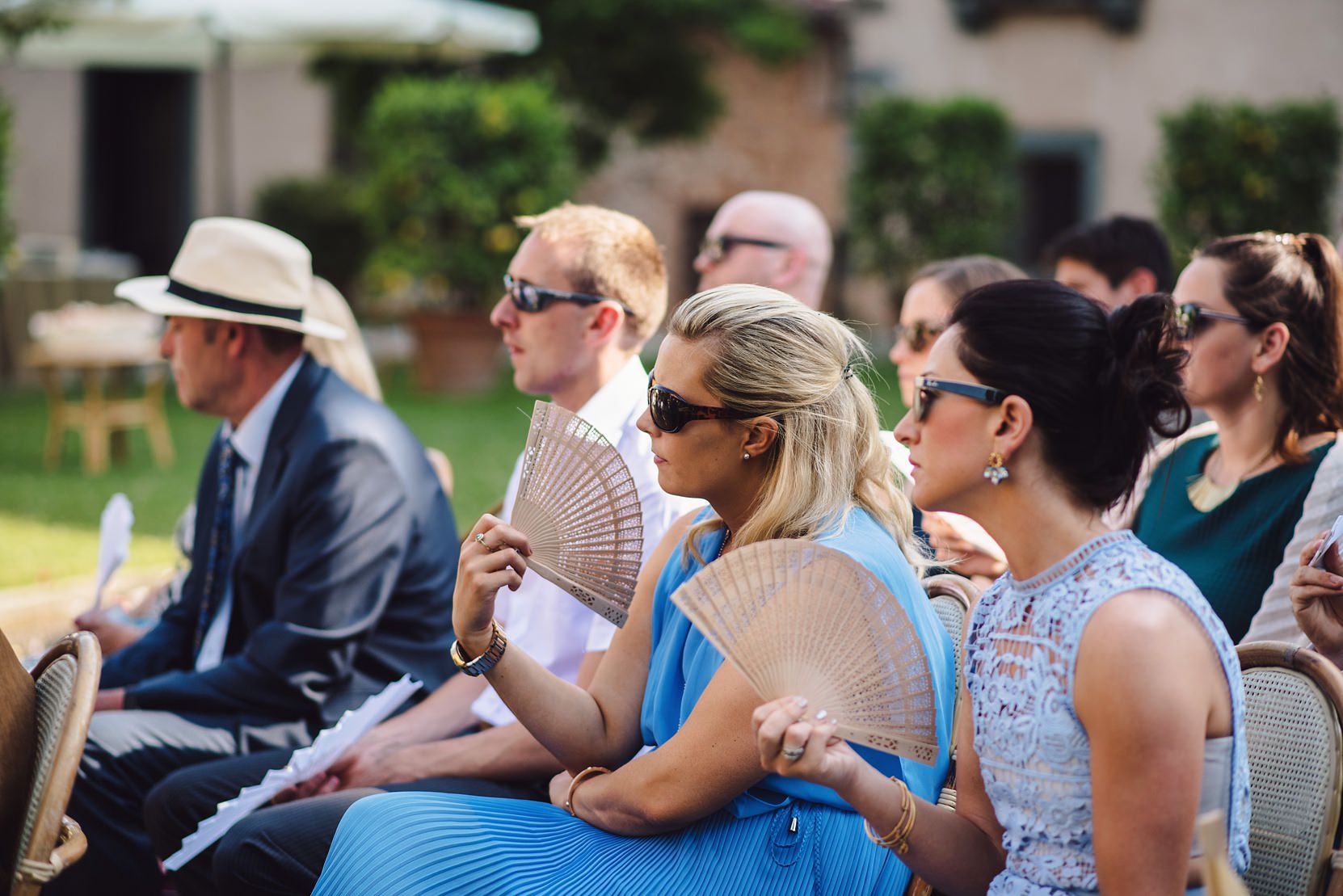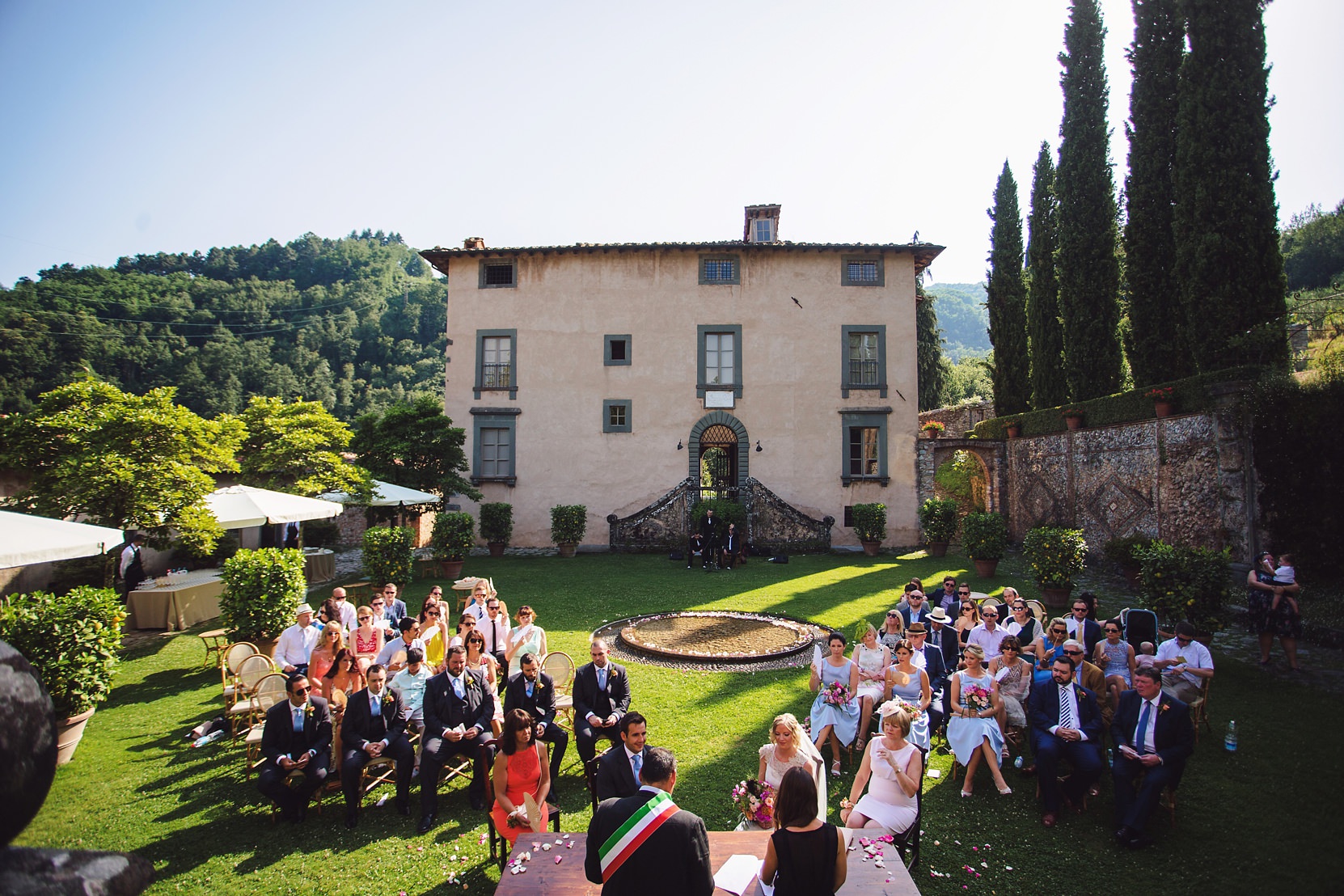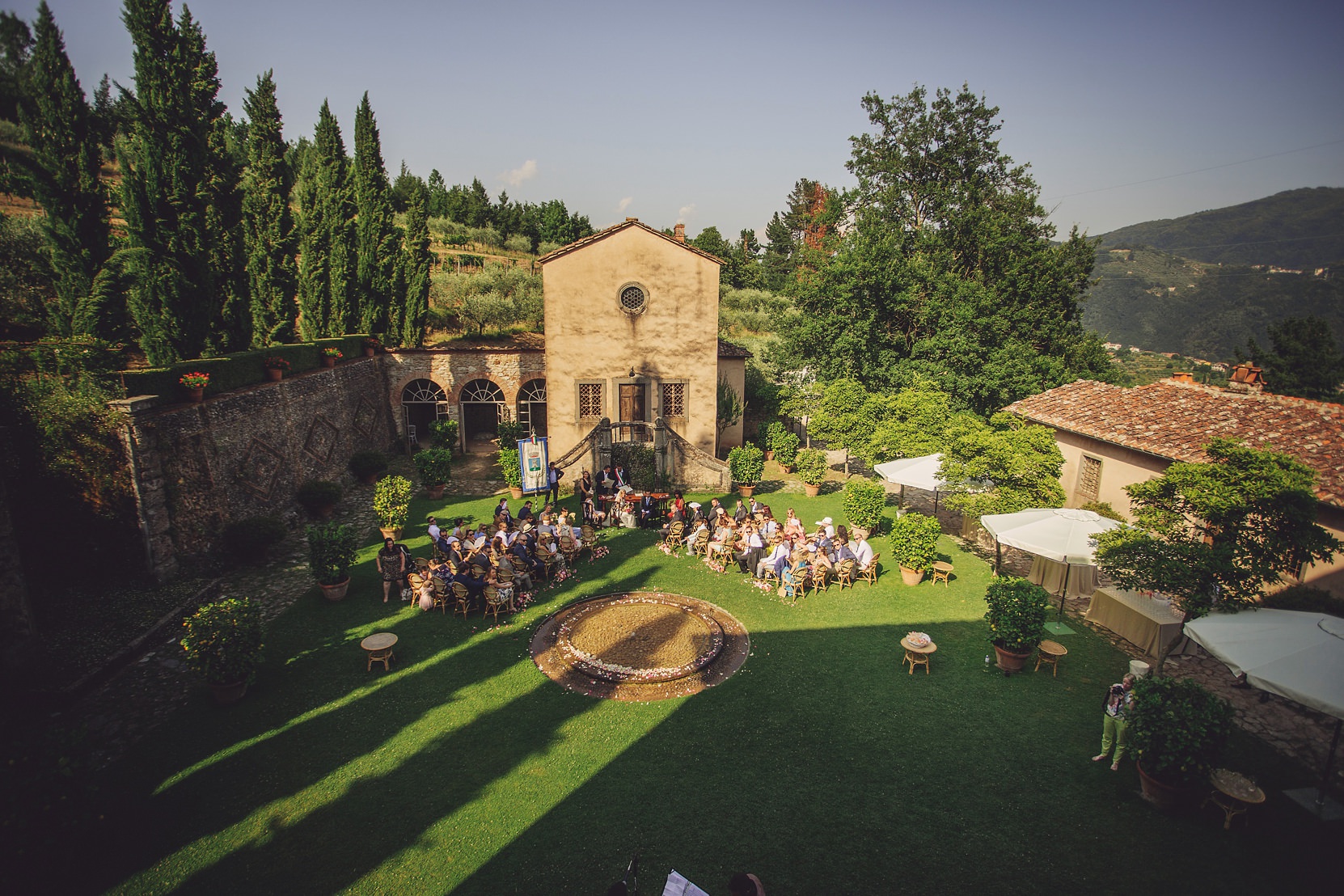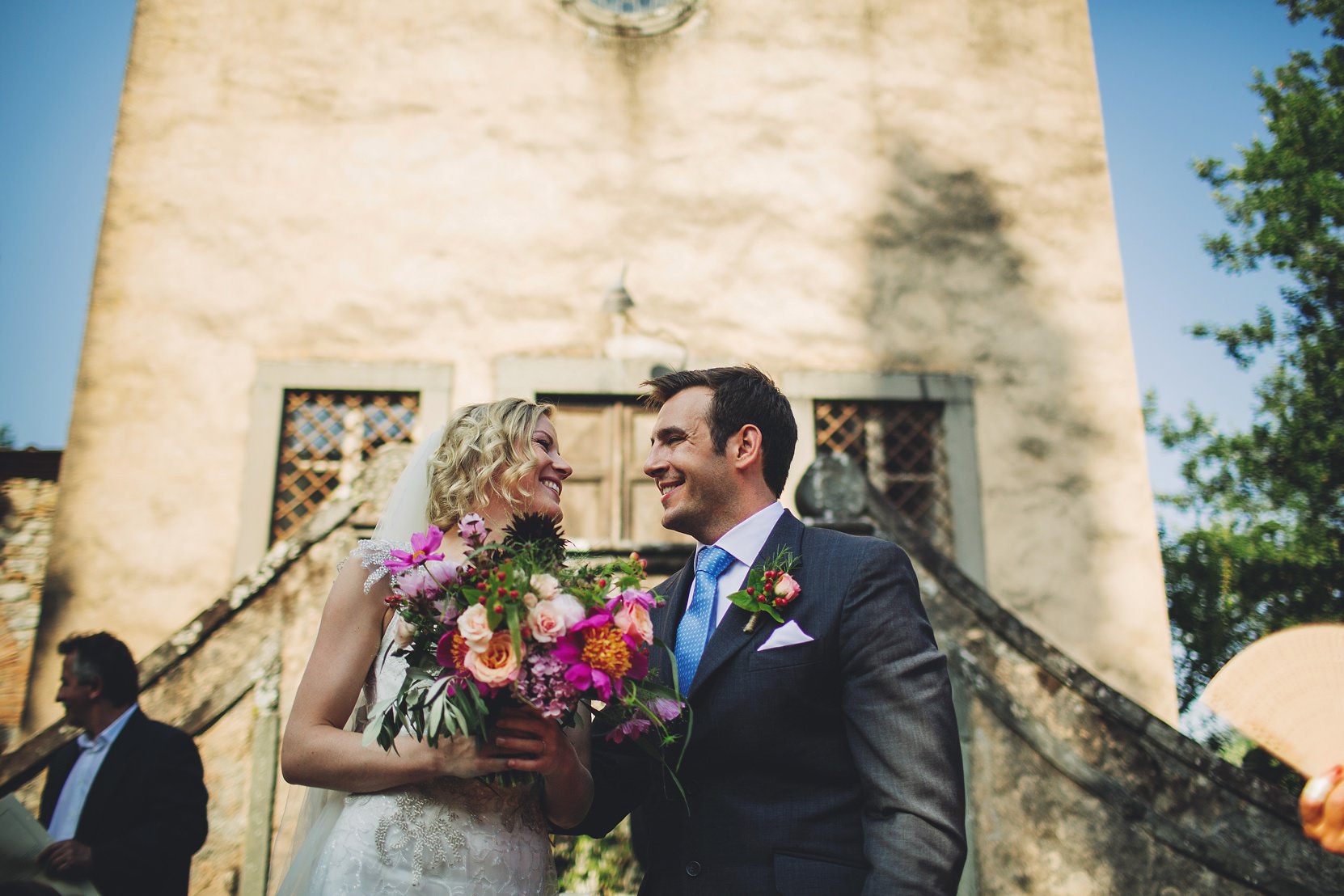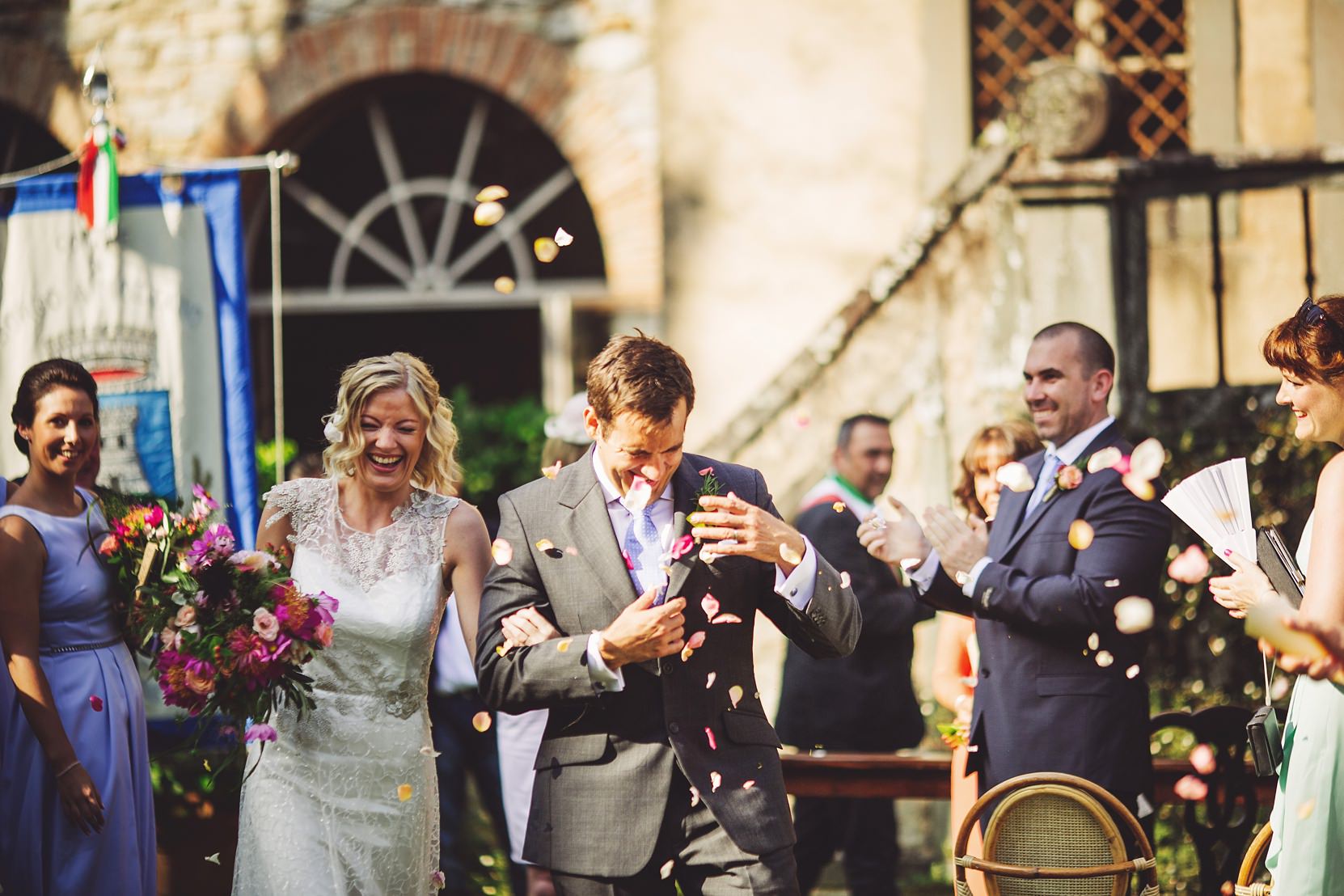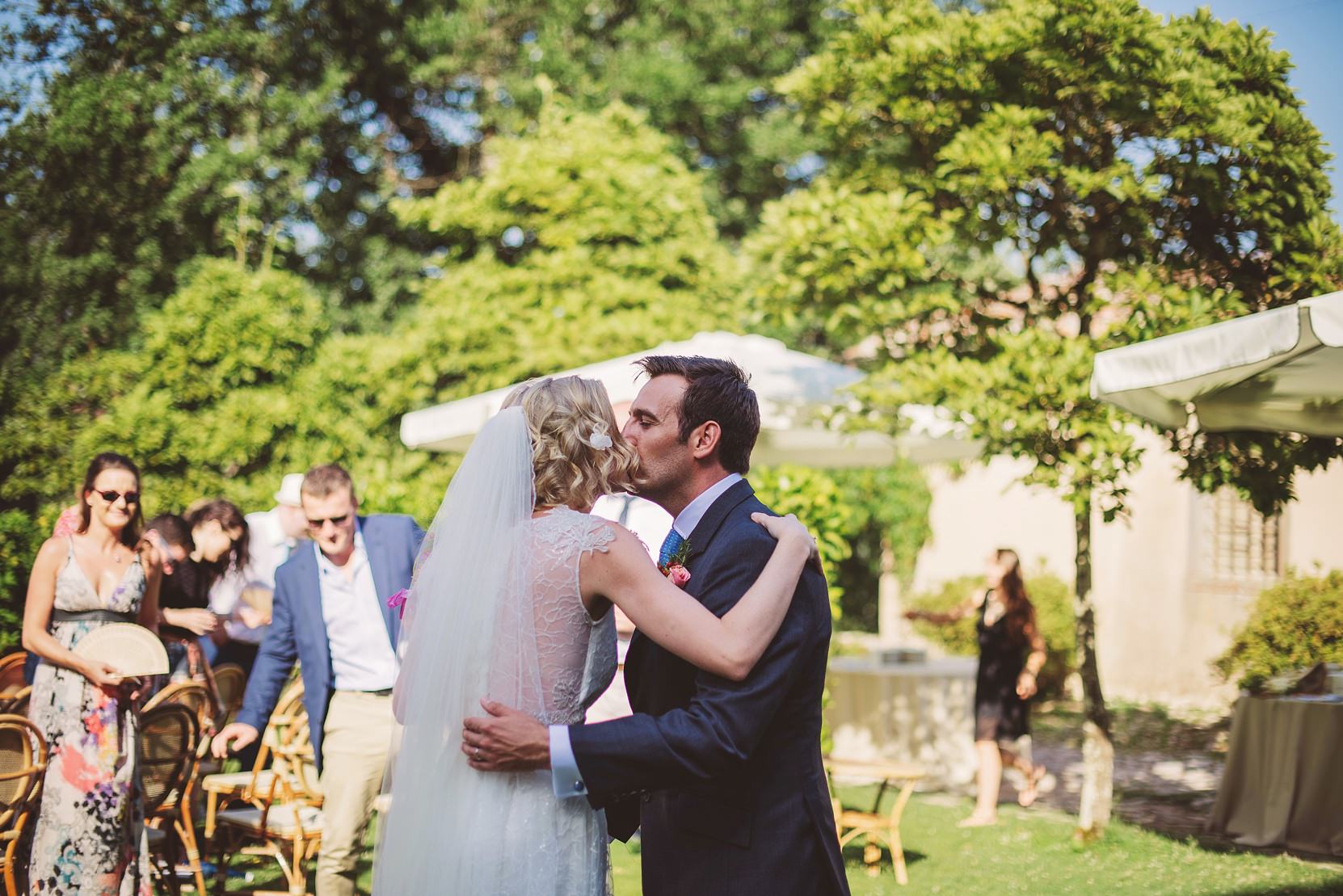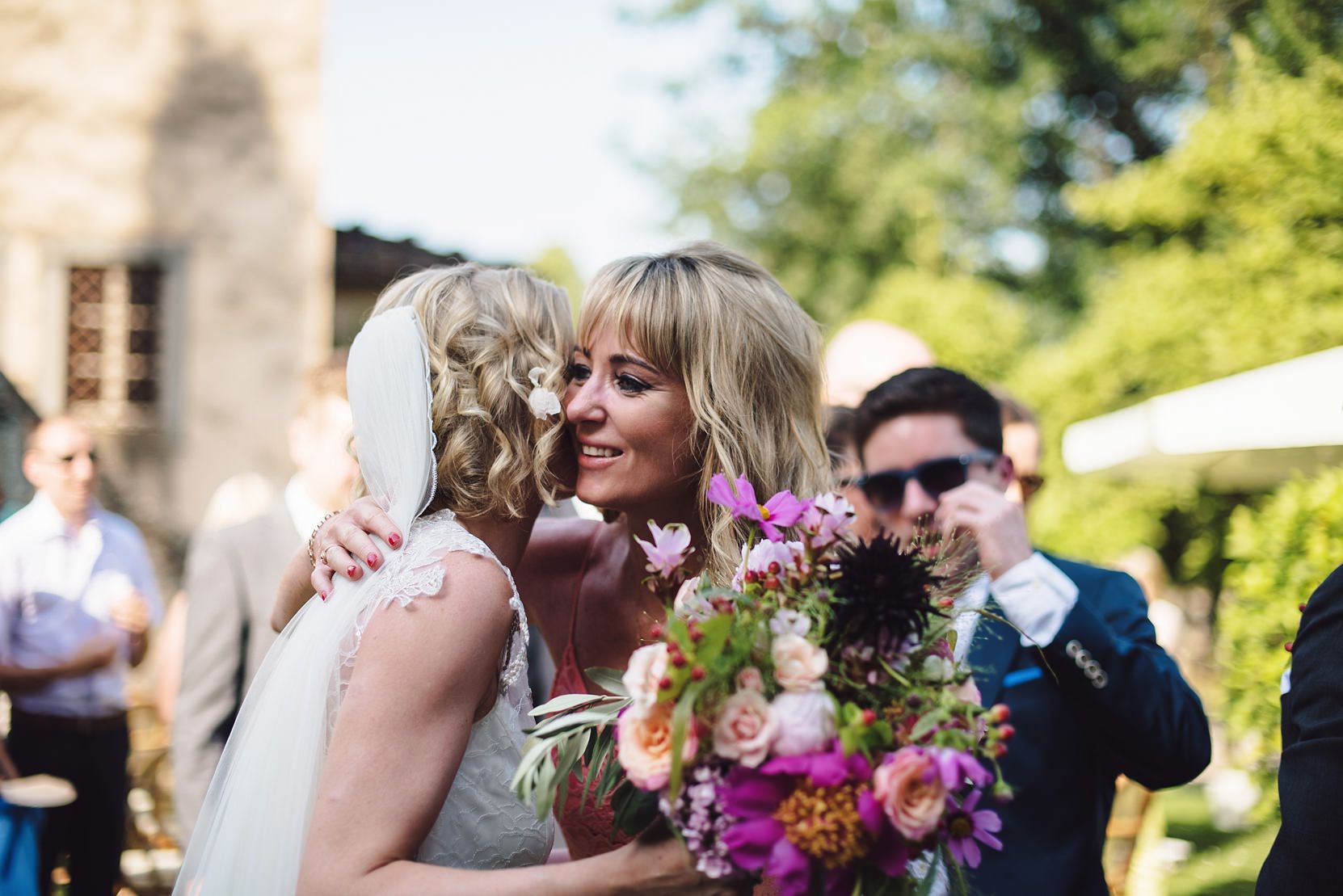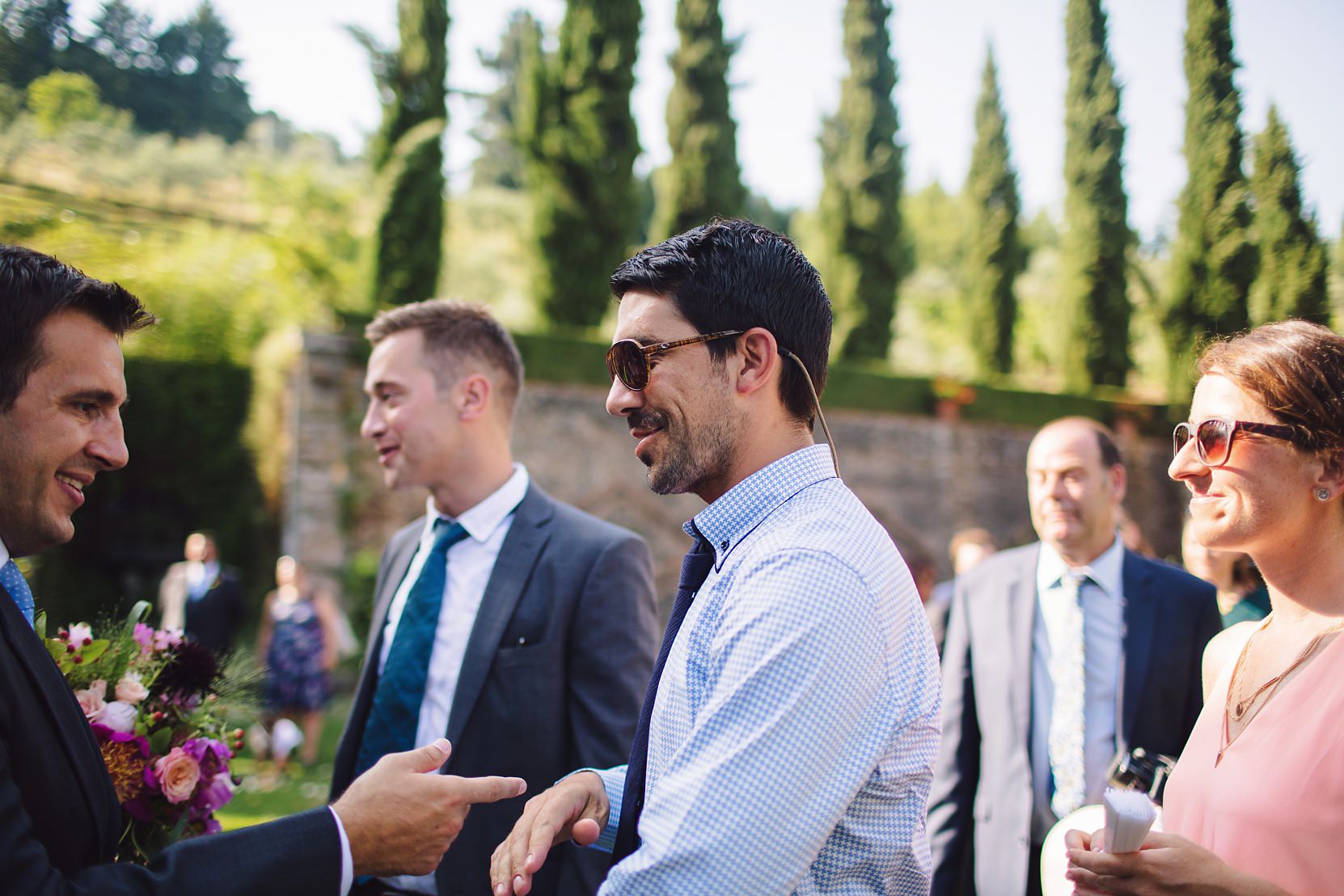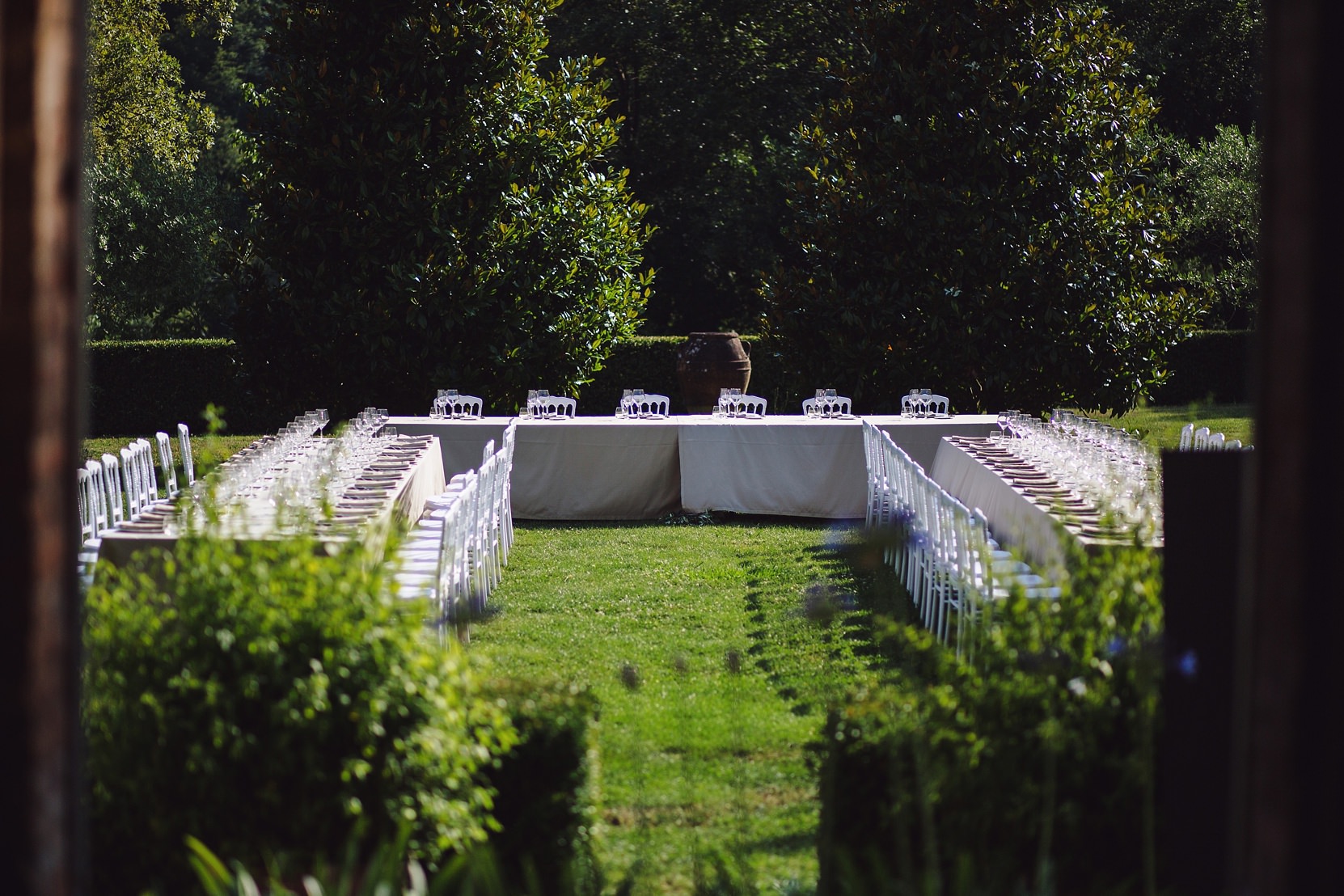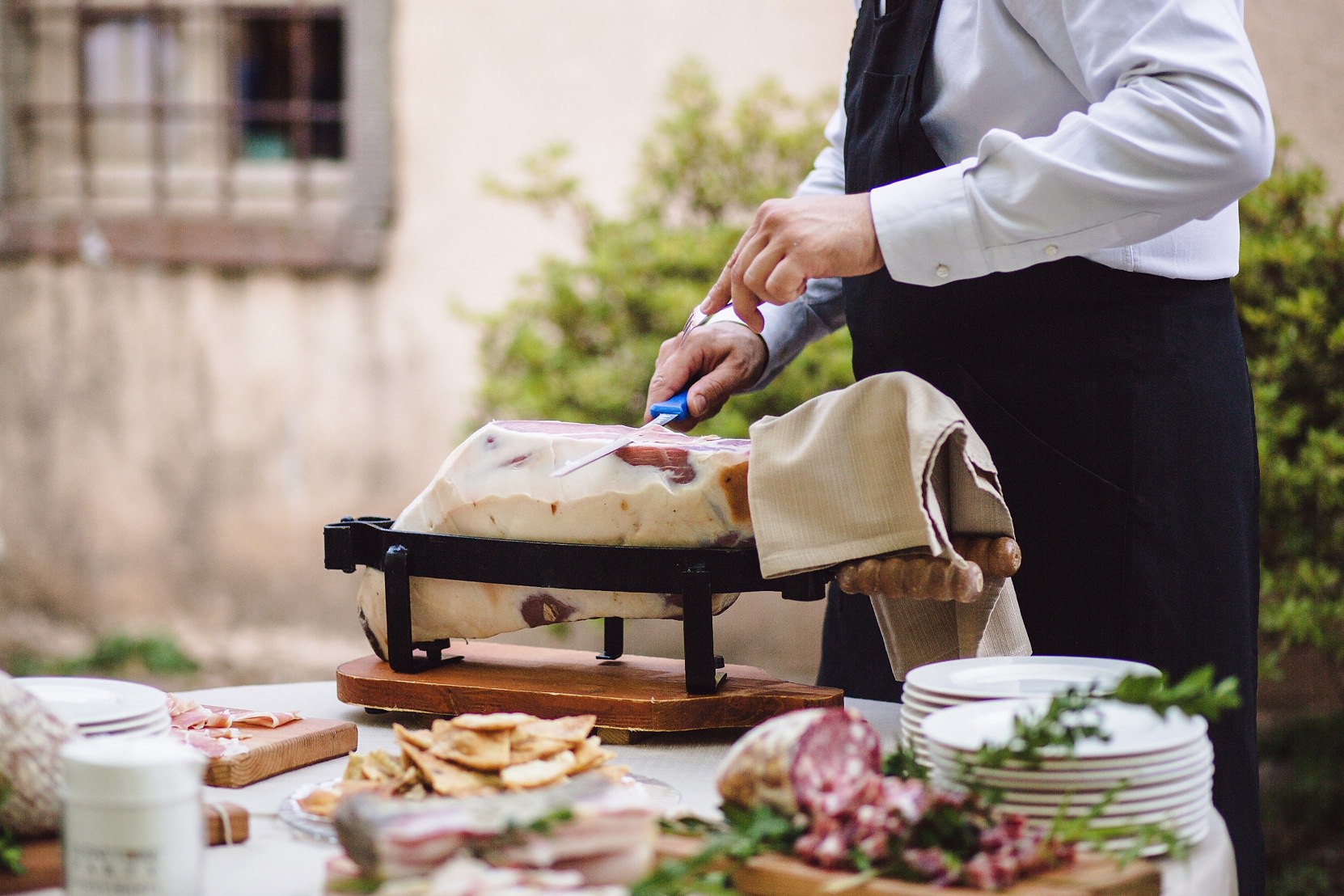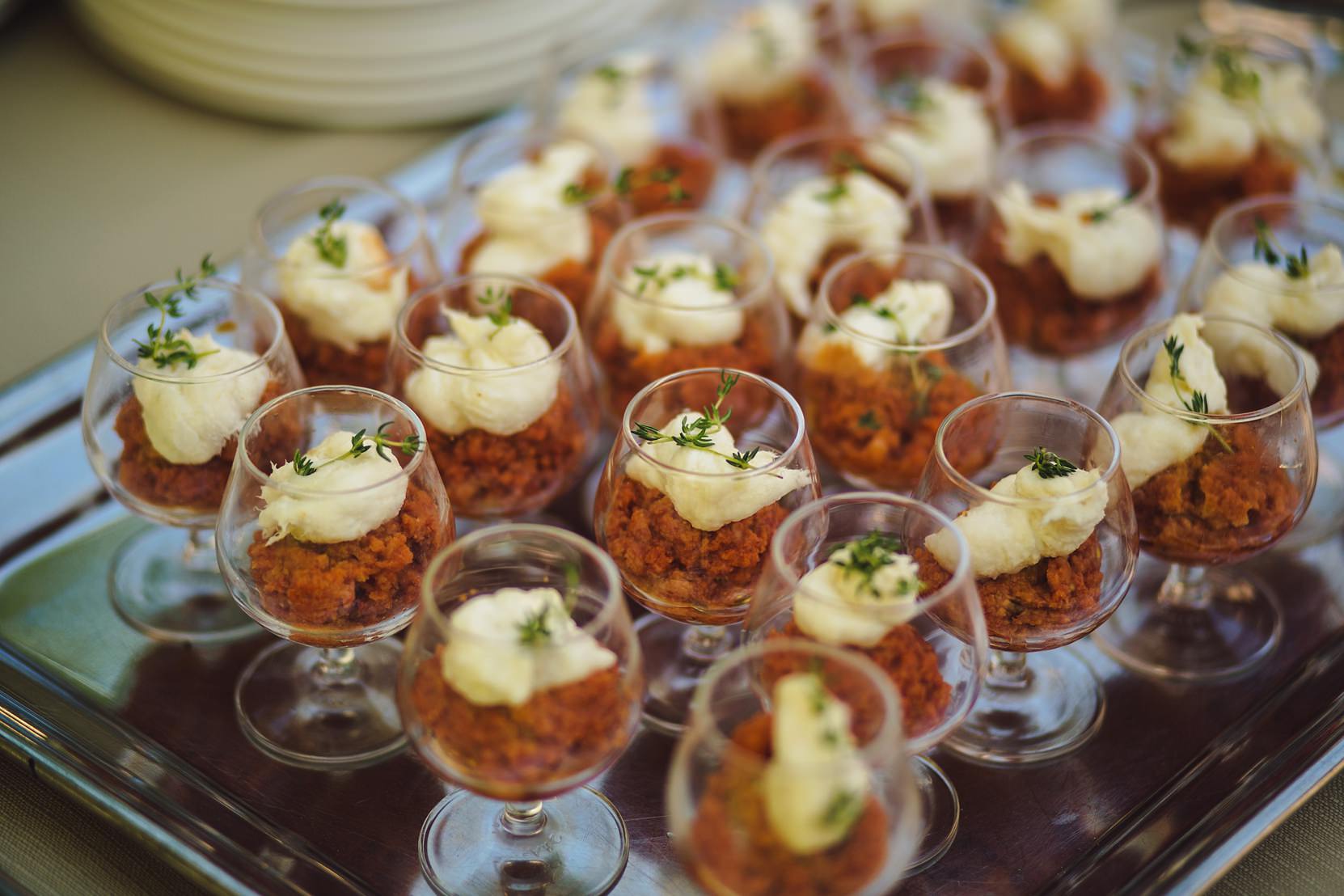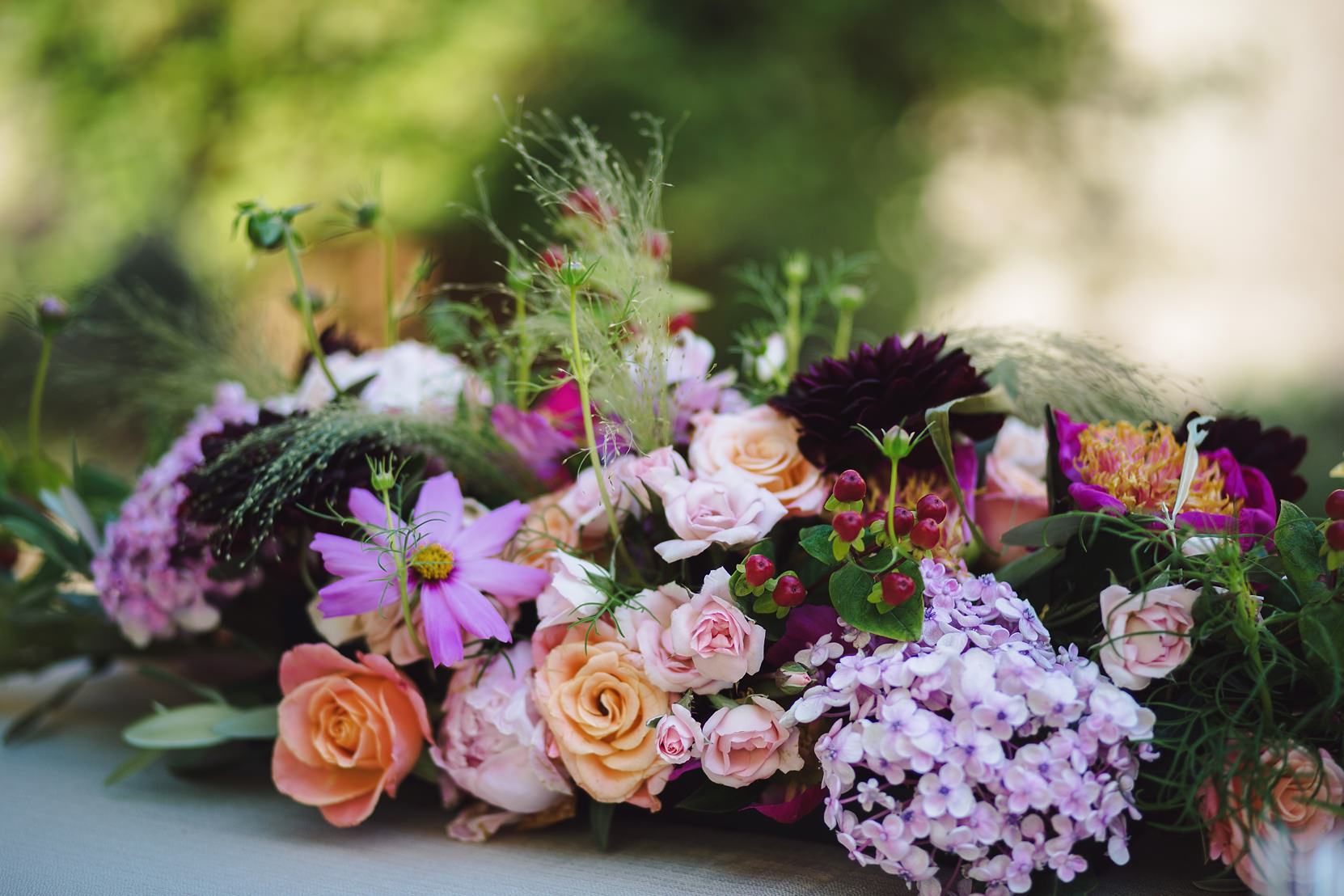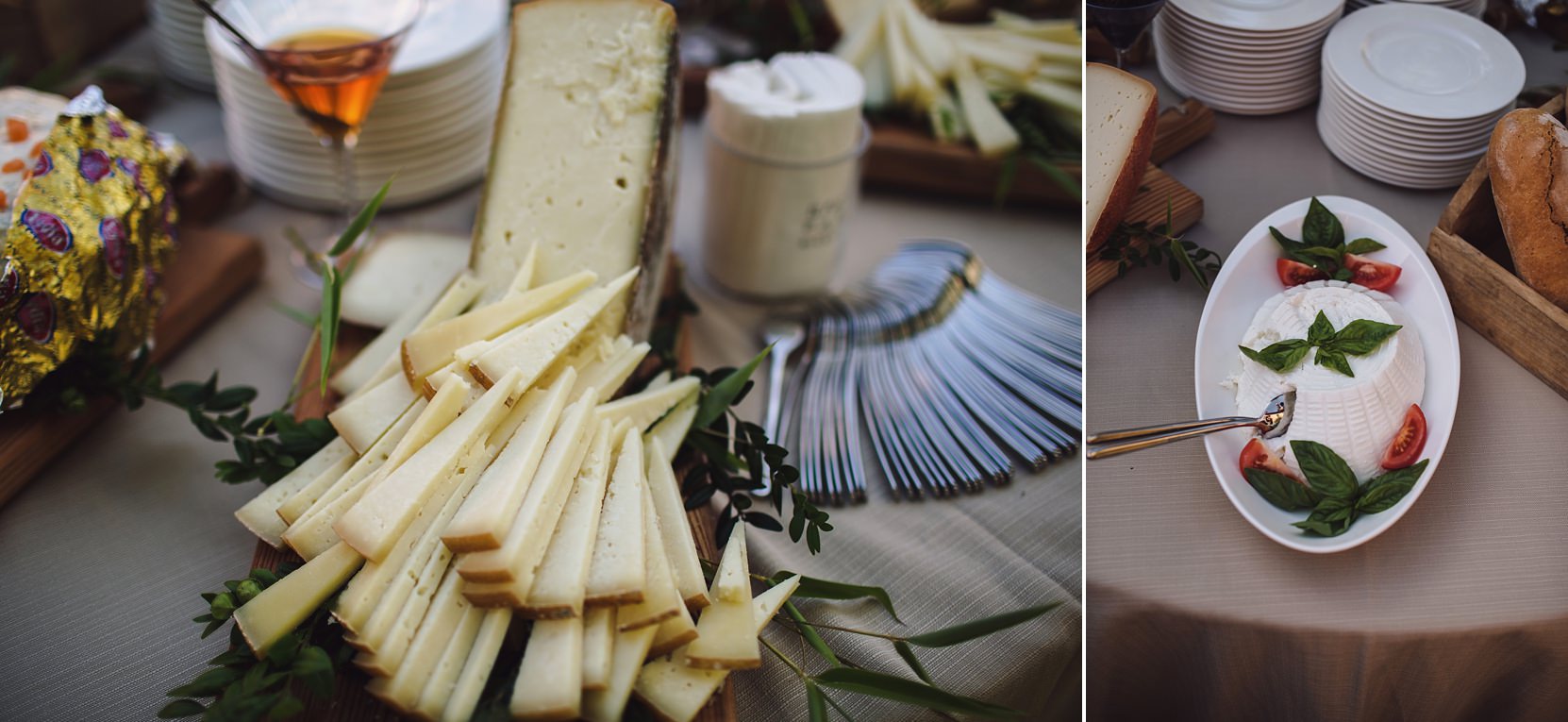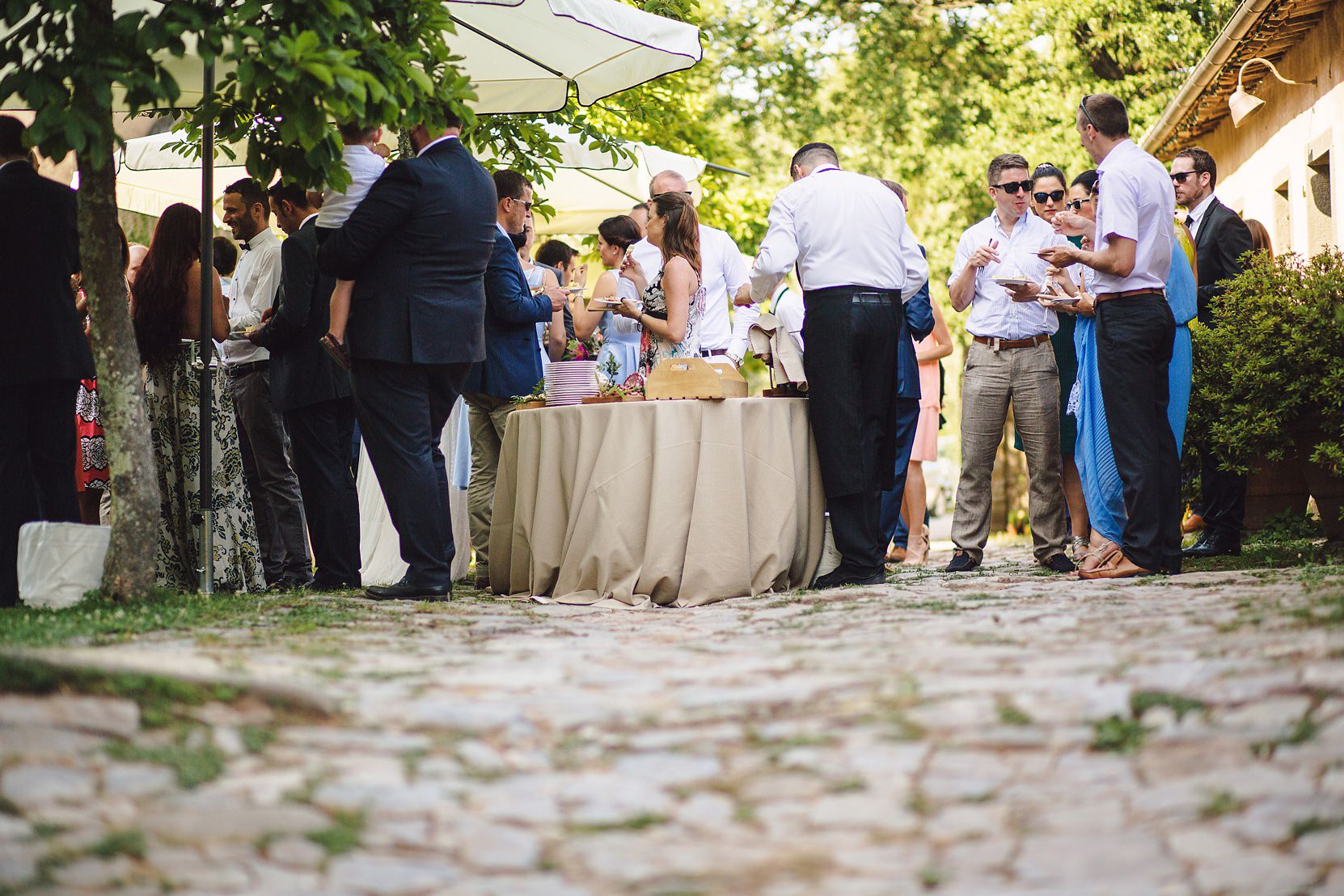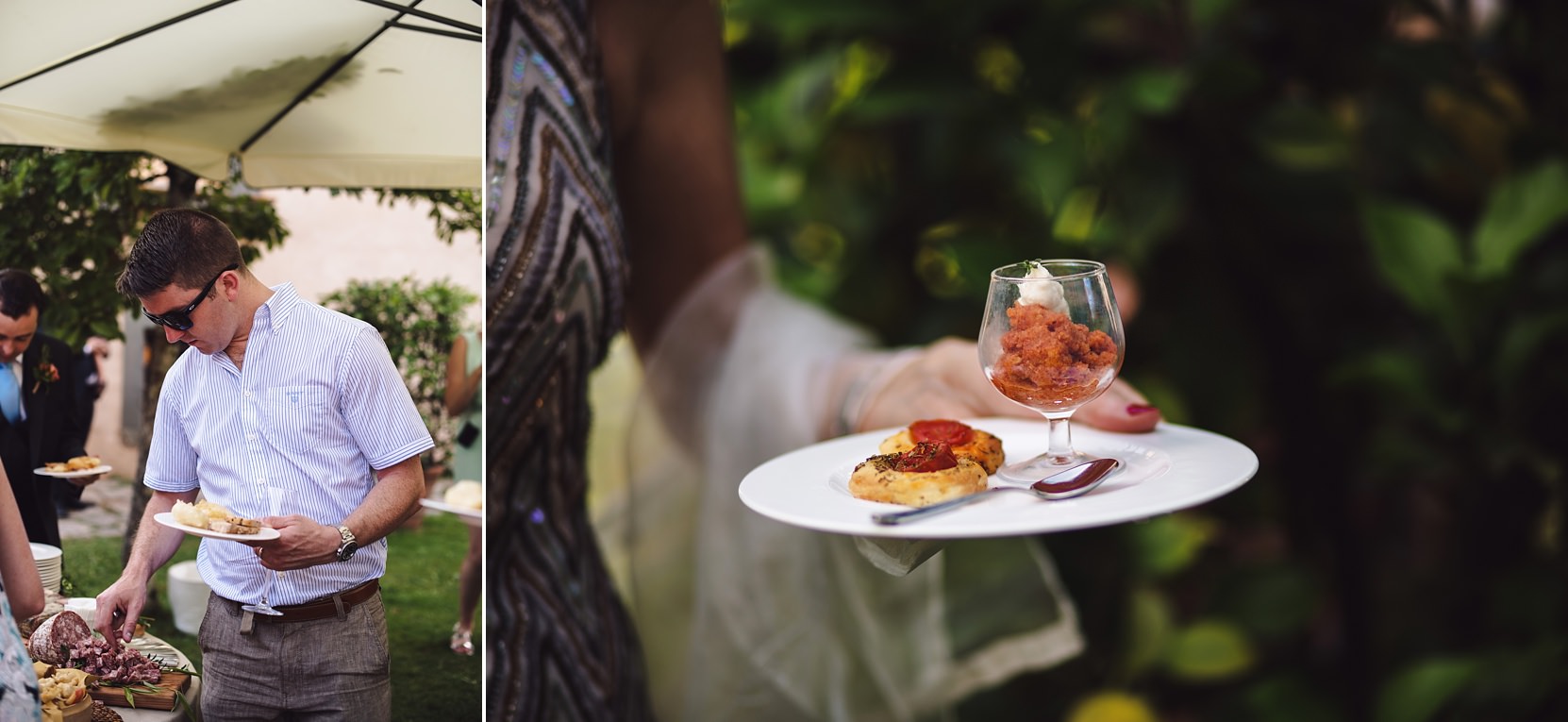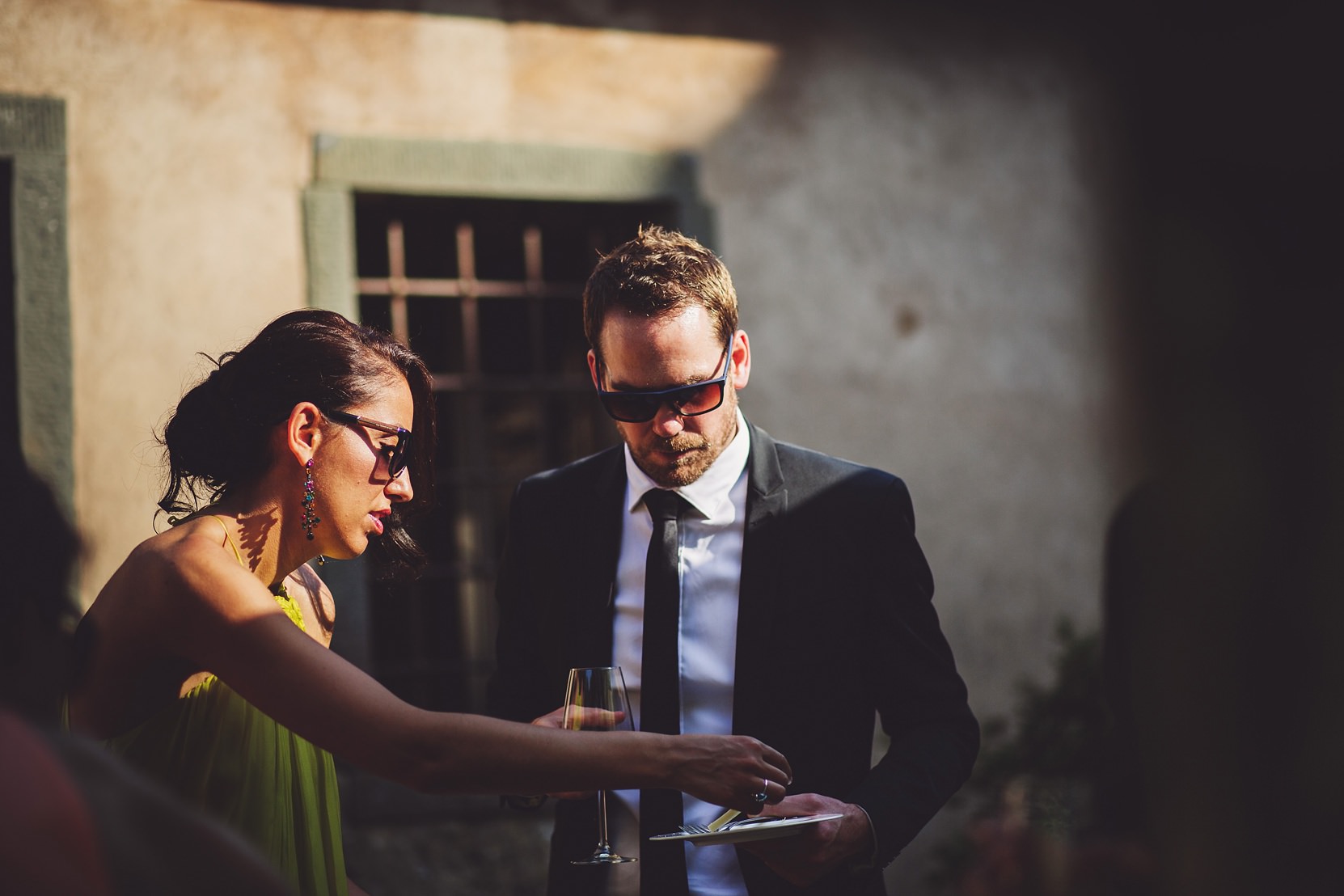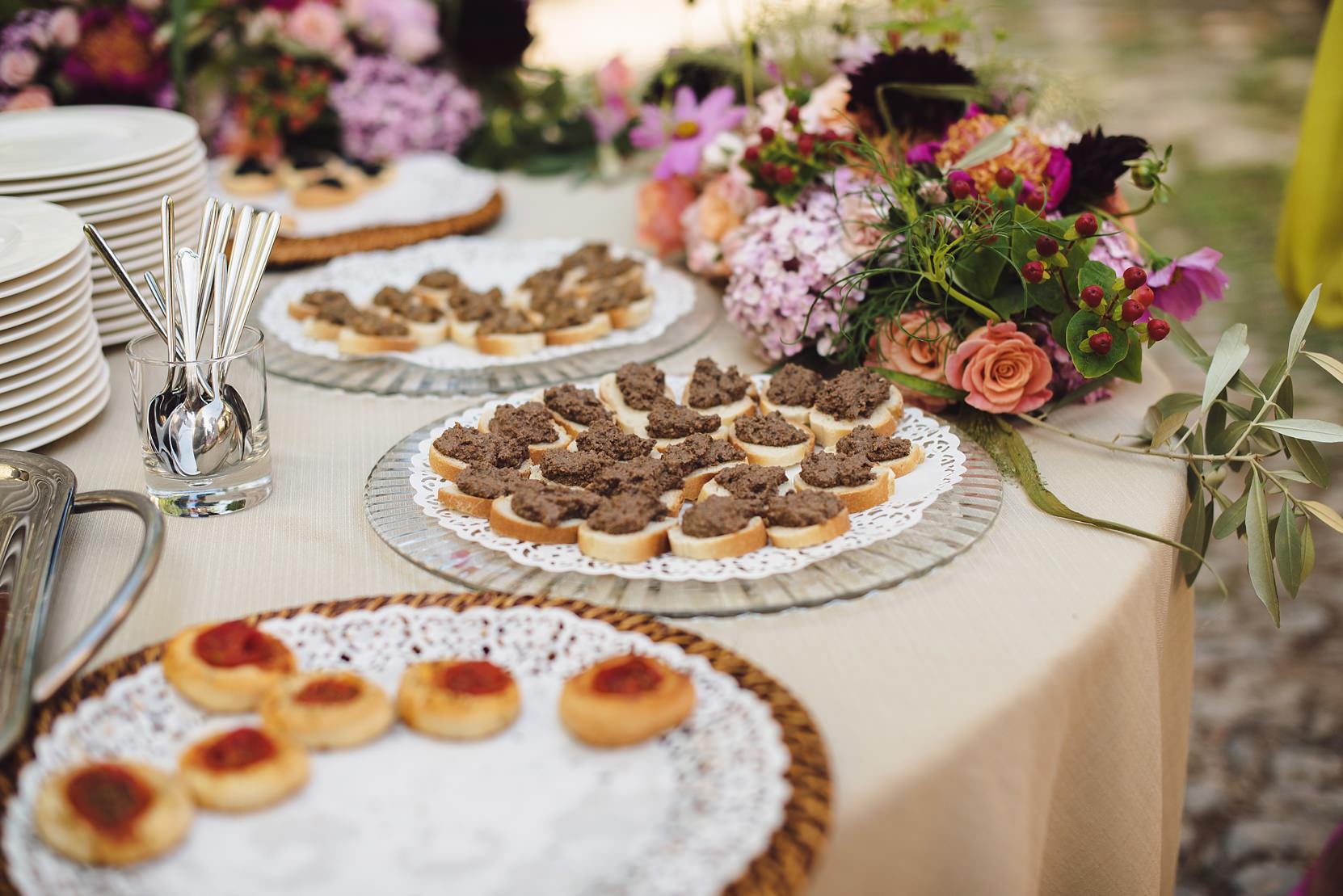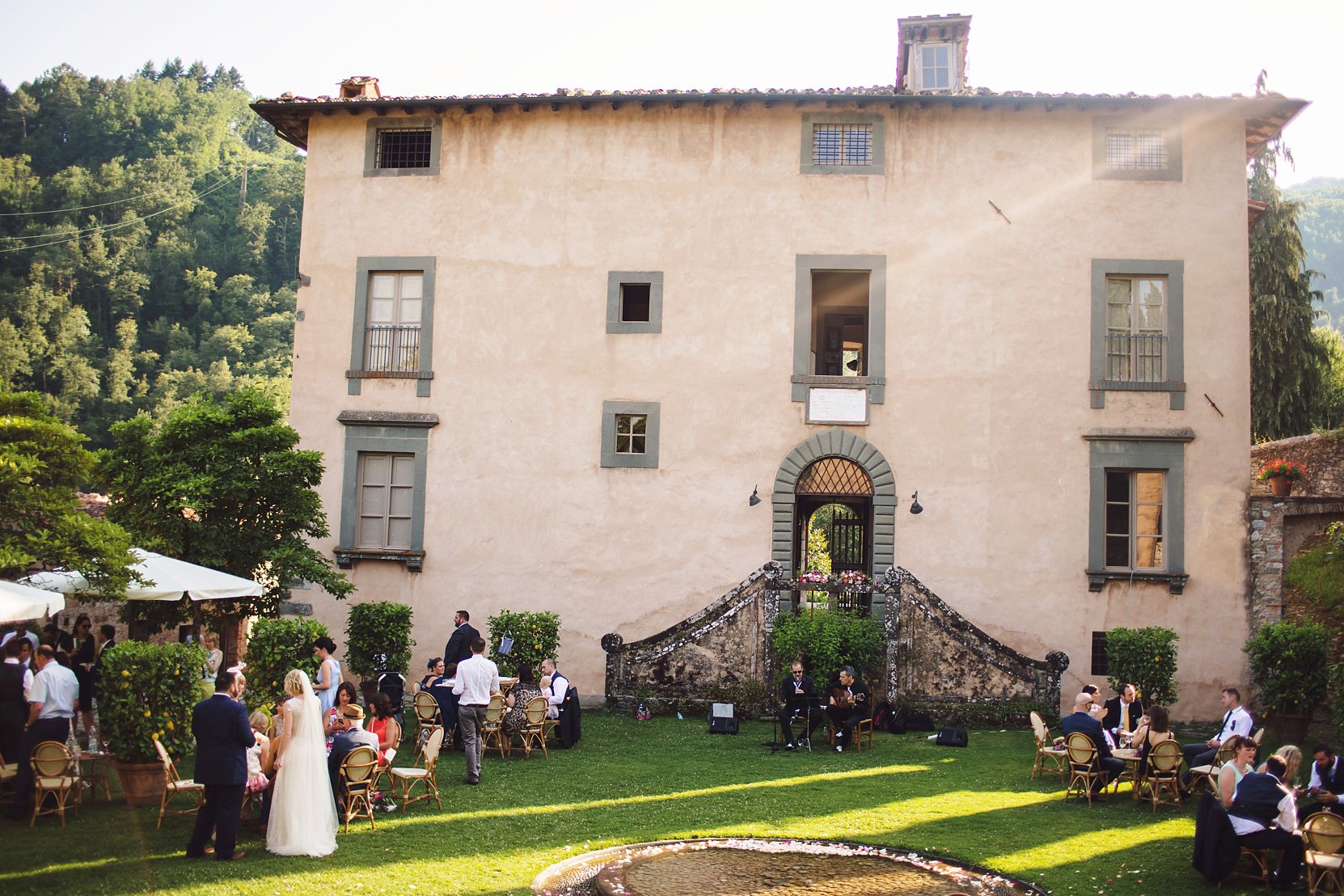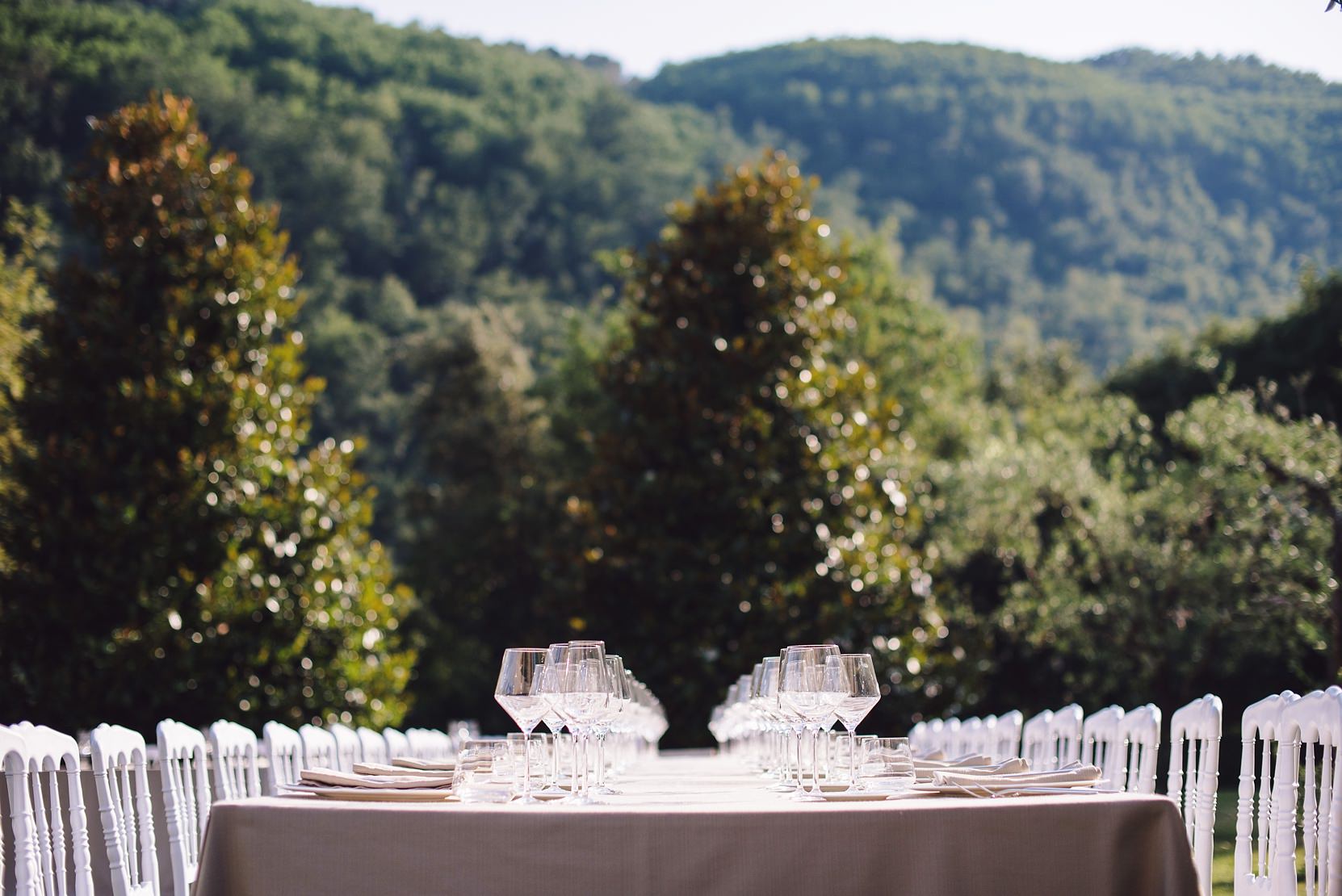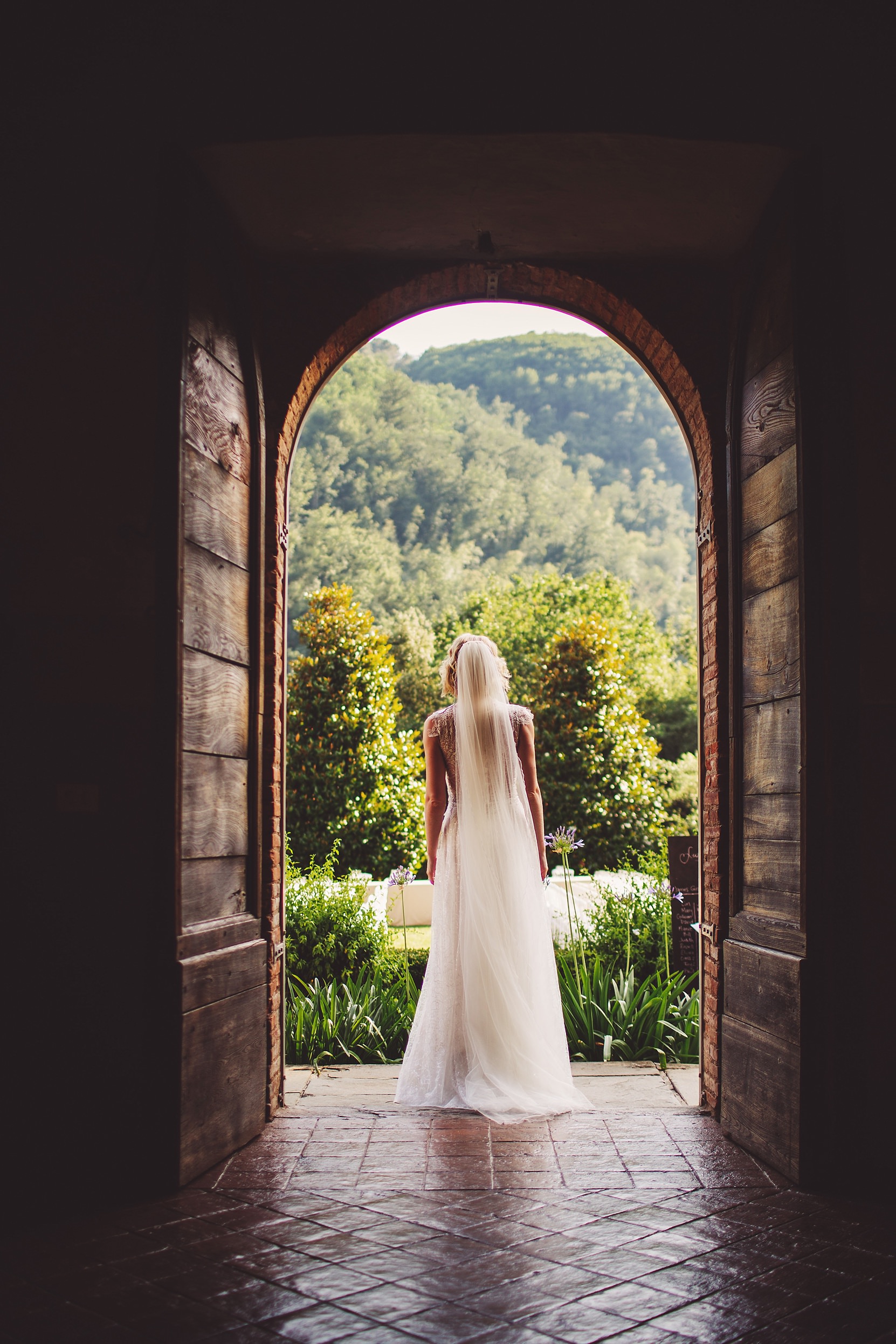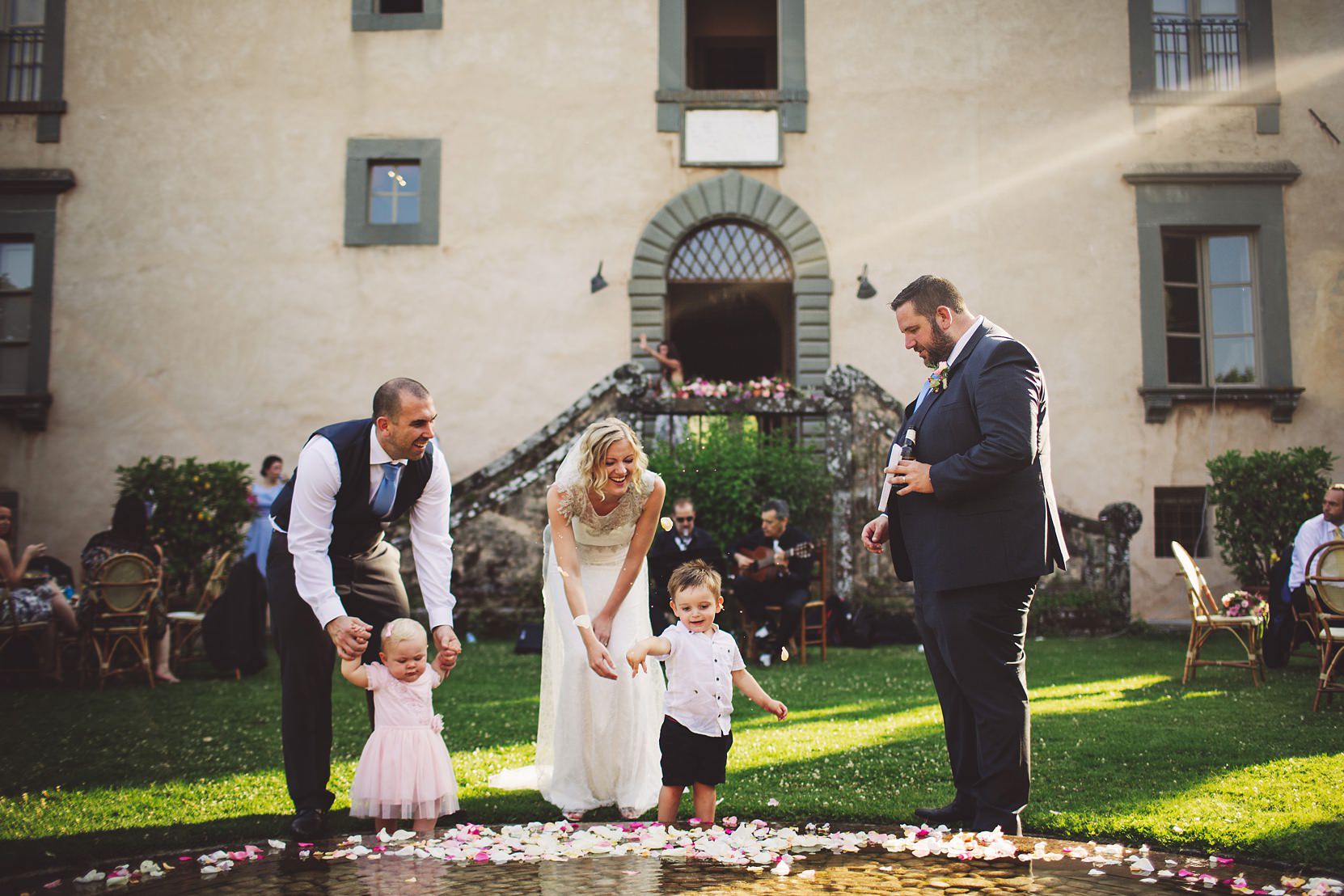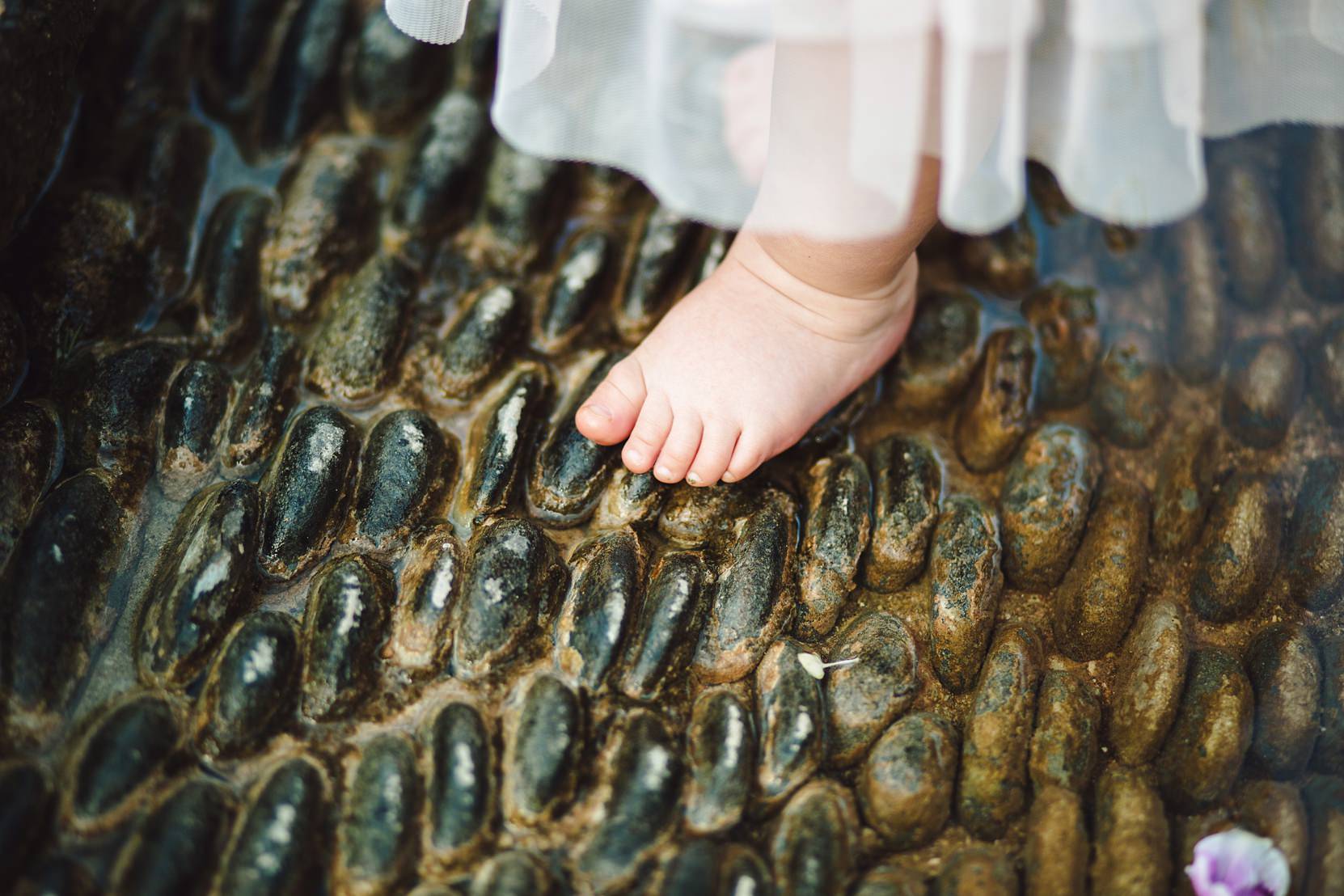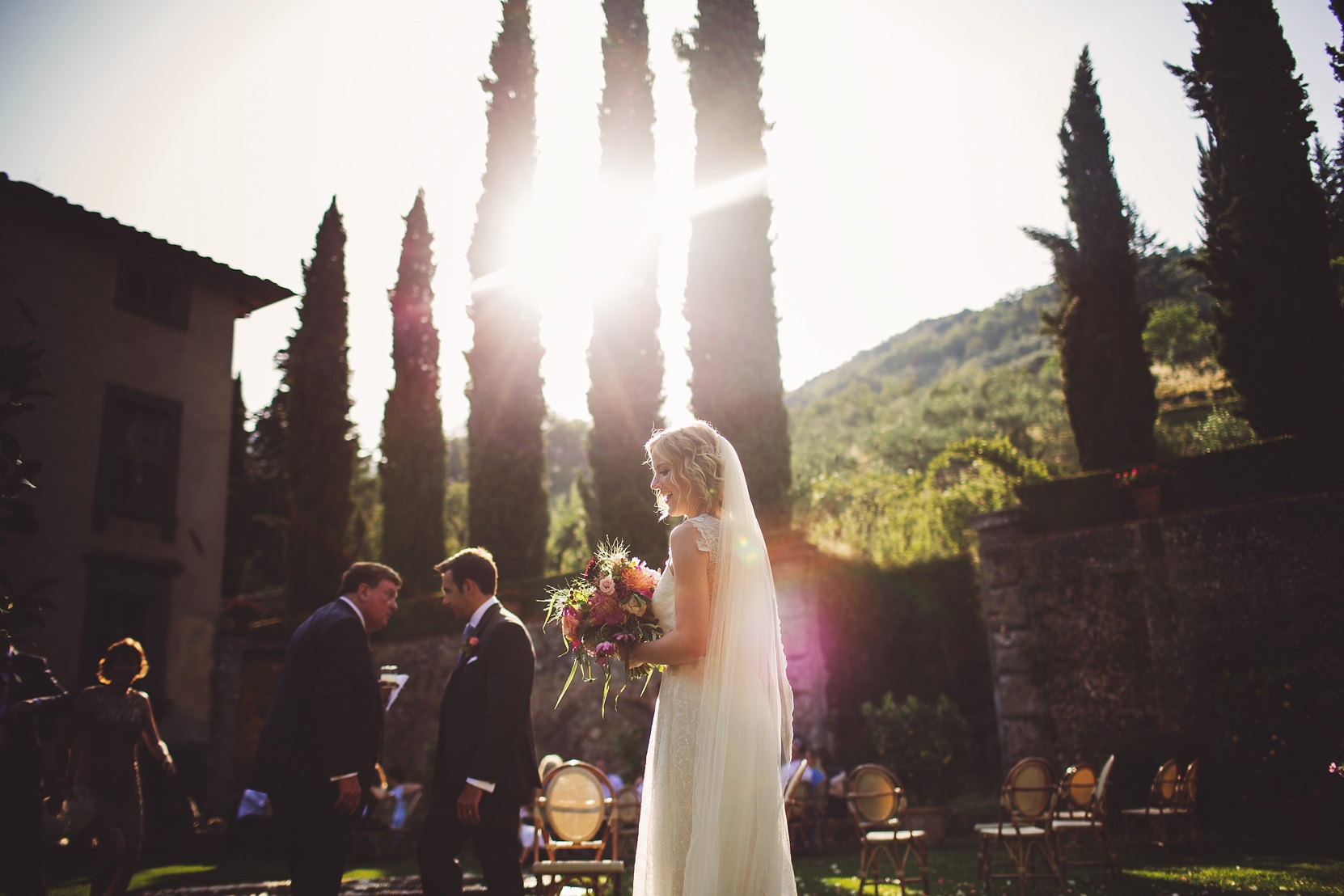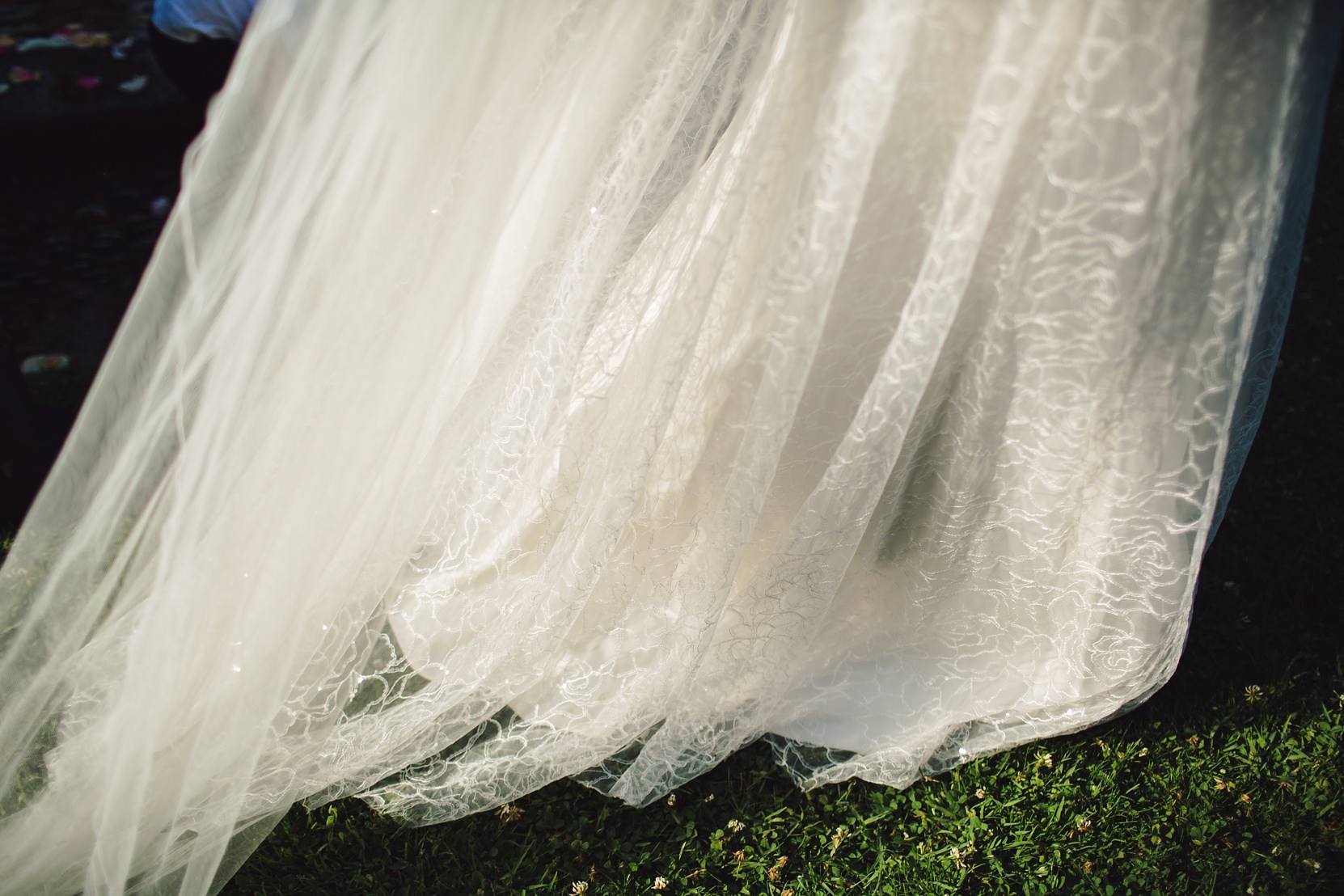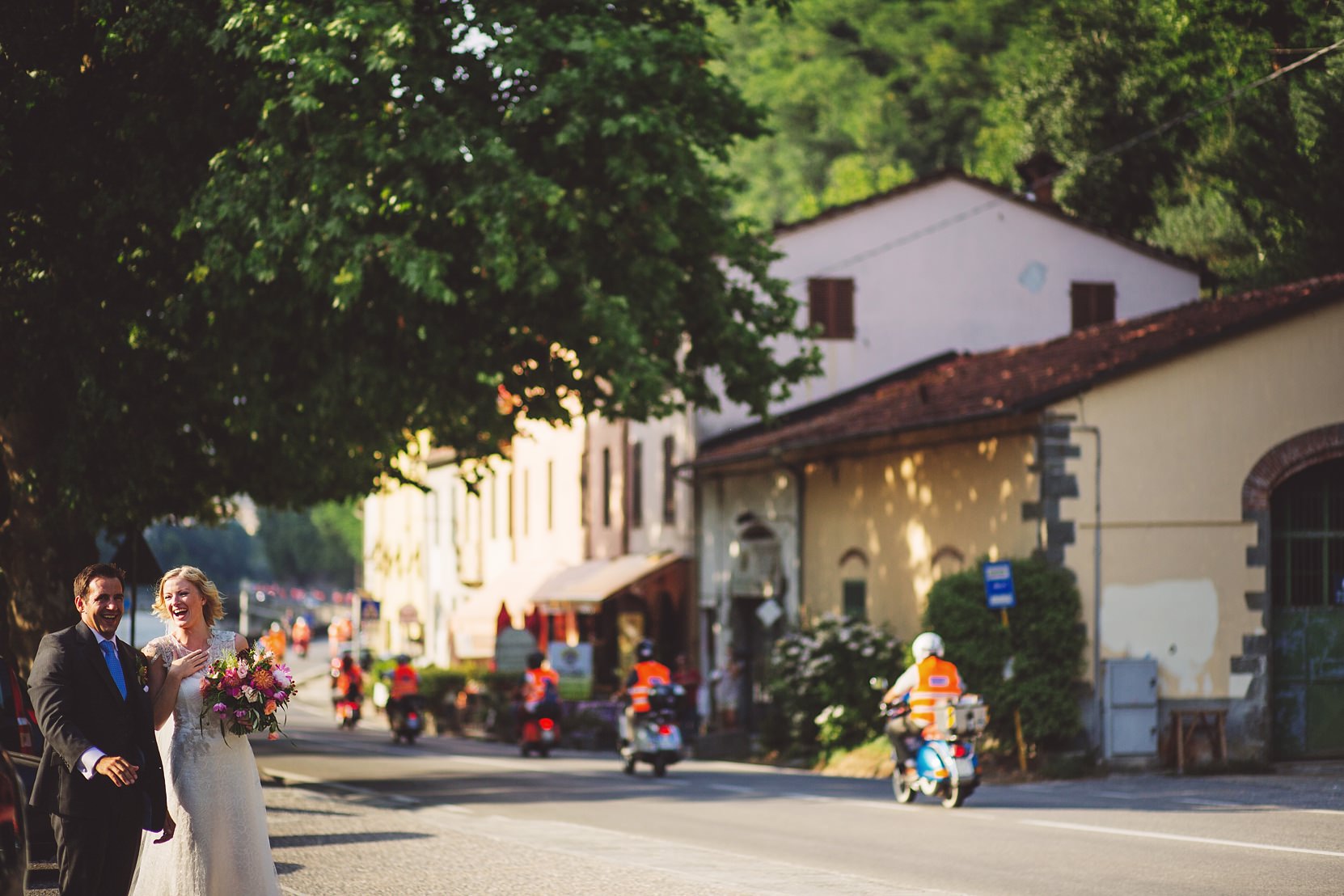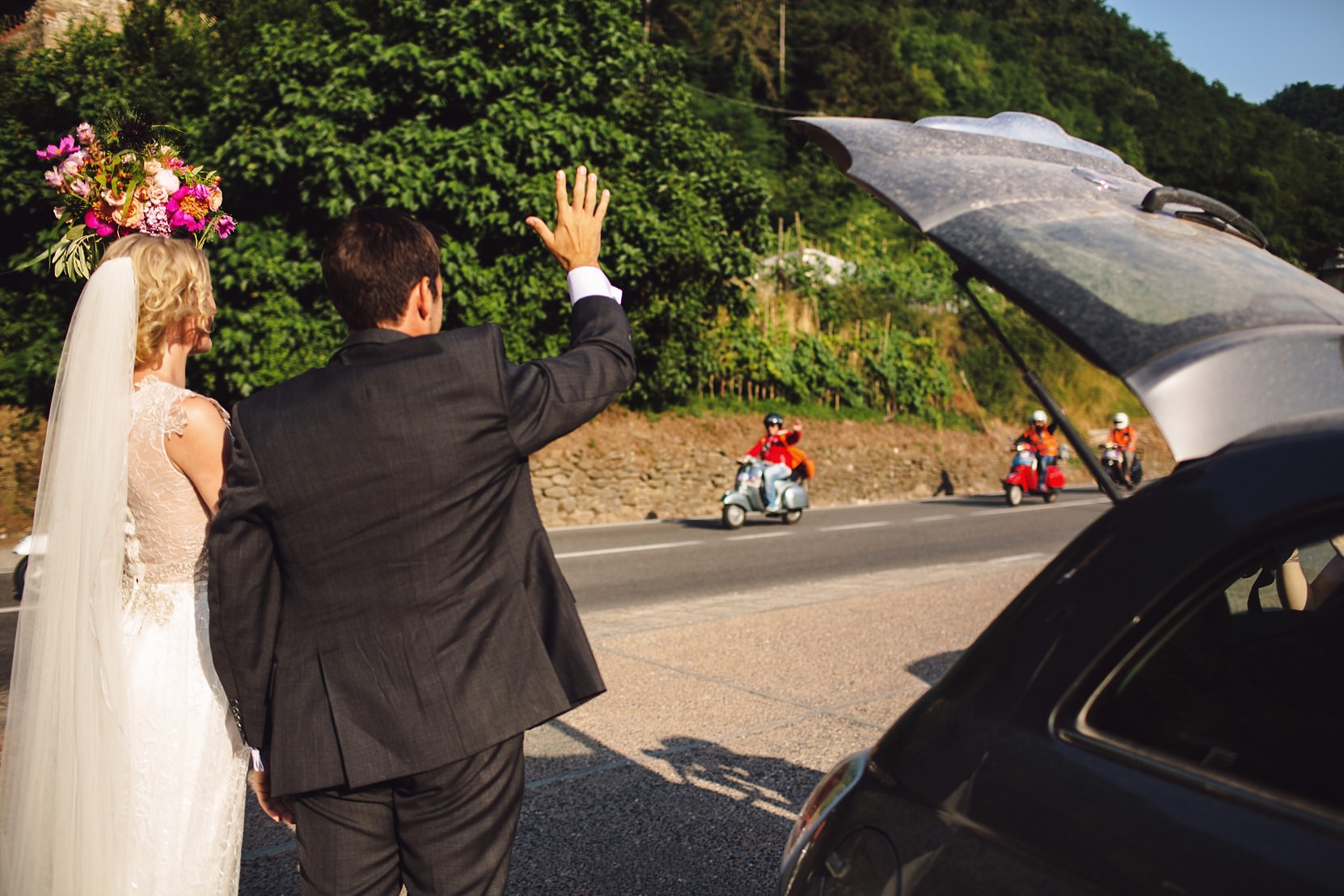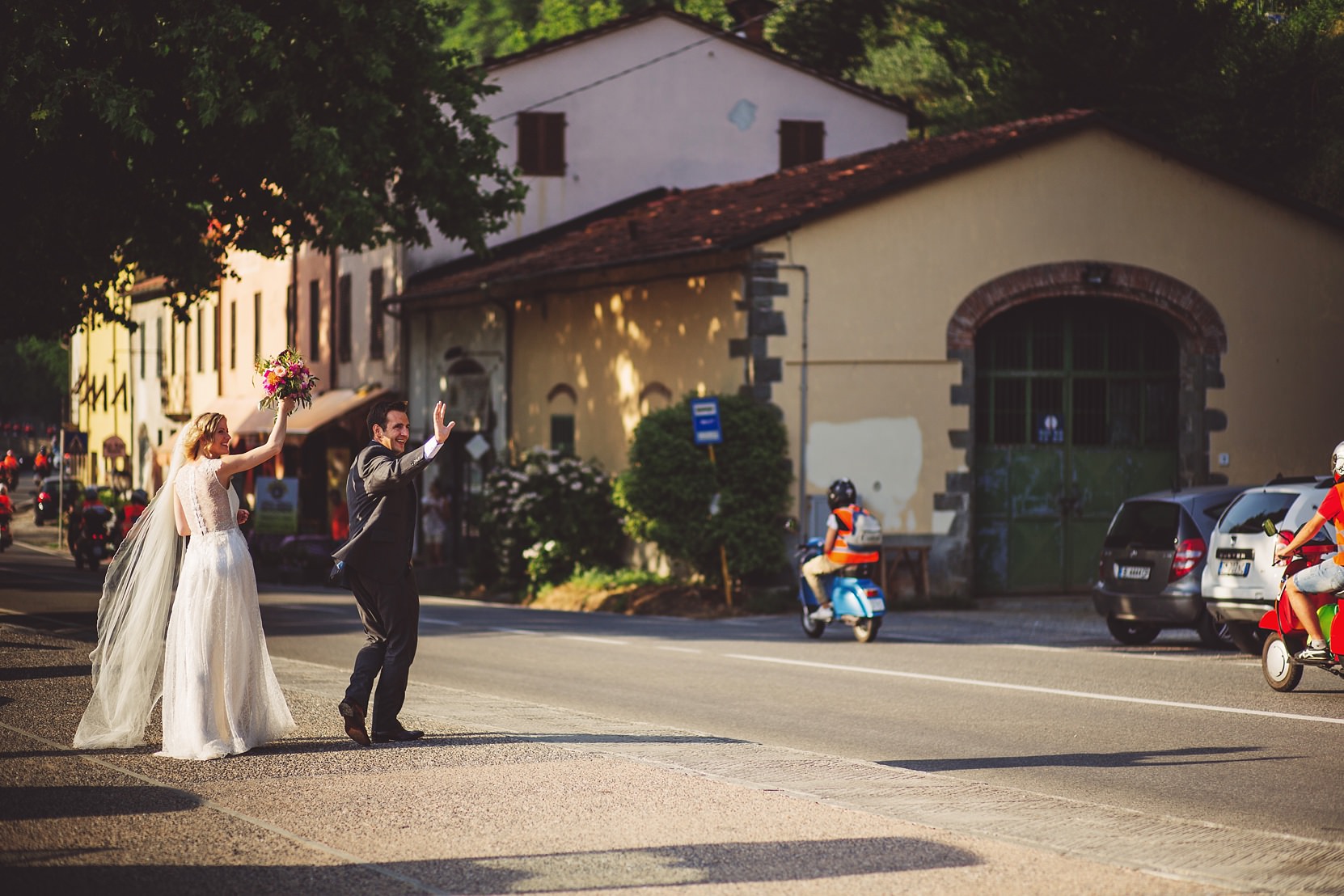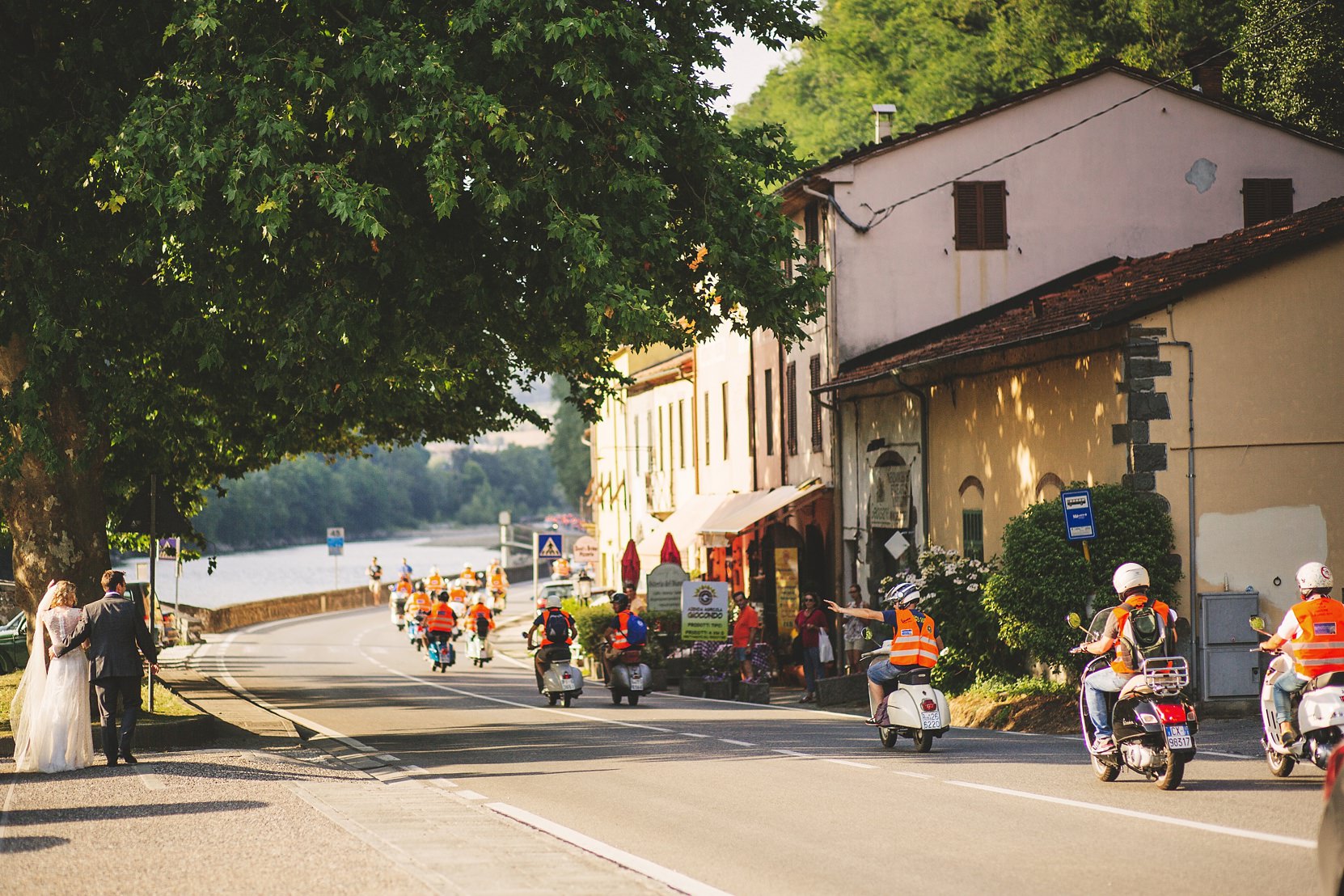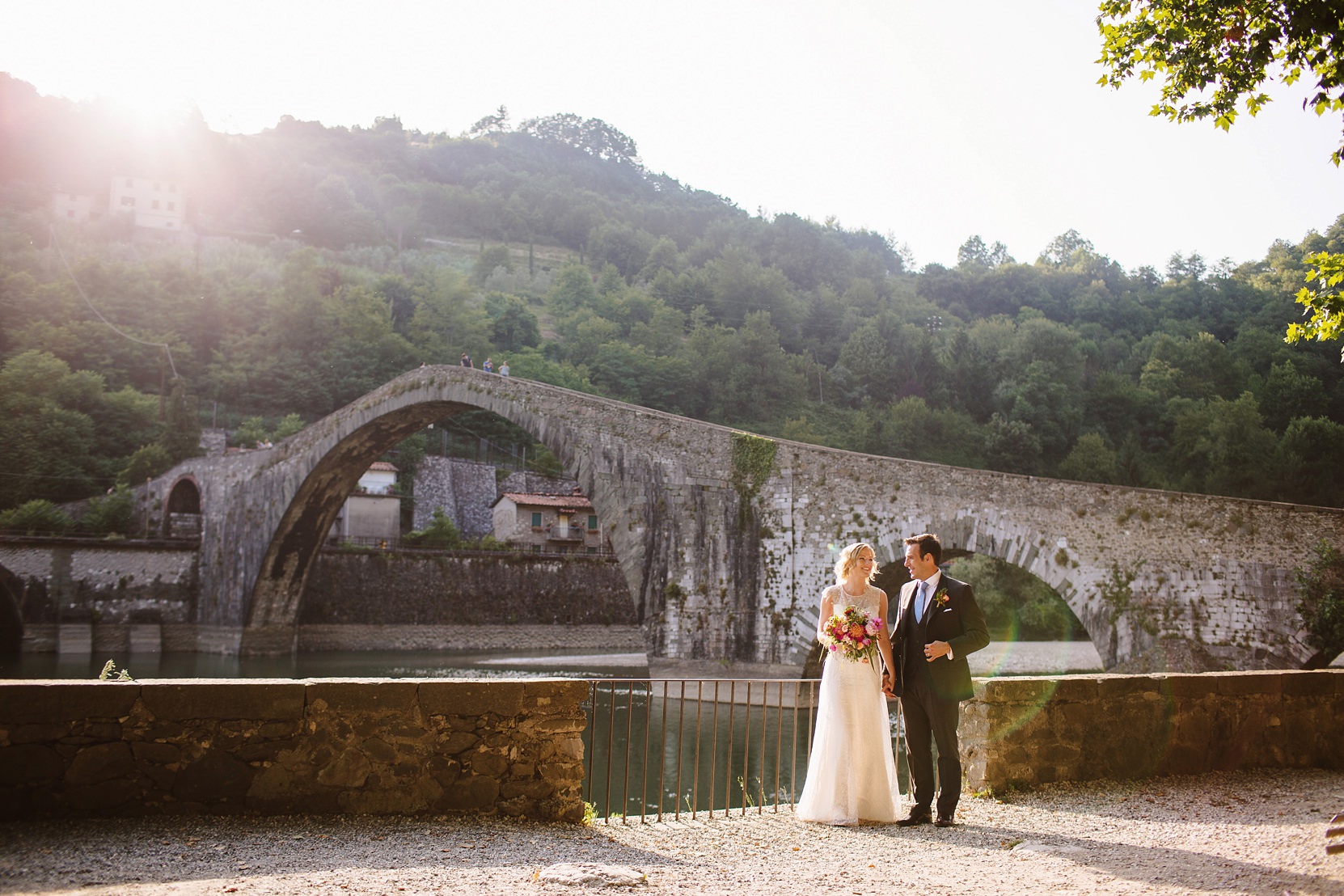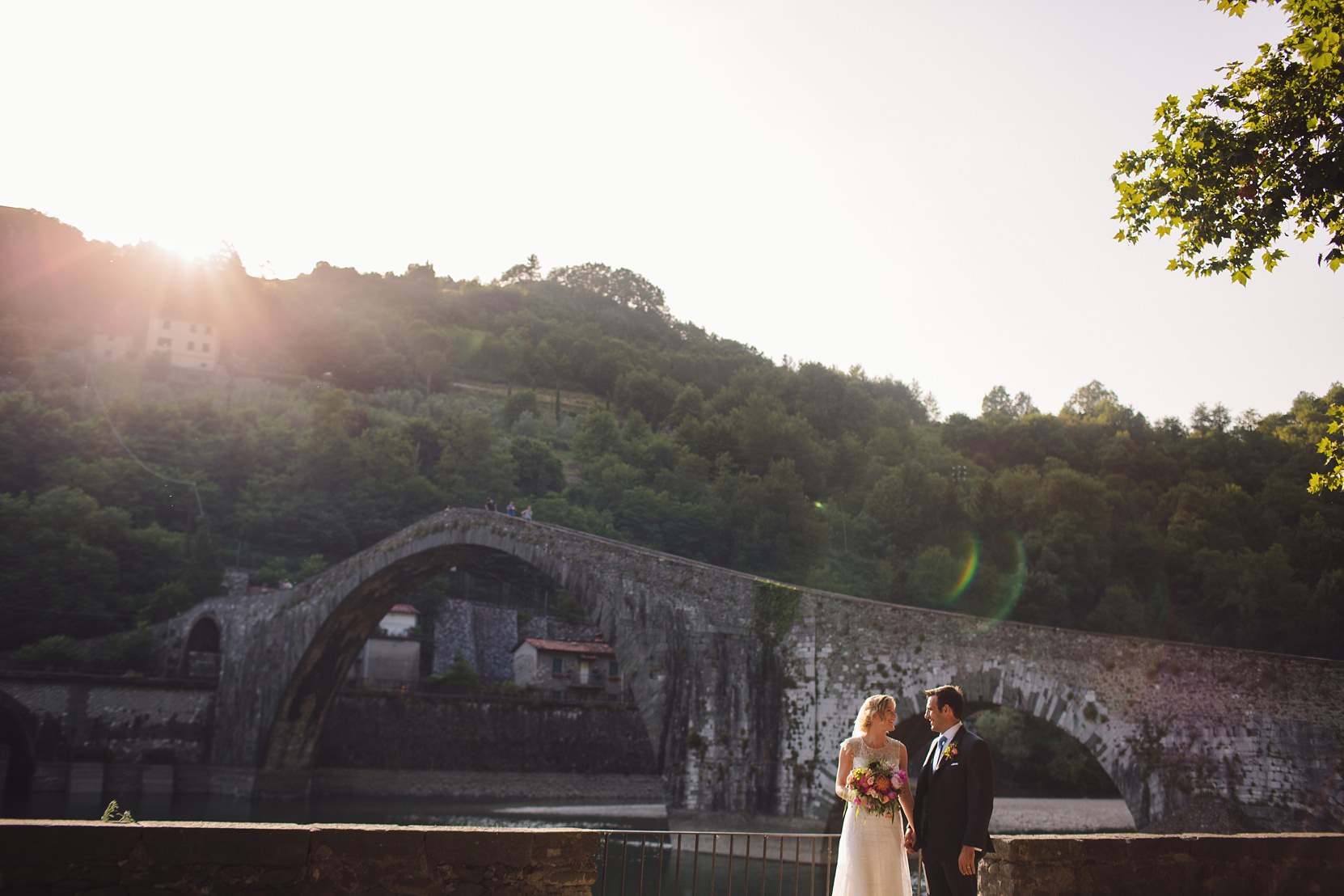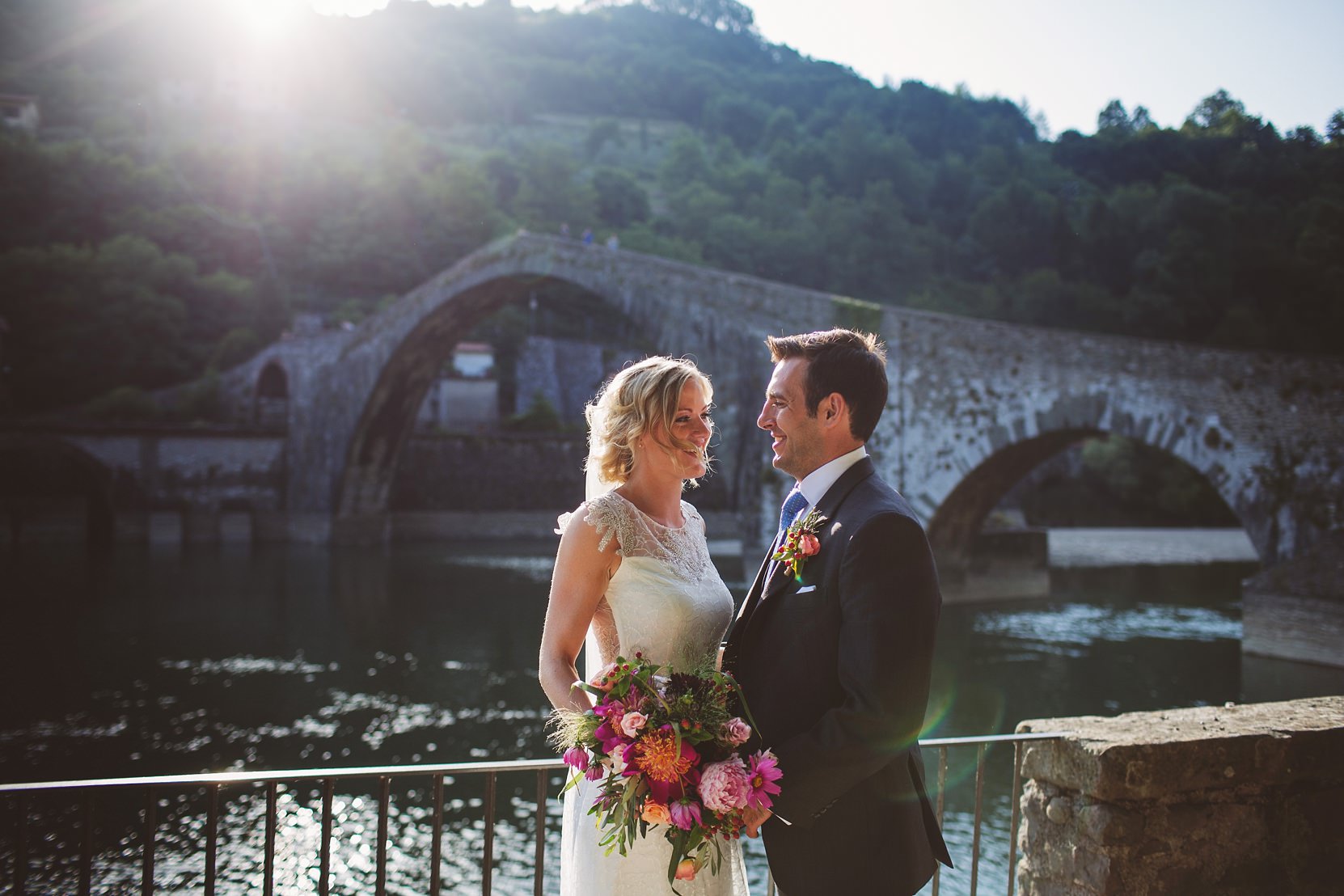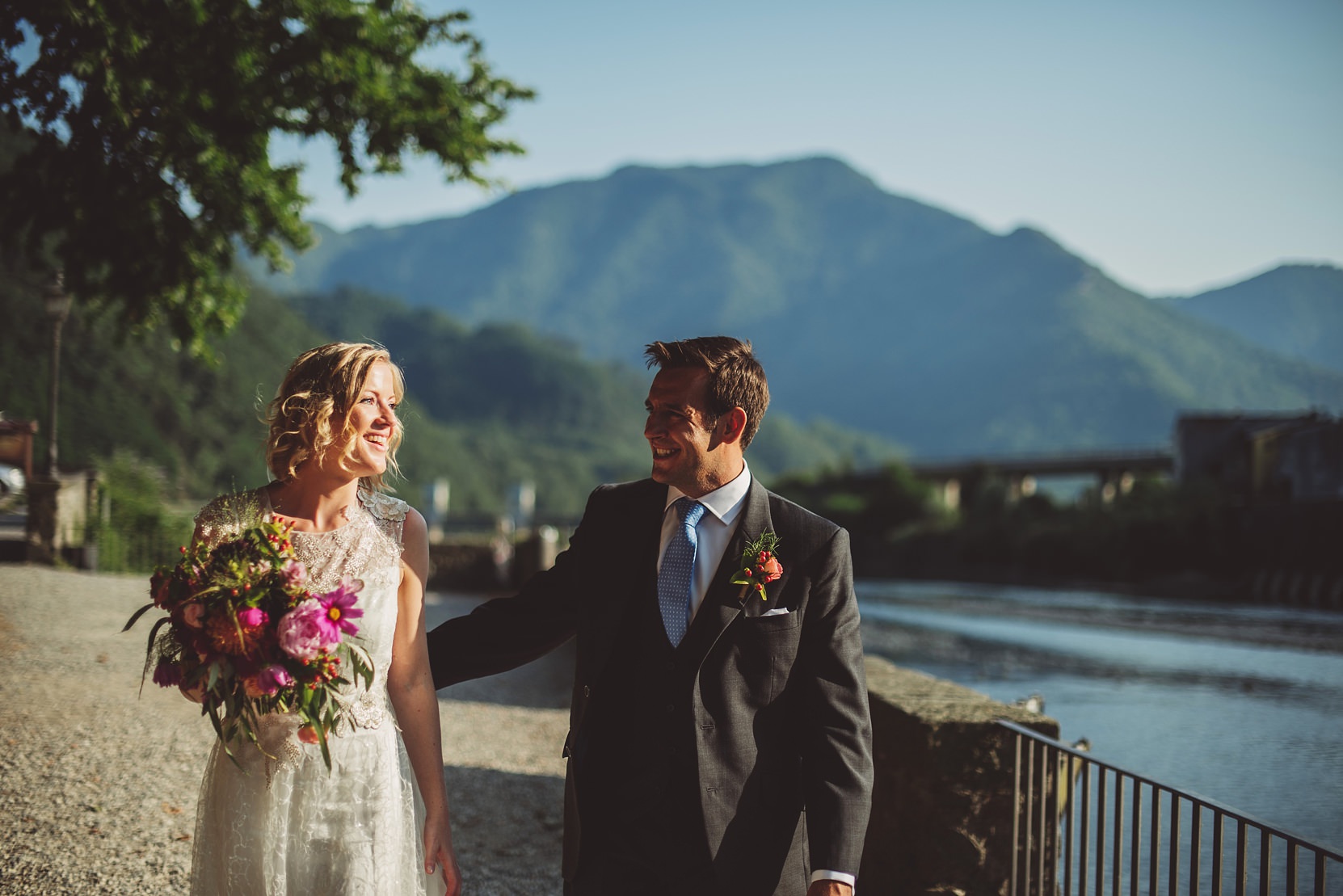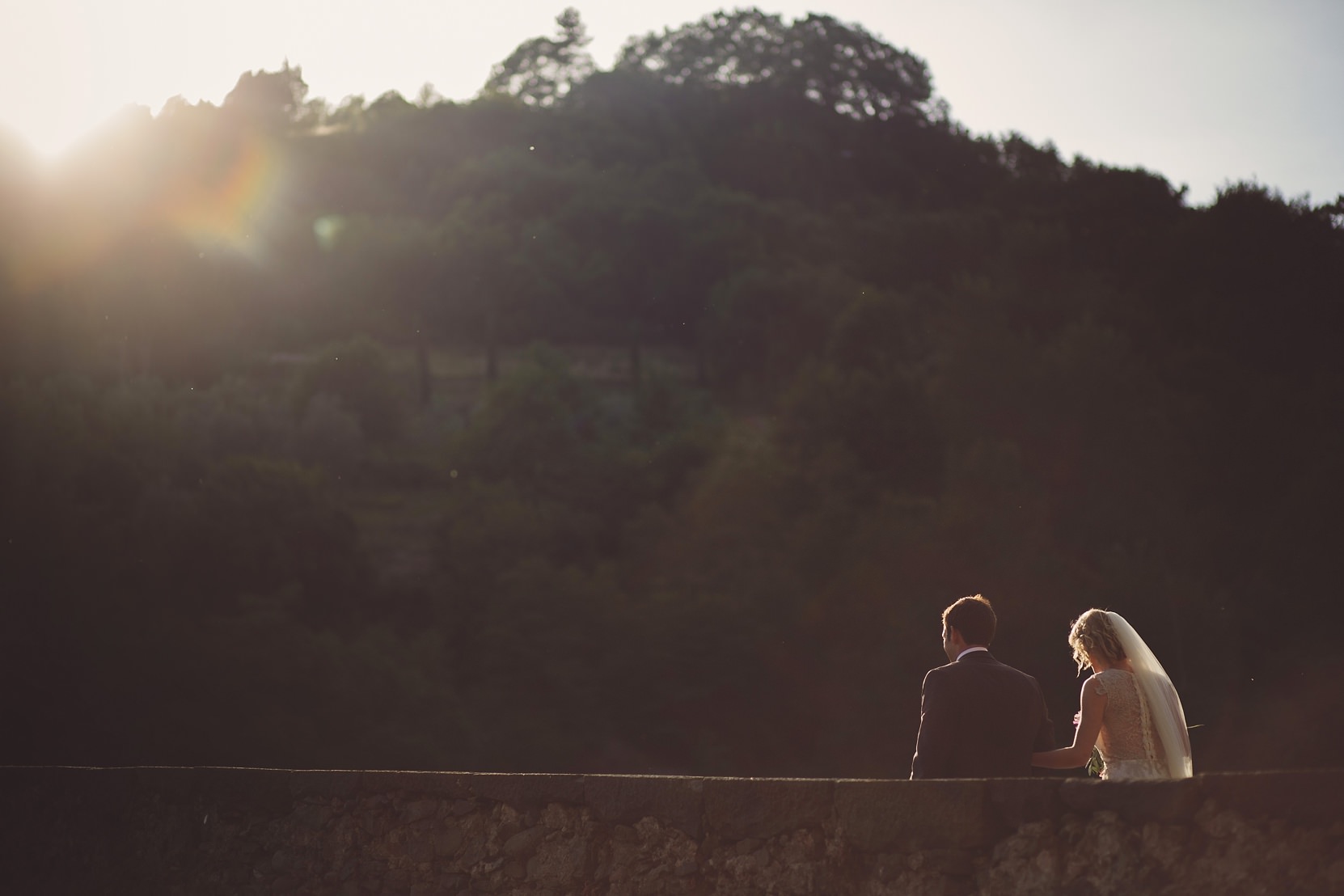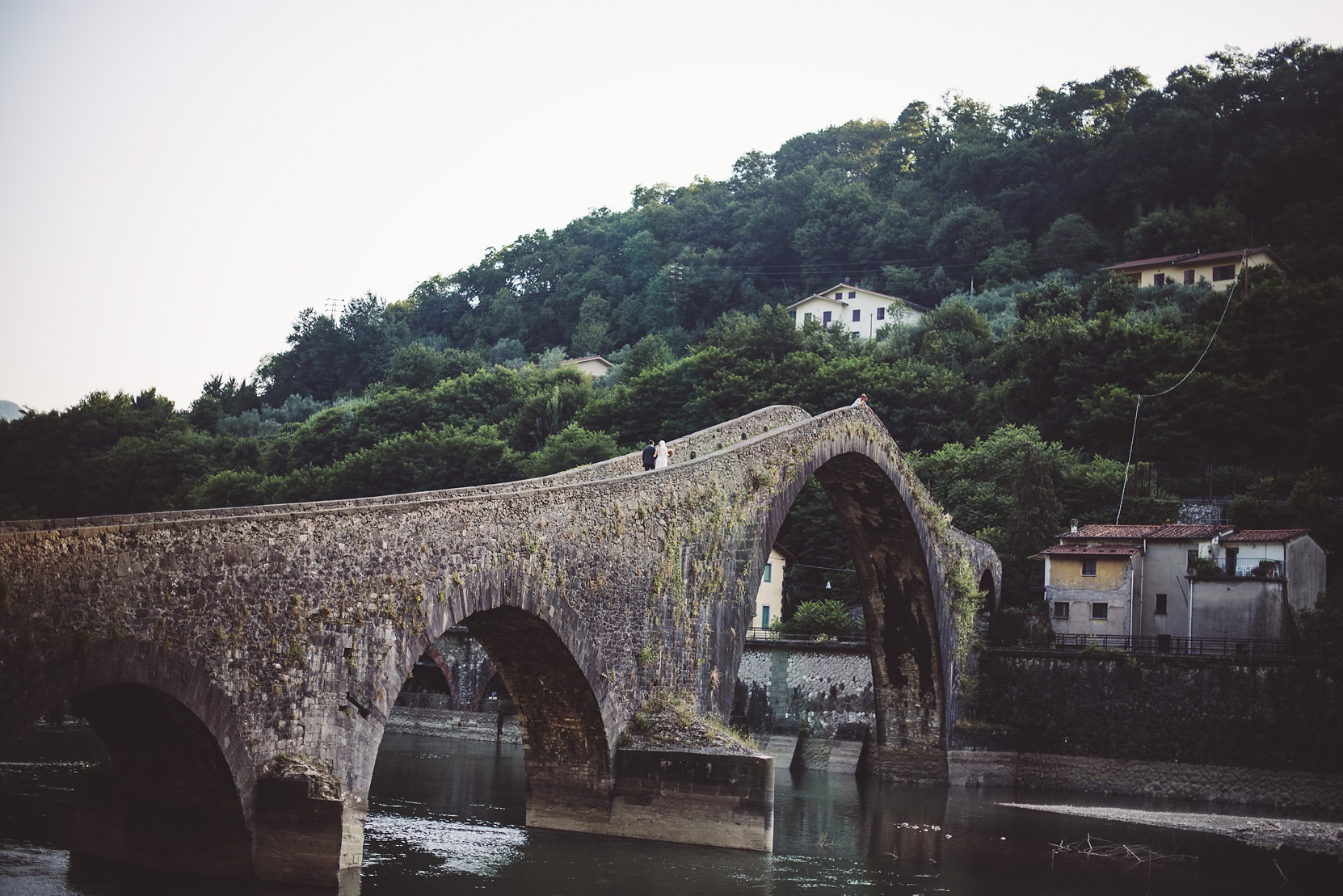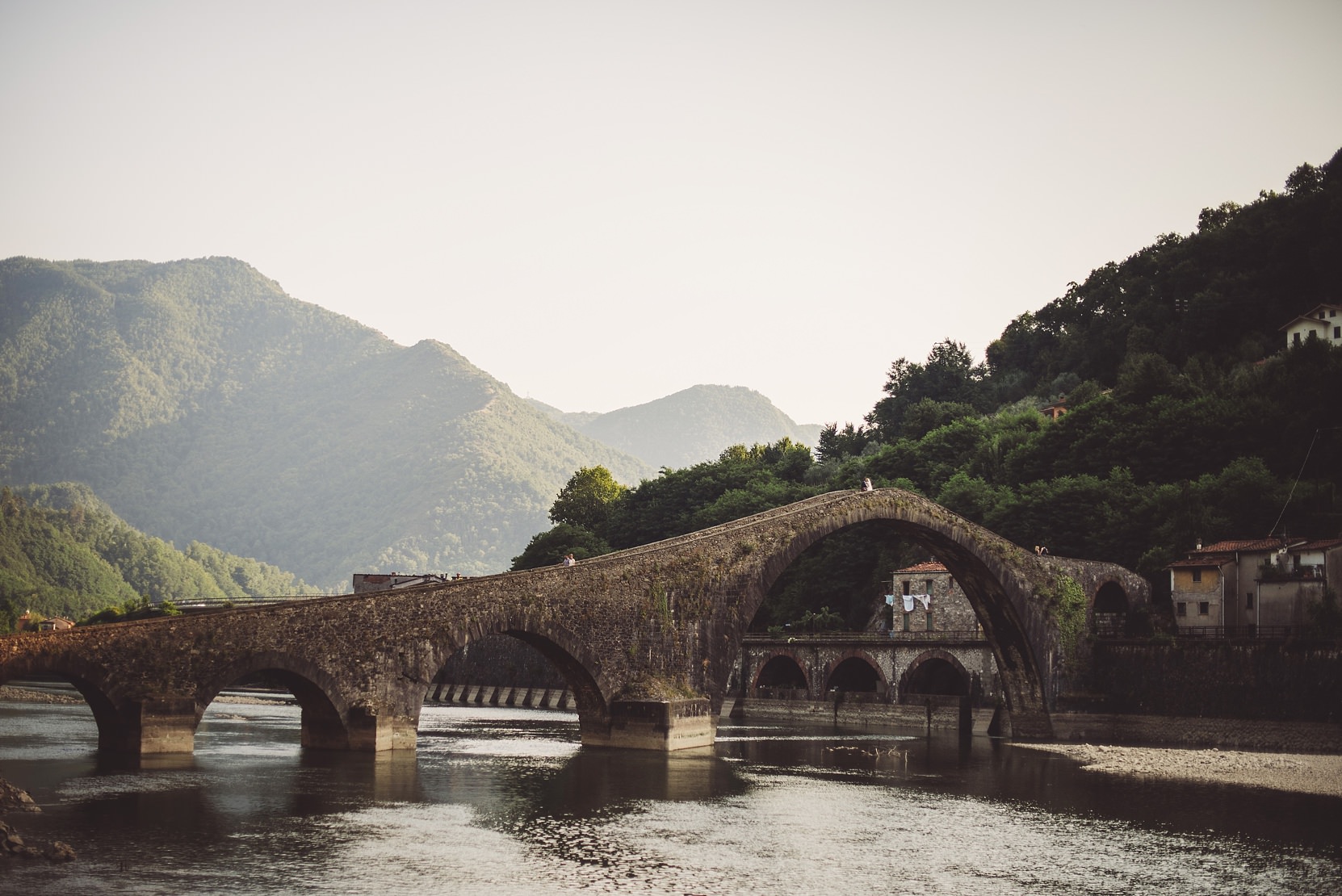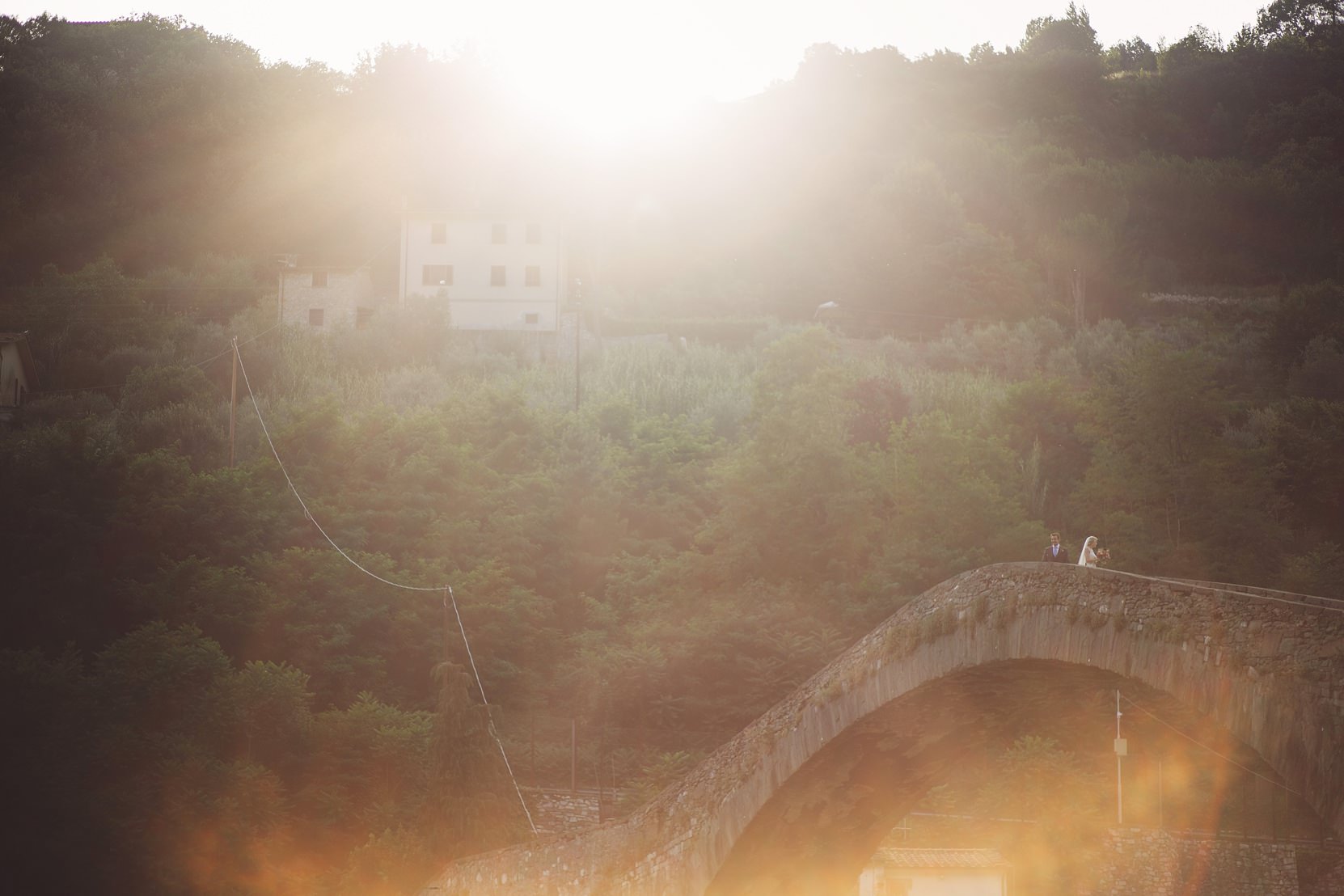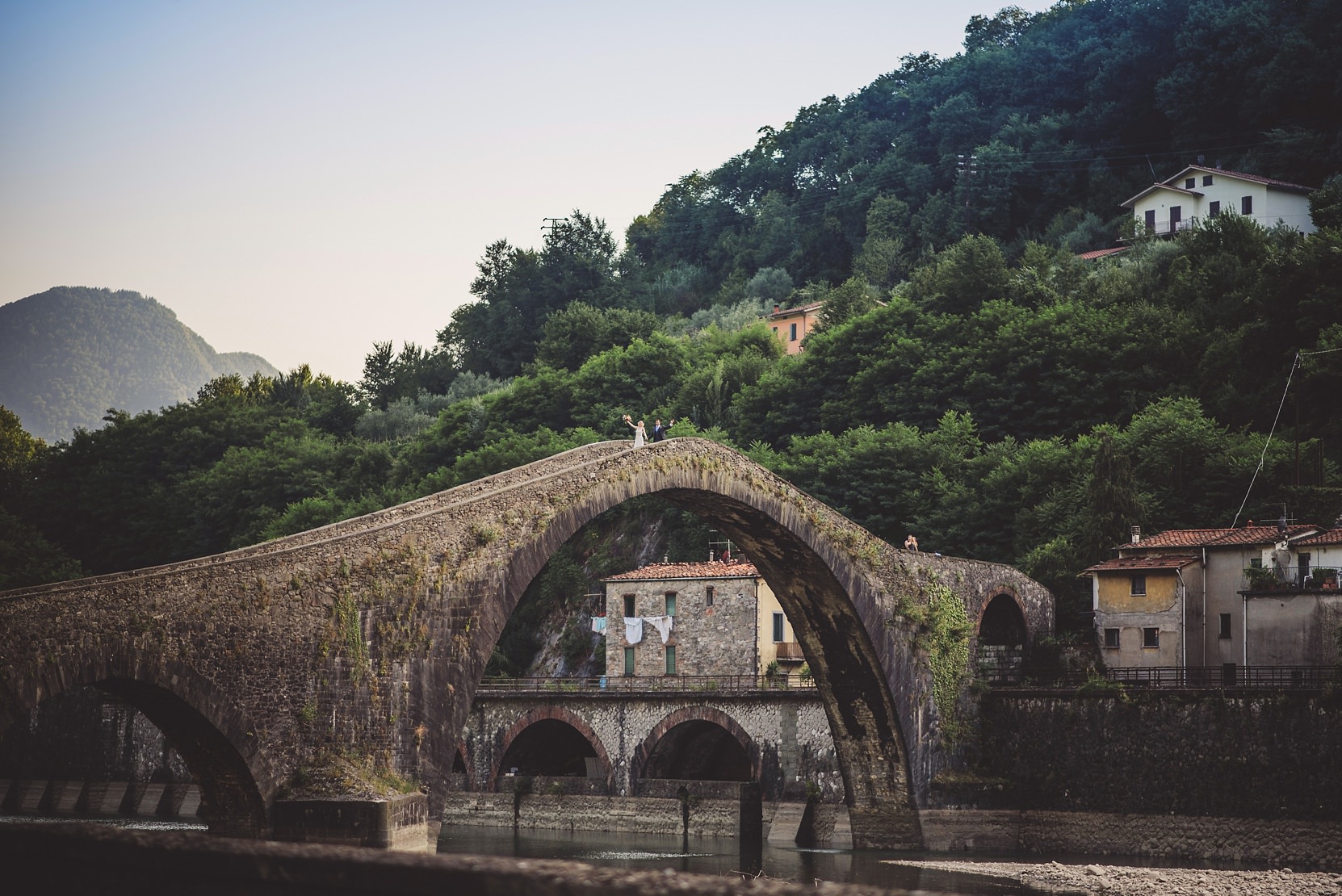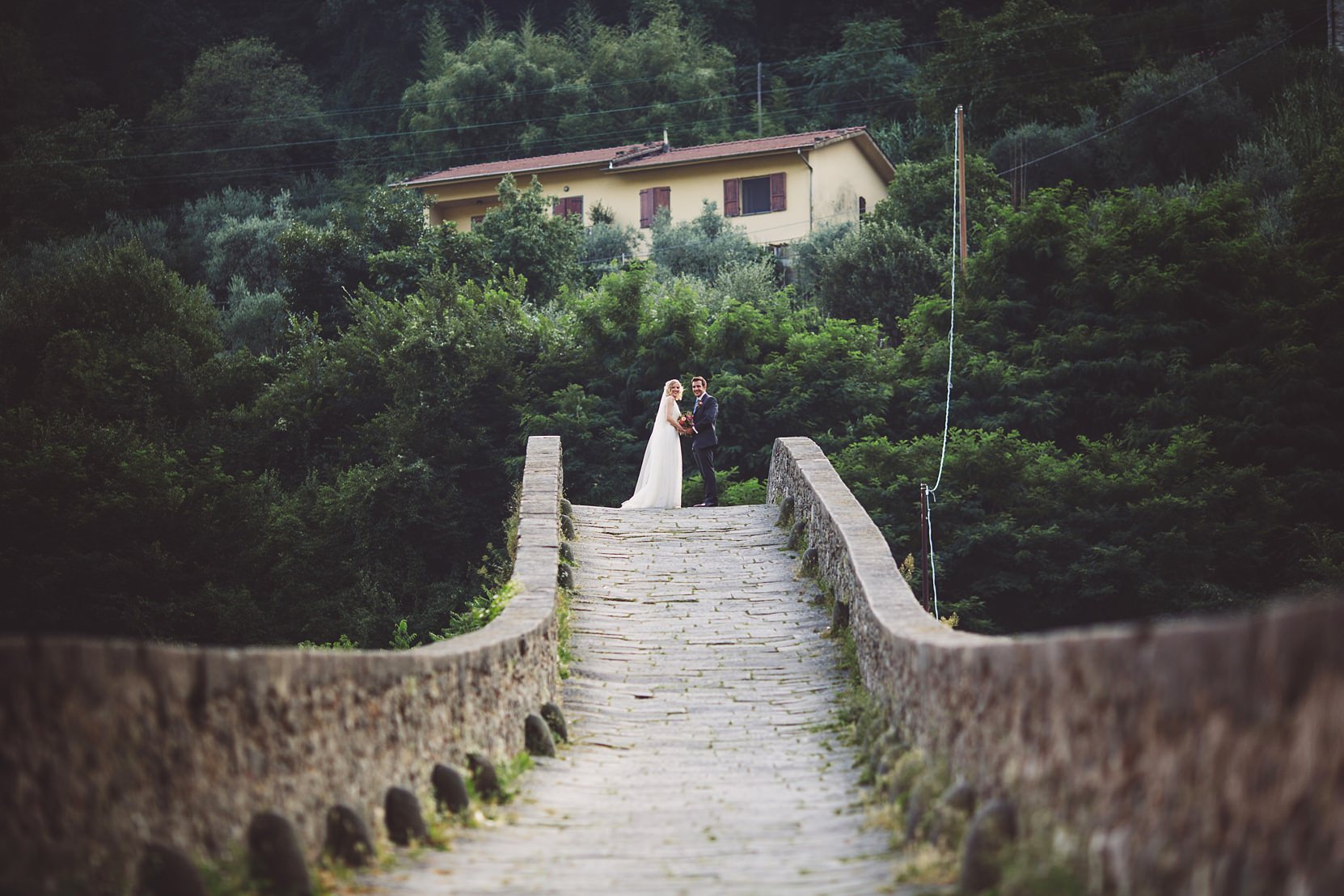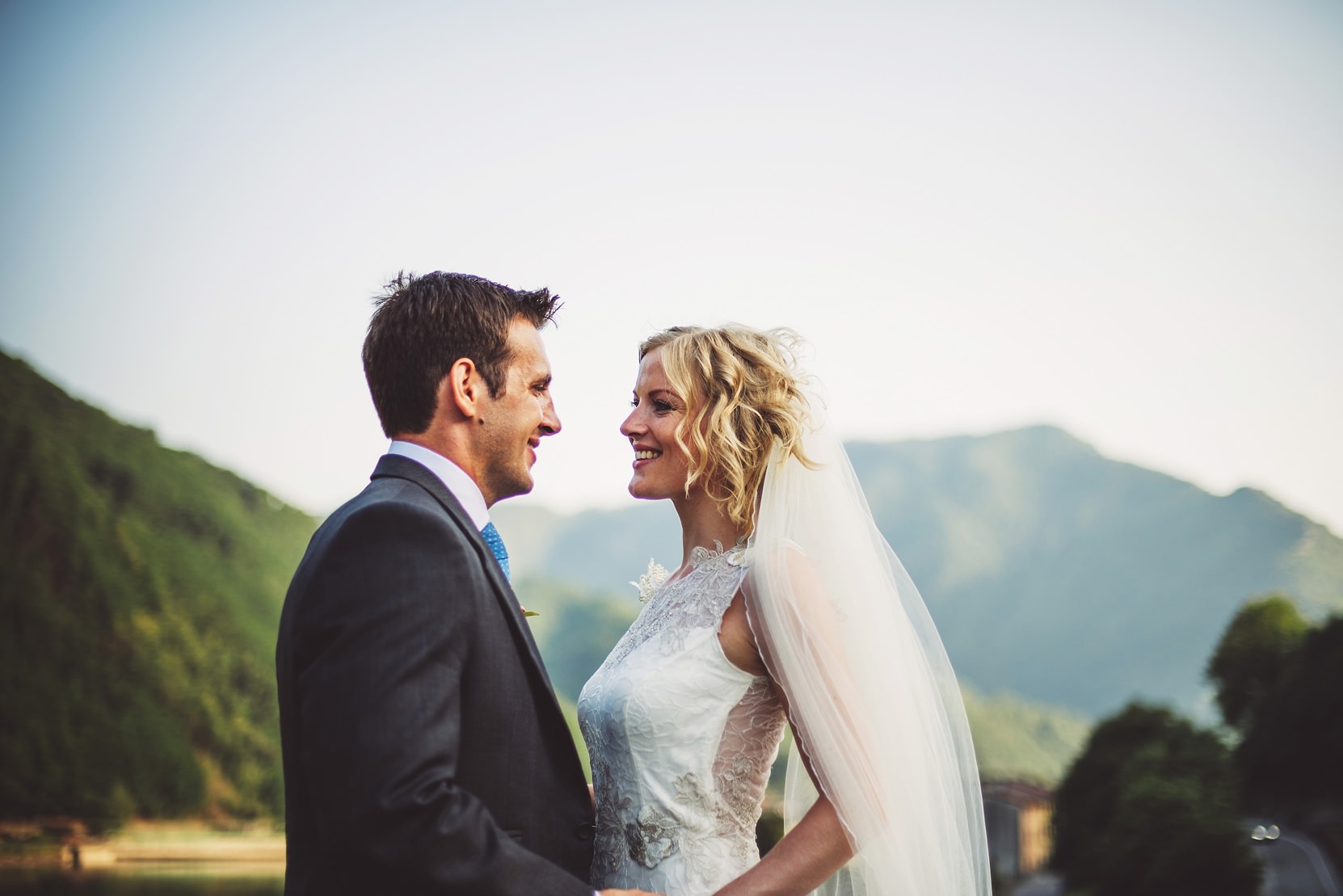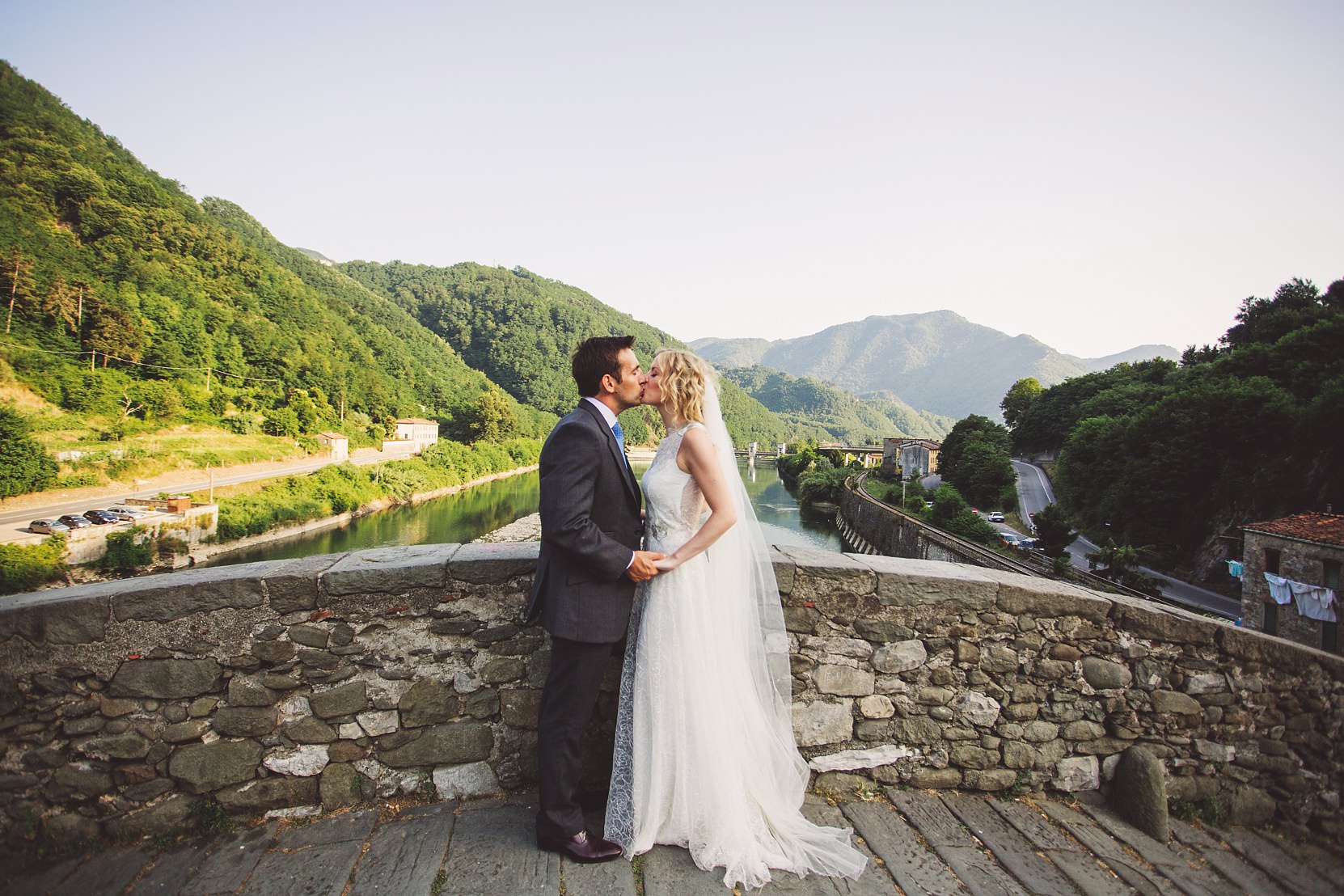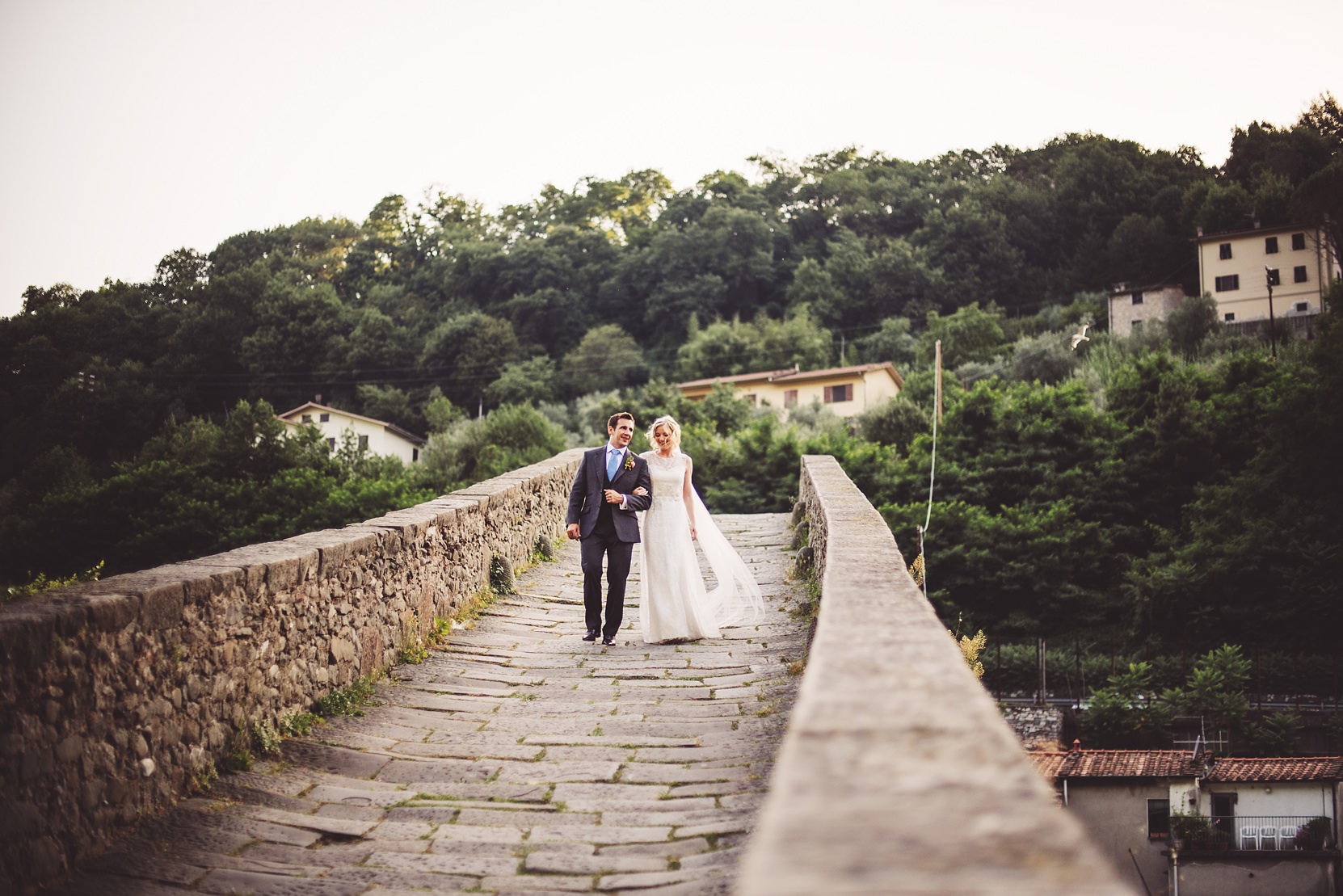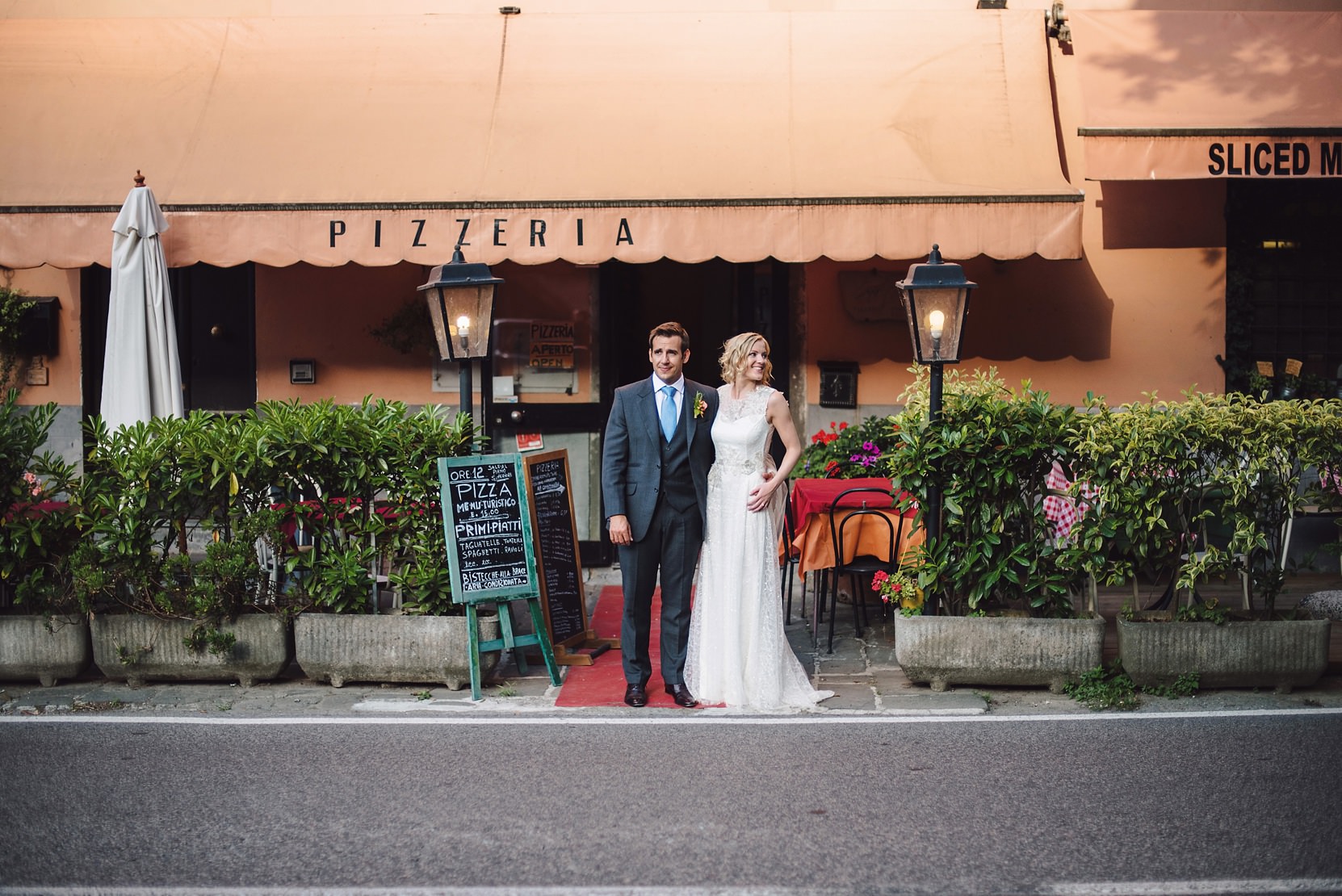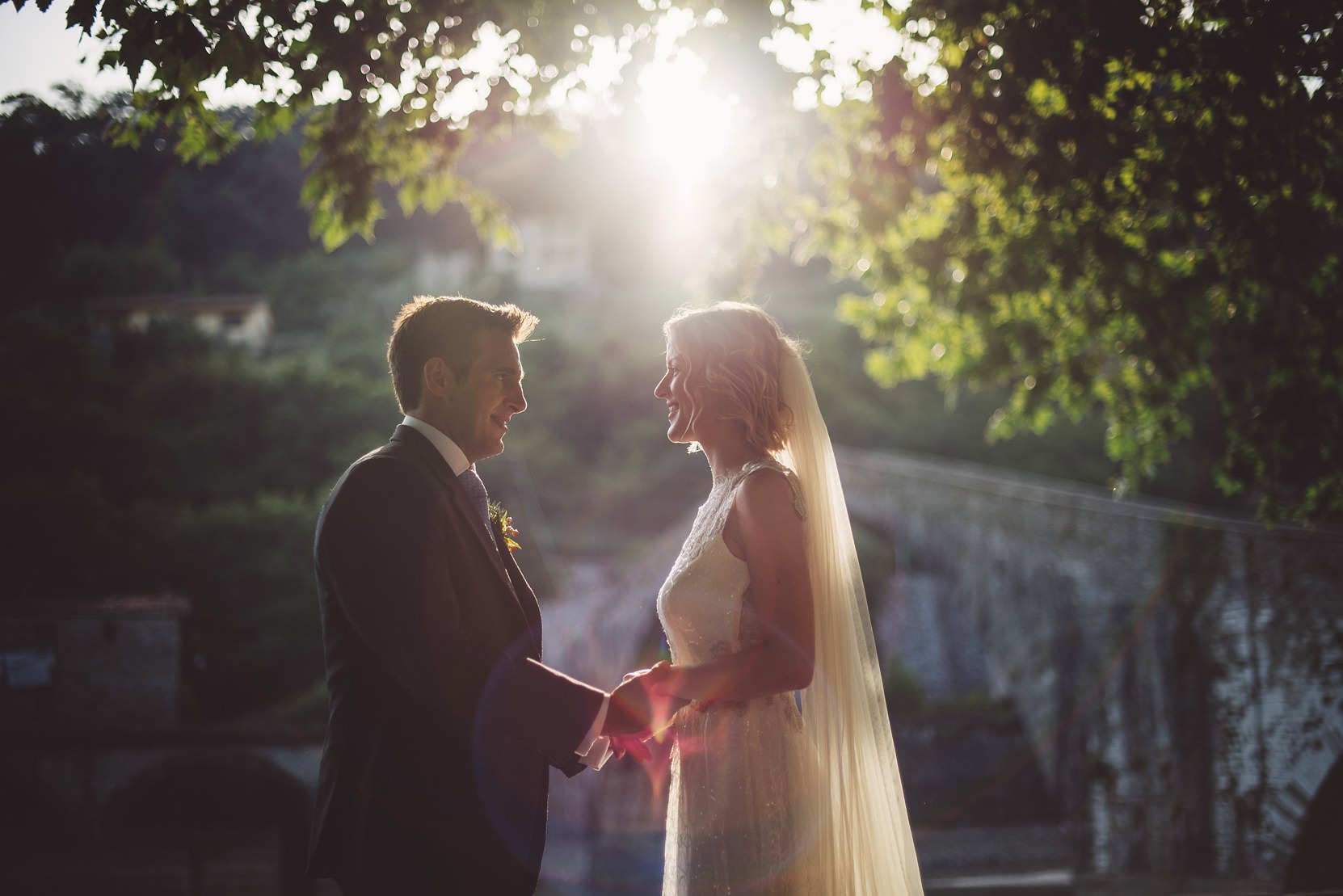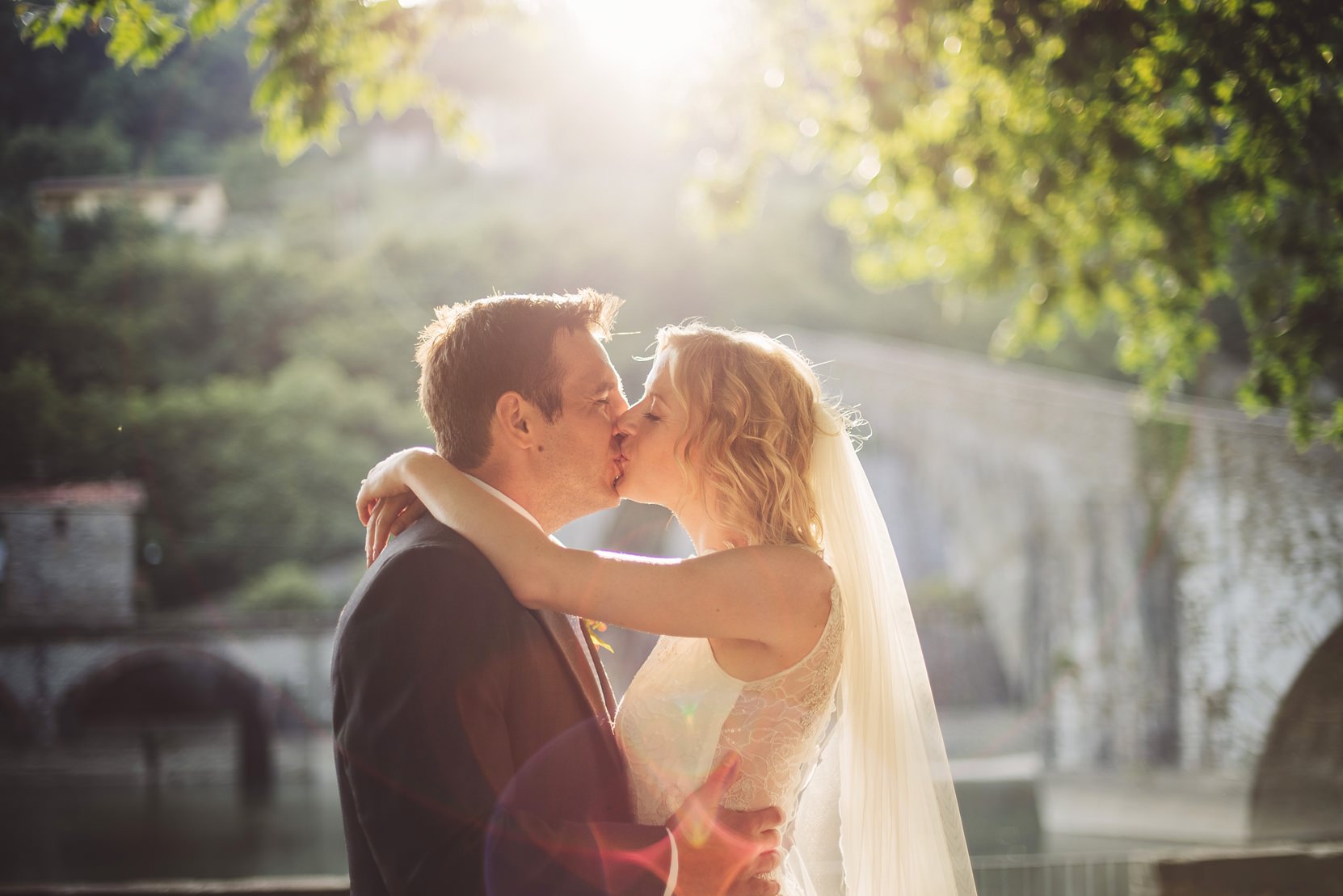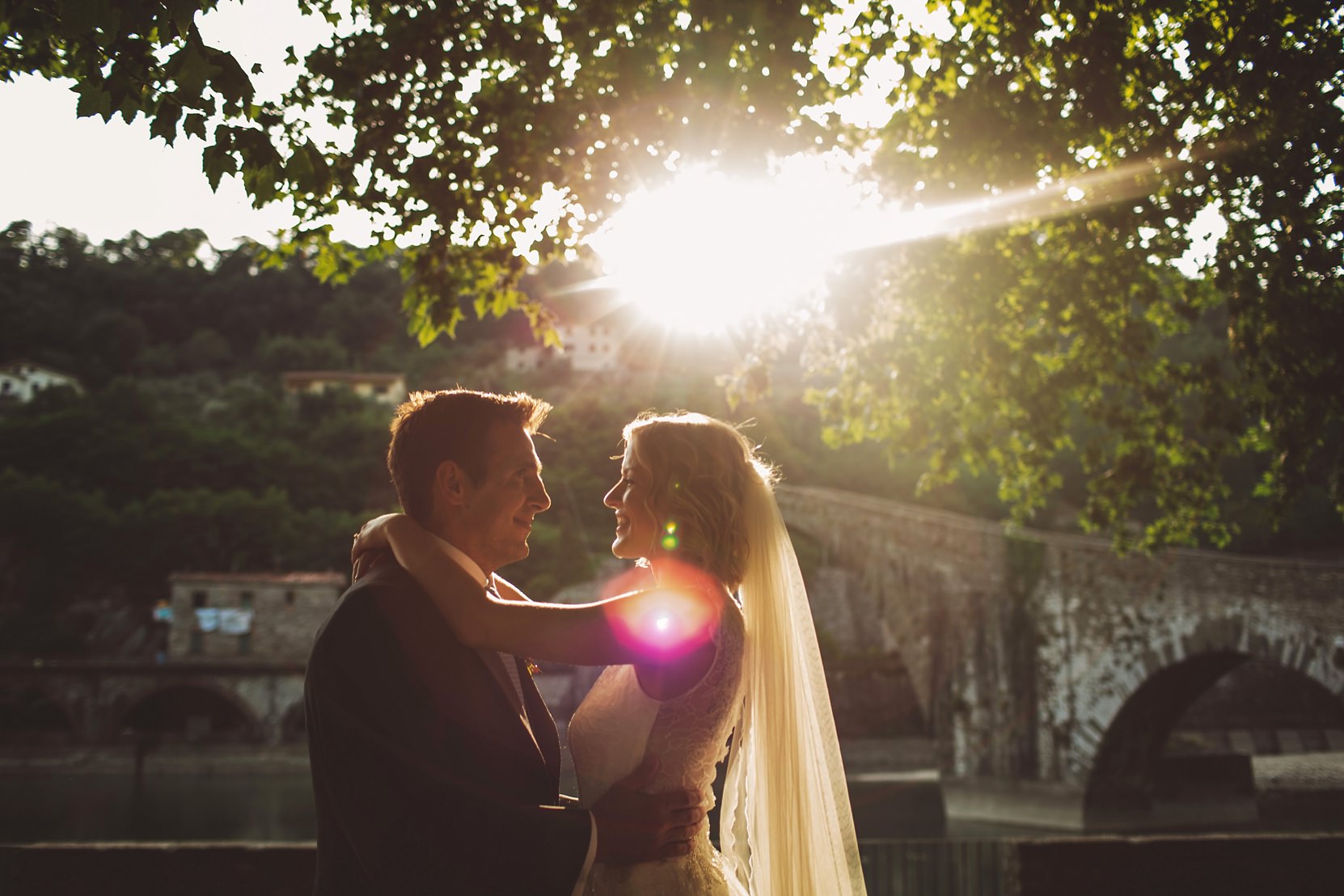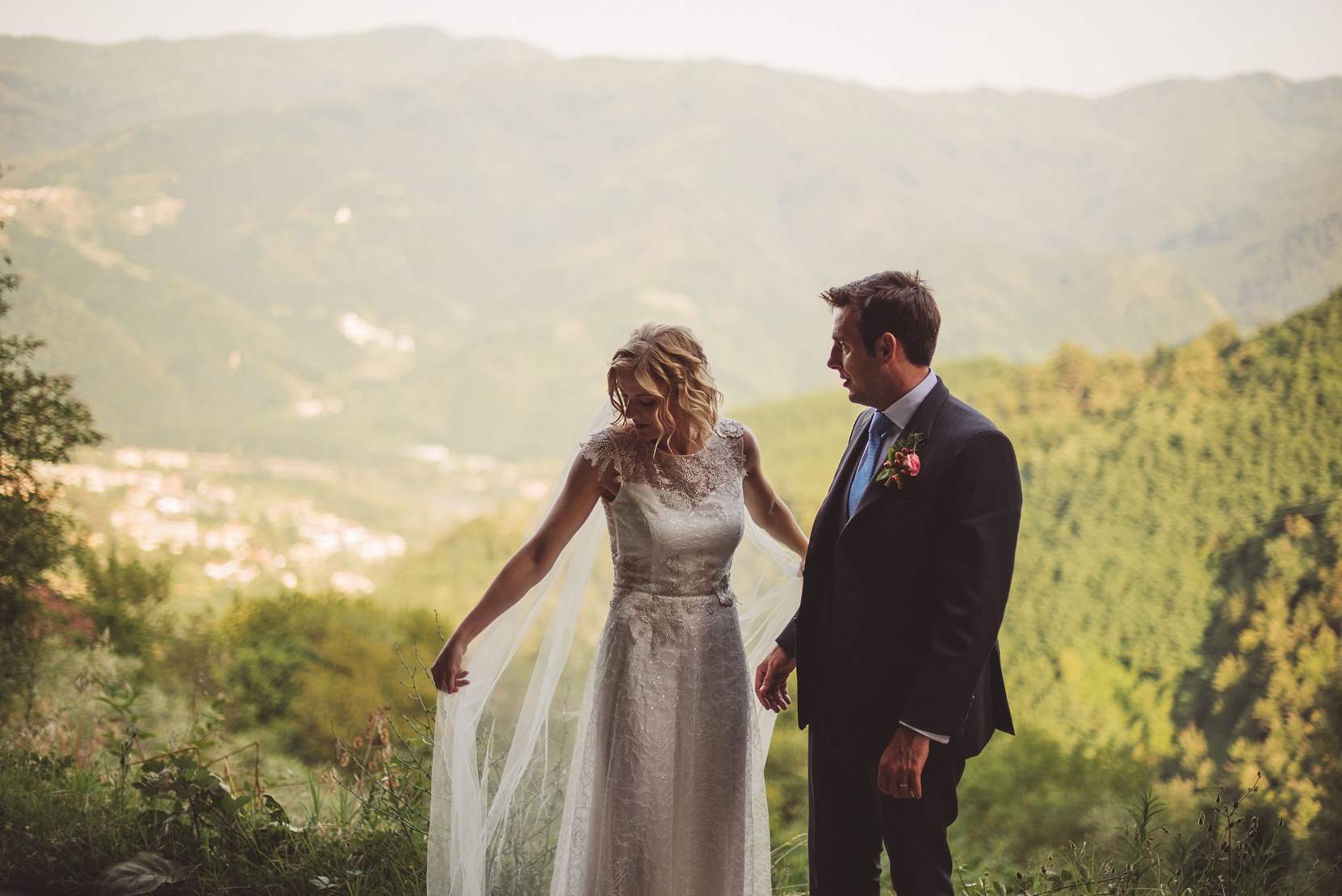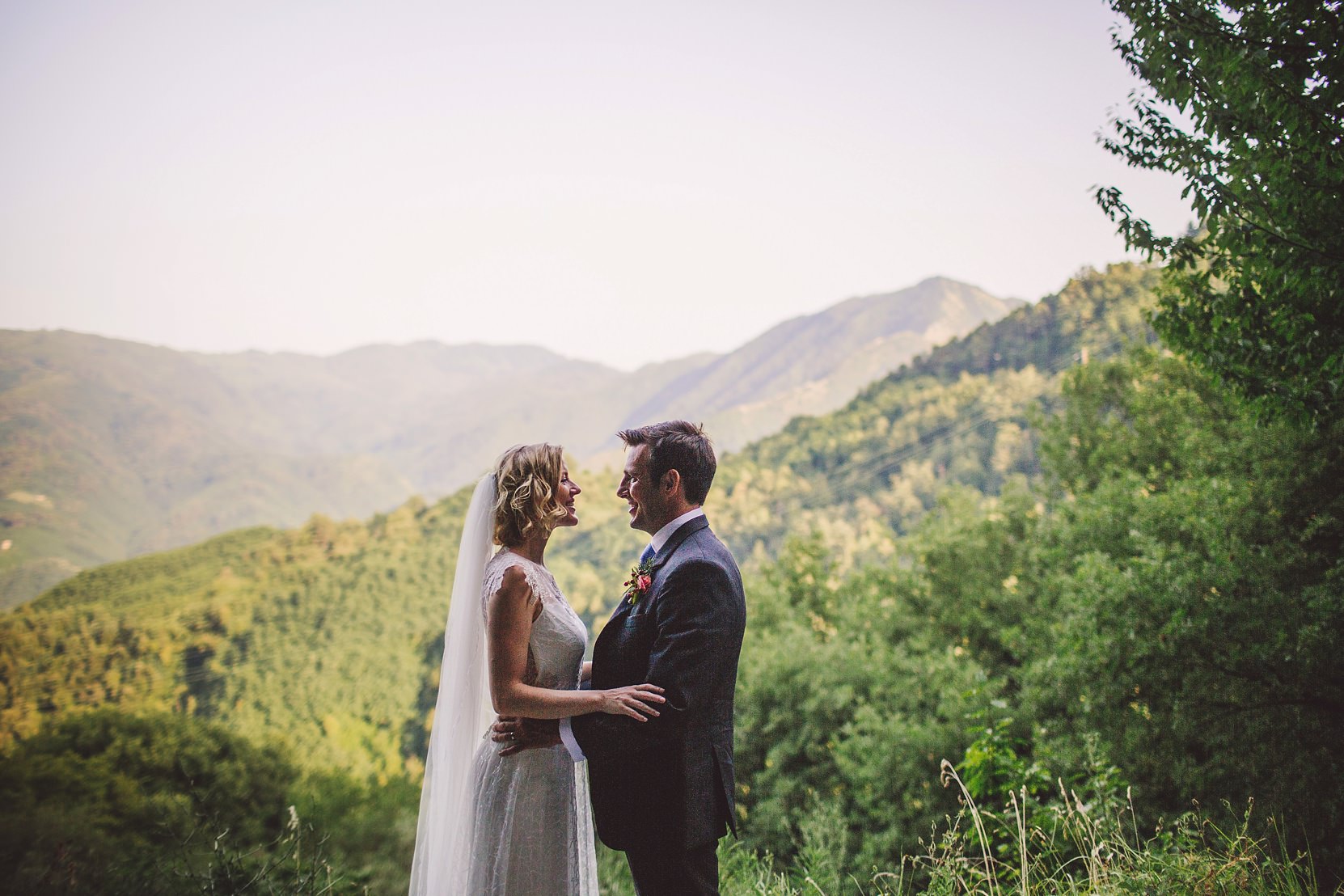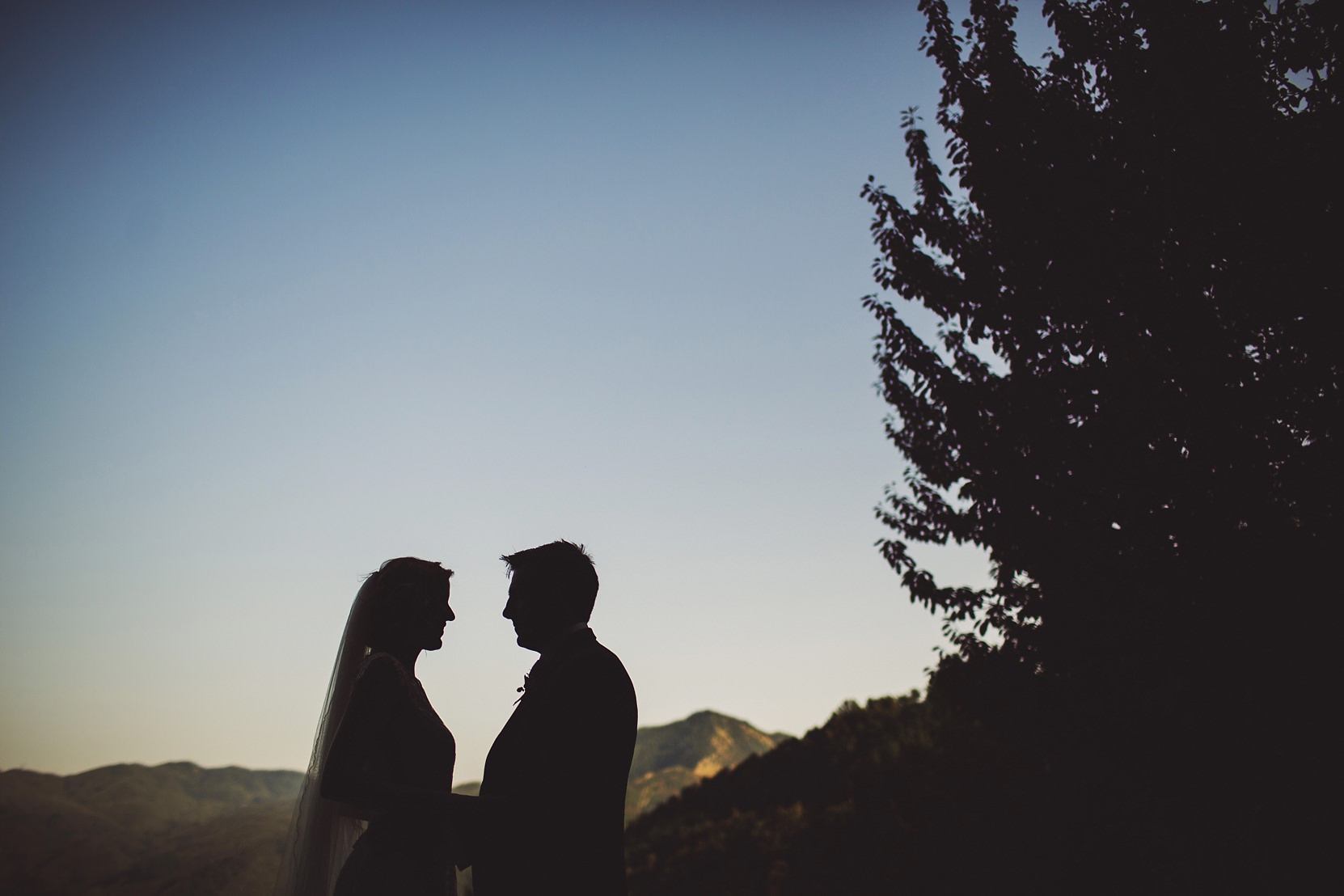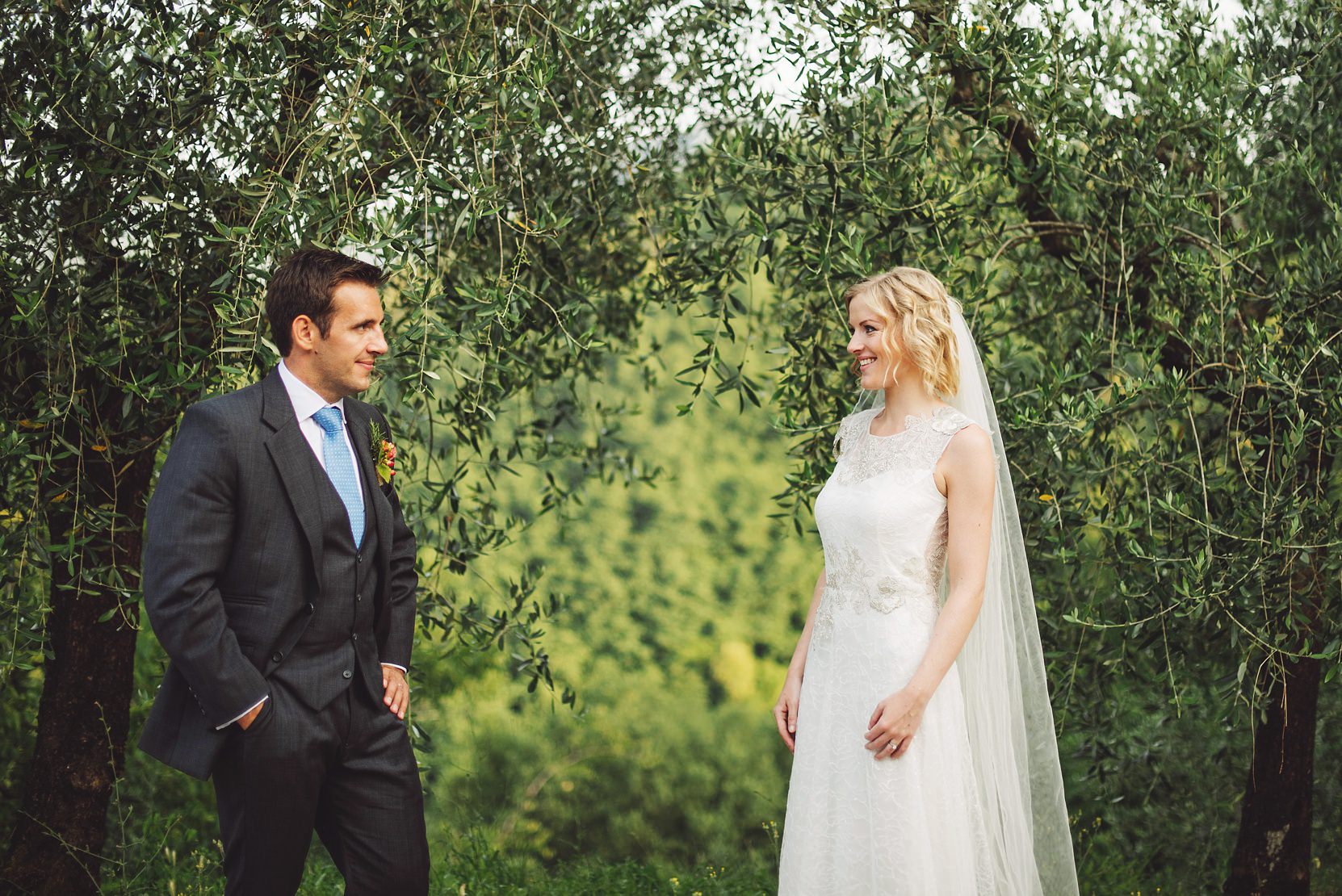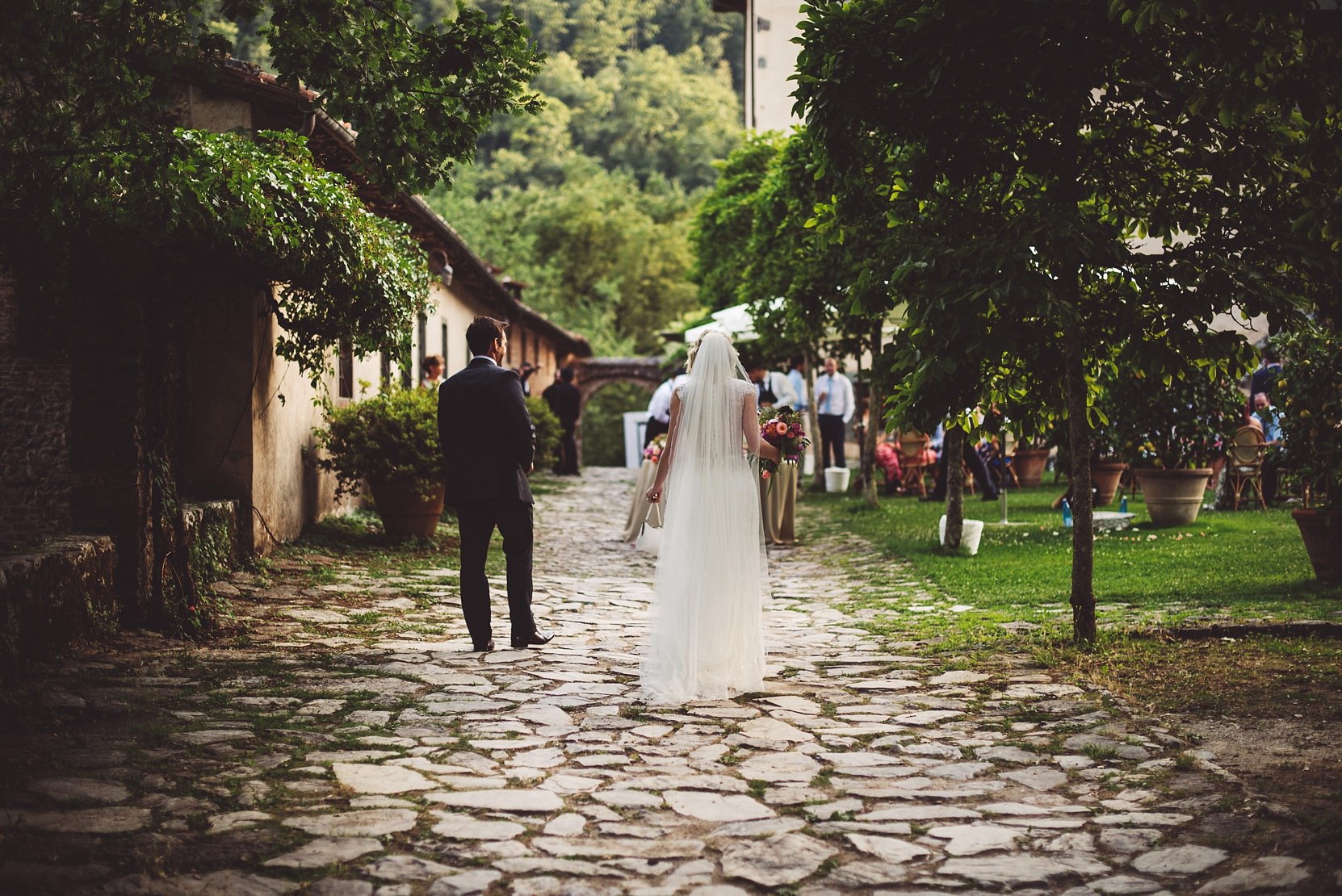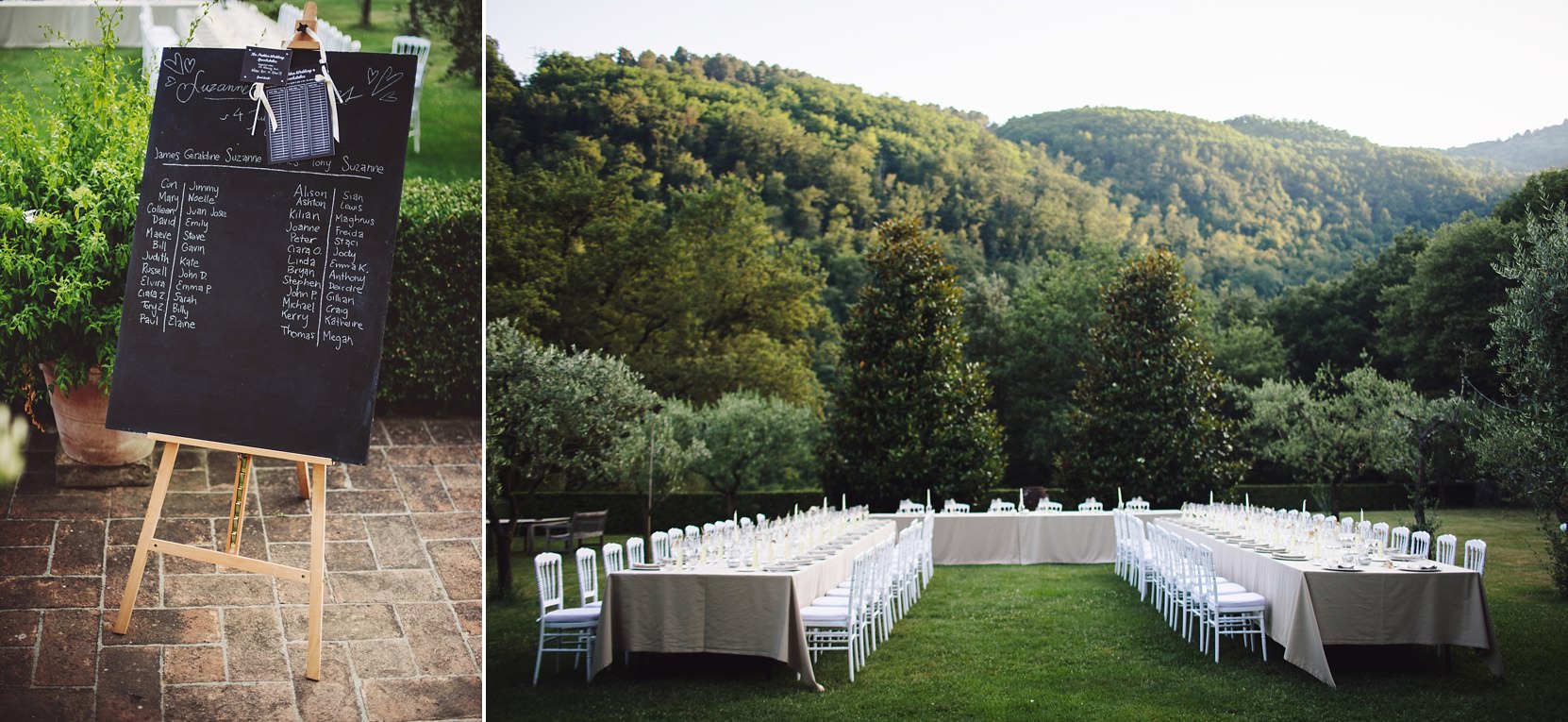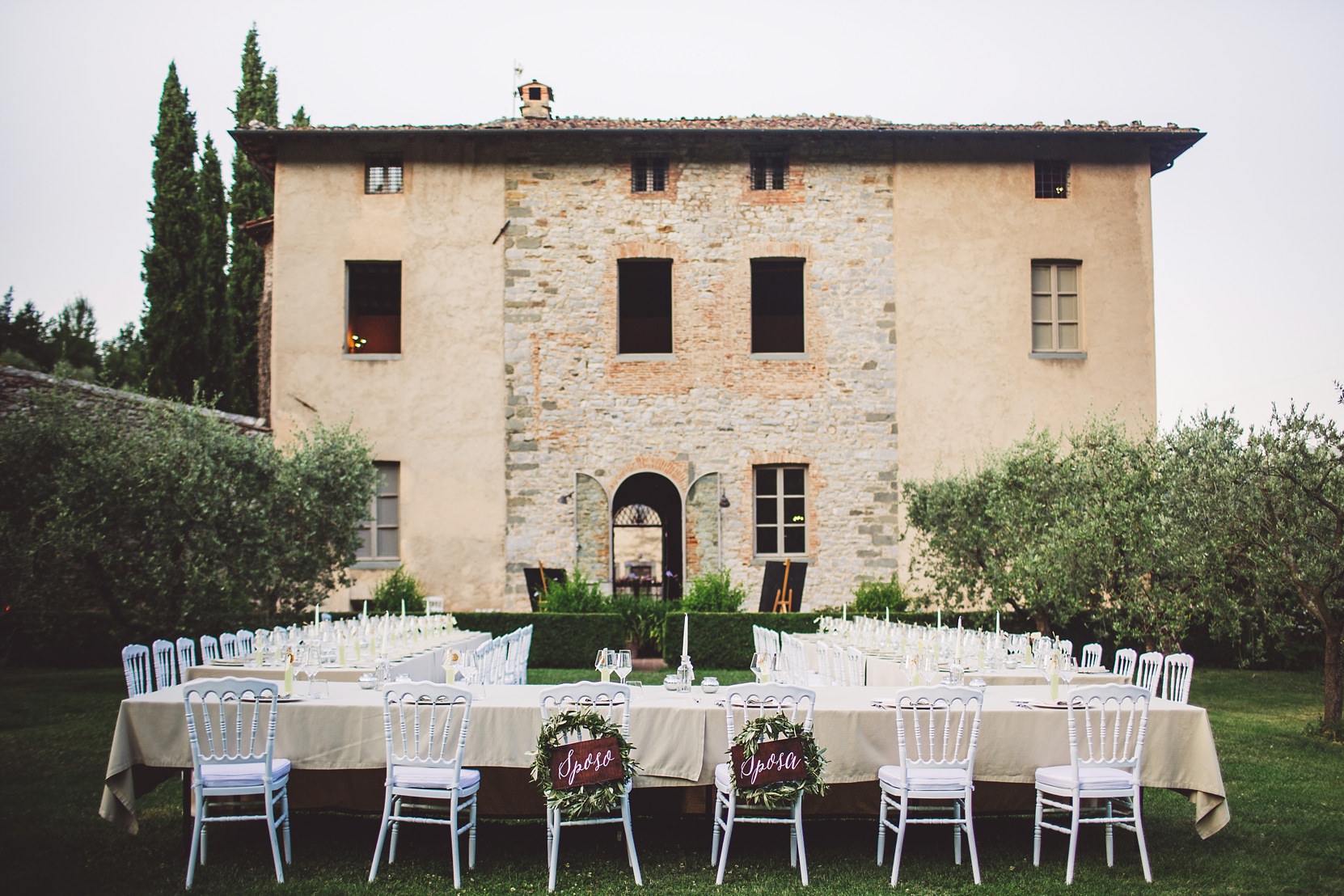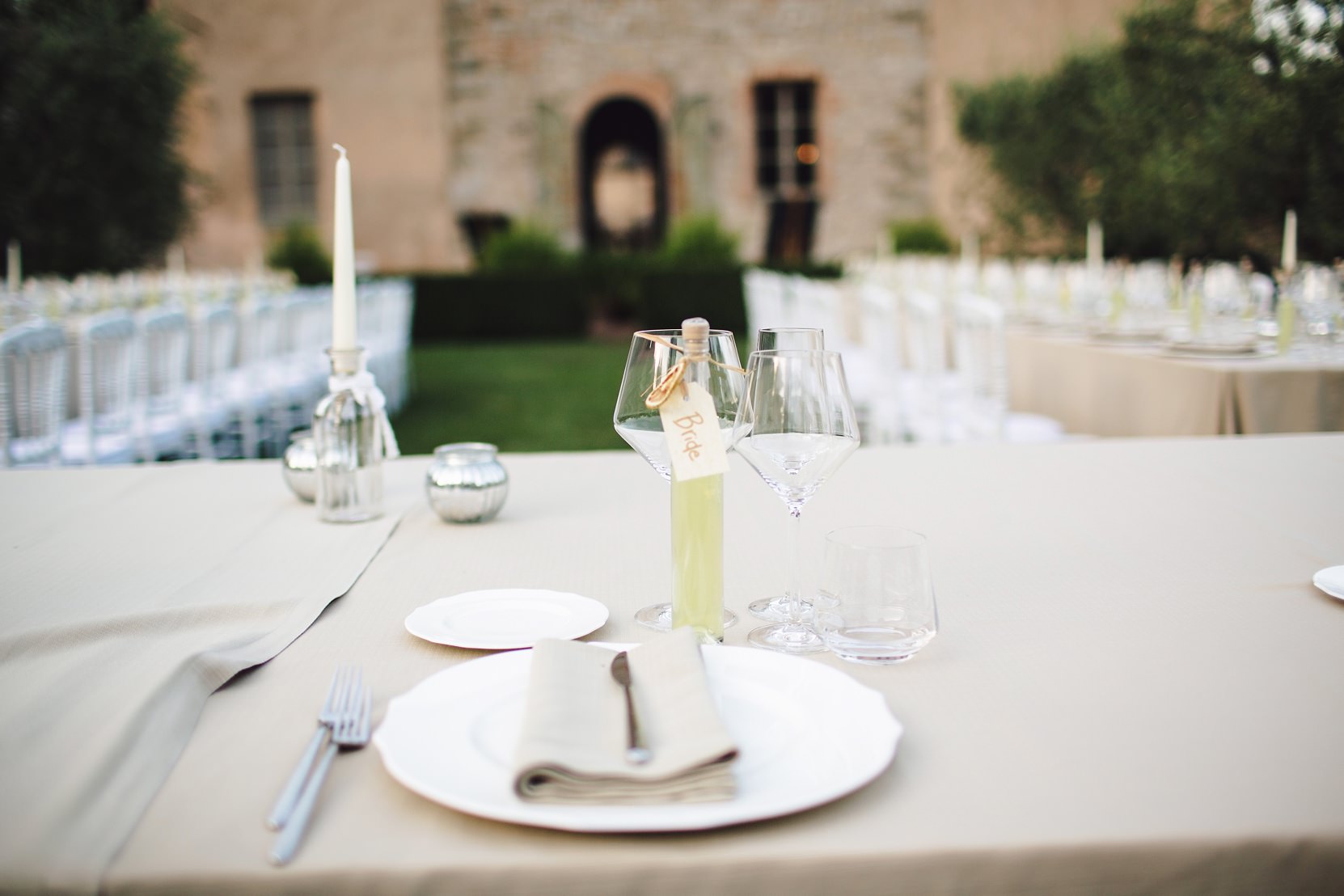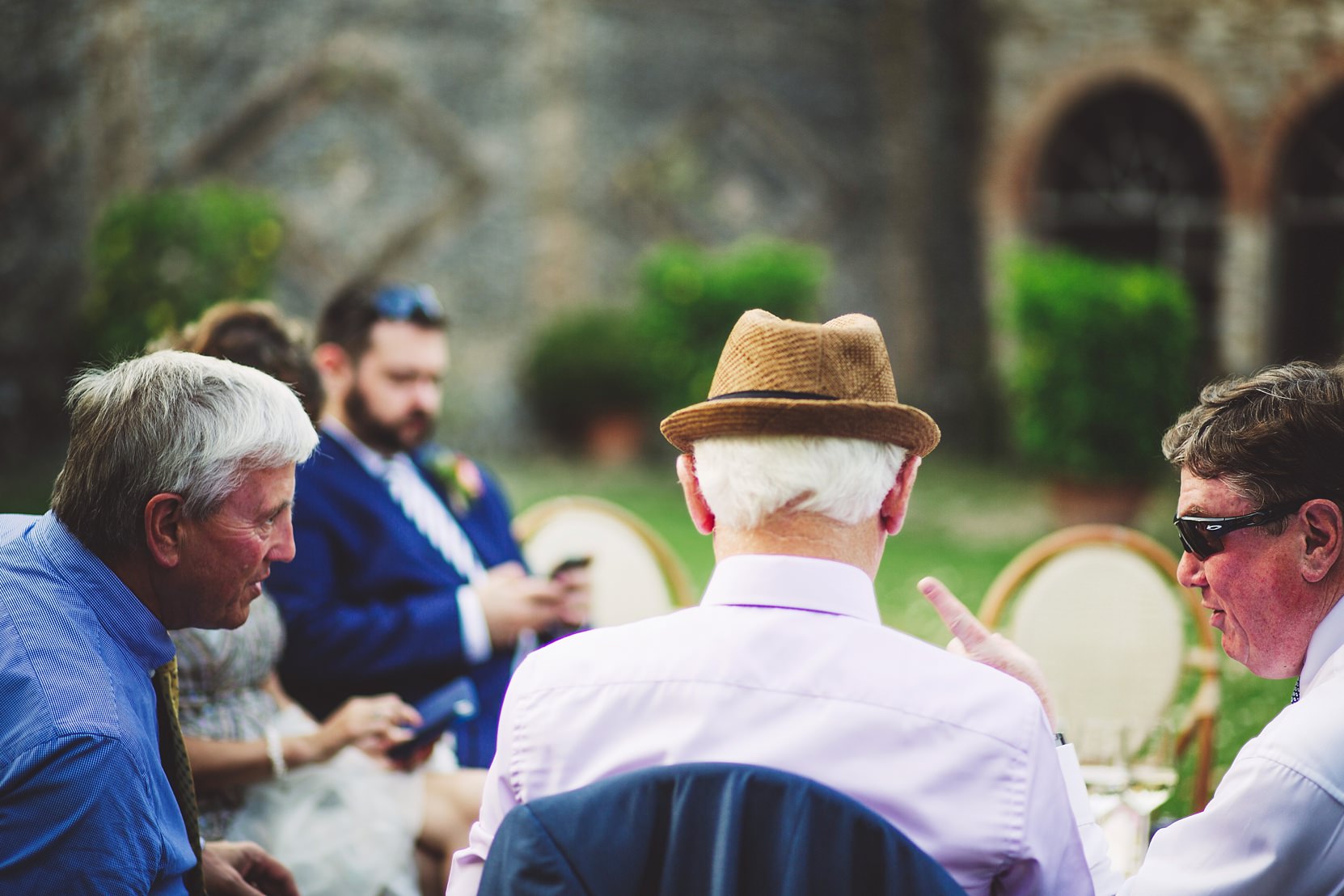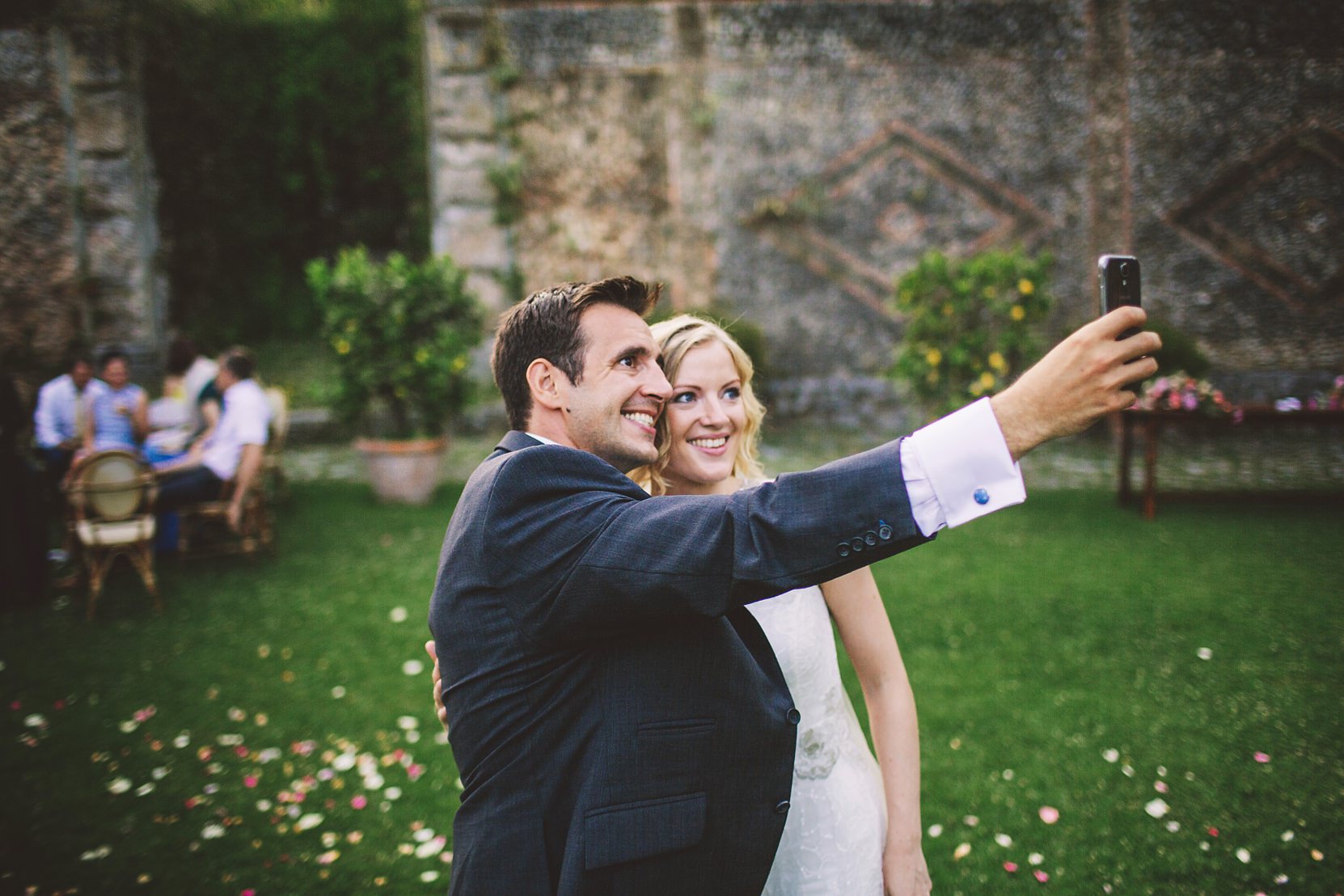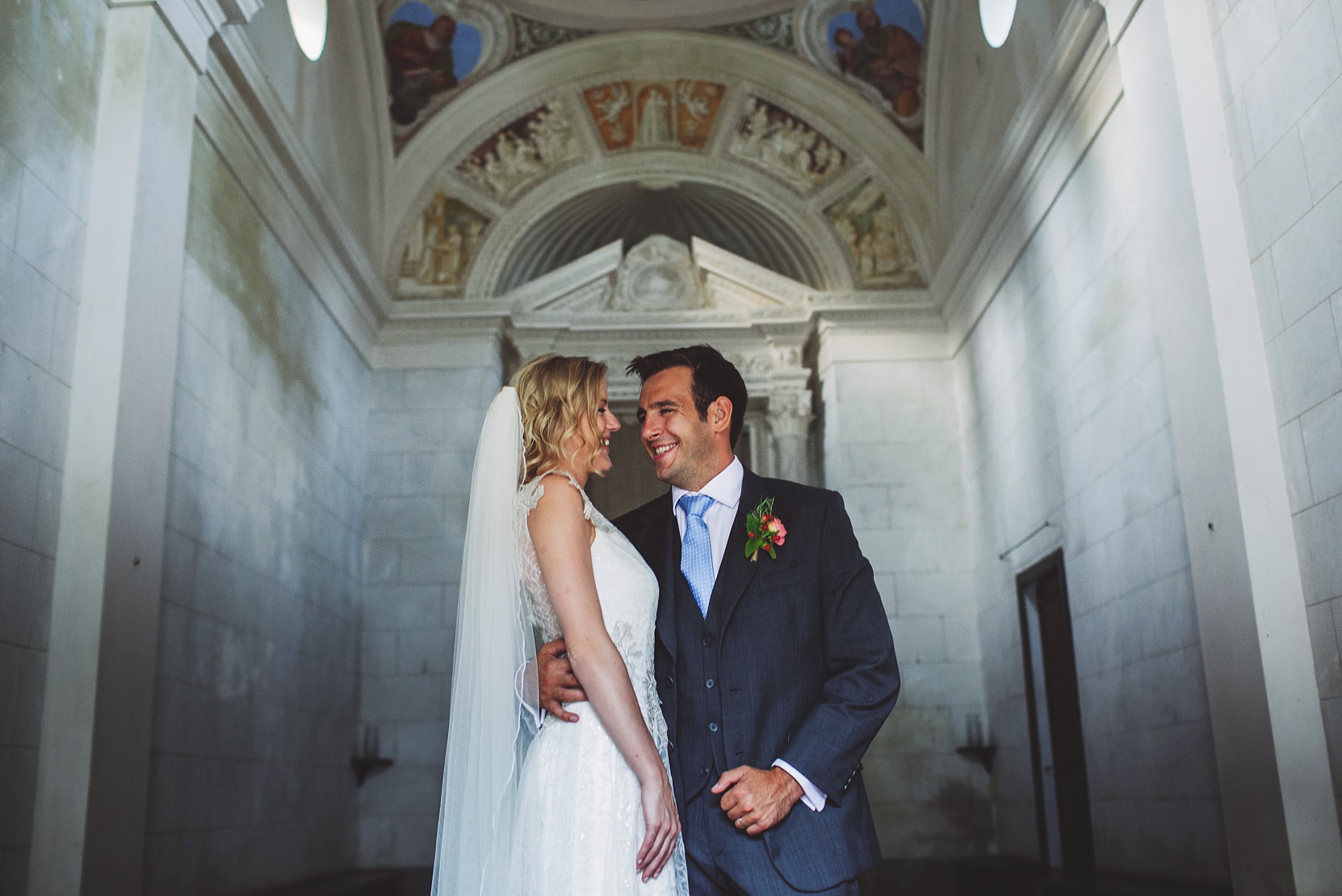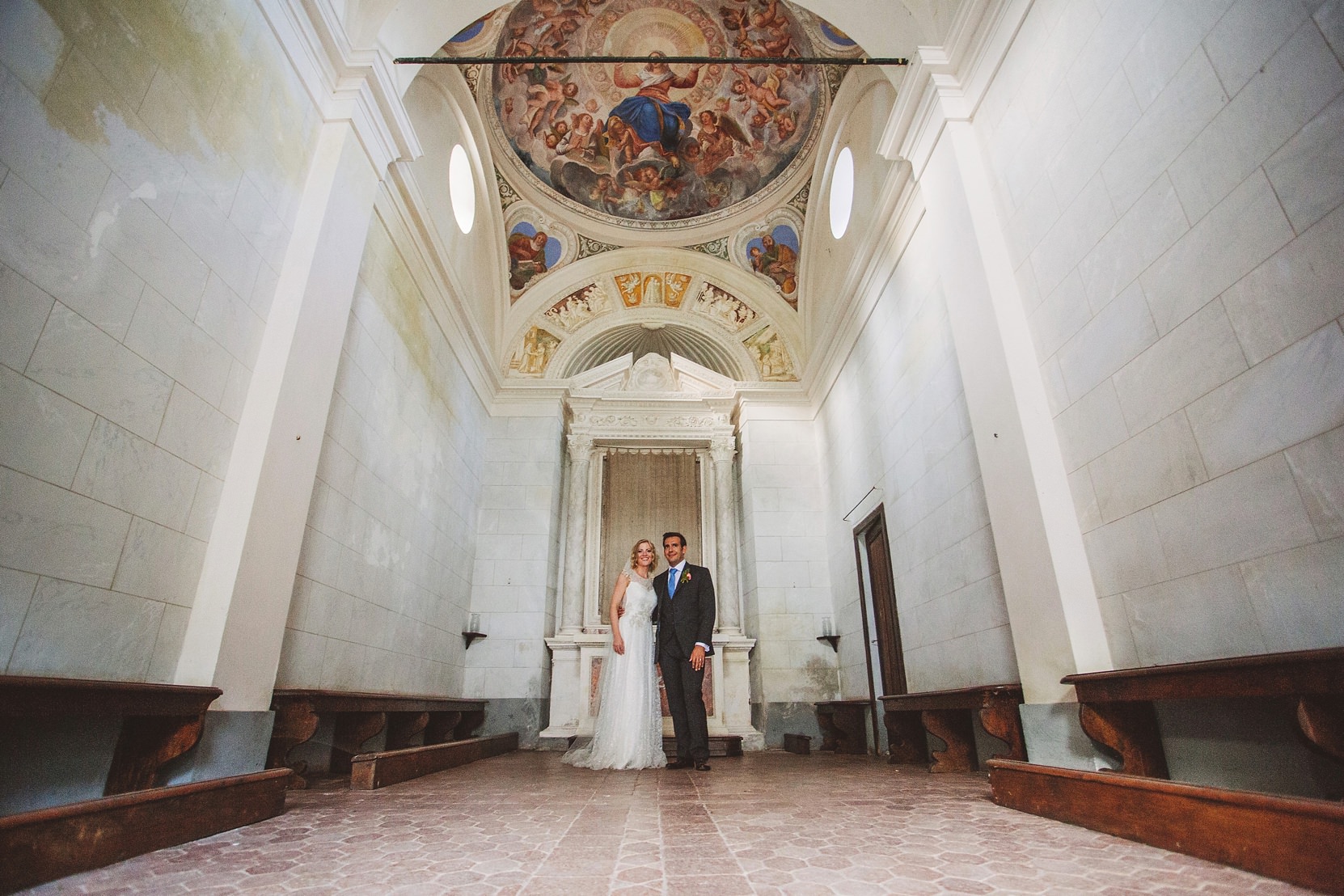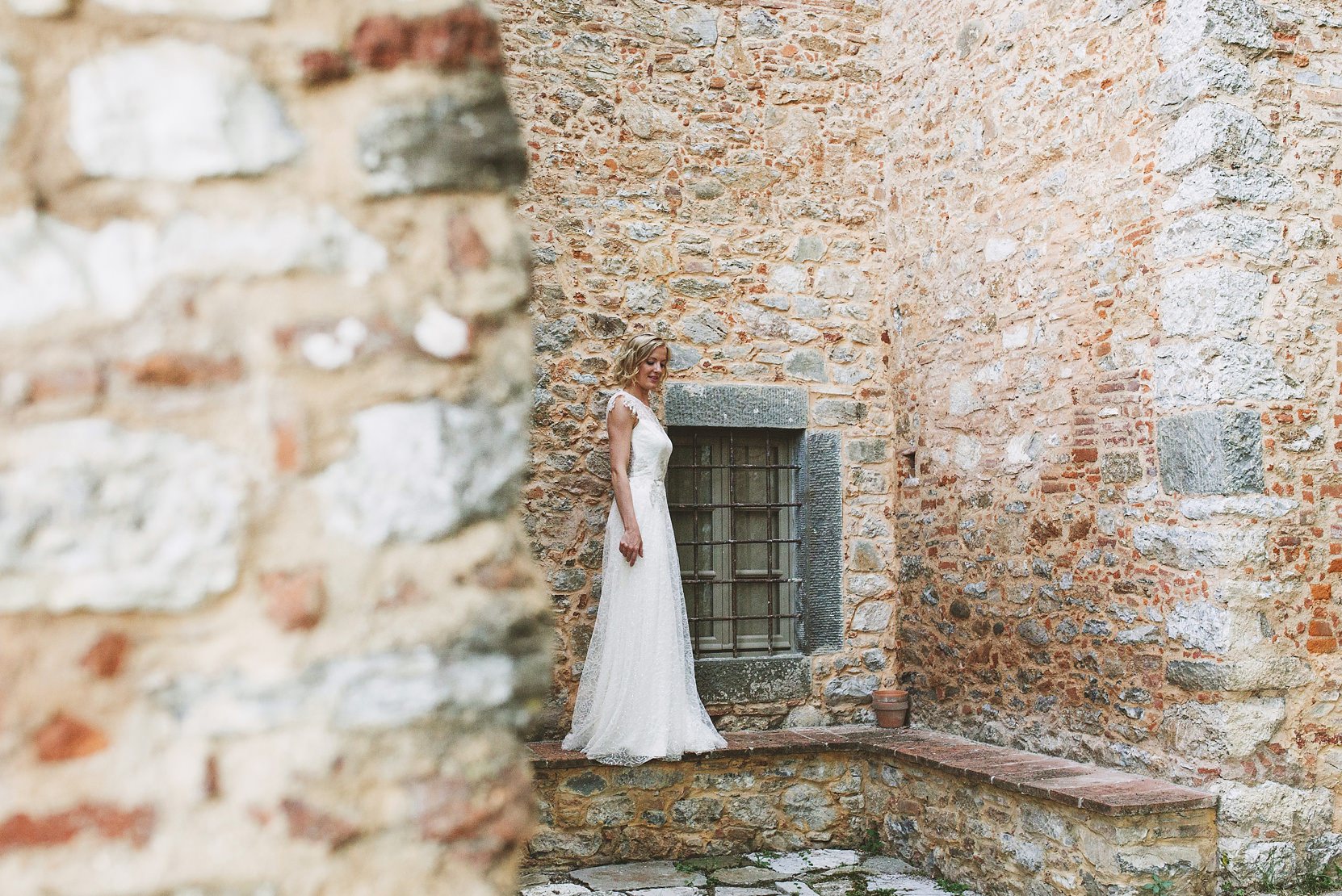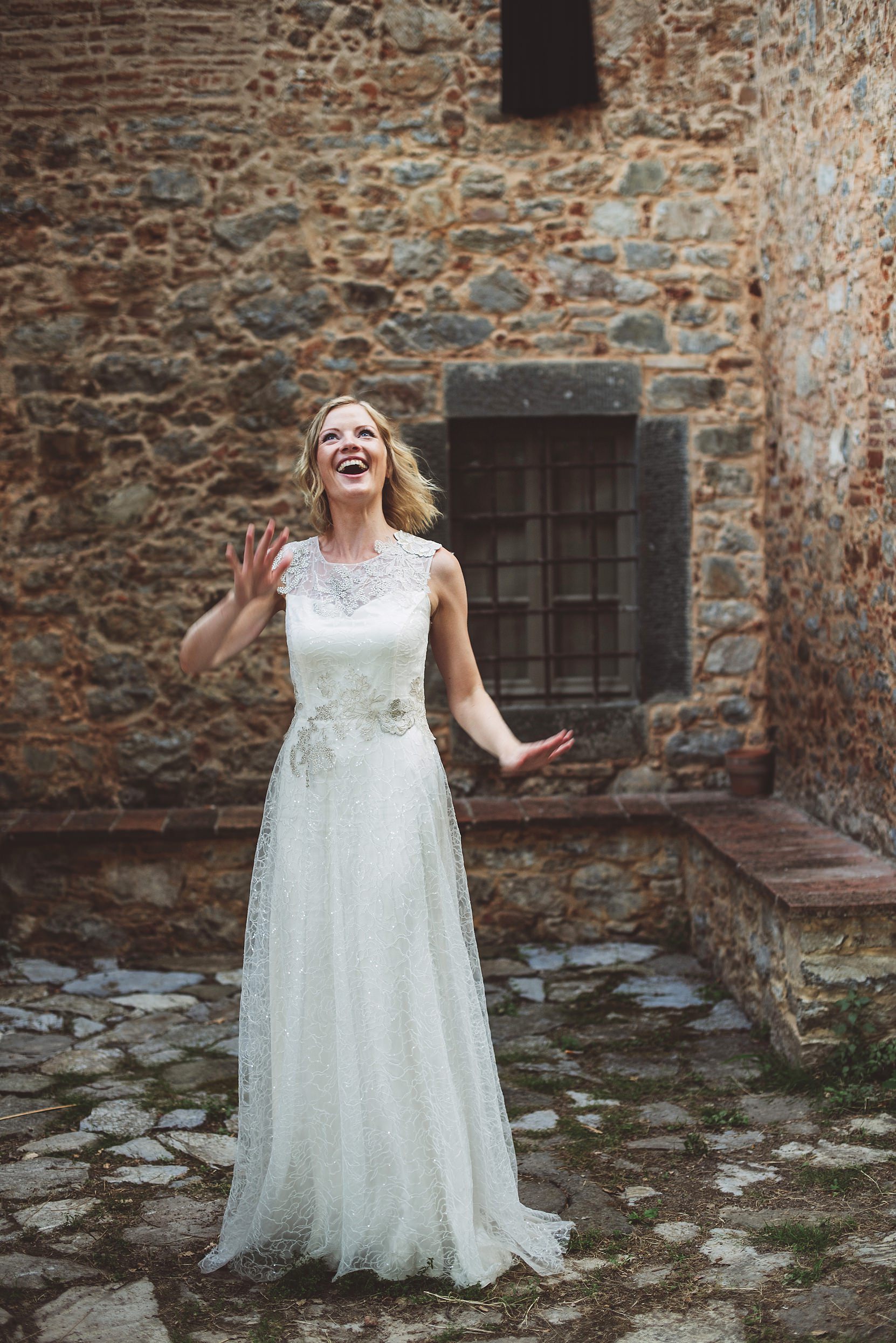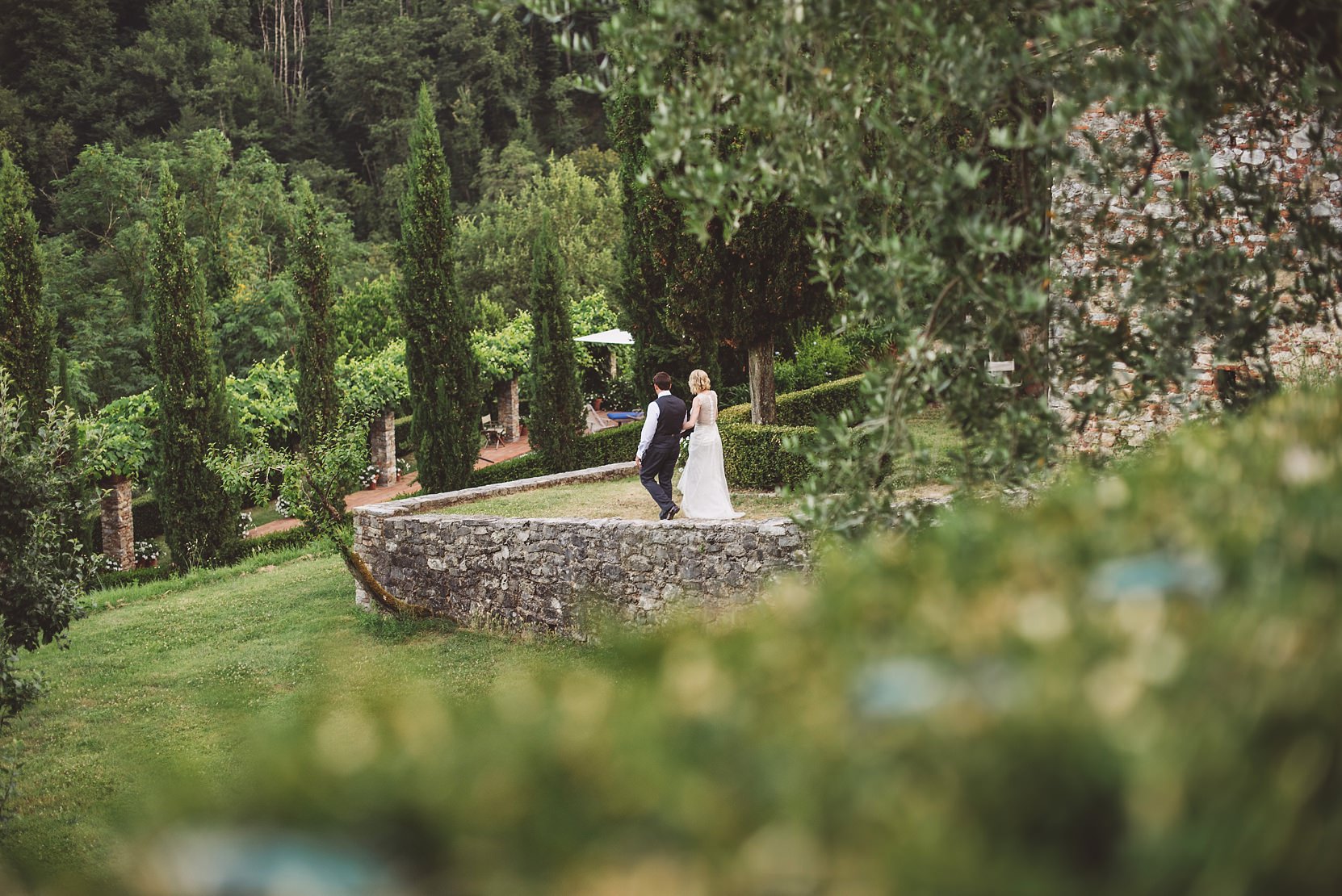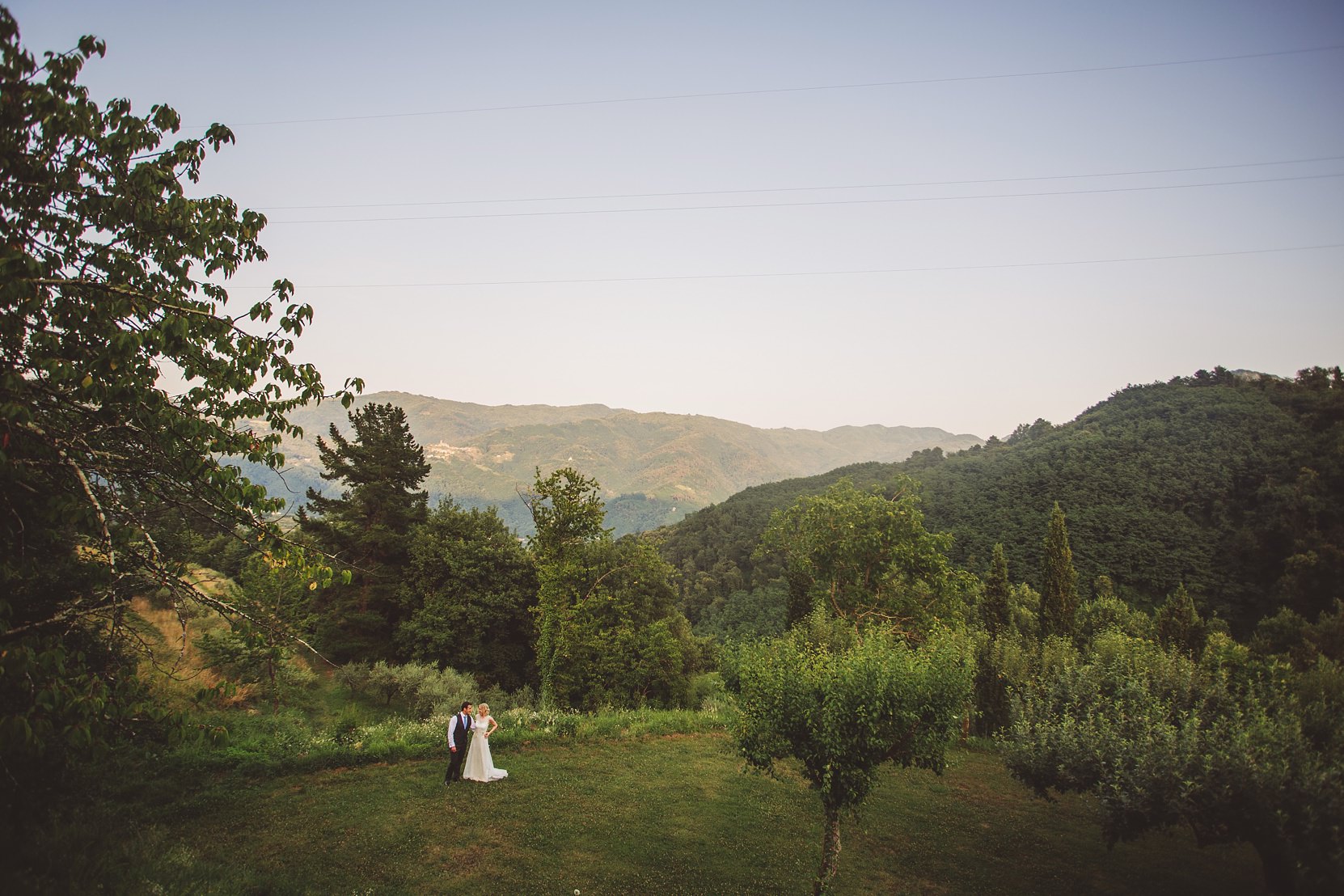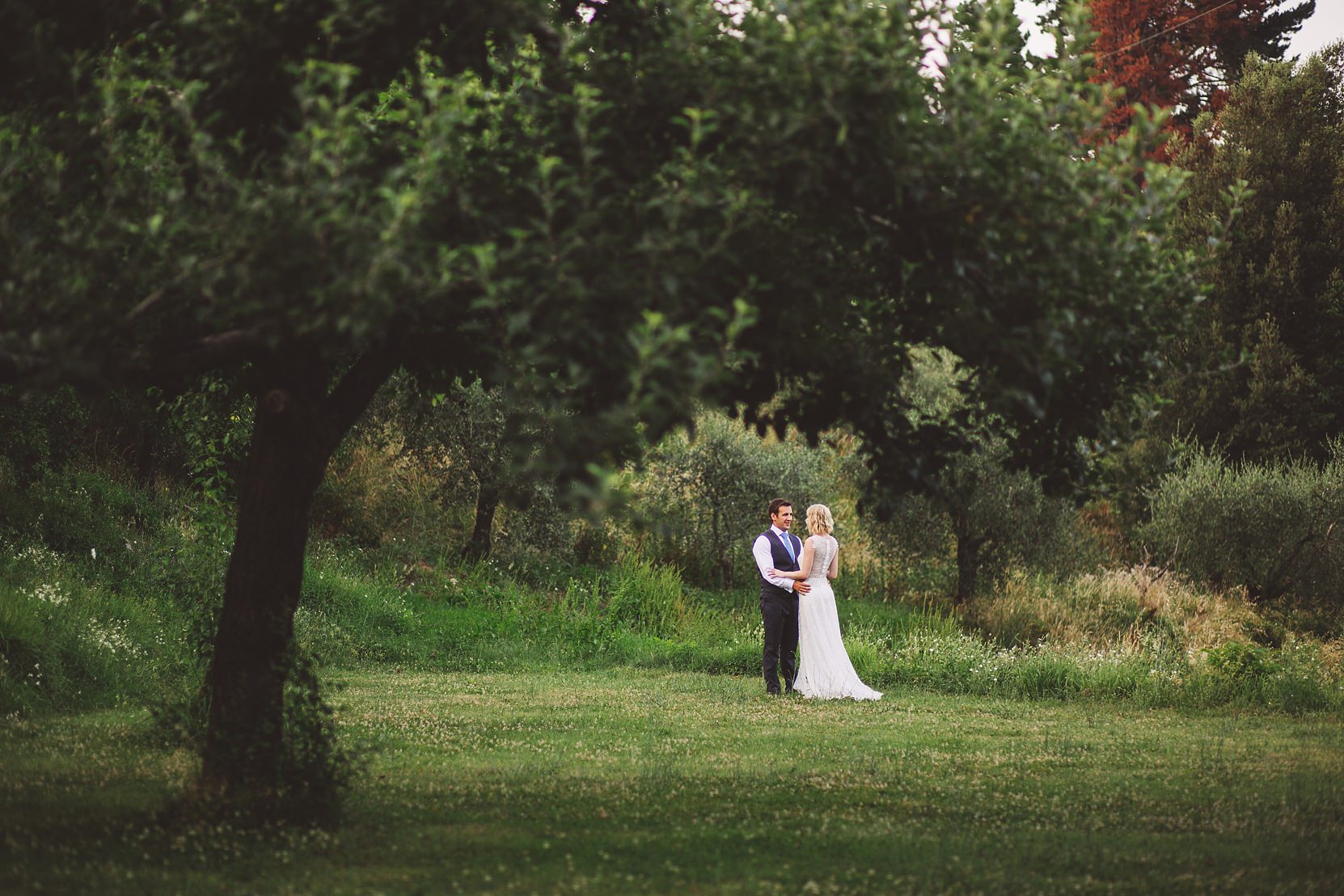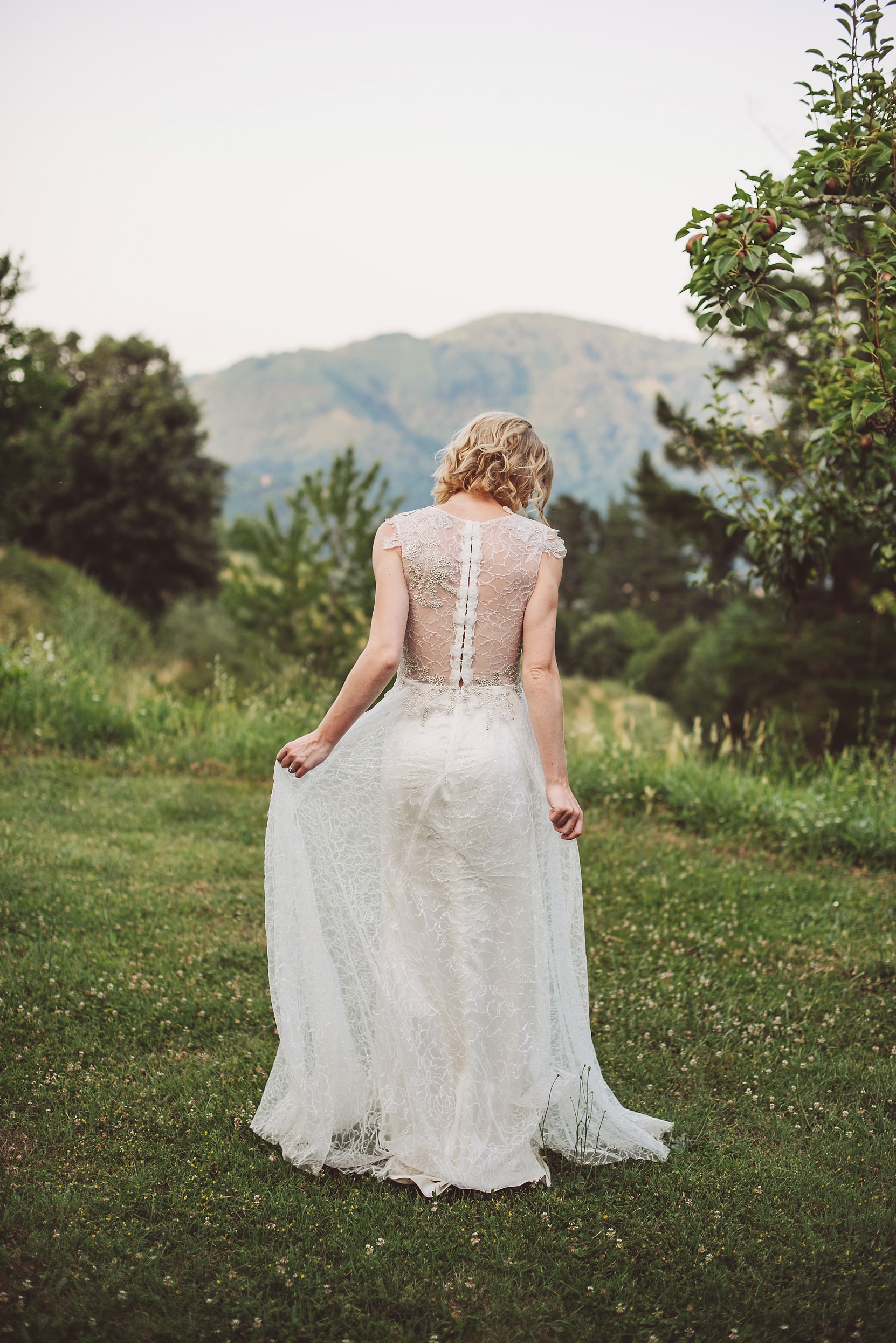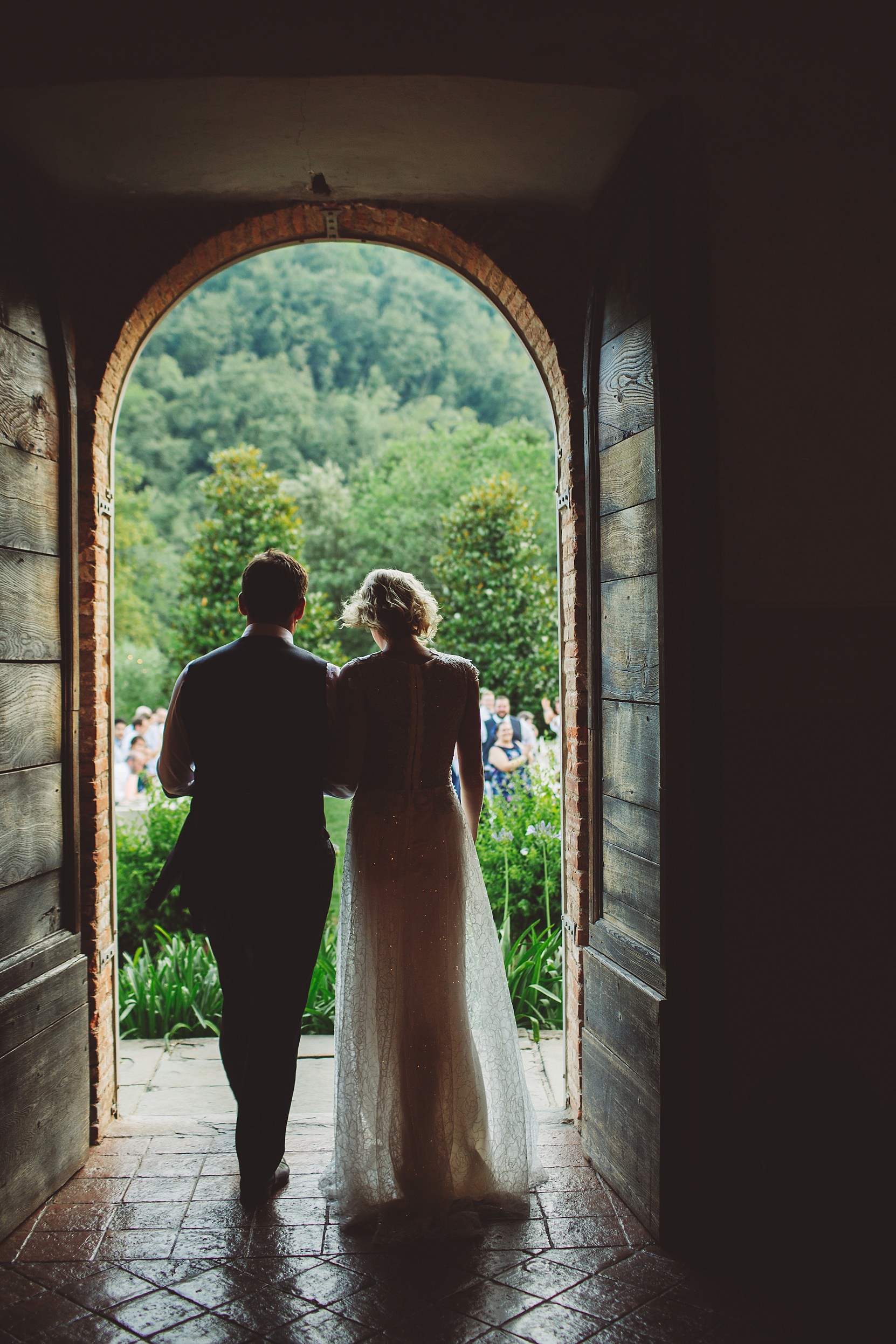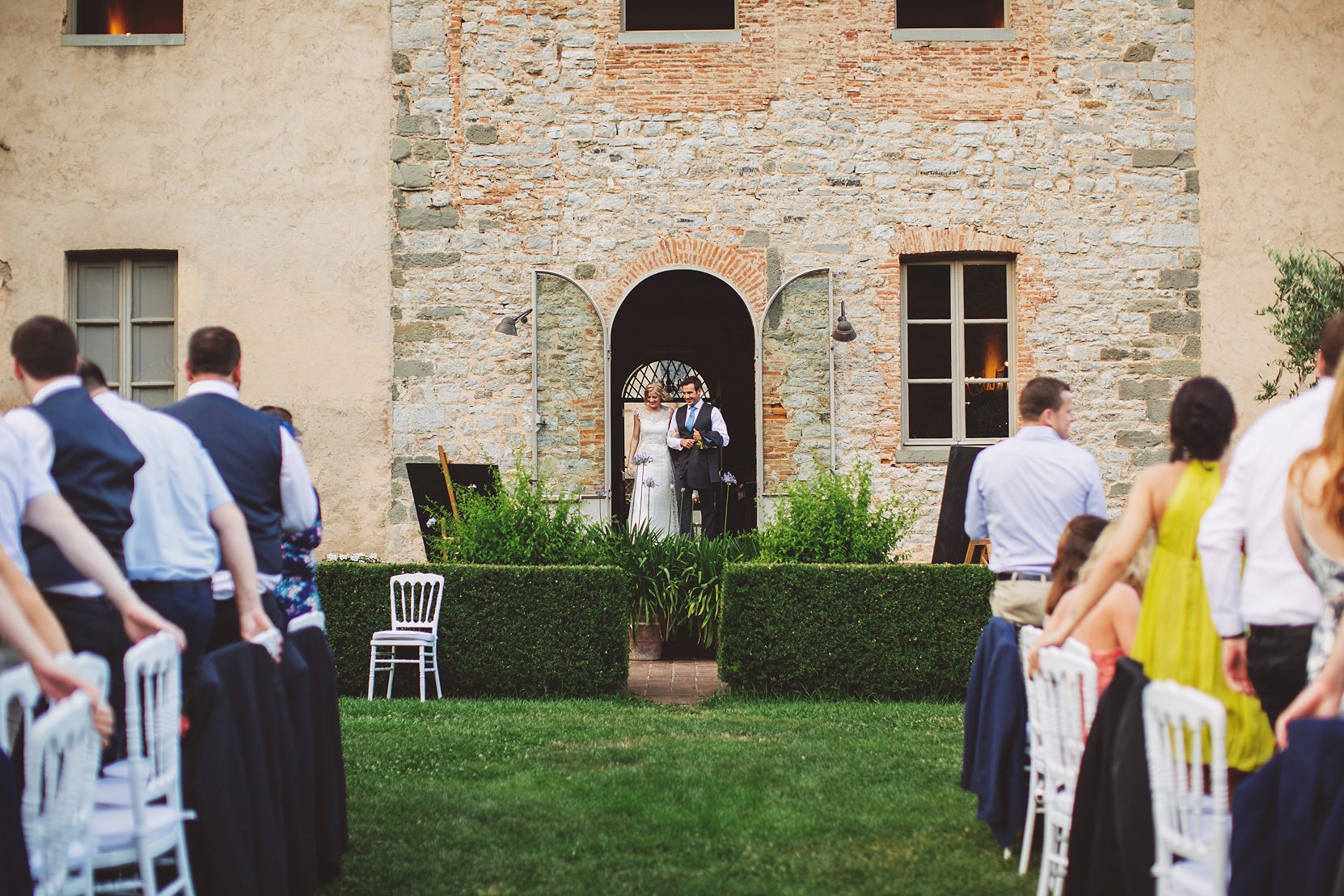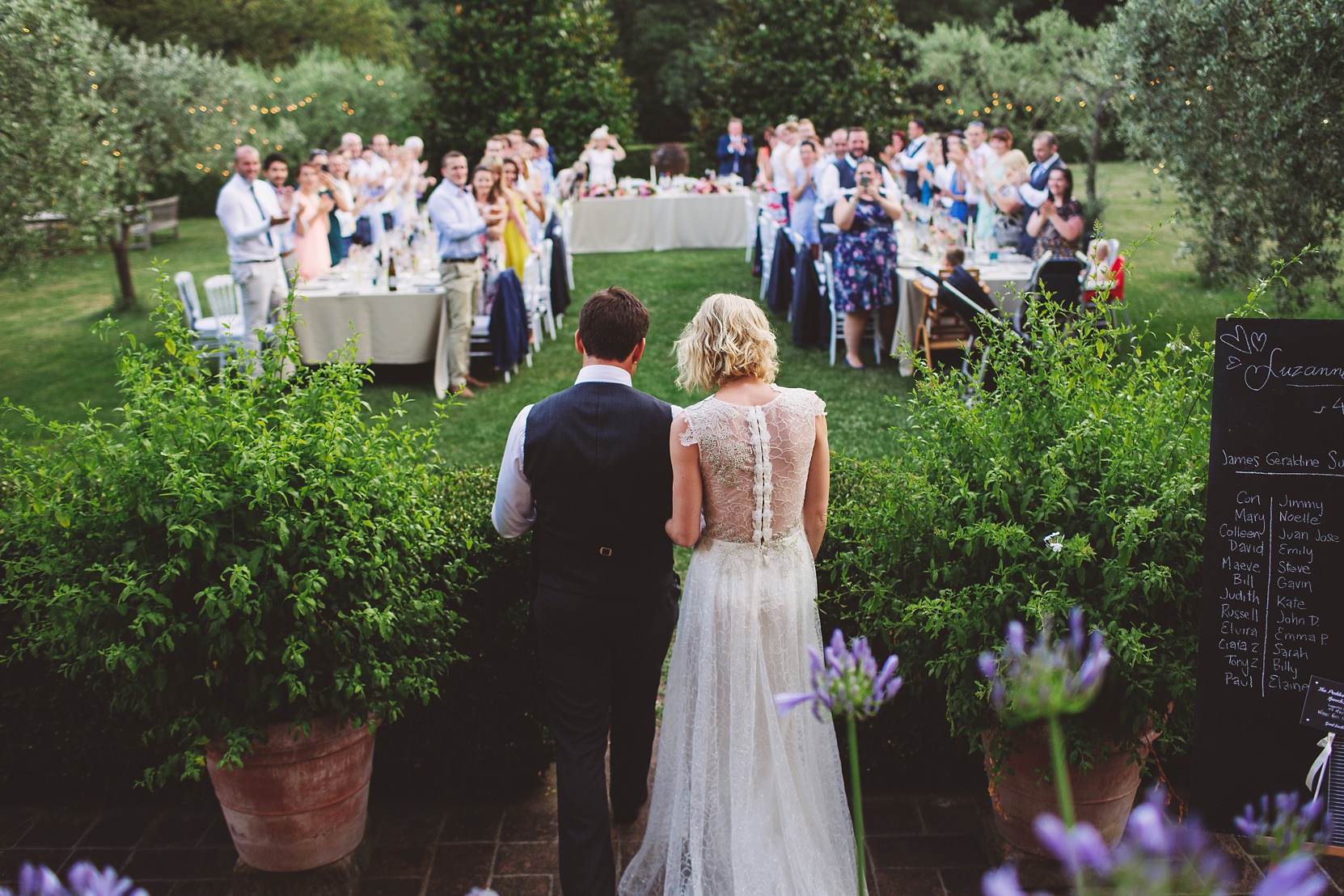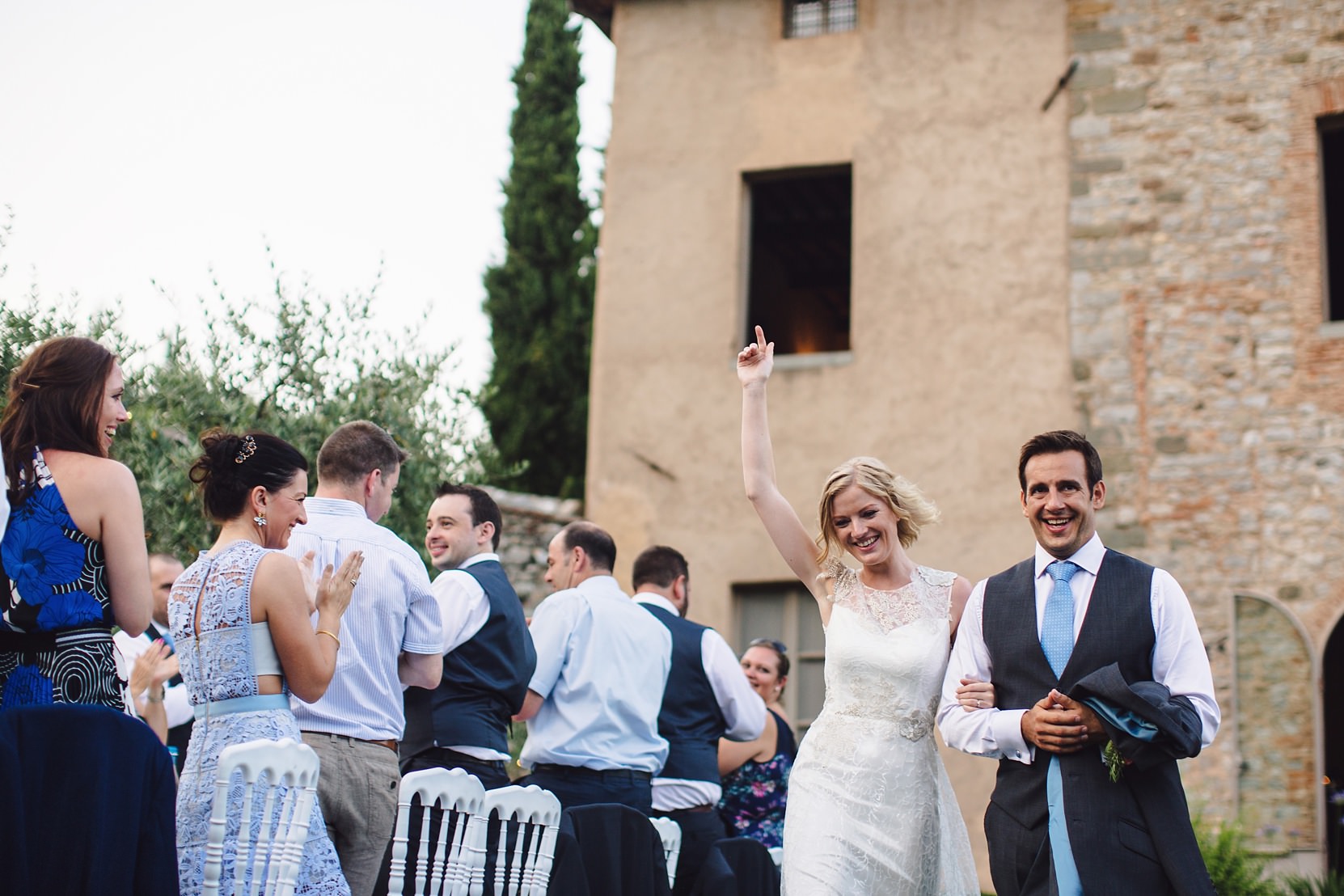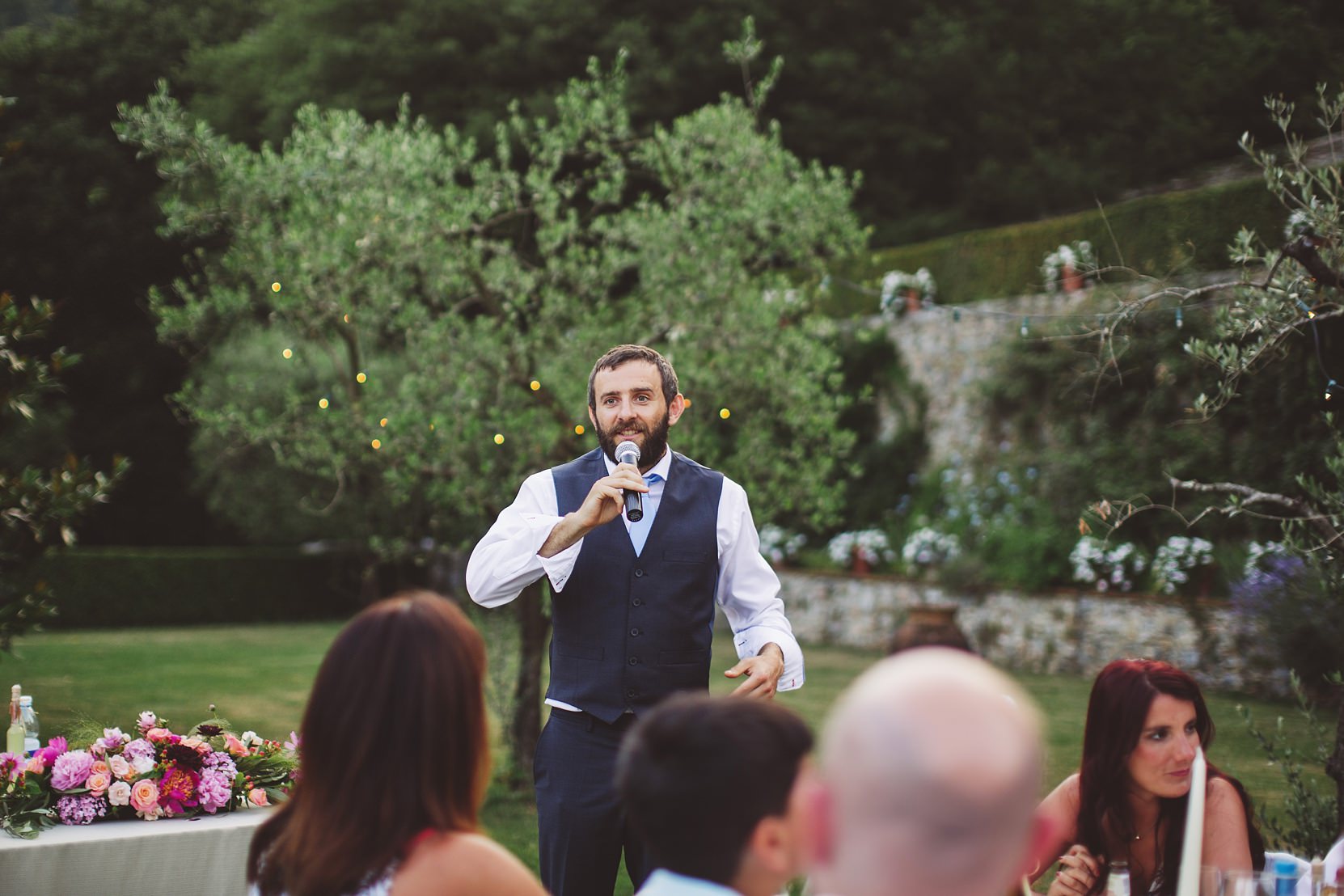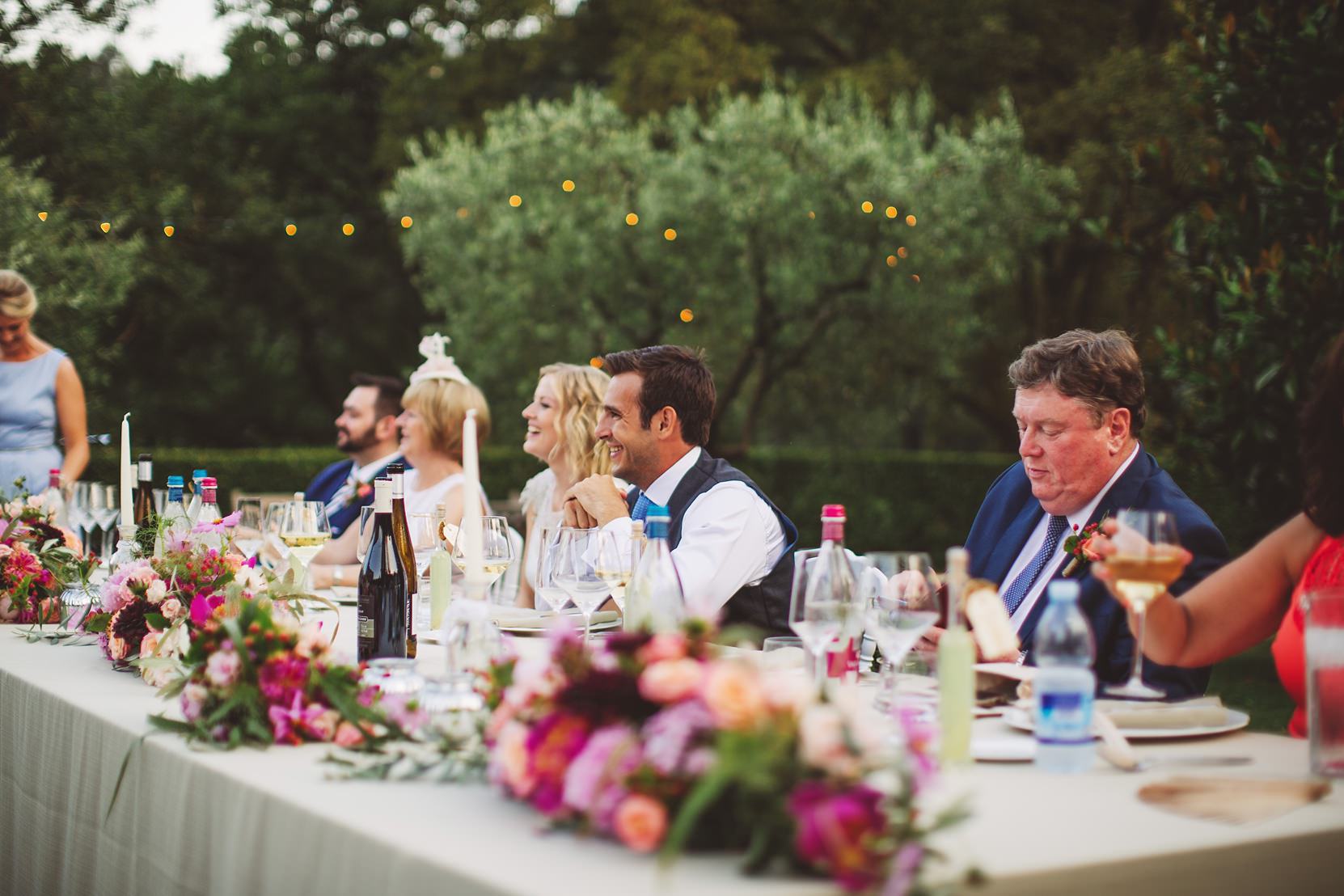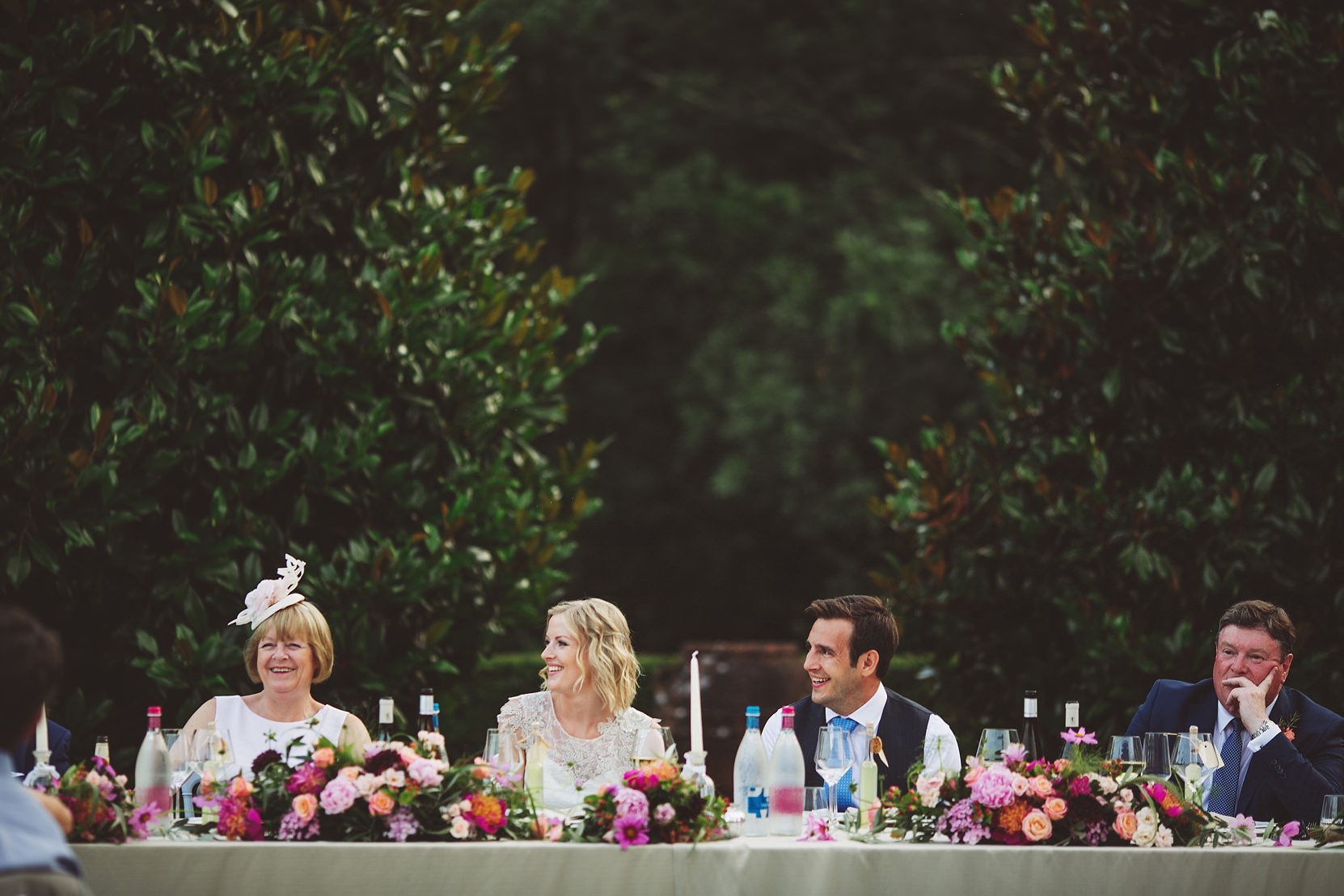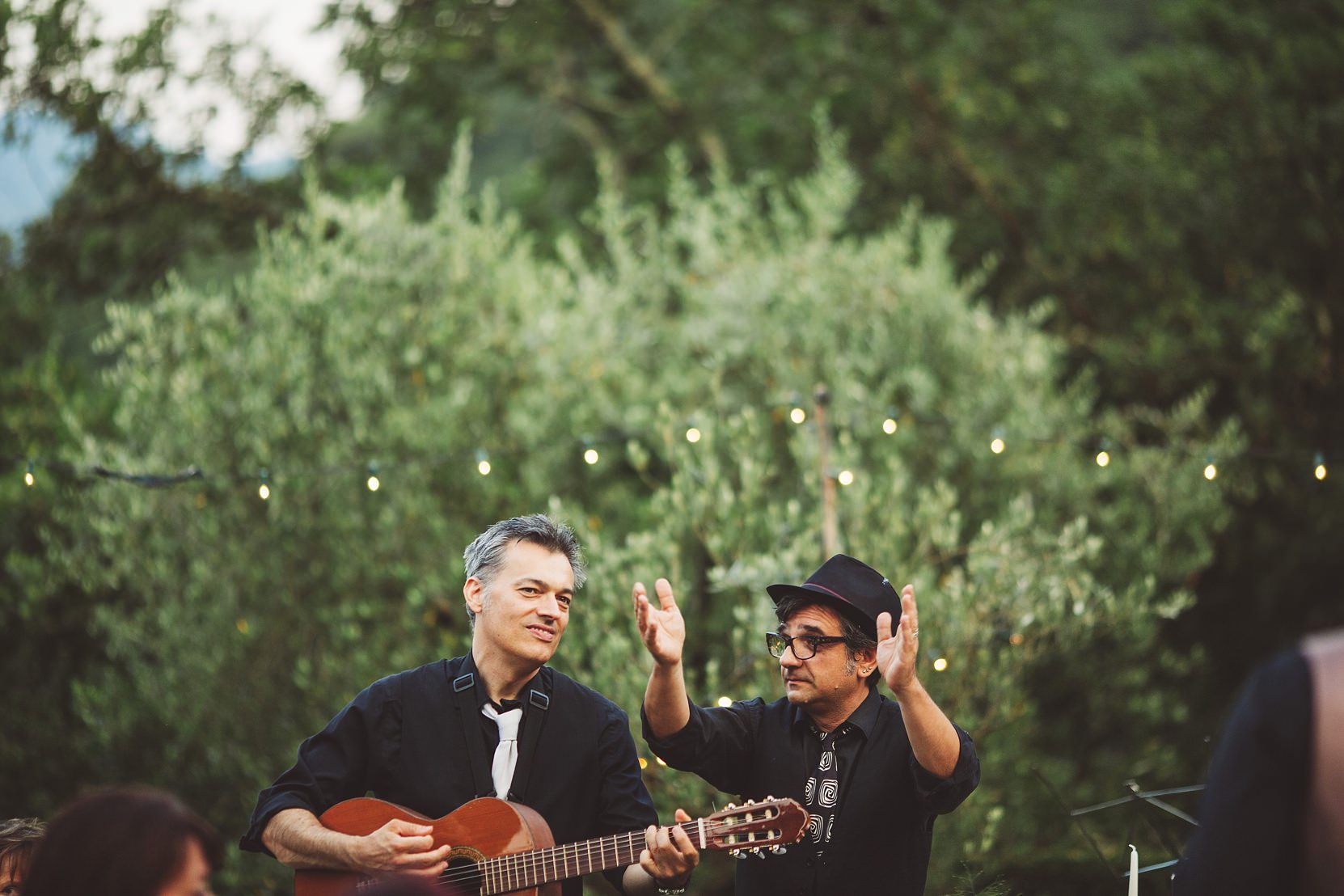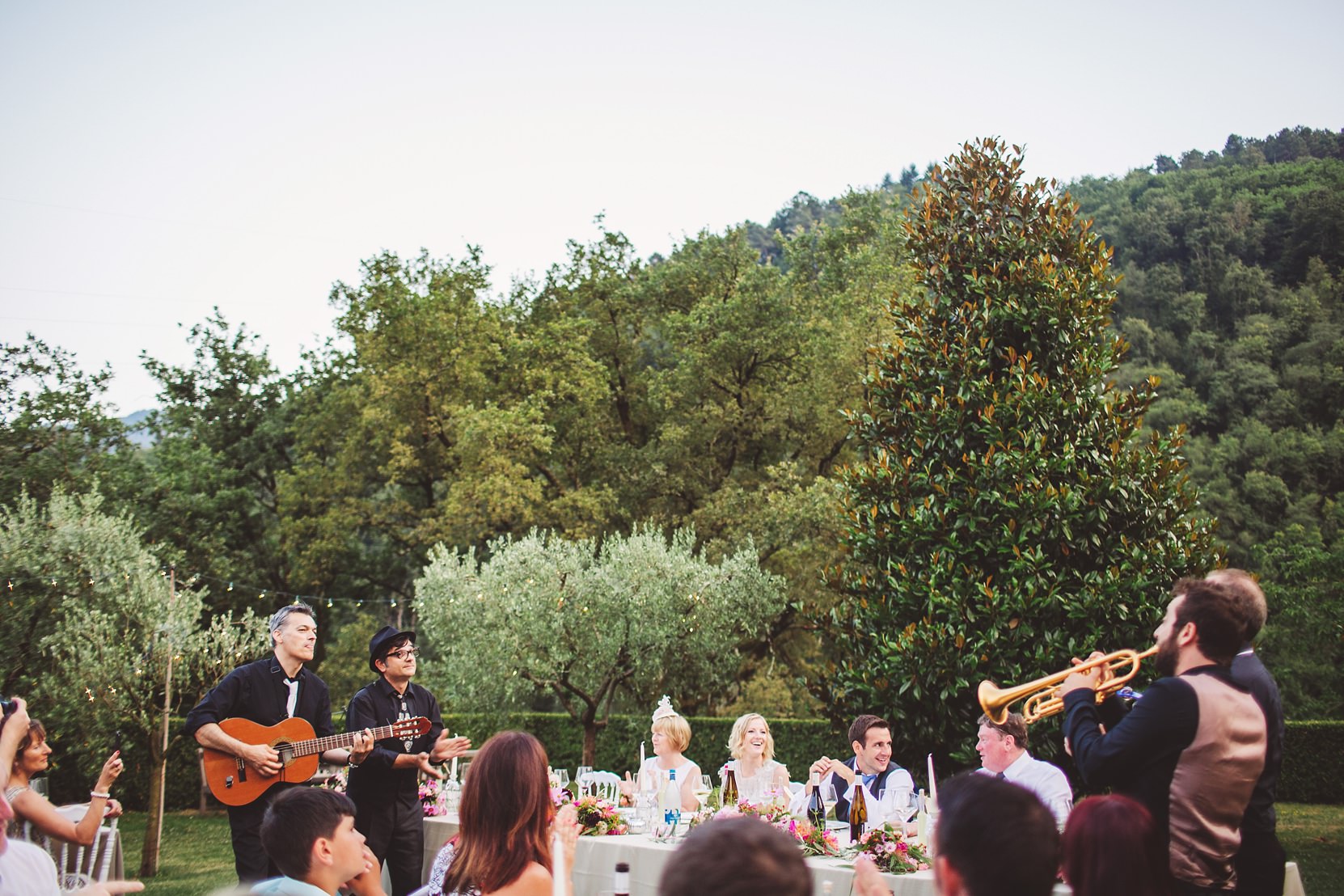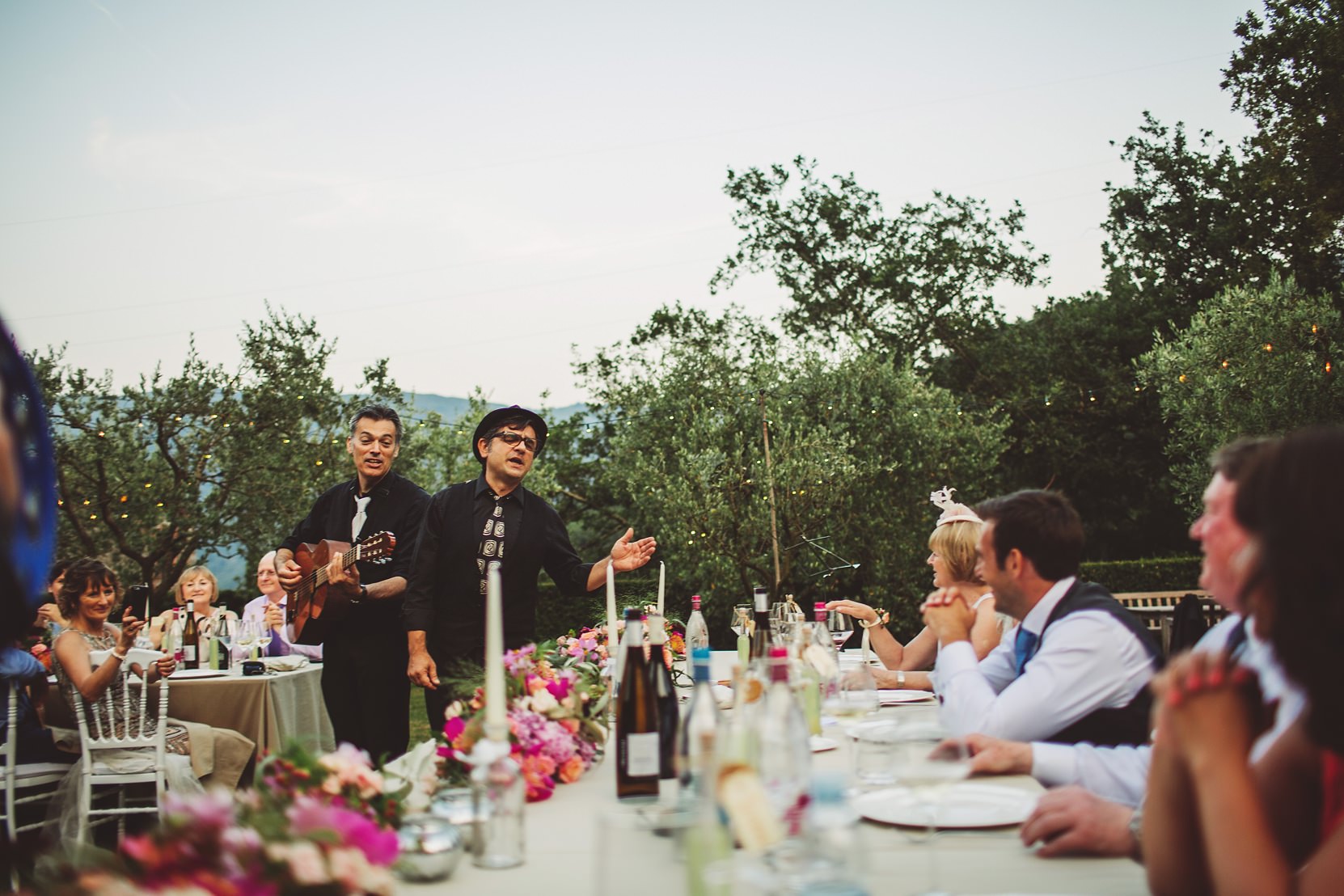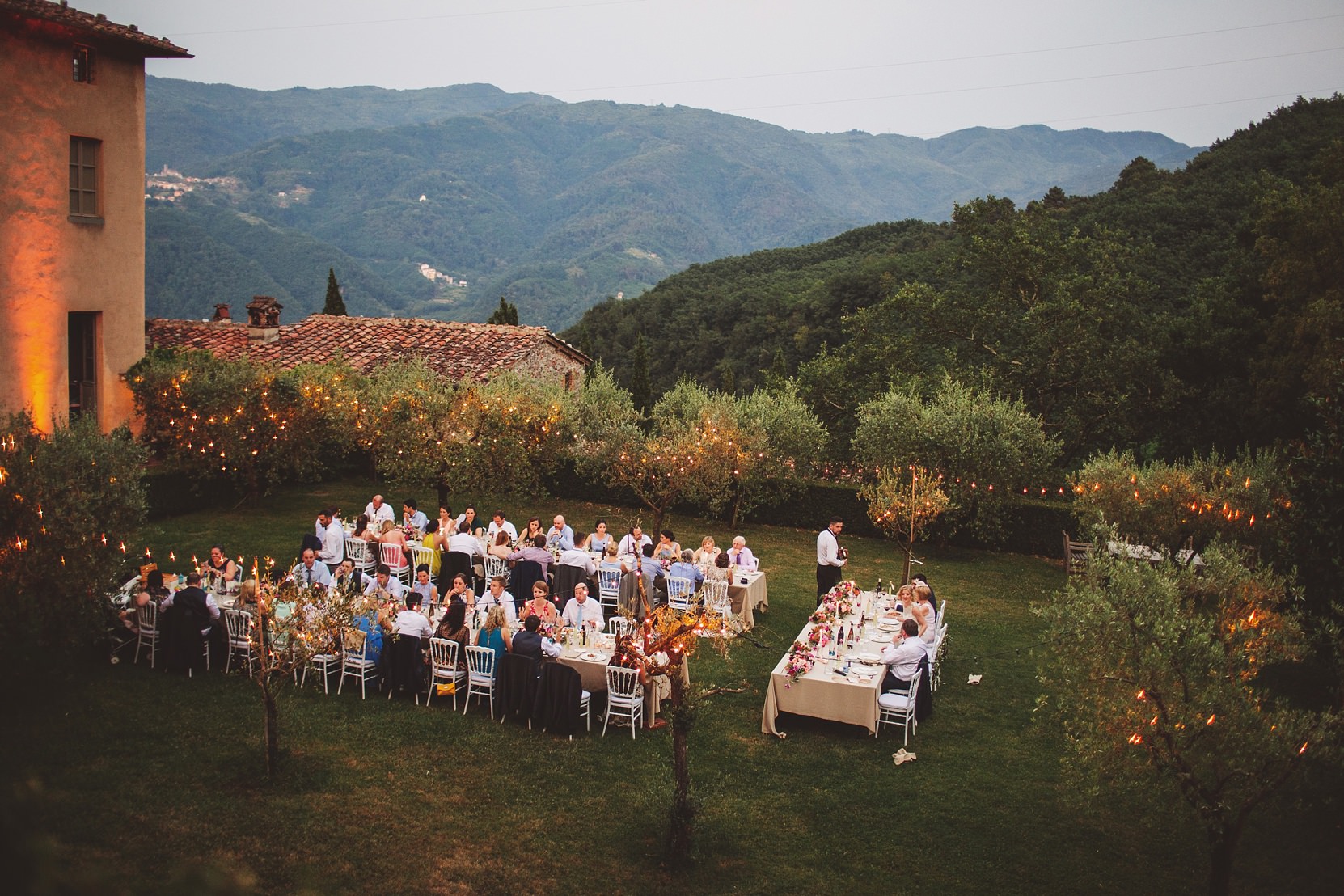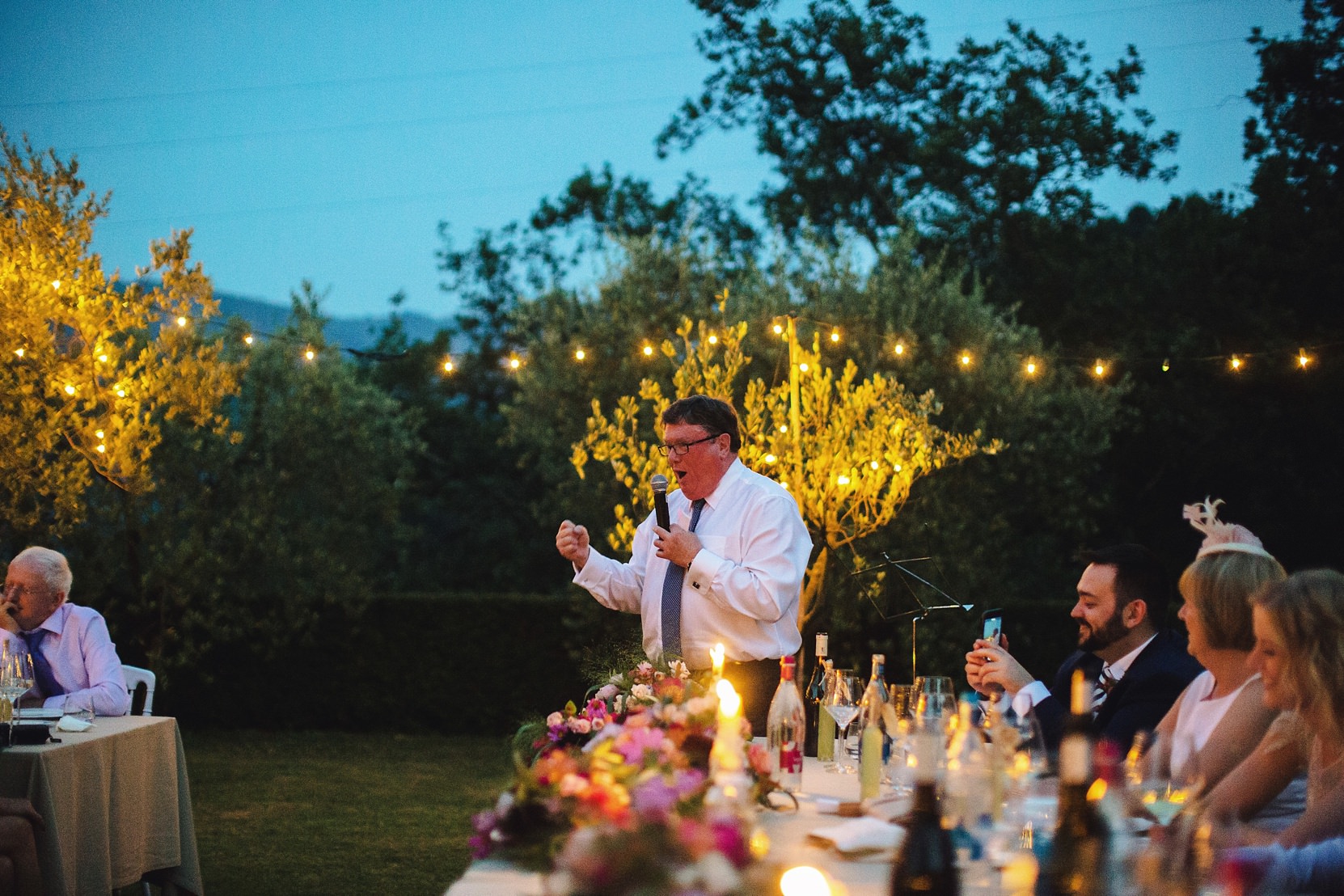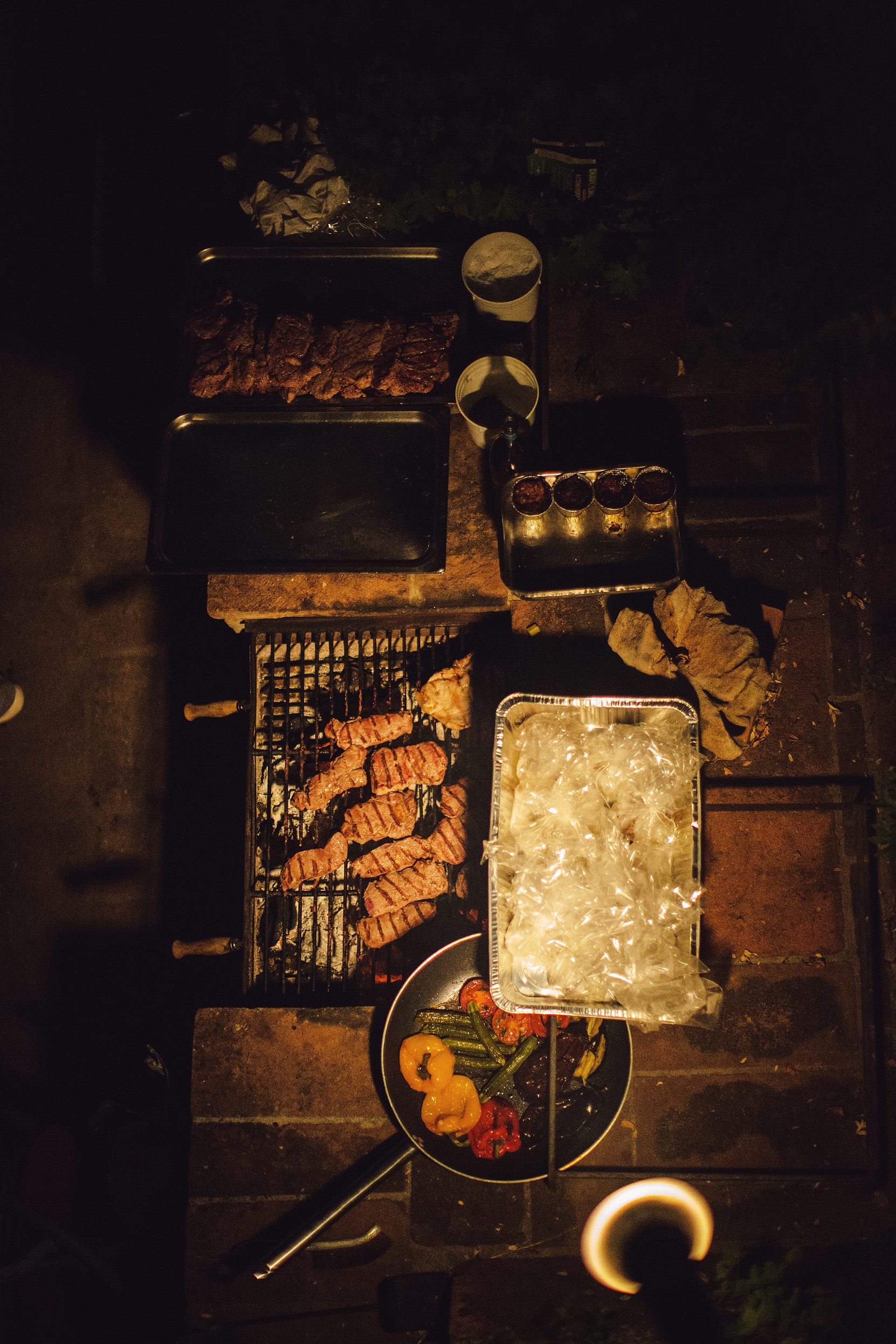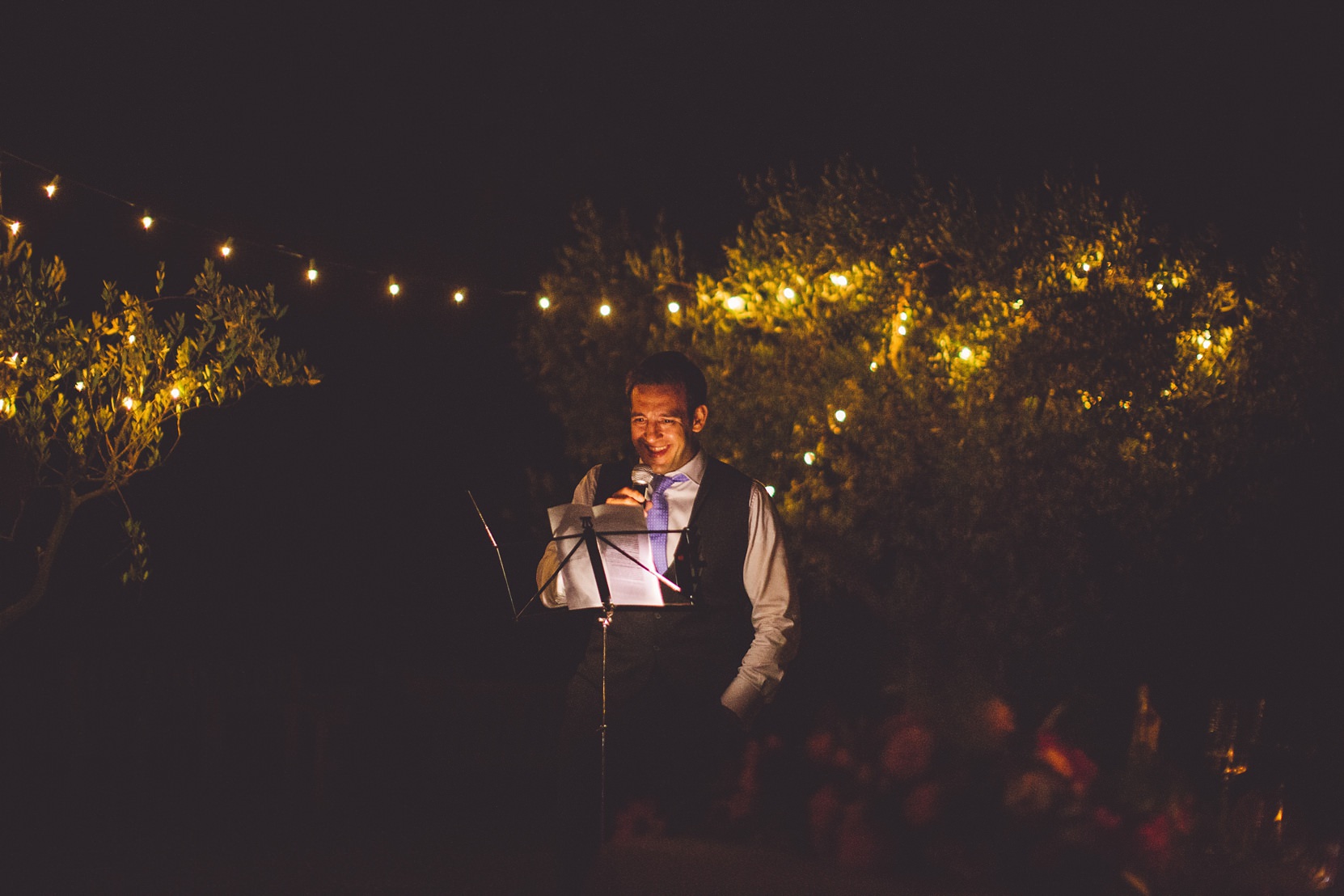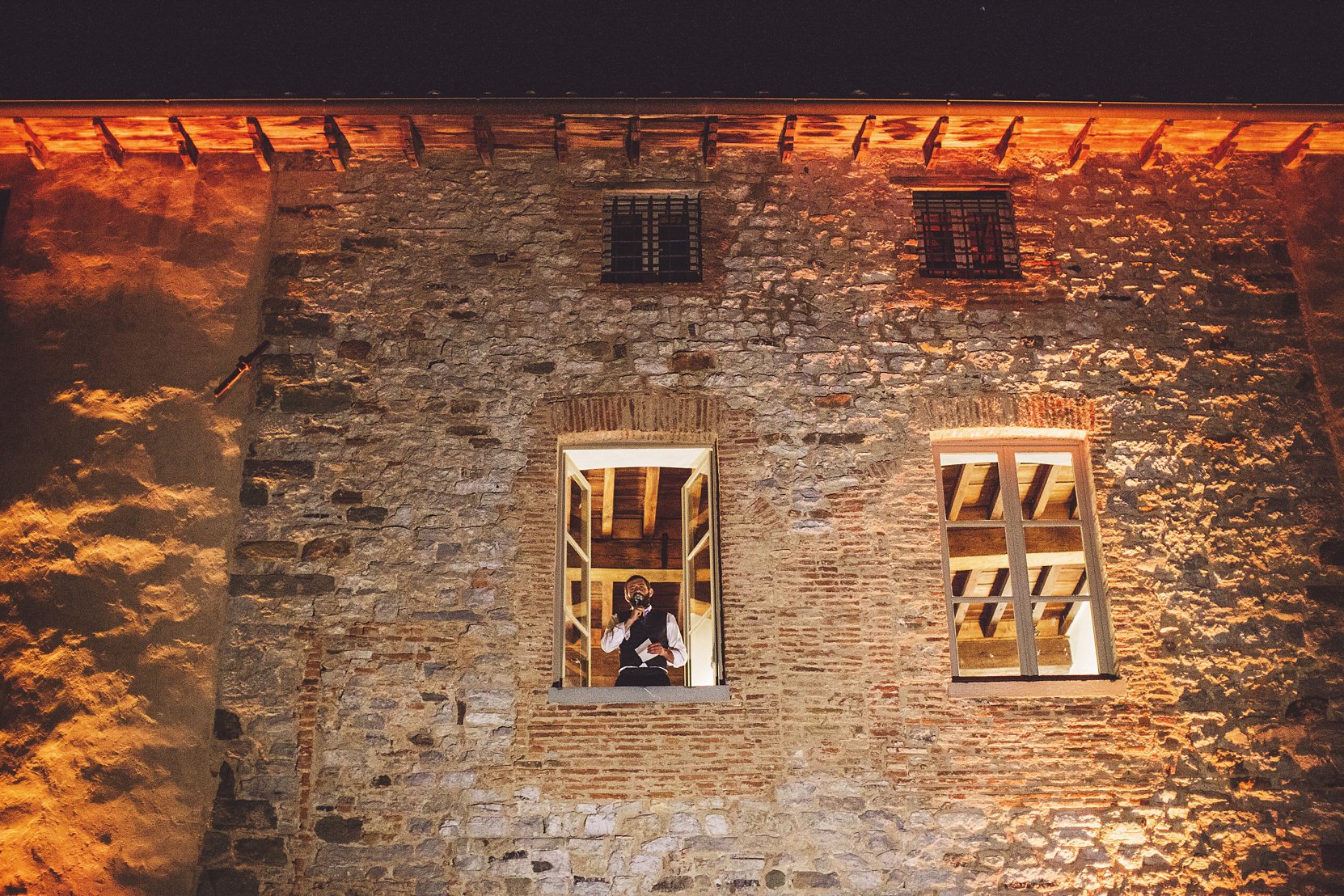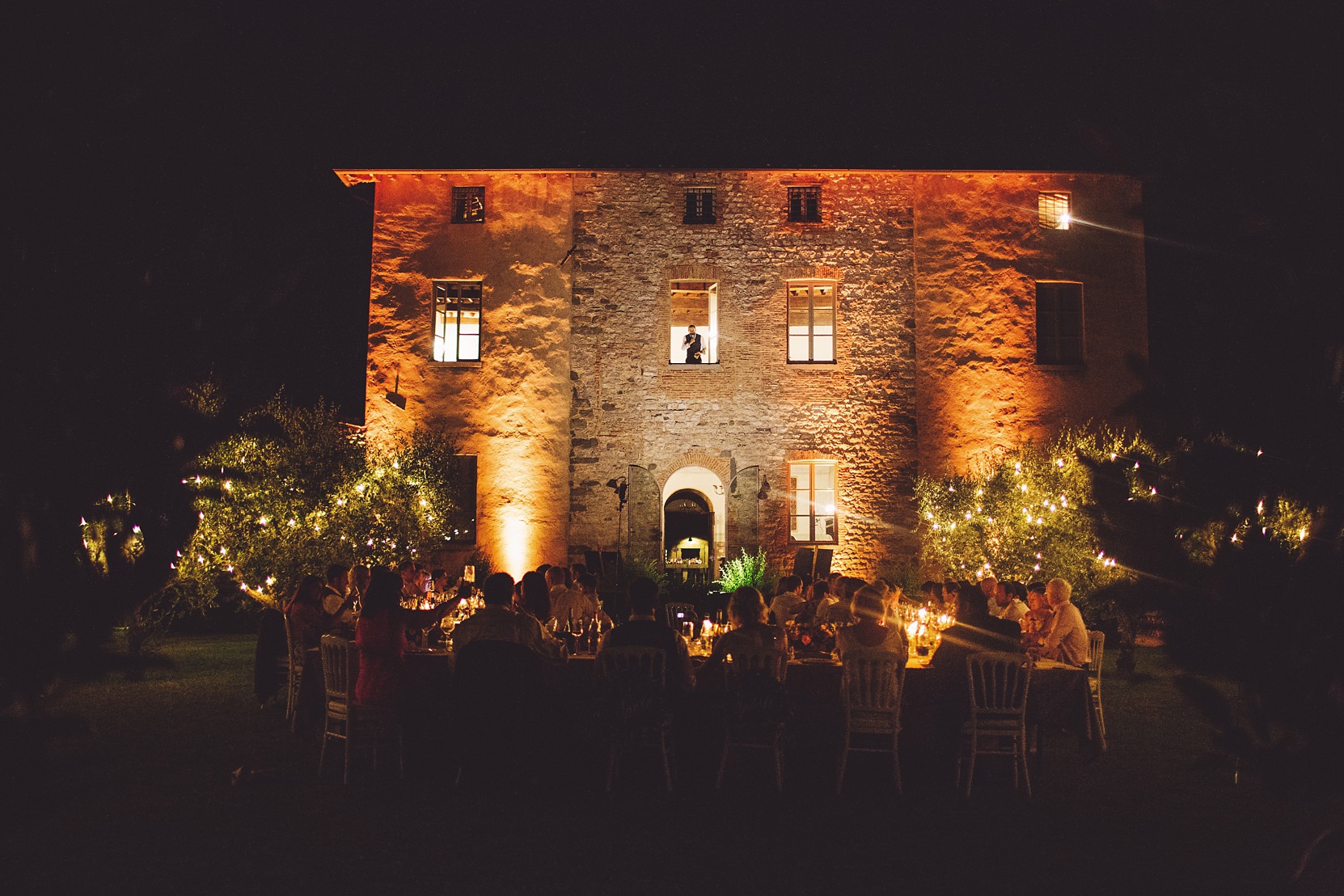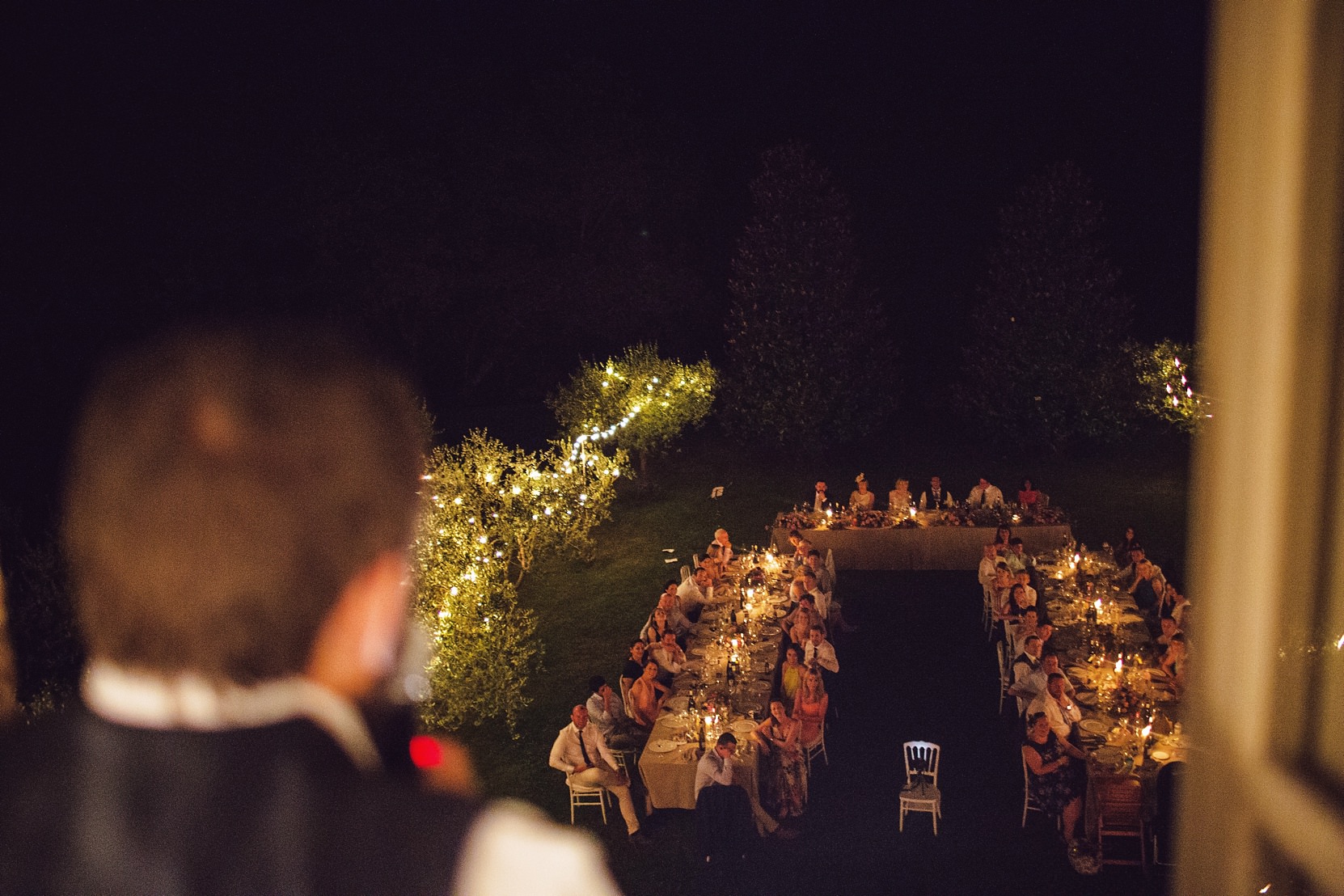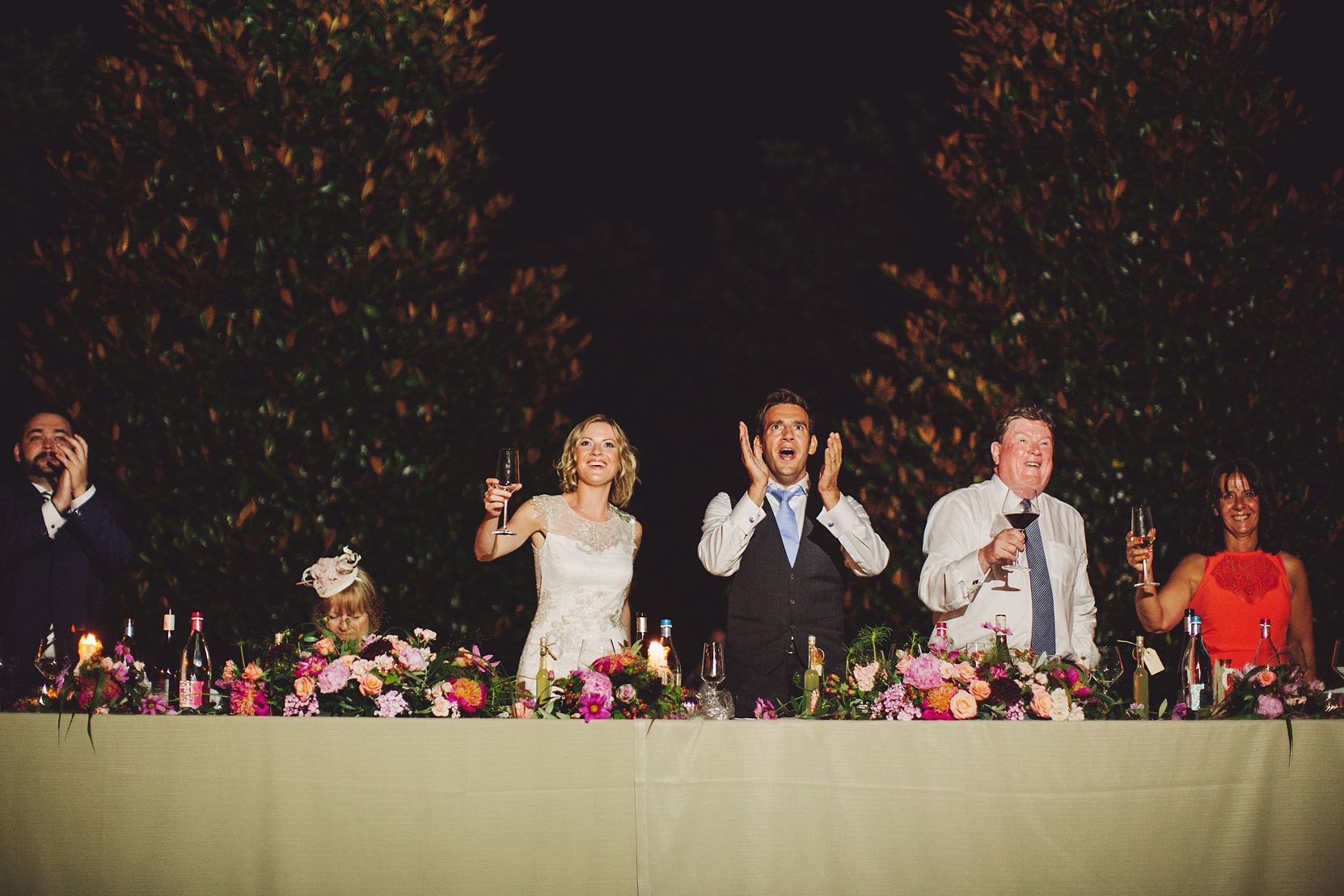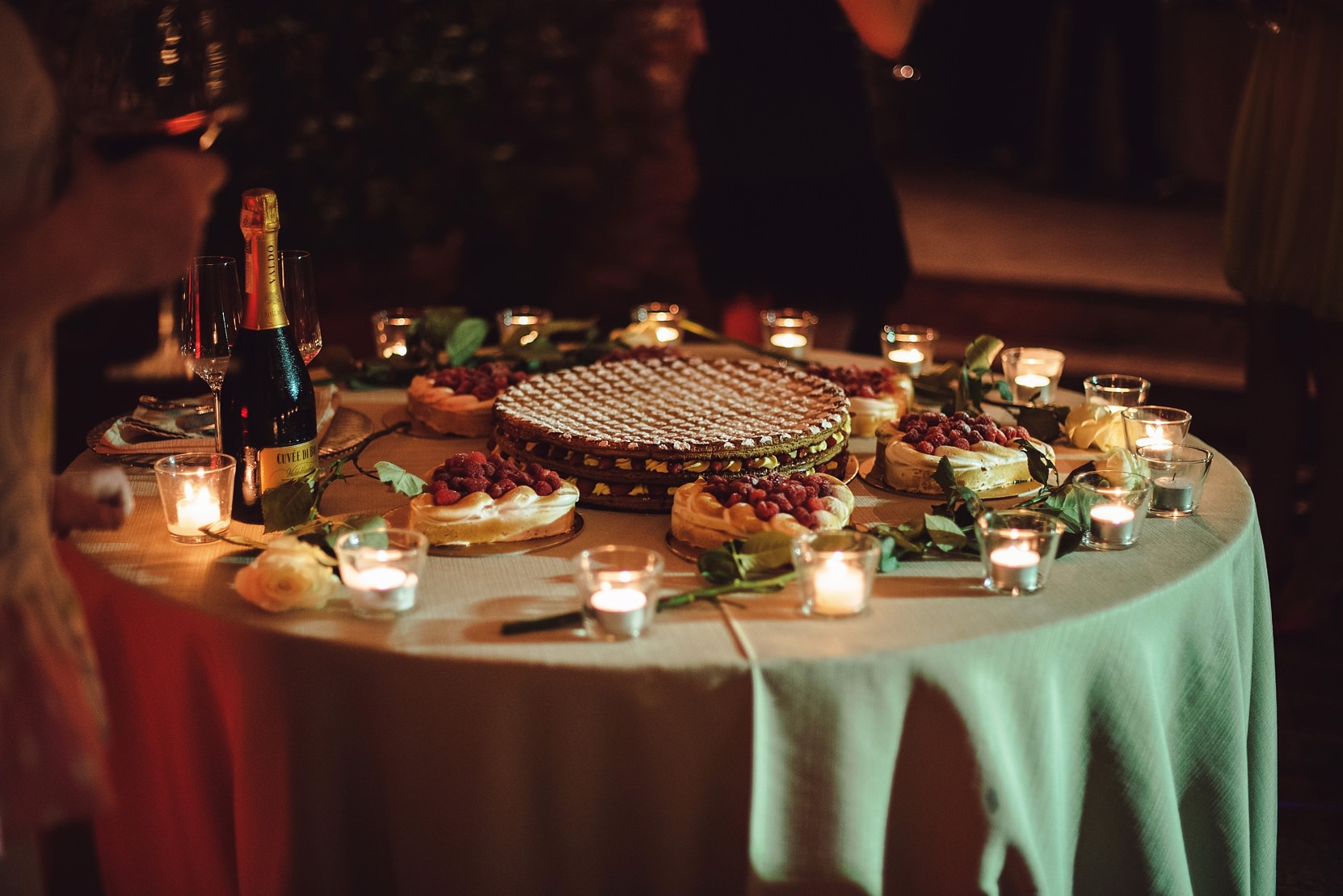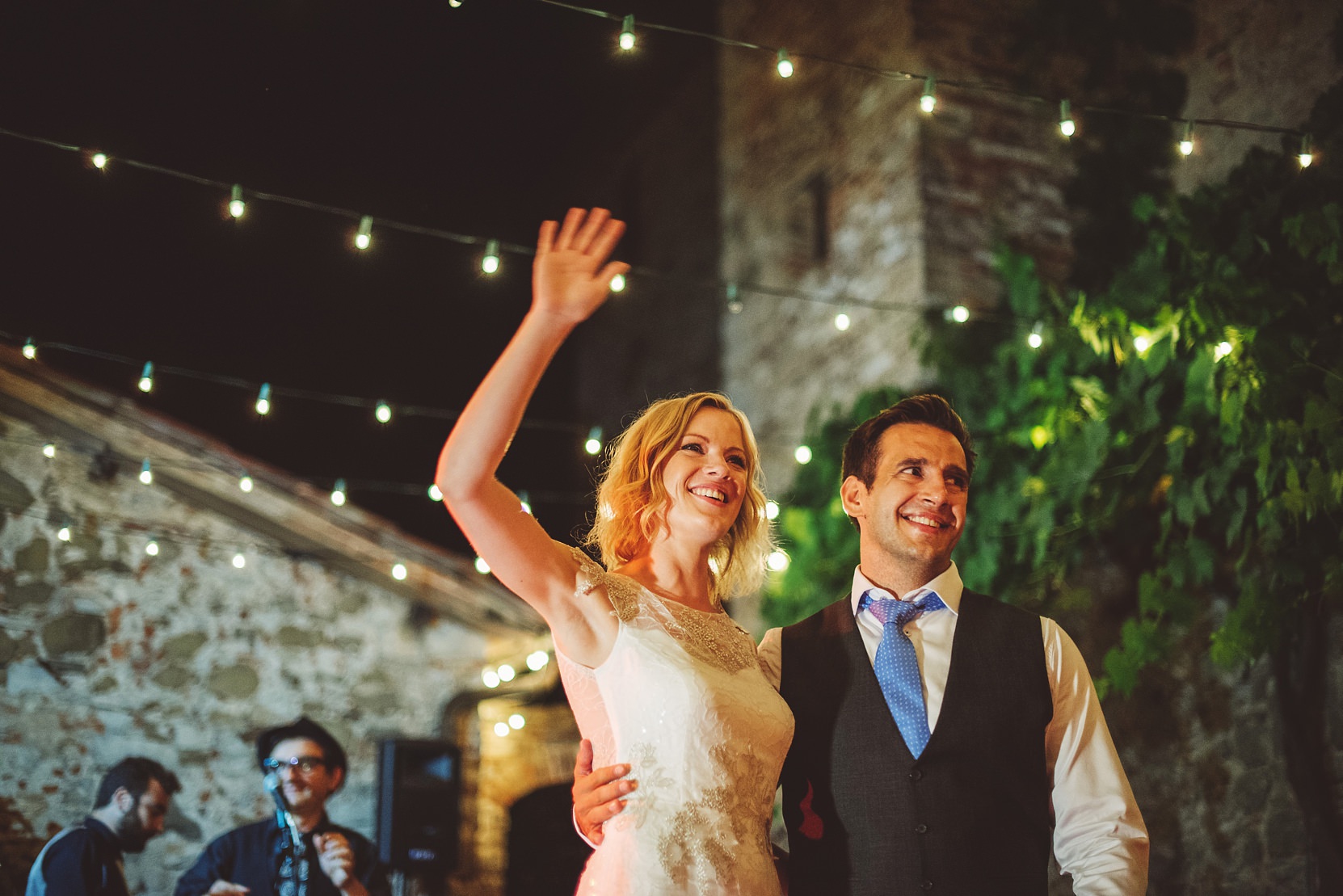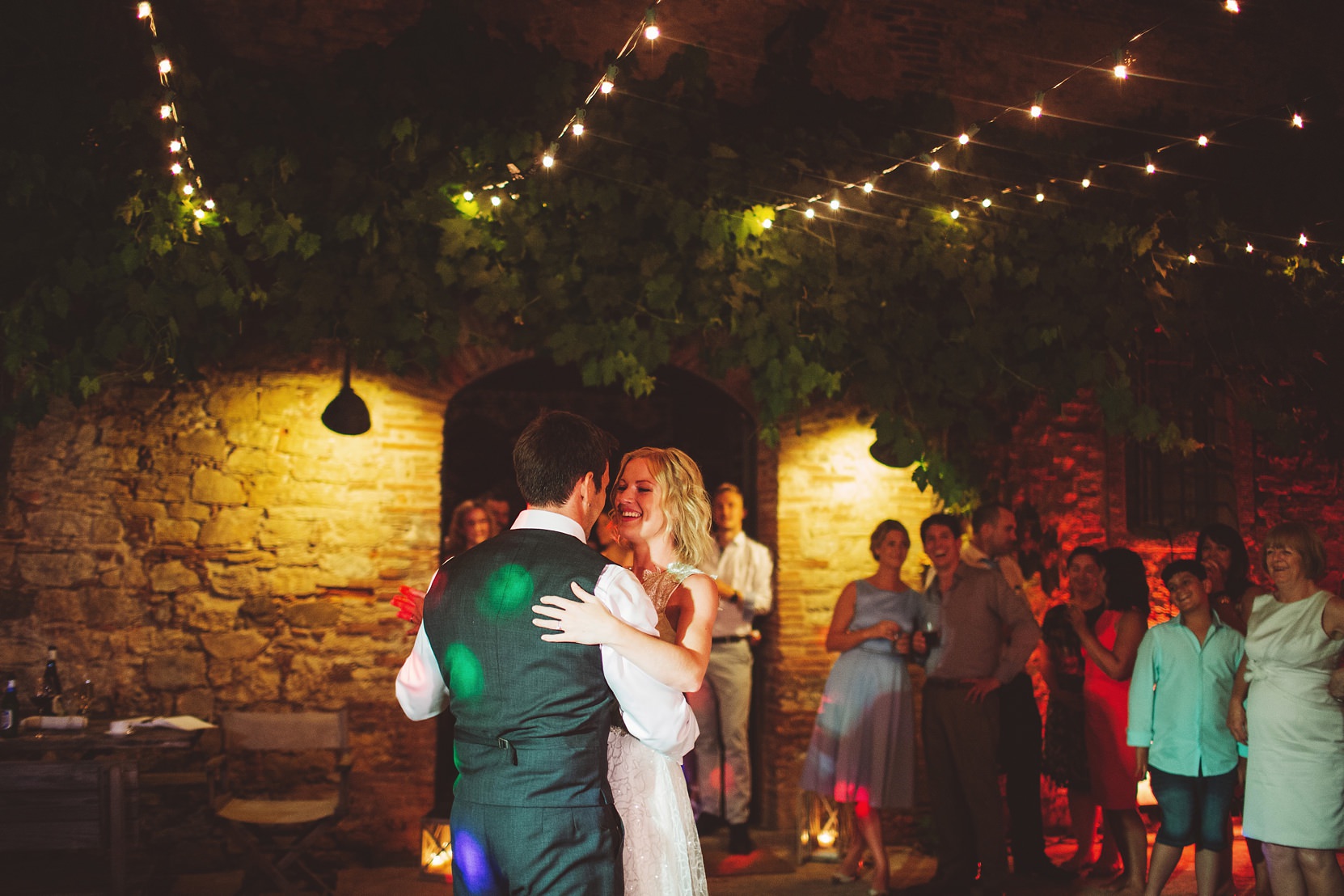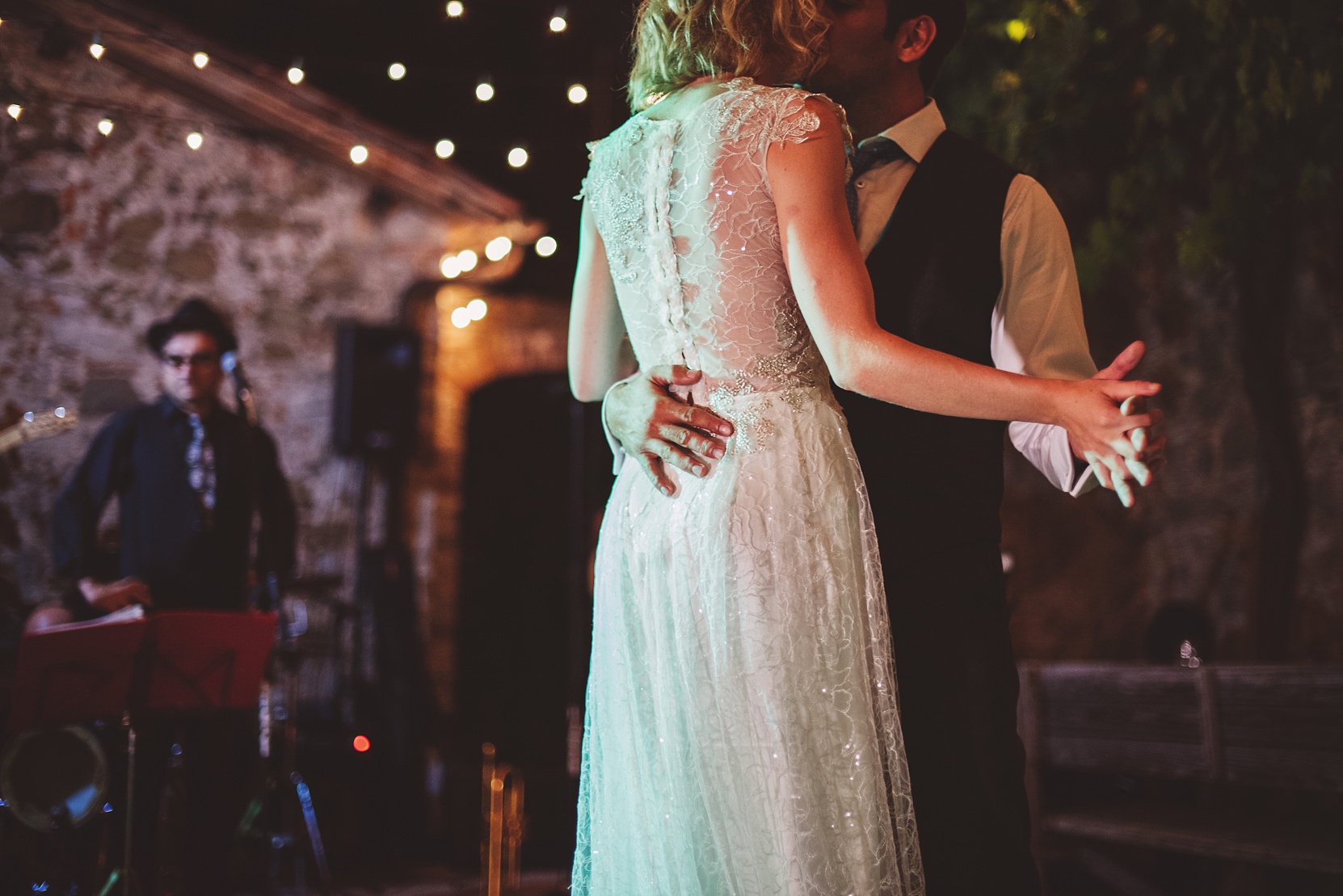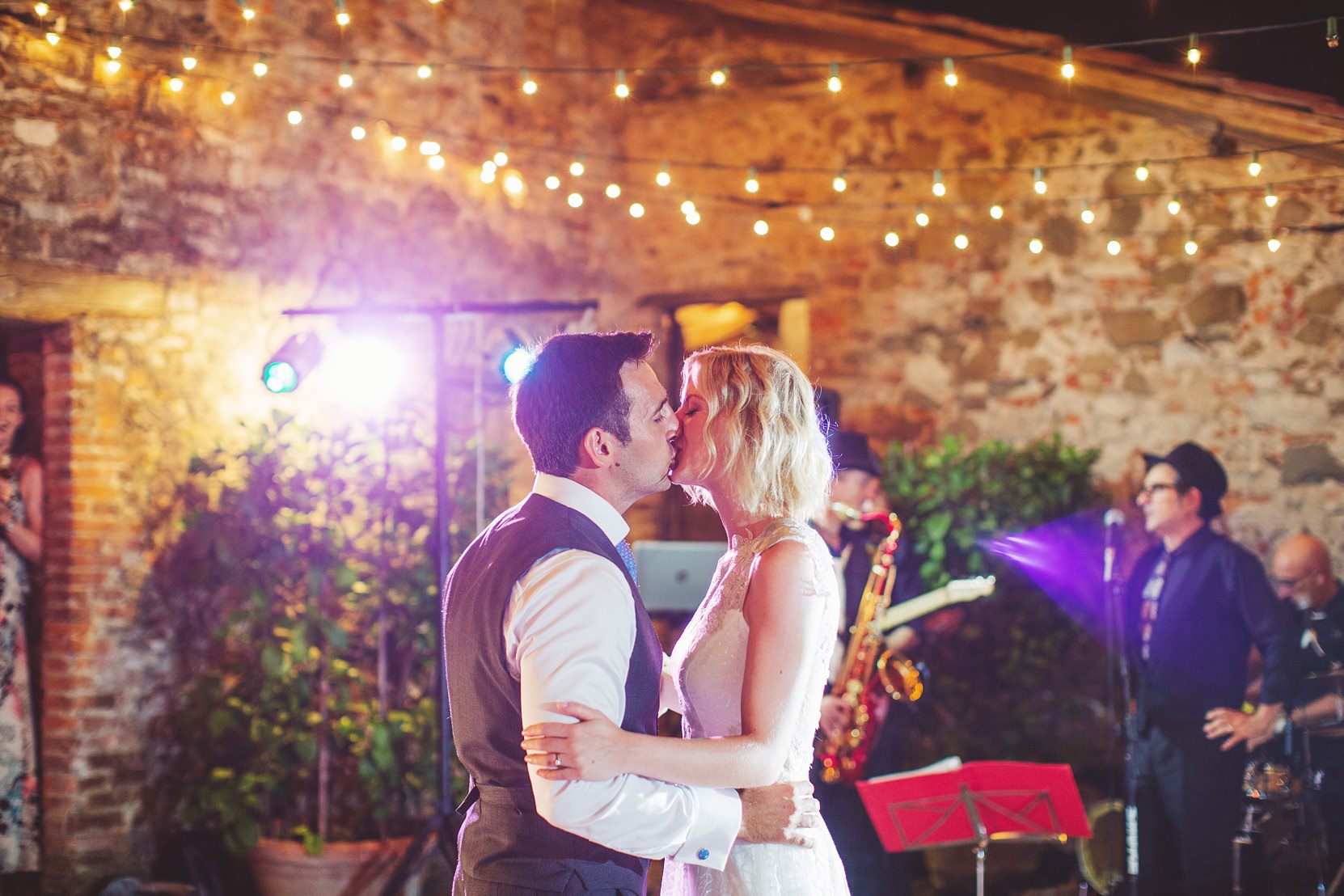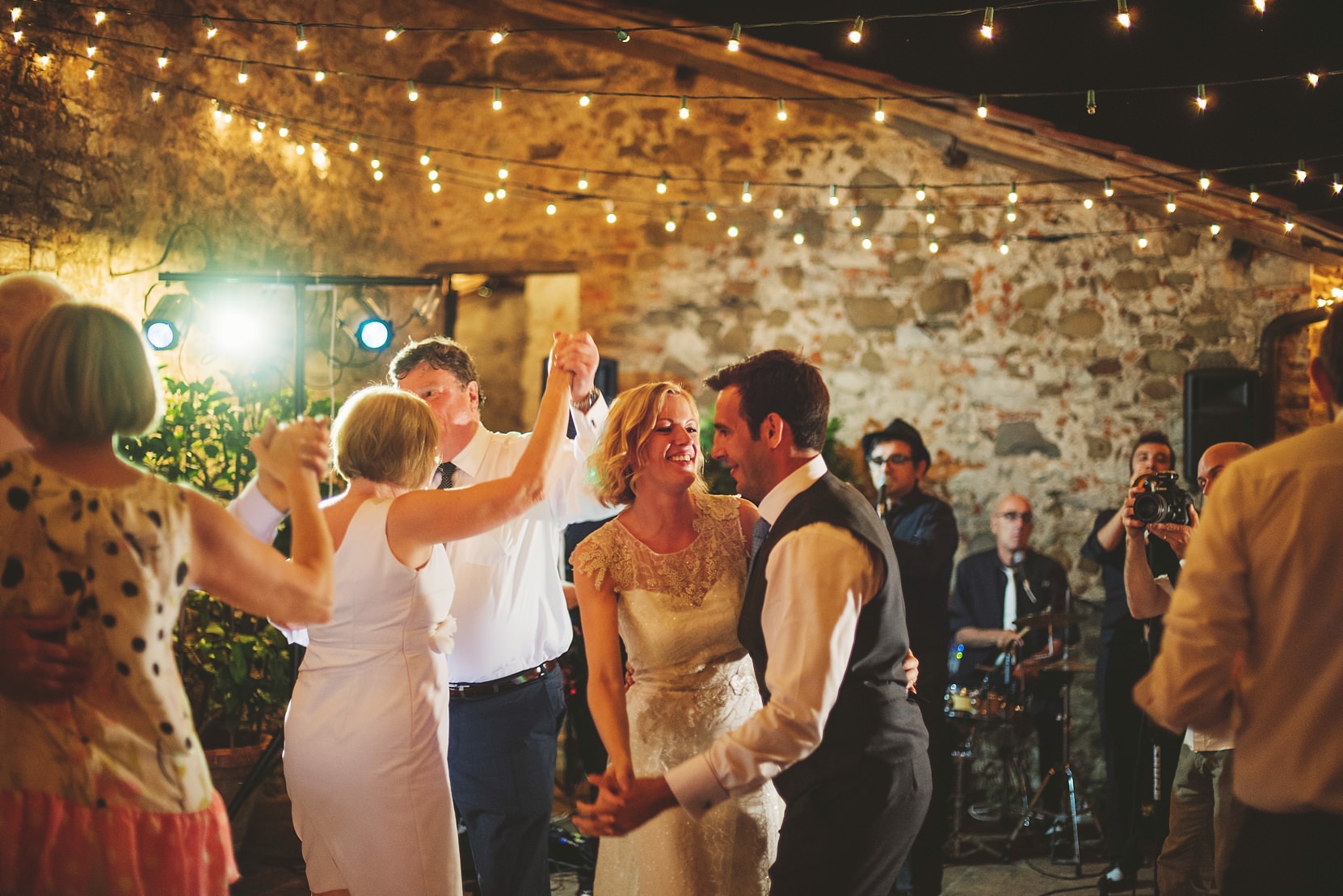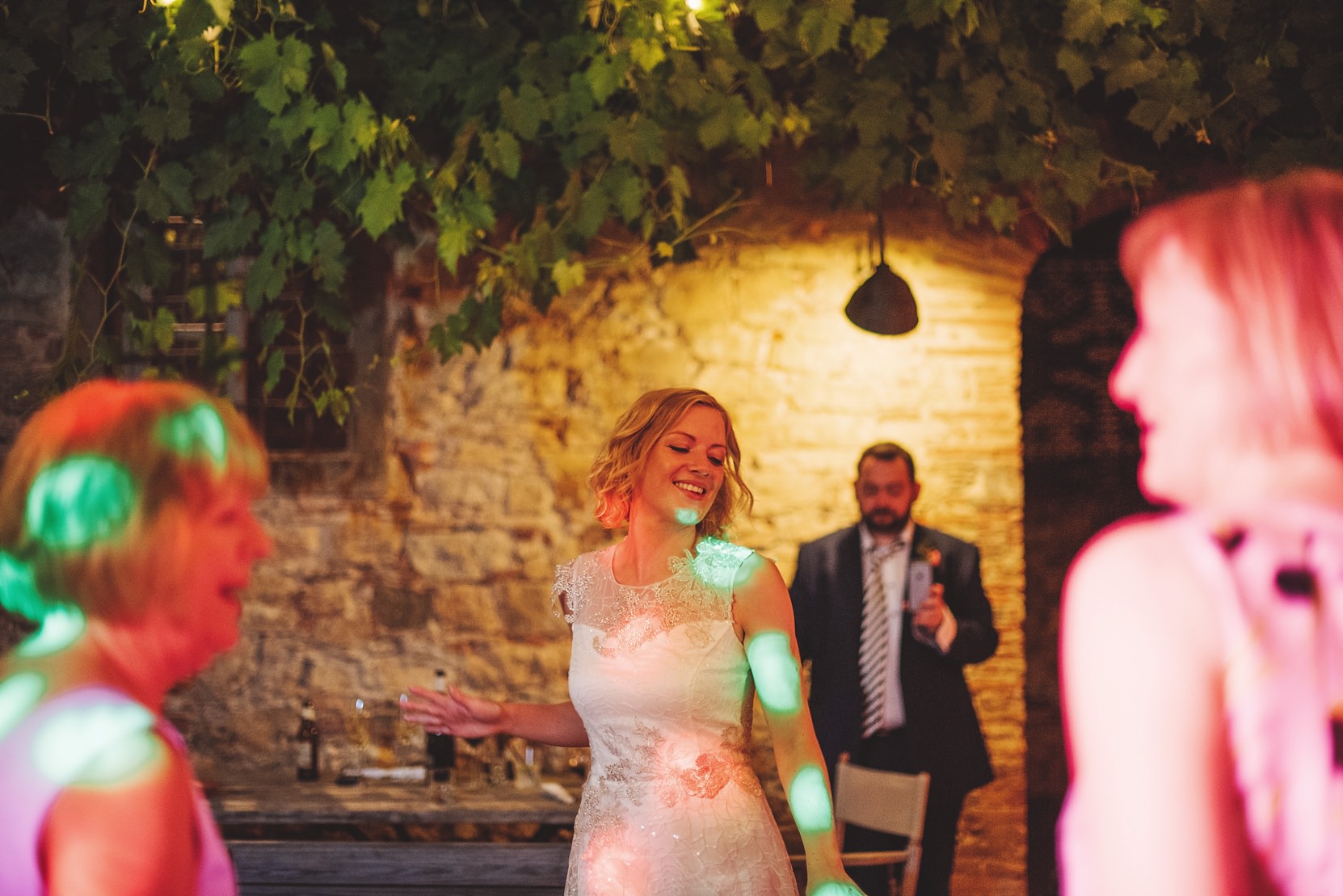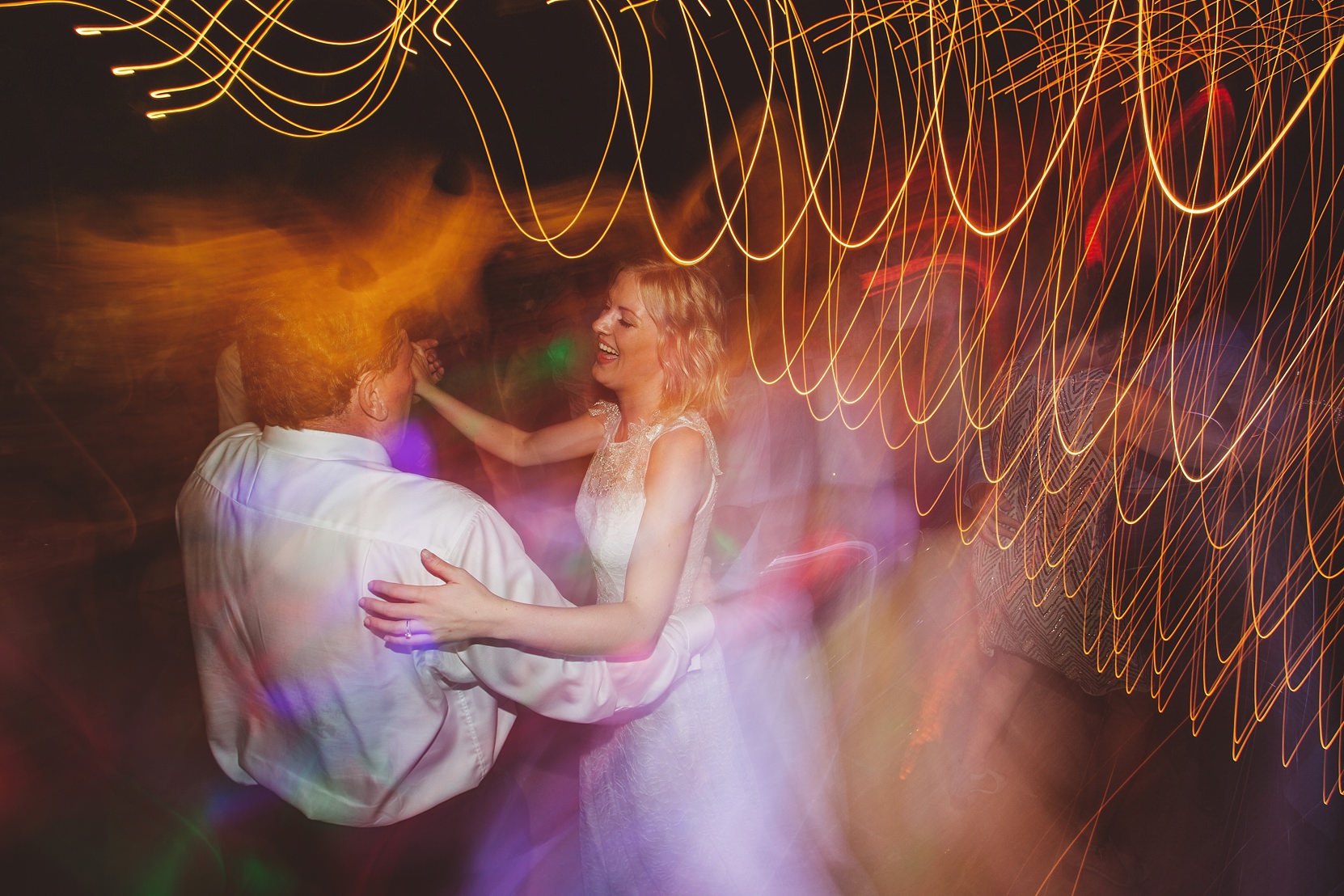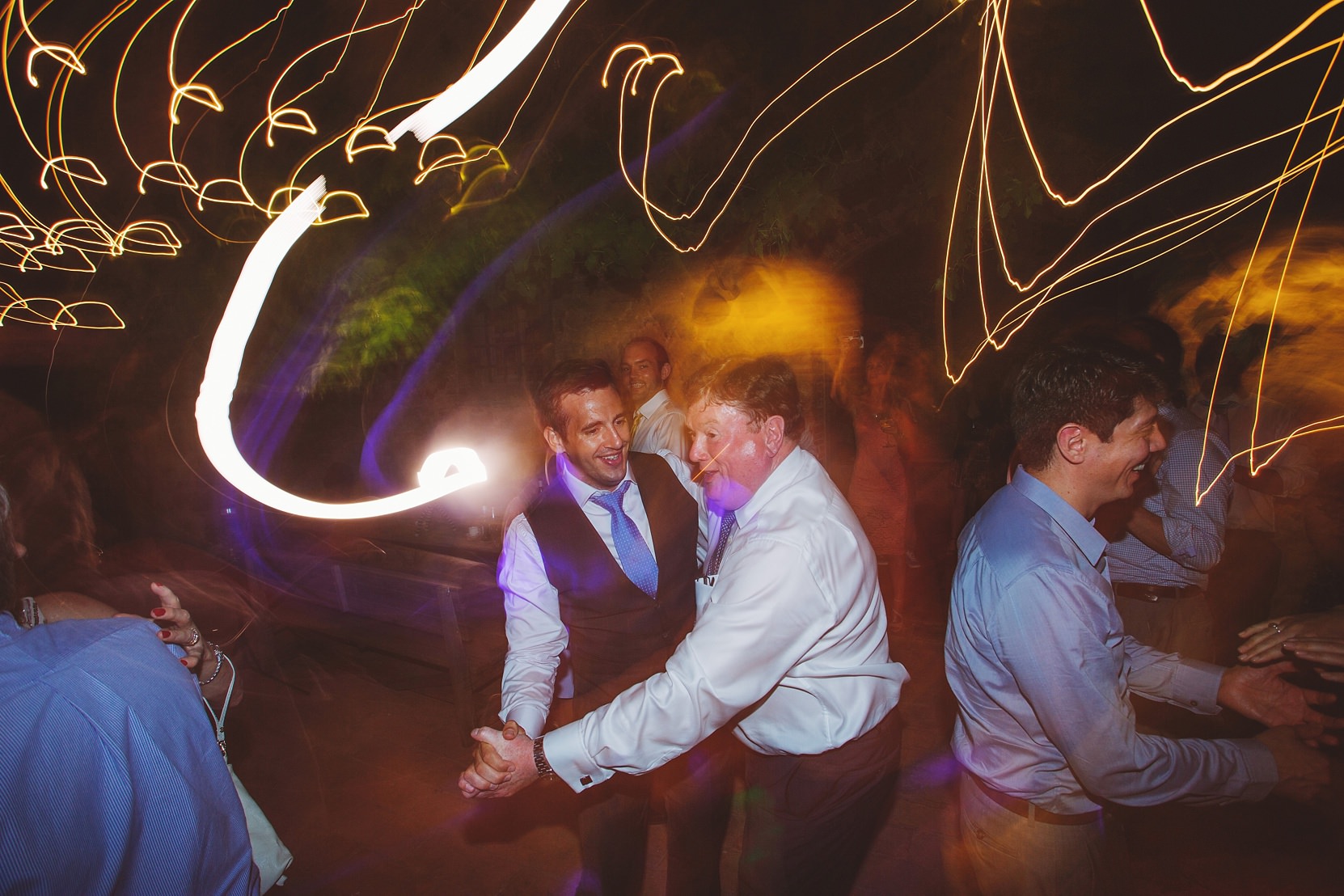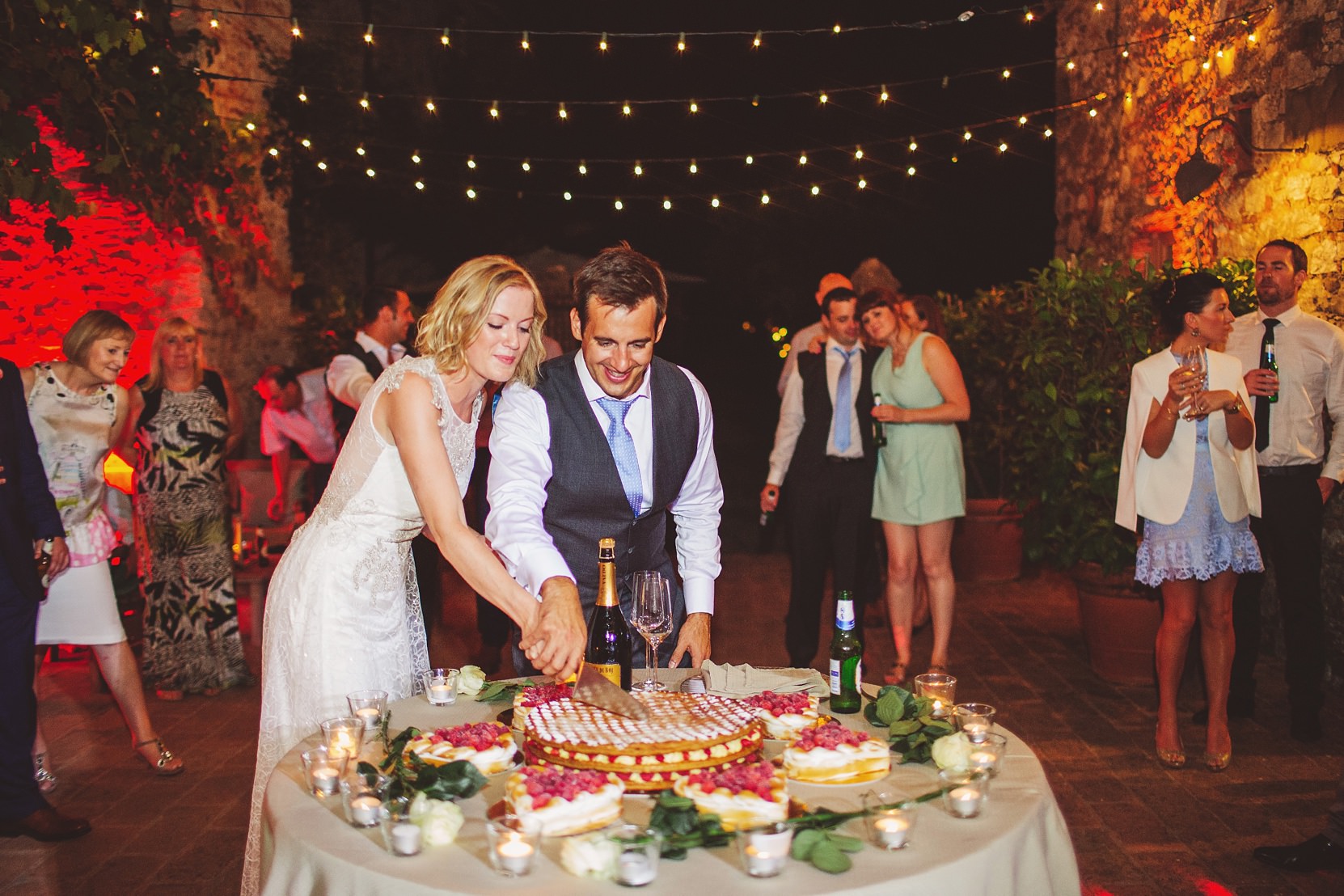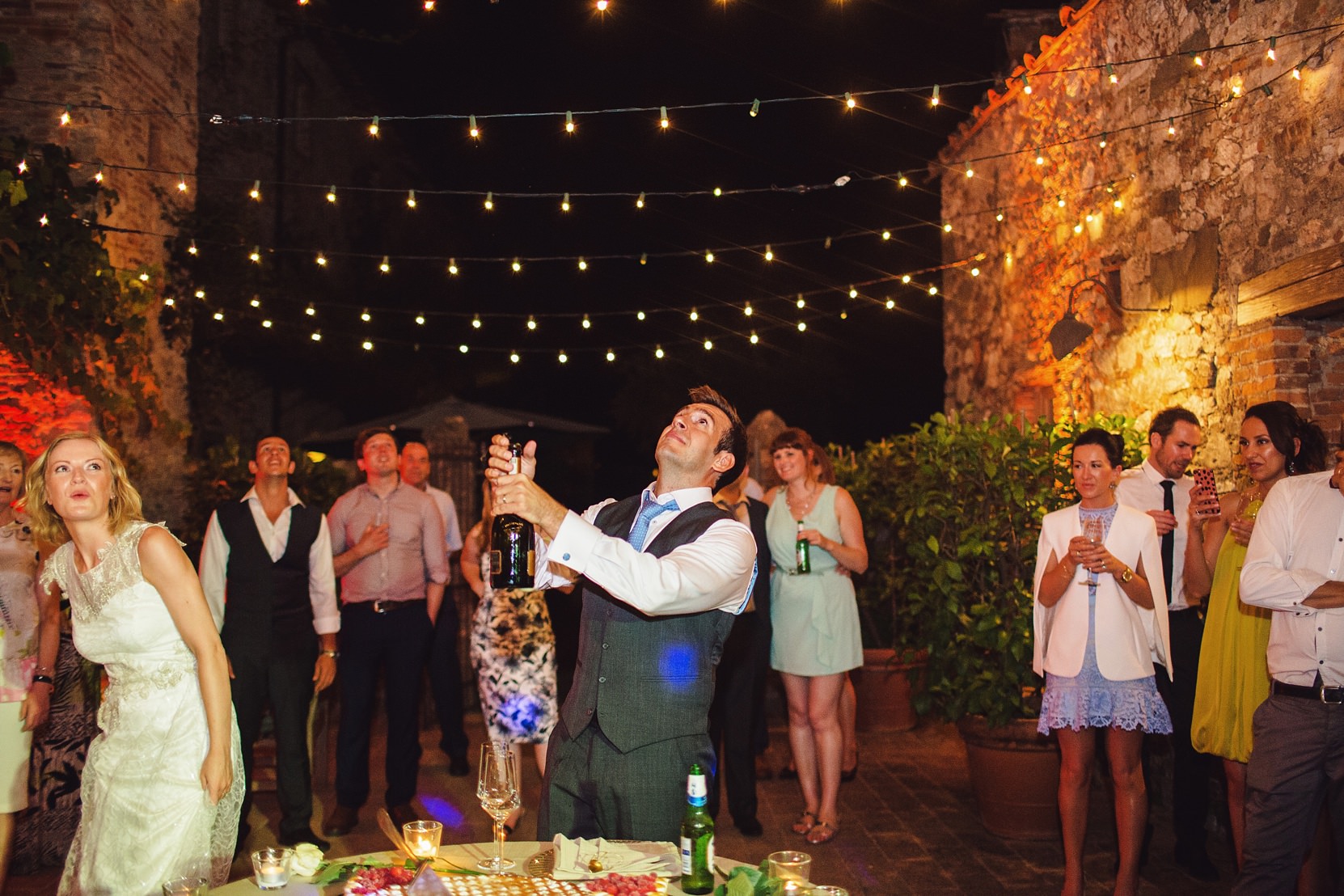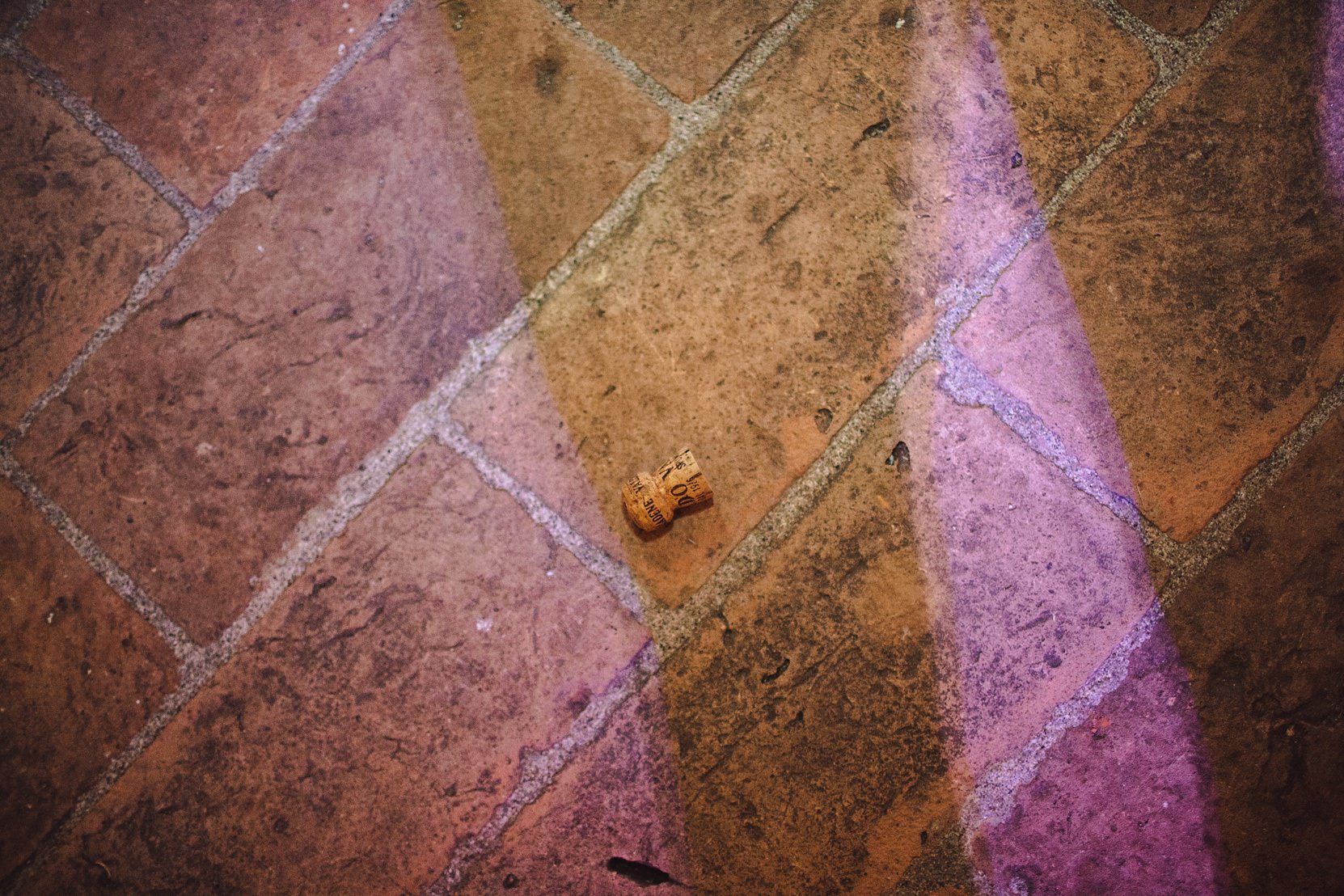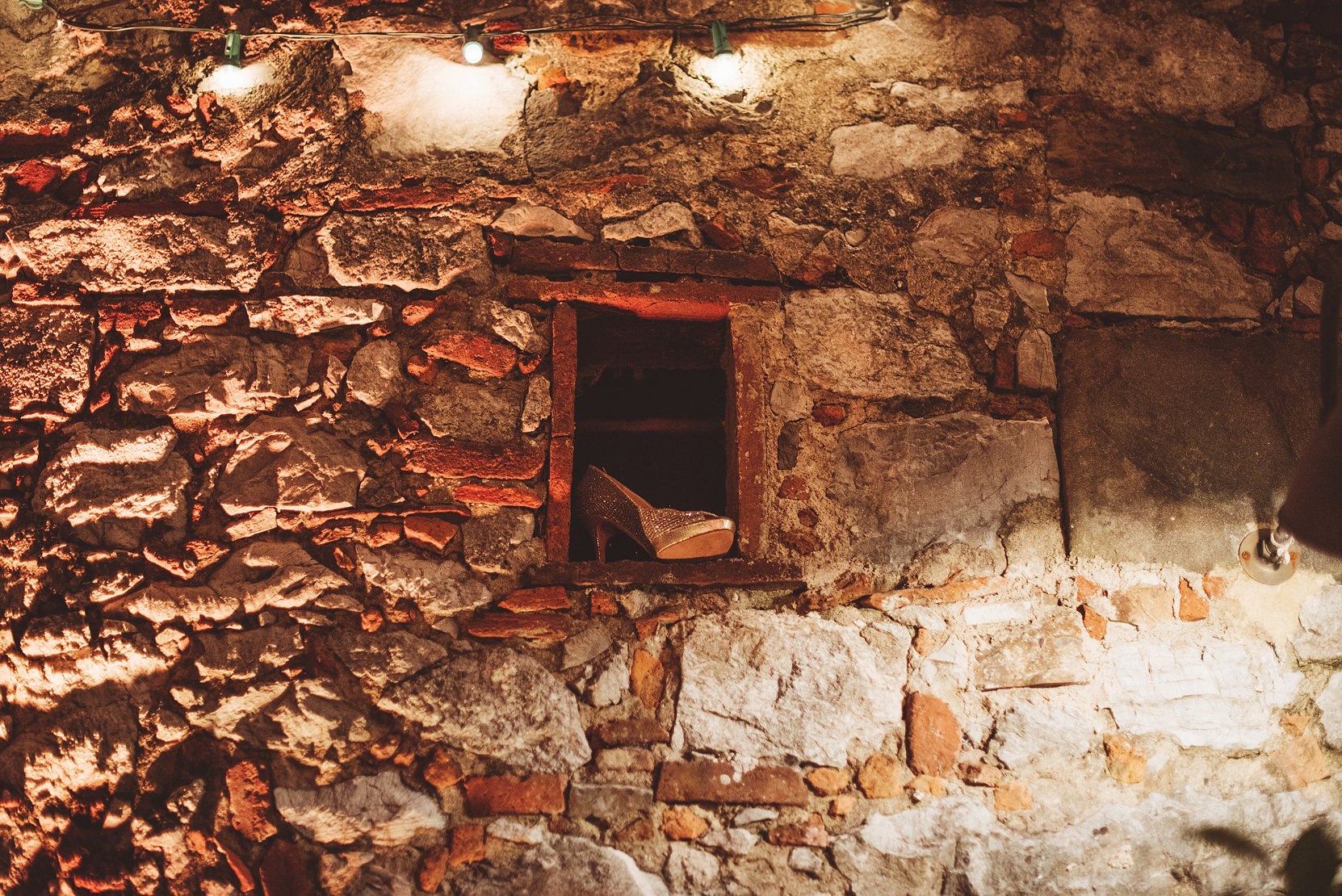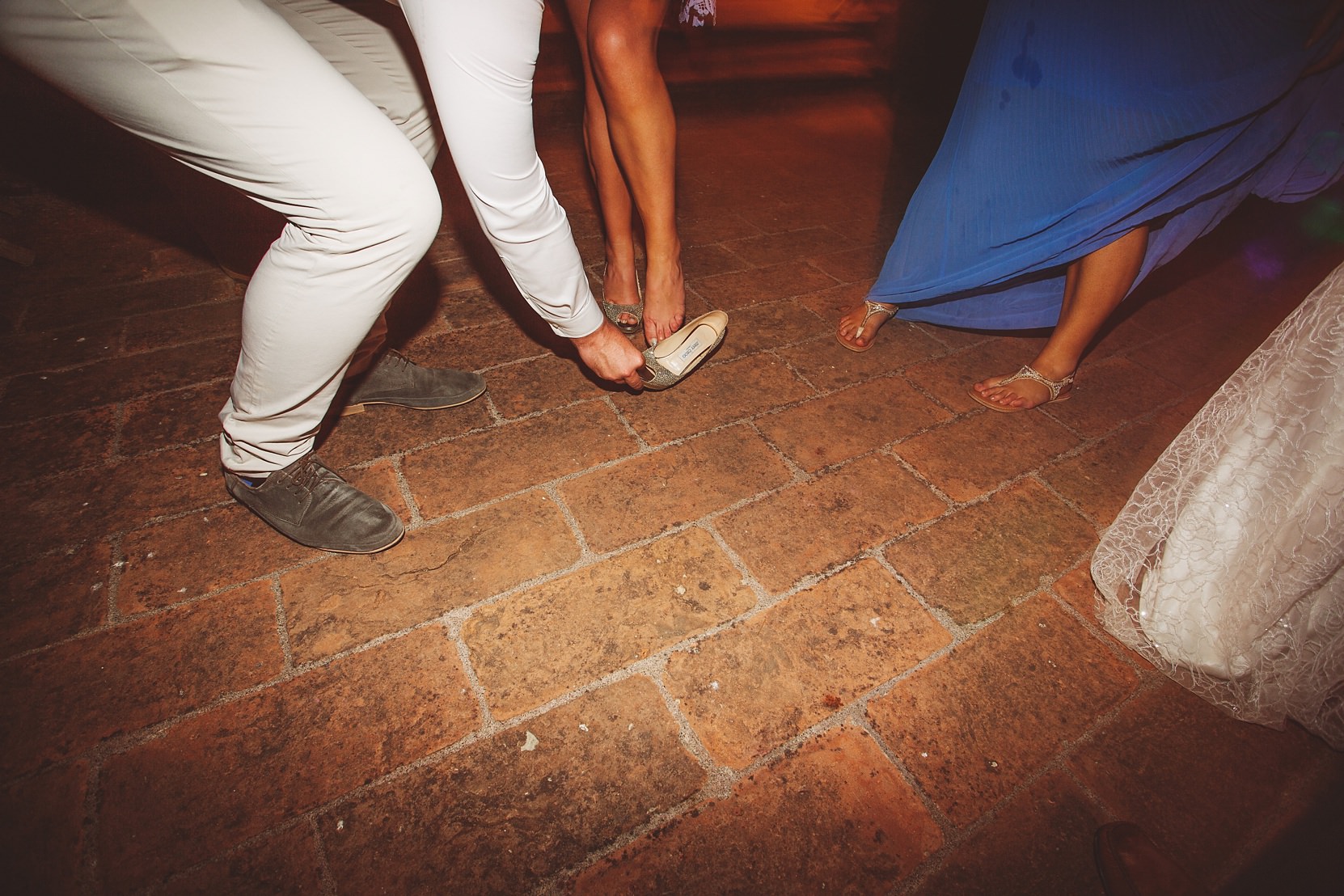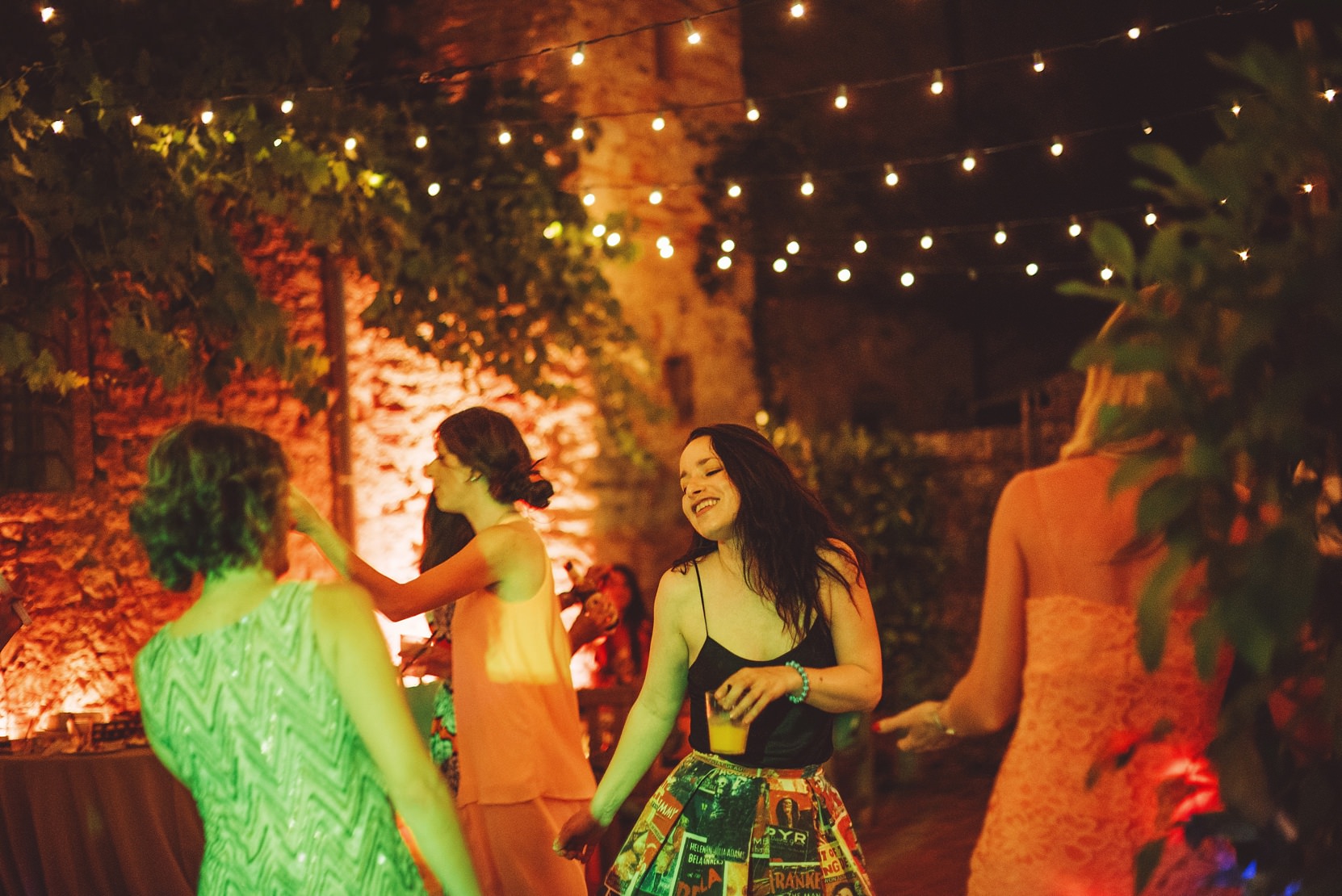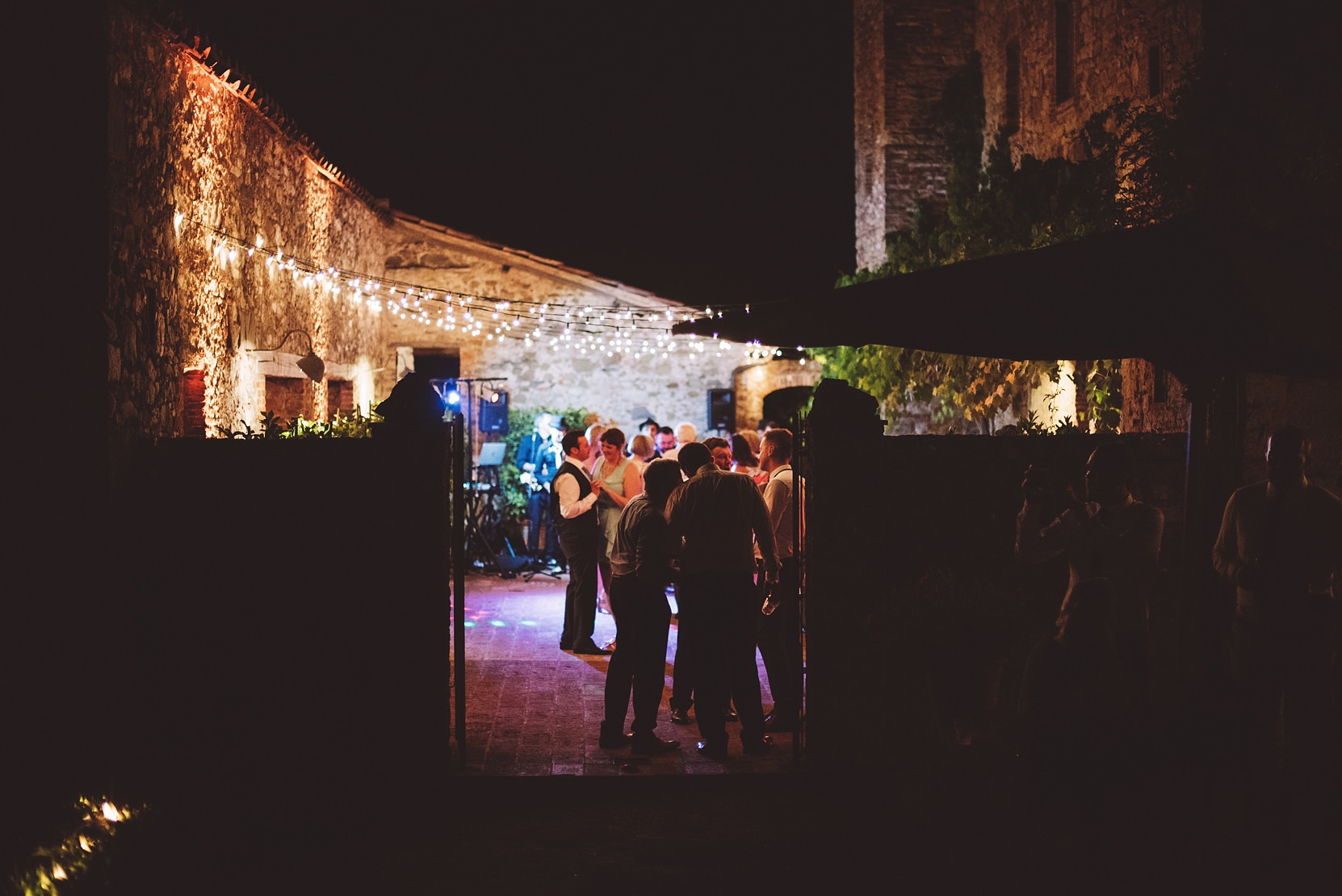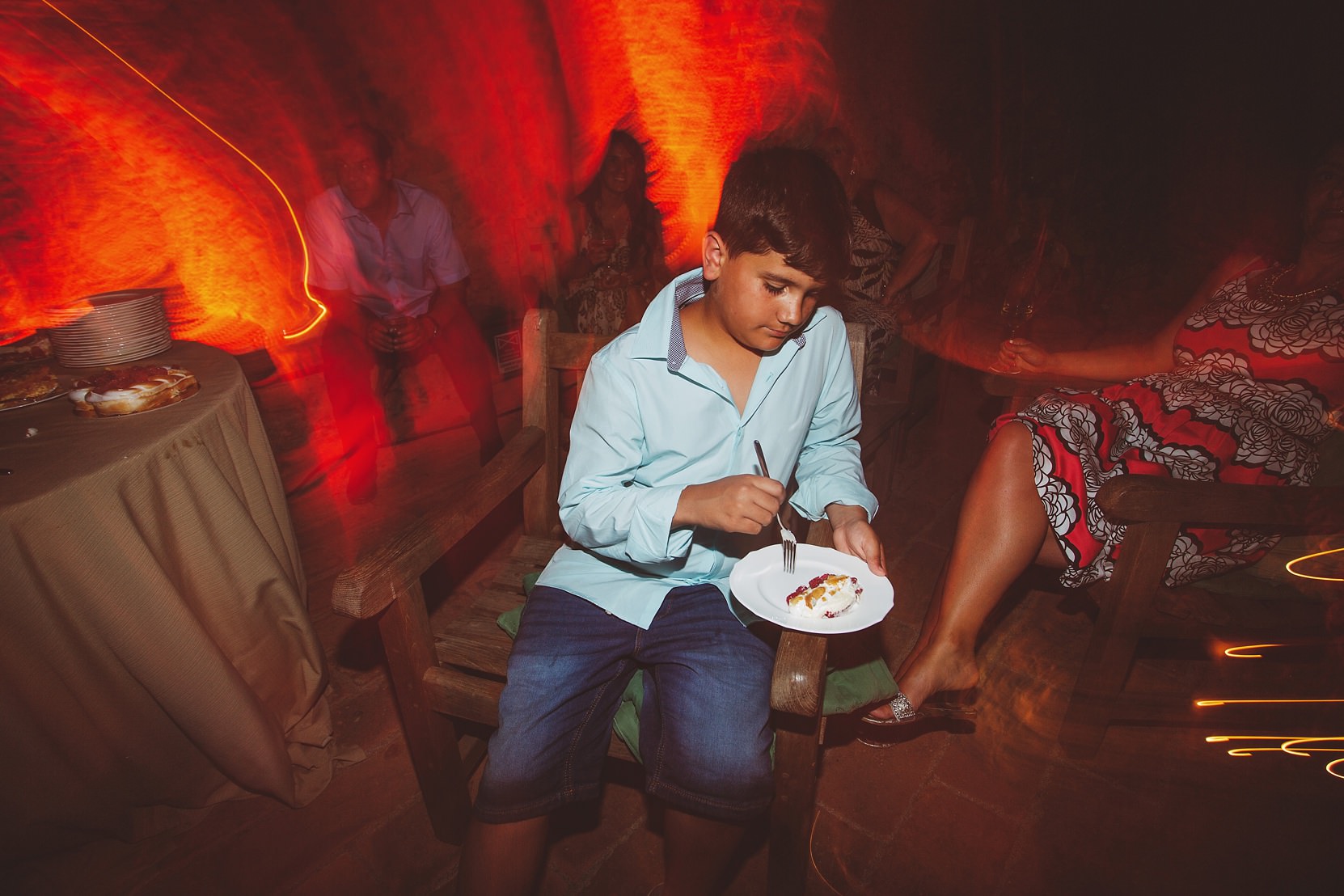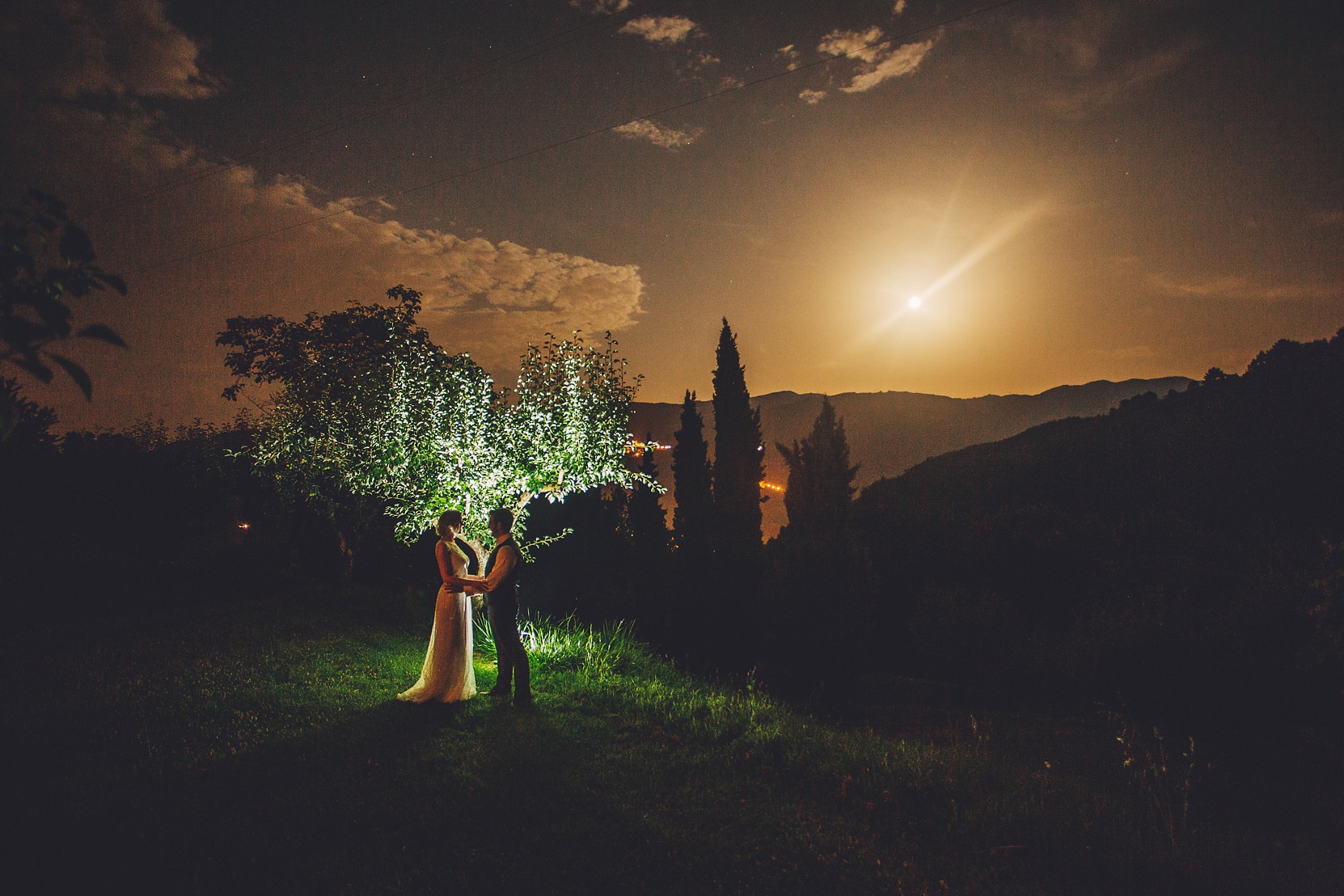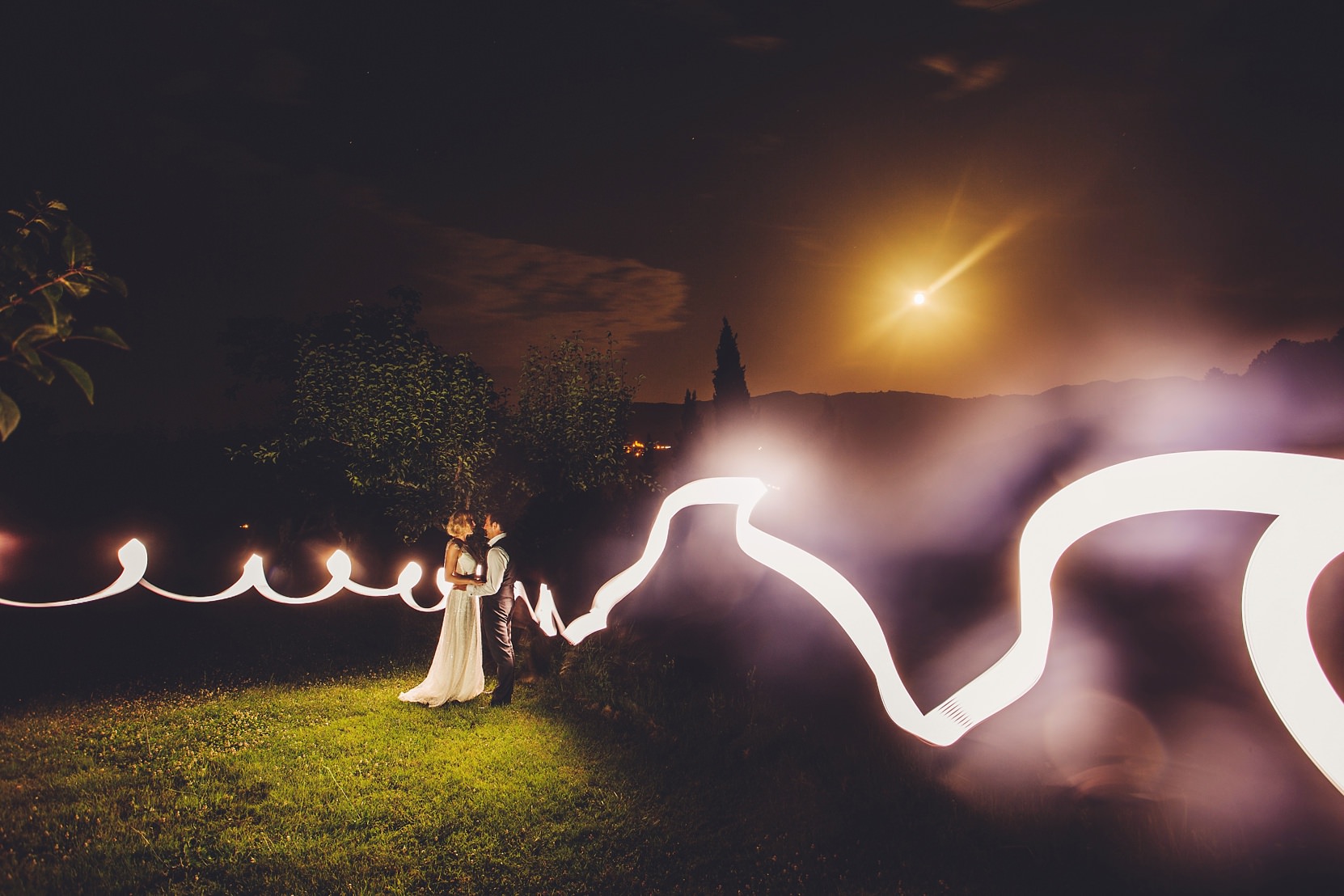 Roll the credits …
Wedding dress: Claire Pettibone 'Gossamer'
Brides shoes: Jimmy Choo
Grooms suit (Custom made): A suit that fits
Grooms shoes: Baumler Dublin
Bridesmaid Desses: House of Fraser
Rings: John Farrington Antiques, Drury Street
Caterers: il Fattore Party
Musicians: The Italian Wedding Band
Florist: Sabine's Flowers, Diecimo
Wedding Planners: Kate & Rose Weddings